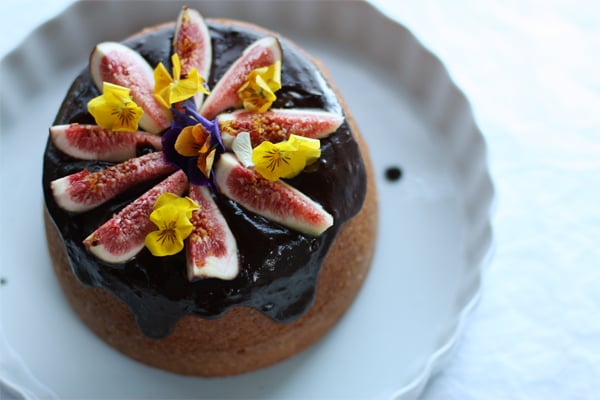 My little brother and his gorgeous wife have birthdays a week apart. I baked this simple cake with lush chocolate frosting and fresh fruit to honor both their birthdays yesterday. The fresh violas on top of the cake were not only stunning to look at but totally edible. I baked this cake at an informal dinner a couple of weeks ago and it tastes amazing fresh and warm out of the oven with the chocolate glaze still runny and oozing down the edges. The liqueur infused frosting adds the right bite to the smoothness of the ricotta and the tang of the lemon. And there is no butter!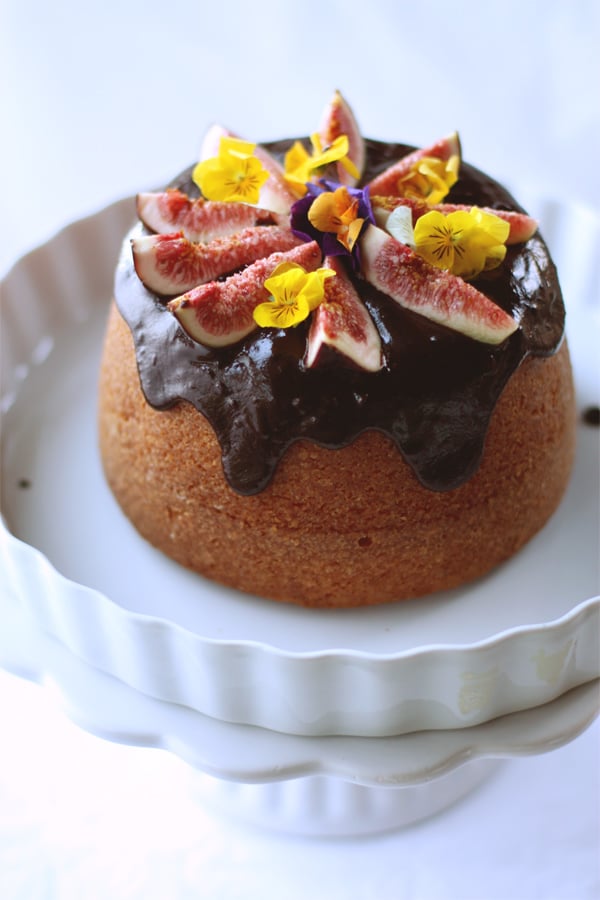 Oh, and I got my new shiny Canon 50mm f/1.4 lens and snapped some quick pics of this cake with the light blending into dusk as we rushed to go to my brother's home. I finally got it and have been experimenting with it! So expect to hear and see a lot of triumphs and failures on the blog.
[print_this]
recipe
Lemon Ricotta Cake With Orange Liqueur Chocolate Glaze And Fresh Figs
Preparation Time – 20 minutes
Baking Time – 50 minutes
Serves – 10
Ingredients
3/4 cup rice bran oil
2 eggs
1 tablespoon finely grated lemon rind
2 tablespoons lemon juice
1 cup smooth ricotta
1 3/4 cup caster sugar
2 cups self raising flour
chocolate glaze
200g dark chocolate
1/2 cup cream
1 tablespoon orange liqueur (I used Triple Sec)
slices of fresh figs and edible flowers to decorate
Method
Preheat oven to 180°C (350°F). Grease and line a 20cm (or 24cm) cake tin with baking paper. (I like to use a deeper cake tin with a smaller diameter to get a taller cake).
Place oil, eggs, sugar, lemon rind, lemon juice and ricotta in a large bowl. Whisk with an electric beater till smooth and combined. Sift over the flour and stir until smooth.
Pour into the prepared tin and bake for approximately 50 minutes until cooked through and a skewer inserted in the middle comes out clean.
While the cake is baking, combine all ingredients for chocolate glaze in a heavy bottomed saucepan and melt on low heat, stirring constantly till the glaze is smooth and glossy. Remove from heat and pour over the warm cake. Decorate with figs and flowers. Set aside for an hour to set.
[/print_this]