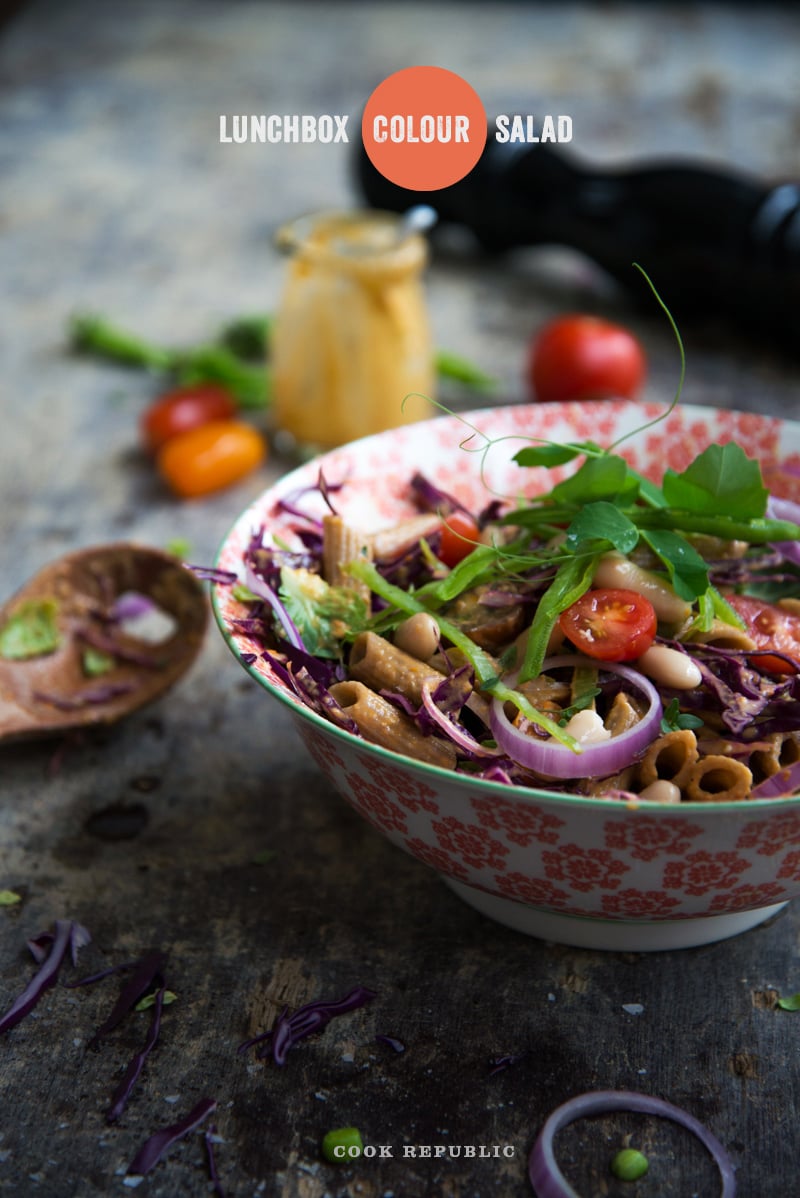 One of the downfalls of running a small test kitchen and recipe development is the easy access to massive amounts of food lying around at all times. Thankfully for me, it is usually light, healthy and almost always savoury. But still. How many times in a day do you mentally slap your hand away as it reaches for something to put in your mouth? I find myself doing that all the time. After so many years, I have really gotten good at the hand slapping. It takes an amazing recipe for me to have a bite or two while I am working. More so, when I am working on the lunchbox series. To me, a recipe is worthy of the "Lunchbox" title if I will stop working in the middle of my photoshoot to sit down (yes!) and enjoy it languorously.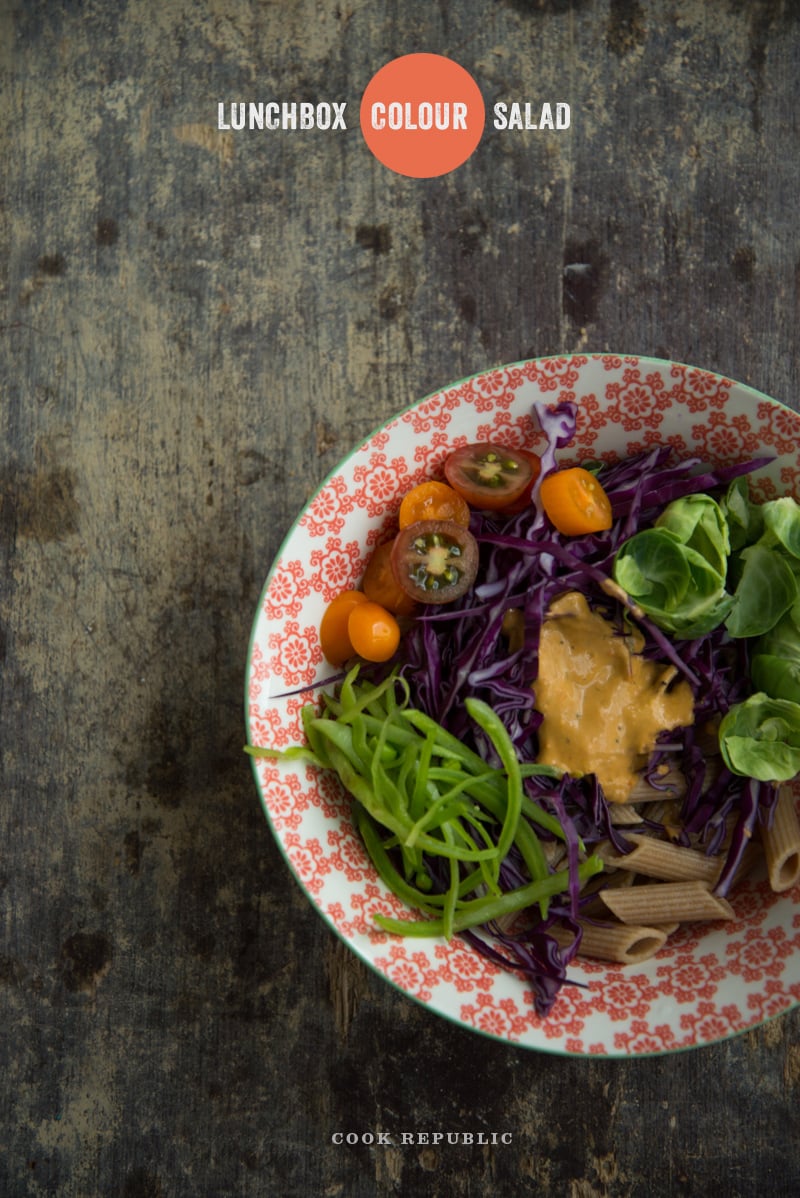 Earlier this week while shooting a recipe for a tomato vinaigrette, the idea for this beautiful whole wheat pasta salad took root in my mind. Heavily influenced by all the colour talk we have been having at college, I set out to create an explosion of healthy colours in a bowl. I had fun with this recipe, I really did. I explored colours for mood, well being and nutrition. I even went a little bit crazy with my choice of props and the result was absolutely beautiful.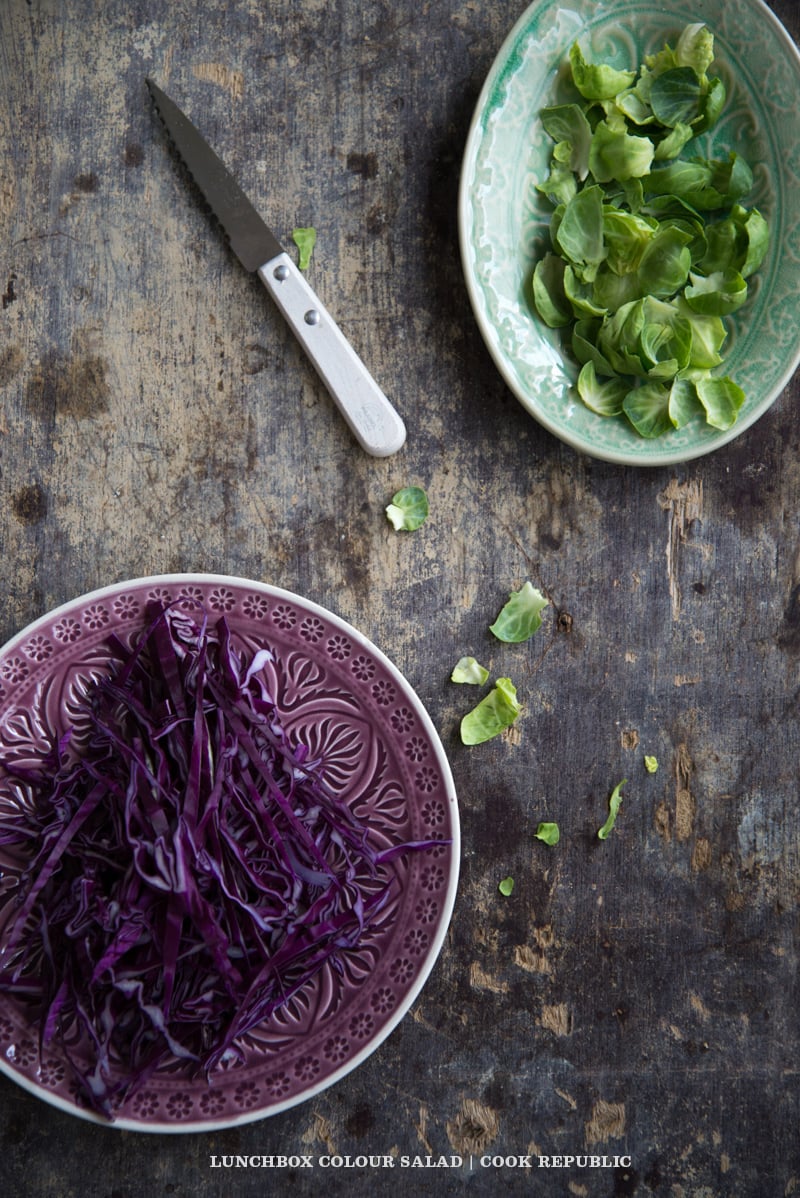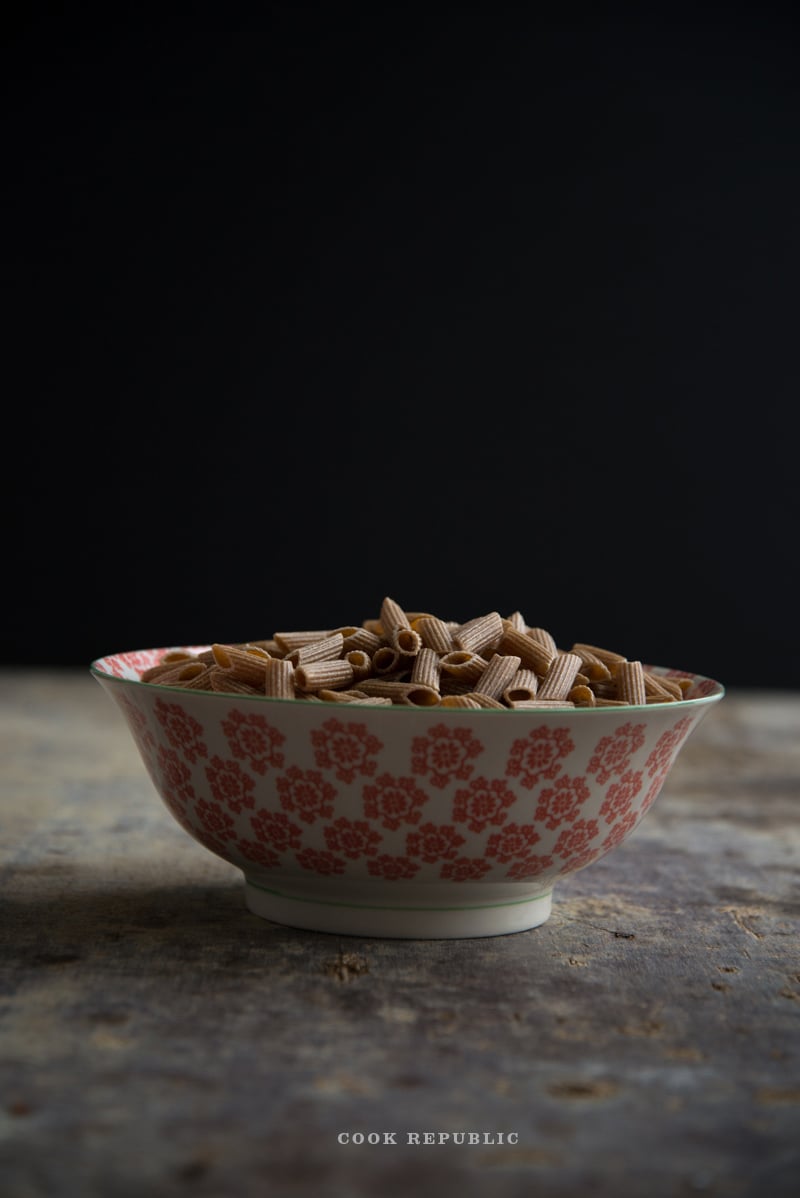 The pasta salad is fresh, light and has that clean-fresh-air-woodsy taste and feel to it. It is visually appetising and I want more of that goodness going in my body - my temple and all that. Like with everything in my lunchbox and pantry series, you could customize this completely to suit what is in your fridge, pantry and that still unemptied shopping basket (It is alright, we all get too busy to put things away.)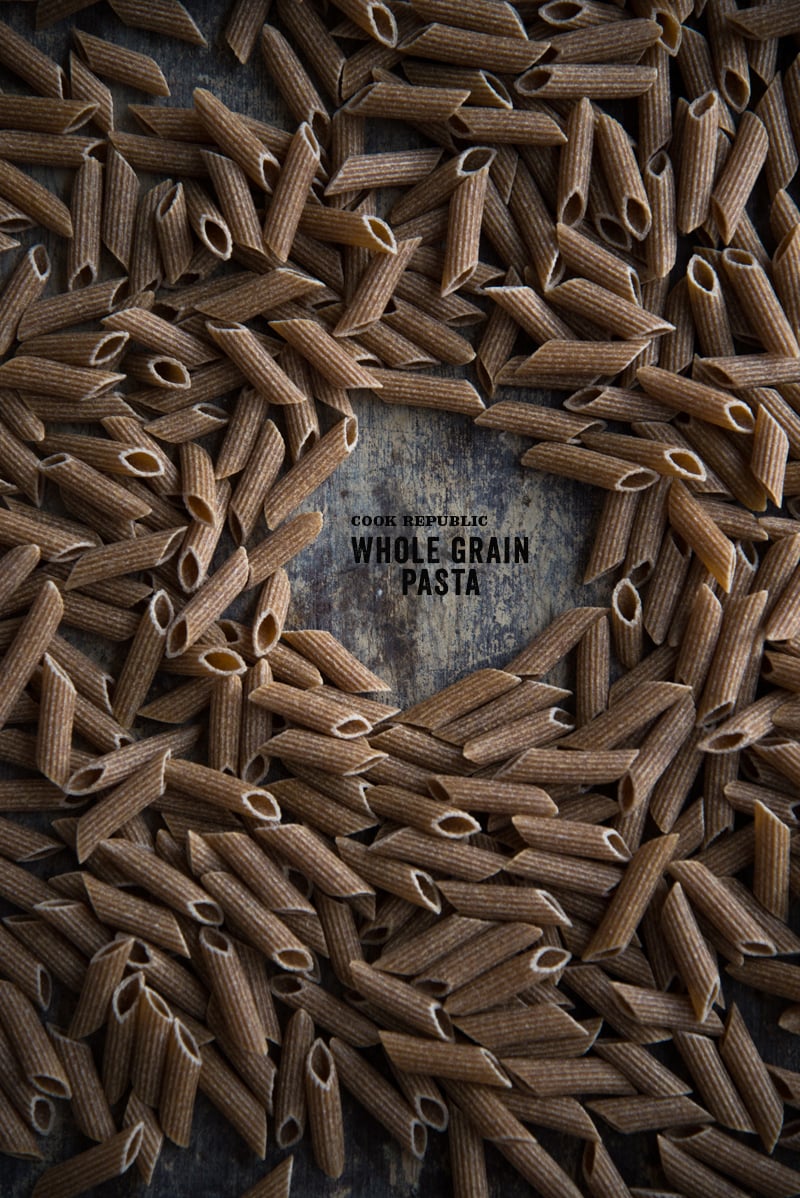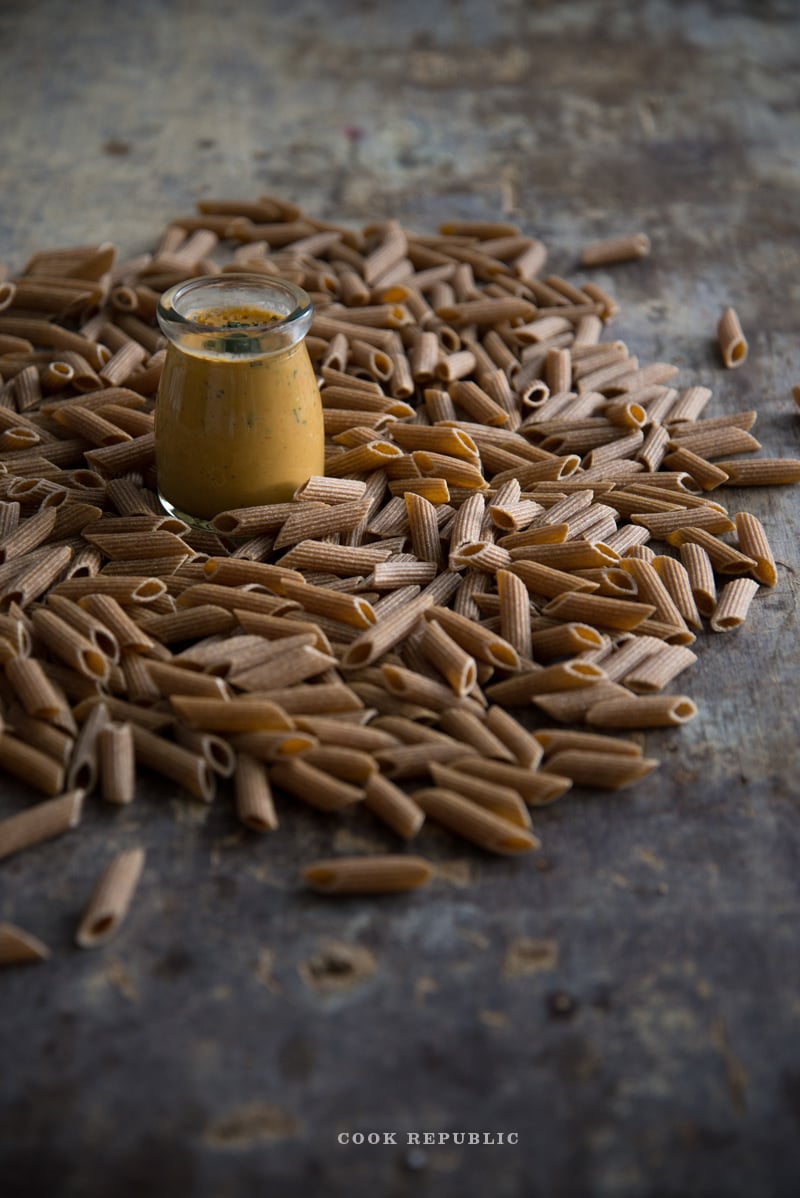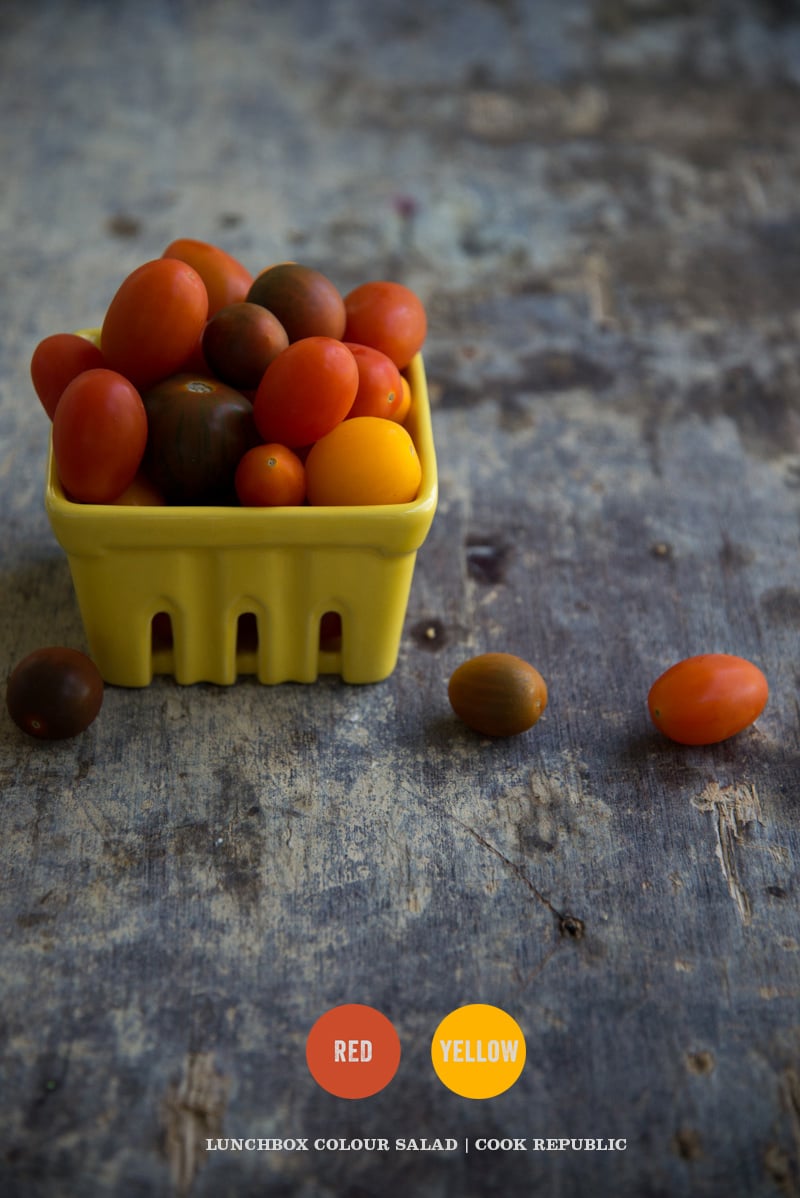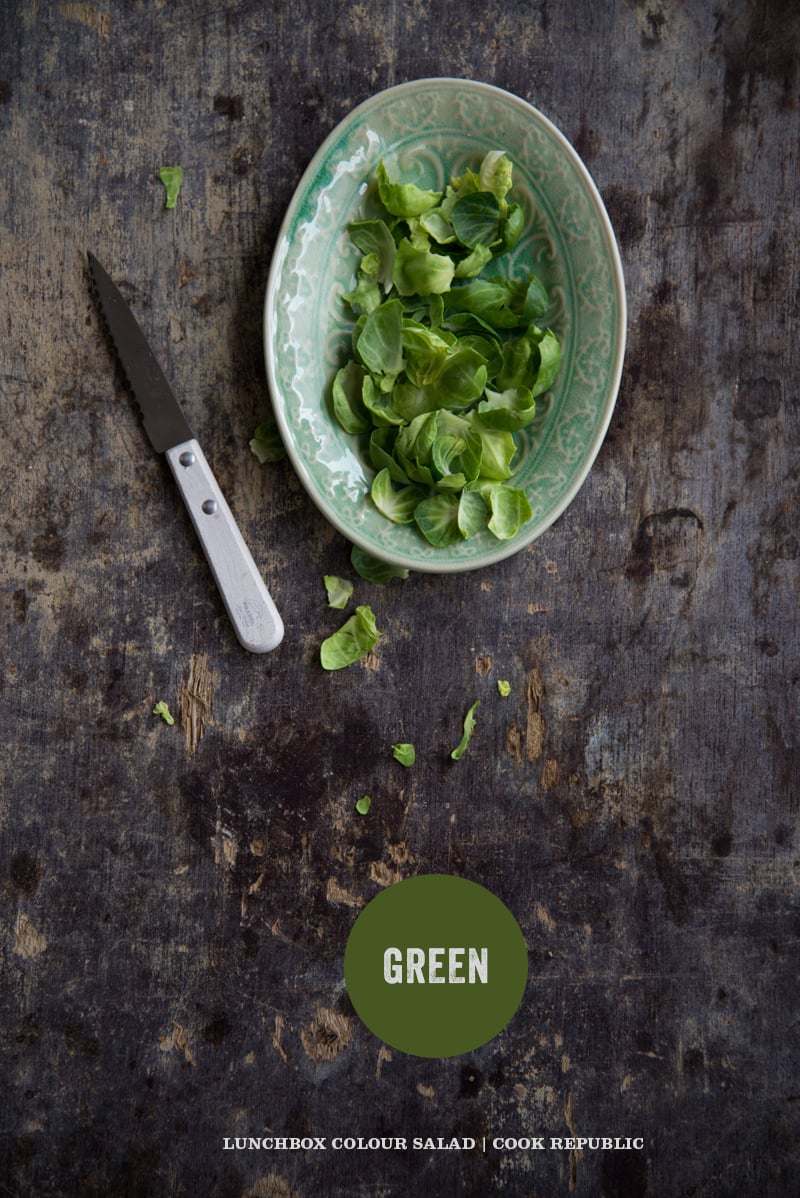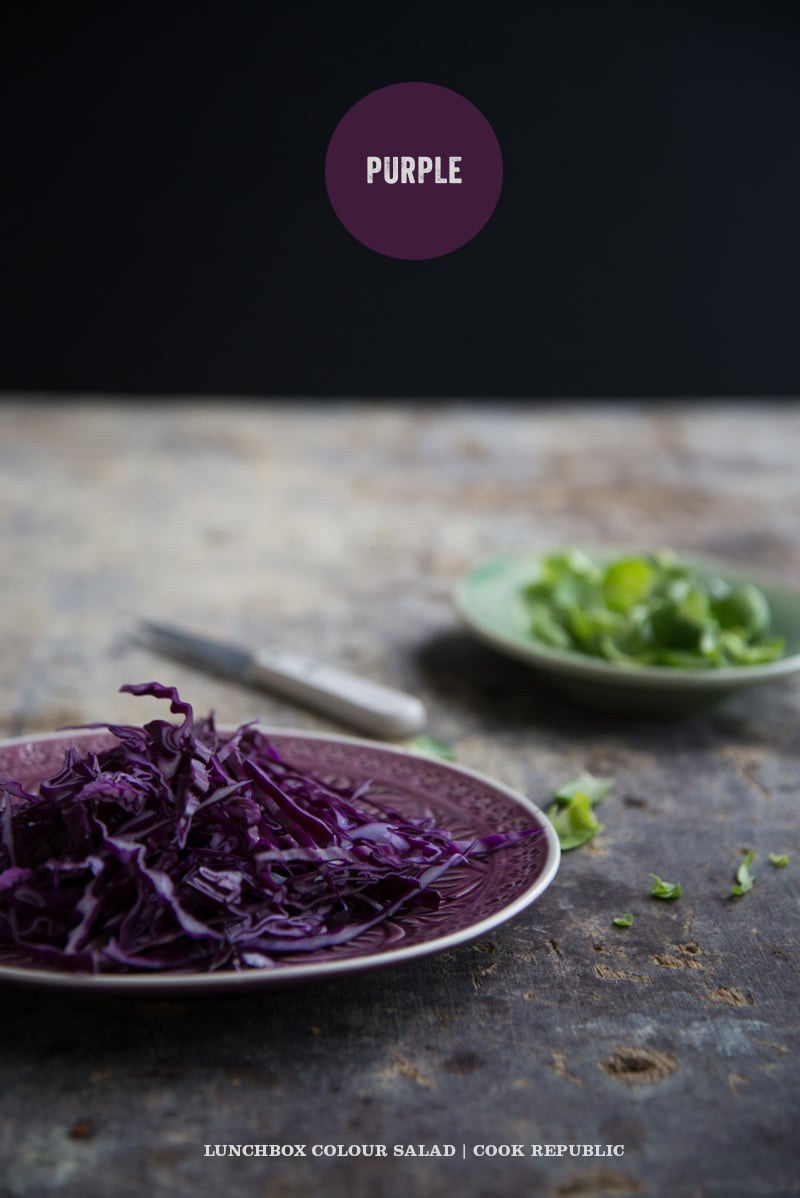 [print_this]
LUNCHBOX COLOUR SALAD
A healthy, fresh and wholesome whole wheat pasta salad that you could enjoy hot or cold becomes a celebration of nutrient rich colours in your bowl. Nourish yourself!
Makes - To Serve 2
Ingredients
1 cup whole grain penne
1 can cannelini beans (425g)
1 cup leaves of brussels sprouts
1 cup purple cabbage, shredded
10 snow peas, thinly sliced
1 tablespoon fresh thyme leaves
1 small red onion, thinly sliced
1/2 cup cherry tomatoes, halved
snow pea shoots to garnish
salt and black pepper to taste
for the tomato vinaigrette
(recipe adapted from Food & Wine)
1 cup cherry tomatoes
3 tablespoons extra virgin olive oil
2 tablespoons minced tarragon
1 tablespoon thyme leaves
1 tablespoon red wine vinegar
1/4 cup watermelon
juice of half lemon
salt to taste
freshly ground black pepper.
Method
Cook pasta according to packet instructions. Drain, cool and set aside. Combine all ingredients for vinaigrette in a blender and process until smooth.
Combine pasta, beans, onion, brussels sprouts, snow peas, cherry tomatoes, cabbage and one cup of the vinaigrette in a large bowl. Add fresh thyme, salt and pepper. Toss to combine. Top with snow pea shoots.
[/print_this]