A uniquely old-fashioned nutty slice is the perfect companion for a cup of tea in the afternoon. This golden Macadamia Slice is distinctly Australian and has perfectly caramelized crunchy edges. The white chocolate buttons on top add a delicious sweetness. An after-school snack winner and a high-fiber and good-fat pick-me-up. Super easy to bake!
The New Year is old already. 3 days old here in Australia and there are no lingering signs of party pops, confetti or festive lights. People are back to work, couples are booking Valentine's spa getaways and families are planning their Easter holidays. Life is on in full swing after just a week of maybe doing nothing. That is the world we live in, a tiny bit fickle, we hop on from one thing to another and nothing stays within the reach of our short attention spans for more than a few minutes, maybe hours or a day. It is not our fault. There is too much to do, too much to see and experience and too much to achieve.
Speaking of achievements, I hear people around me making lots of new year resolutions this time of the year. I used to, once upon a time. I don't any more. I don't believe in waiting for a year to commence to resolve to doing something special, something good. I believe in doing it when the whim strikes and sticking with it. So this year as well, there are no new year resolutions for me. Just a continuance of the life I have grown to love and cherish. Waste not, want not. Reduce, reuse, recycle. Eat fresh, eat local. Make healthier choices. Stop and smell the flowers. Put on your wide-eyed-wonder glasses. Get closer to nature. Support a cause. Fight for a belief. Hug a lot. Have faith. Eat and be merry.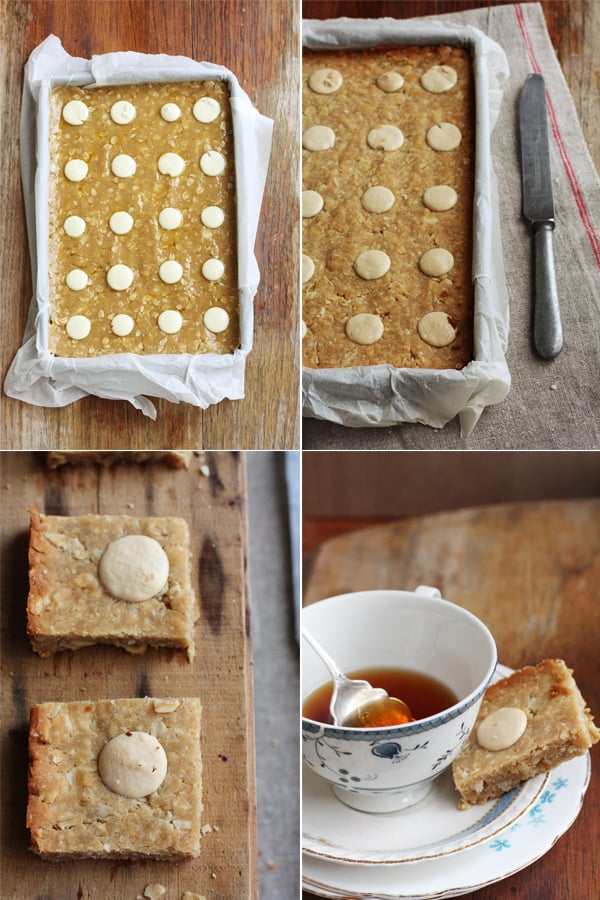 Today, I am sharing a recipe for macadamia tray cookies or slice if you will. We have some beautiful macadamias here in Australia and if you manage to find a big bag, this slice begs to be baked. Just like its British cousin, the flapjack - these are buttery and full of oats. They are golden and packed with nuts. They travel with me often in a ziplock bag and save me pocket change when hunger strikes. They make me happy. I also make them with pecan nuts or crushed smoked almonds and they are equally divine. Served with a dollop of vanilla ice cream and warm chocolate sauce, they transform into a stunning dessert. If you bake them, I hope they make you happy too.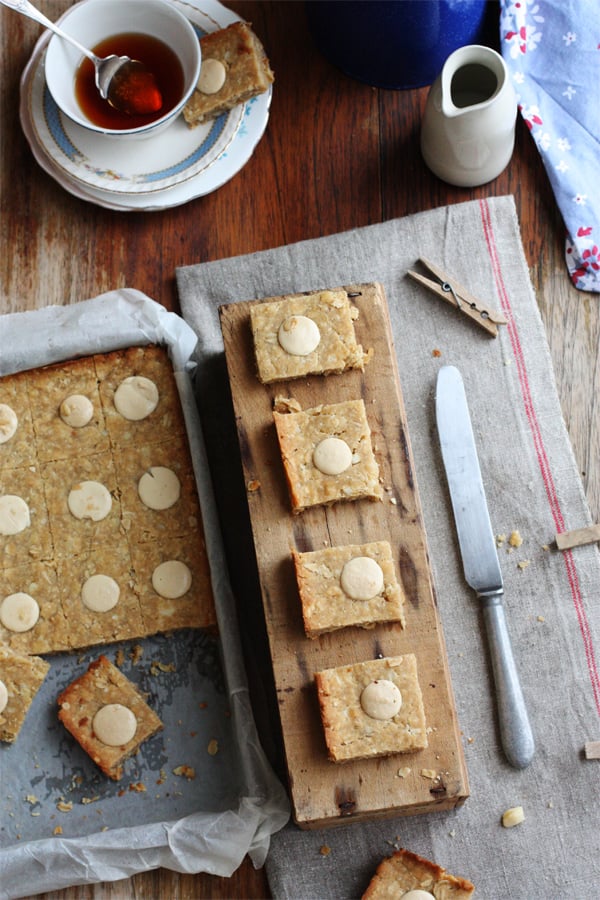 Recipe
Hungry For More Recipes? Subscribe to my newsletter. Check out Facebook, Instagram and Pinterest to see everything I share! And if you love cooking and new cookbooks, join my free Cooking Club on Facebook!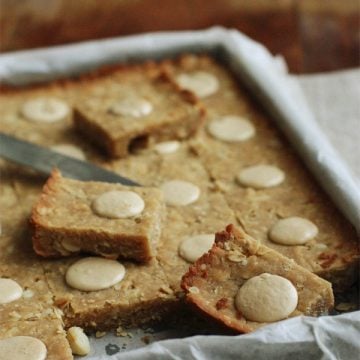 Ingredients
250

g

butter

4

tablespoons

honey

3/4

cup

brown sugar

2 1/2

cups

plain flour

3/4

cup

organic rolled oats

1/4

teaspoon

mixed spice

100

g

macadamias

,

crushed

12

white chocolate buttons
Instructions
In a saucepan melt butter, honey and brown sugar on low heat. Remove and set aside. Preheat oven to 190°C. Grease and line a 30cm X 20cm lamington/slice tray with baking paper.

Combine flour, oats, mixed spice and macadamias in a bowl. Toss to mix. Add the butter mixture and mix with a wooden spoon until well combined. The consistency should be that of a loose dough.

Press batter in the prepared pan with the wooden spoon, smoothing out the surface. Press white chocolate buttons neatly onto the pressed cookie dough.

Bake in preheated oven for approximately 20 minutes until golden and cooked through. Remove from oven, cool completely in tray and remove. Cut into neat slices.
Notes
Nuts - The macadamias can be easily swapped for any other nut you prefer. Cashews and almonds are good substitutes. Sweetness - The content of sugar in the recipe is not very high, so putting a chocolate button on top gives you that added sweetness. You can swap the white chocolate buttons for milk or dark chocolates ones. Alternatively, if you like your cookies less sweet, just skip the buttons. Baking Time - The oven baking time will vary depending on your oven type. I usually check the oven as it bakes. These cookies are done when the edges are browning.
Did you make my recipe?
I'd love to hear how you went! Tag me on Instagram @cookrepublic