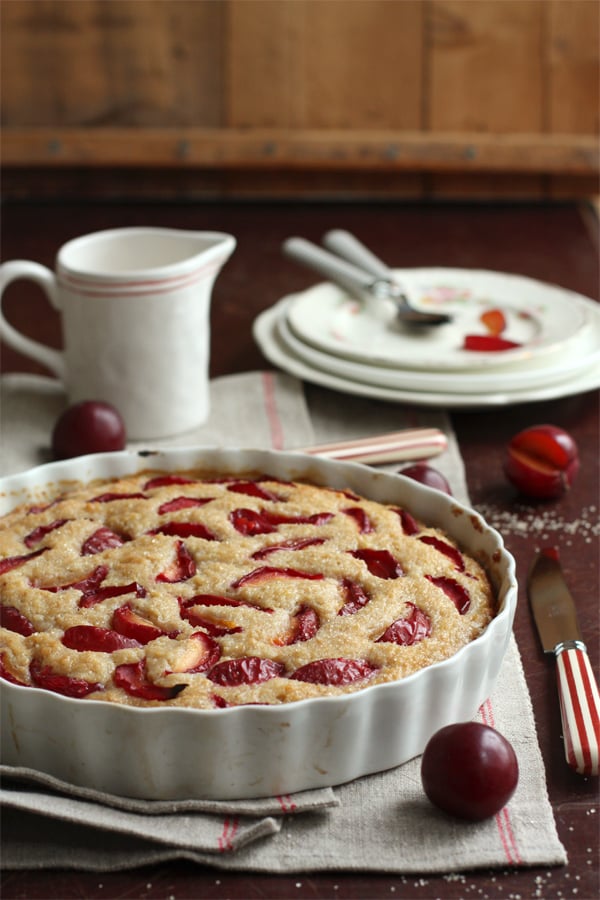 One of the best things about our Thursday Farmer's Market are the sugar plums. They are small, perfectly shape, tart and blood red. I am always amazed at their beautiful texture. Crunchy and juicy, as if it was even possible otherwise. Sadly, I can't stand eating them unless they happen to be very sweet. I have an extremely low sour threshold. Which means, all the more for Nick who adores them.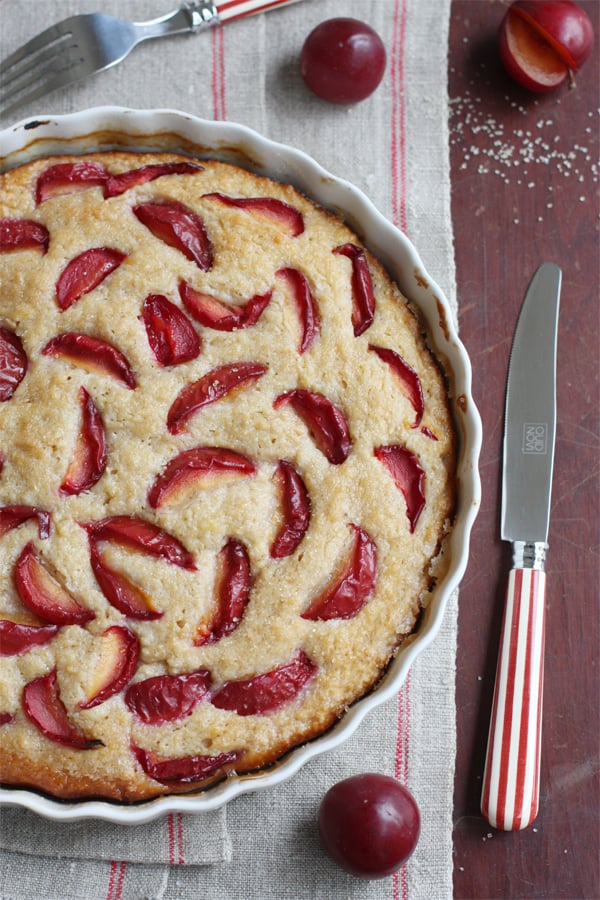 But I can have them in a dessert, where their tartness is masked by all the sugar in the dessert itself. Leafing through
Heidi Swanson's
Super Natural Every Day
, I pause at a recipe simple called Buttermilk Cake. I spot tiny delicate slices of plums on the cake in the picture accompanying the recipe. I have buttermilk. I have sugar plums. I need to make this cake. So I do.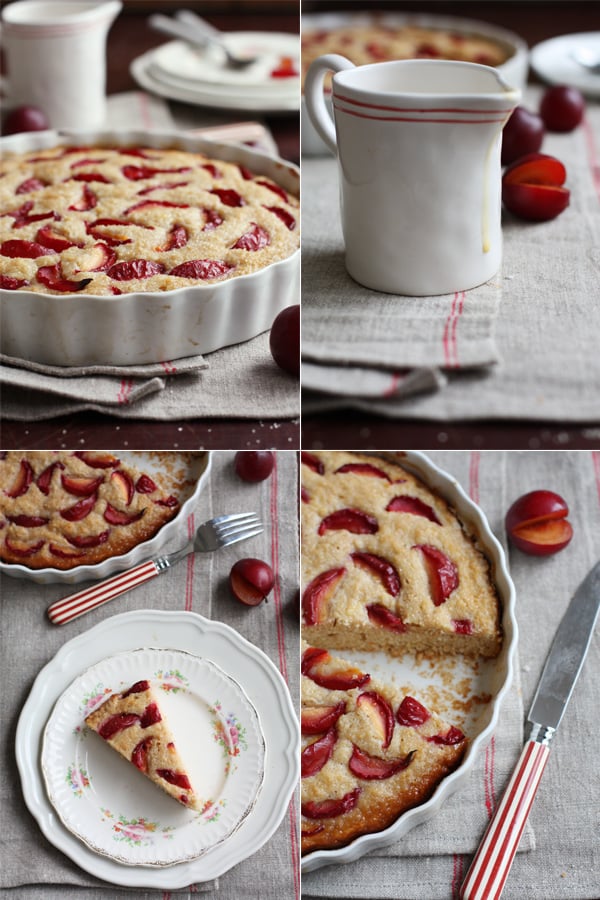 Things that make my baking experience a tiny bit more delightful than most days
1. The cake is baked in a quiche pan. I don't know why, but it makes me giddy with happiness.
2. I mix it by hand even though I have my Bee sitting on the counter. (There is an unspoken joy in going for a walk, while a very expensive car sits in your garage.)
3. Slicing slivers of fresh plum crescents from their pit is a new and very pleasing experience. (I am glad all the plums are firm and not over ripe.)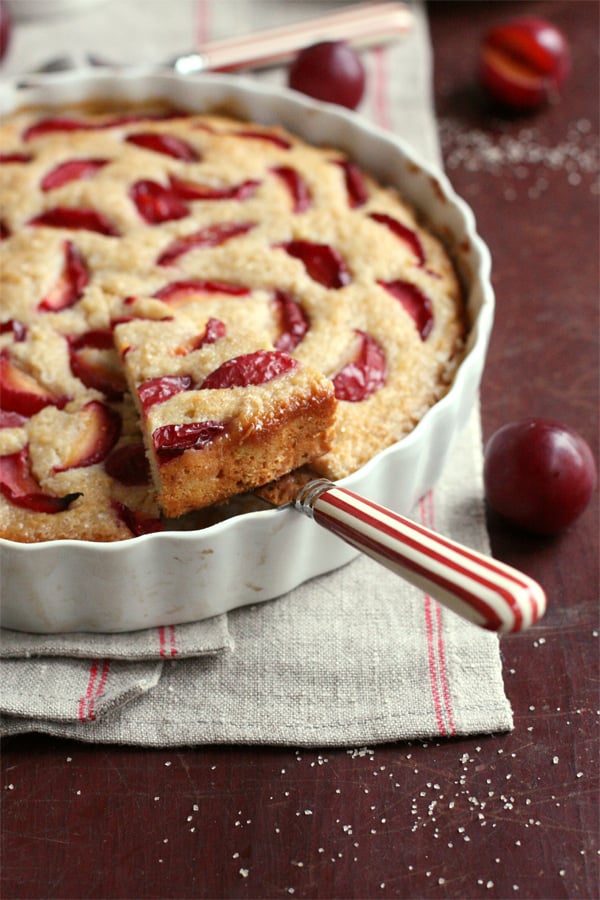 Food Styling And Prop Alert - Red stripe knife & fork ($4.95 each from David Jones). White quiche dish ($5 from Kmart). White scallop plate - ($2 from Target). Vintage floral plate - ($1 from Thrift Store). Custard jug with stripes - ($7.95 by Ivory House). Vintage French linen - (From Grosgrain Homewares).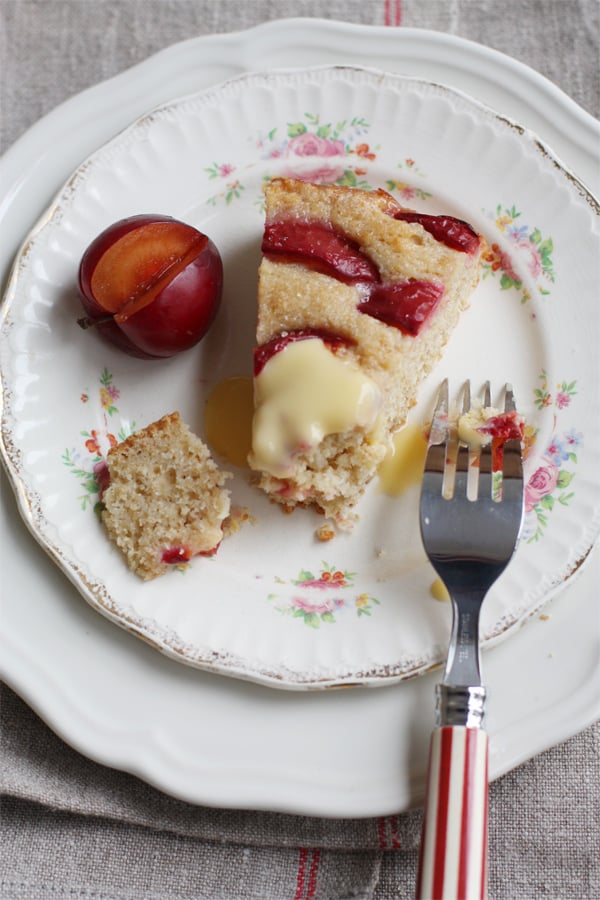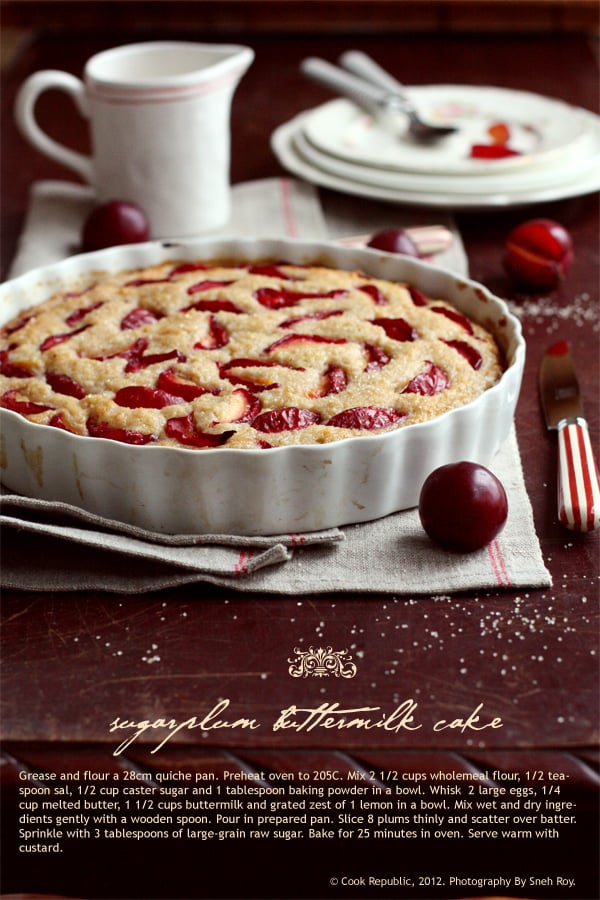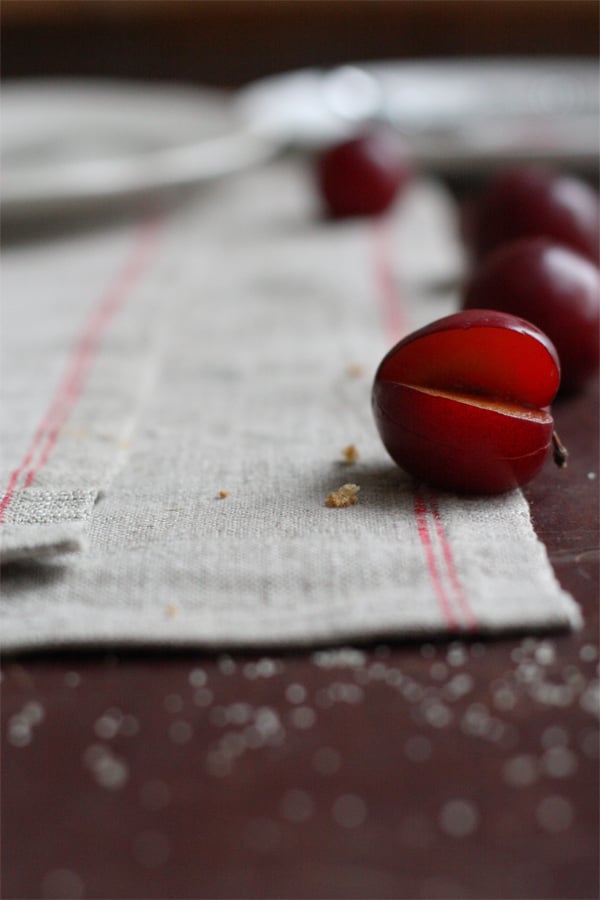 [print_this]
SUGARPLUM BUTTERMILK CAKE
Preparation Time - 20 minutes
Baking Time - 25 minutes
Serves - 12
Ingredients
2 1/2 cups wholemeal flour
1 tablespoon baking powder
1/2 cup caster sugar
1/2 teaspoon salt
2 large organic eggs
1 1/2 cups buttermilk
1/4 cup butter, melted and cooled
grated zest of 1 very large lemon
8 sugar plums, thinly sliced
3 tablespoons large-grain raw sugar
Method
Preheat oven to 205C (400F). Butter and flour an 11-inch (28cm) quiche dish or tart pan.
Whisk together the flour, baking powder, caster sugar and salt in a large bowl. In a separate bowl, which together the eggs, melted butter, lemon zest and buttermilk. Add the flour mixture to the buttermilk mixture and stir until just combined.
Spoon batter into prepared pan, flattening the batter and pushing it out towards the edges. Arrange plums in a circular fashion or just scatter them on top of the batter. Sprinkle the top evenly with the raw sugar.
Bake for approximately 25 minutes until the cake is golden and cooked through. A toothpick inserted in the centre should come out clean. Serve warm with custard or by itself with a sprinkling of icing sugar.
Notes
Use ripe but firm plums. Use a sharp paring knife to slice lobes as close to the pit as you can. Each small plum should give you 8 small slices.
This cake is not very sweet. I served this with store bought custard. You could also serve it with sweetened whipped cream or maple syrup or even ice cream.
Heidi suggests using seasonal fruit or doing a winter version by swapping the plums for 12 pitted and chopped dates and 1 cup toasted walnuts.
[/print_this]
January 2012 Spotlight - Heidi Swanson
Every month on Cook Republic a food hero will be featured. It could be a celebrity chef, food blogger, cookbook author, a cuisine, an ingredient or a trend. In January 2012 the spotlight is on food blogger and writer Heidi Swanson of the 101 Cookbooks fame. With one of the oldest and most original voices in the ever burgeoning world of food blogs and photography, Heidi is a much celebrated cookbook author. Join me as I explore Heidi's food philosophy to the fullest and cook from her most recent offering, Super Natural Every Day which is published by Hardie Grant in Australia.