Trust street vendors in India to take something as ubiquitous as an egg and make it unapologetically ethnic, flashy and delicious. If you have ever travelled along the vast railway network on one of the long-distance trains in India, then you must have come across the famous Indian Omelette makers! Local men with a penchant for eggs, hawking carts full of freshly laid eggs, soft bread loaves, spices and herbs; creating magic on a hot sizzling pan just as you train pulls into the station in the early hours of the morning. Meet the masala egg!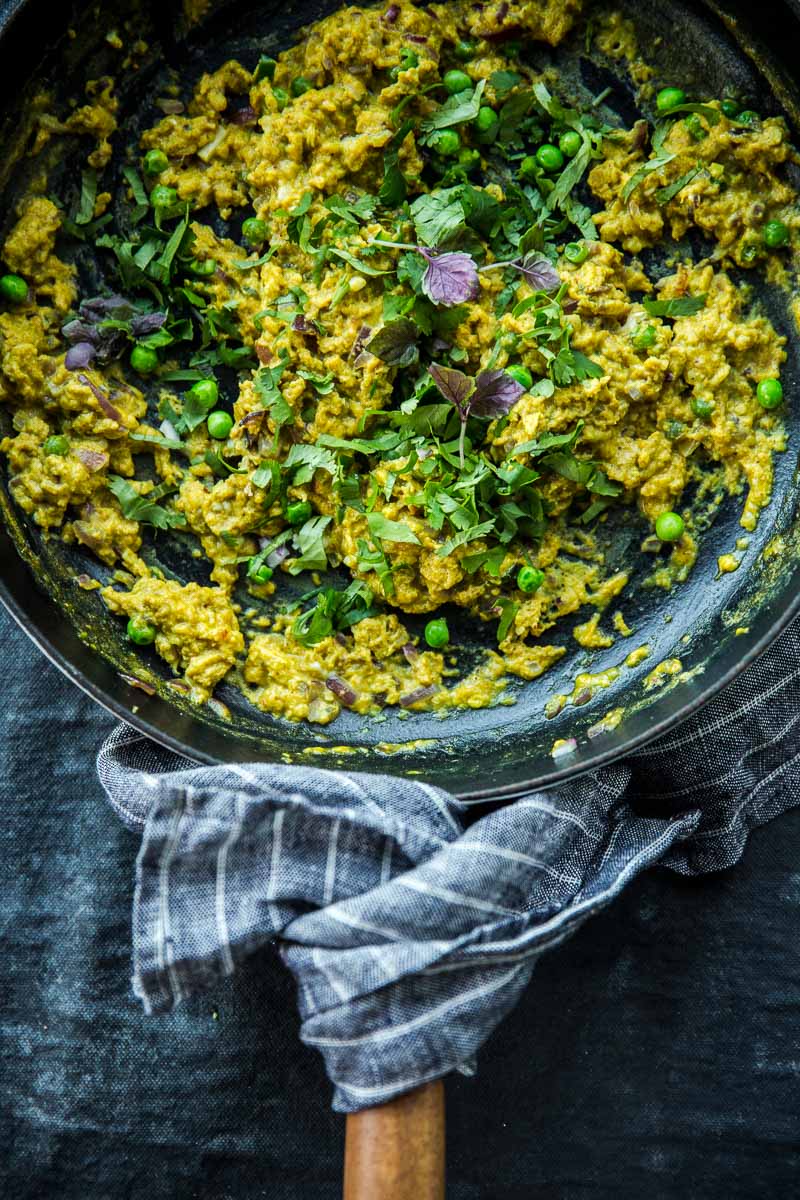 You haven't had eggs quite like this! Onions, chillies, garlic, ginger, and spices tossed on a hot pan until caramelized. Whisked eggs poured on top with enough coriander to cover it all and allowed to set well until starting to brown (this is key as when the egg is in limbo between the just starting to brown nicely and burning stage – it is at its most delicious). The omelette slapped onto hot buttered bread and served with a cutting (a scant three sips of brewed chai in a chipped clear glass) is one of the simplest most delicious meals you will experience.
Nearly two decades ago on one of my last long-distance trips from Mumbai to Ahmedabad I came across this omelette maker who had several glass bottles filled with sparkling water stashed under his cart. Every time he was about to whisk the eggs for an omelette, he would pour a generous dash of this water into the bowl. When I asked him what it was, he told me it was soda water and it made the omelette light and puffy!
It was a tip that stayed in the recesses of my mind until recently when I started collaborating with SodaStream on fresh food recipes using their sparkling water. I decided to re-create that delicious masala filled dish as a scrambled egg brimming with big bold flavours. And true to his advice, the sparkling water full of bubbles created an amazing airy and frothy egg mixture (as you will see in the video!) that cooked beautifully and came out melt-in-your-mouth fluffy.
I hope you make this gorgeous twist on the traditional scrambled eggs. It is warming and full of golden goodness. Enjoy the video and I would love to hear your feedback in the rating and comments below. Share your masala egg pictures with me on Instagram by tagging @cookrepublic #cookrepublic. Enjoy! x
Recipe
Hungry For More Recipes? Subscribe to my newsletter. Check out Facebook, Instagram and Pinterest to see everything I share! And if you love cooking and new cookbooks, join my free Cooking Club on Facebook!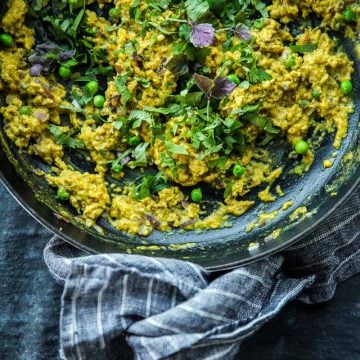 Ingredients
1

tablespoon

olive oil

1

small red onion

,

finely chopped

1

garlic clove

,

minced

1

teaspoon

grated ginger

¼

cup

frozen green peas

½

teaspoon

red chilli flakes

4

eggs

½

teaspoon

ground turmeric

½

teaspoon

garam masala

½

teaspoon

sea salt flakes

¼

cup

60ml sparkling water

Fresh coriander

,

to garnish
Notes
Heat oil in a frying pan on medium. Add the onion, garlic and ginger. Sauté for a few minutes, tossing constantly until the onion starts caramelizing.
Add the green peas and chilli. Sauté for a minute or two until peas are glazed. Reduce heat to low.
Crack eggs in a medium bowl. Add turmeric, garam masala and salt. Whisk with a balloon whisk until pale and creamy.
Add sparkling water to the egg mixture and whisk gently for a few seconds.
Add the egg mixture to the onion mixture in the pan. Using a wooden spatula, draw the egg from the edges to the centre of the pan in a cutting motion. Cook for a minute or two until eggs are just cooked and still wobbly.
Garnish with fresh coriander leaves and serve hot with crusty bread.
Did you make my recipe?
I'd love to hear how you went! Tag me on Instagram @cookrepublic
Note – This post is sponsored by SodaStream. The recipe and video were specially created for SodaStream's Spirit Sparkling Water Maker. It is a brand/product that I love and have been using for almost a decade. I believe that using SodaStream is not only fun but helps reduce plastic bottle usage and waste. All opinions and musings are my own.