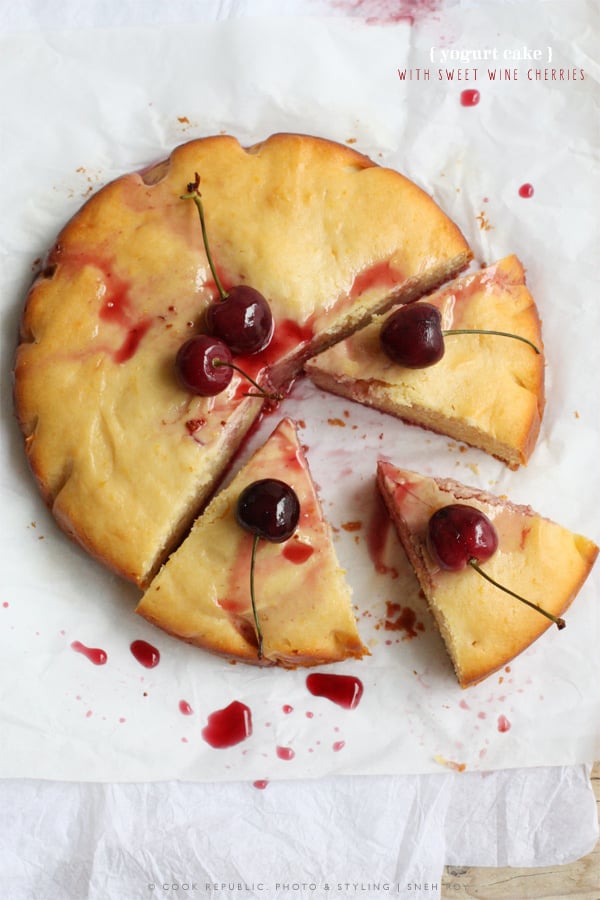 Don't you just love the creamy texture of Greek yogurt? Especially if it is swirled with delicate citrus zest, like a white snowfield lit up with a thousand fireflies. Now imagine that flavour, the zesty tang in a dense and moist cake form. Top that gastronomic fantasy with booze infused sweet cherries. Aaaah!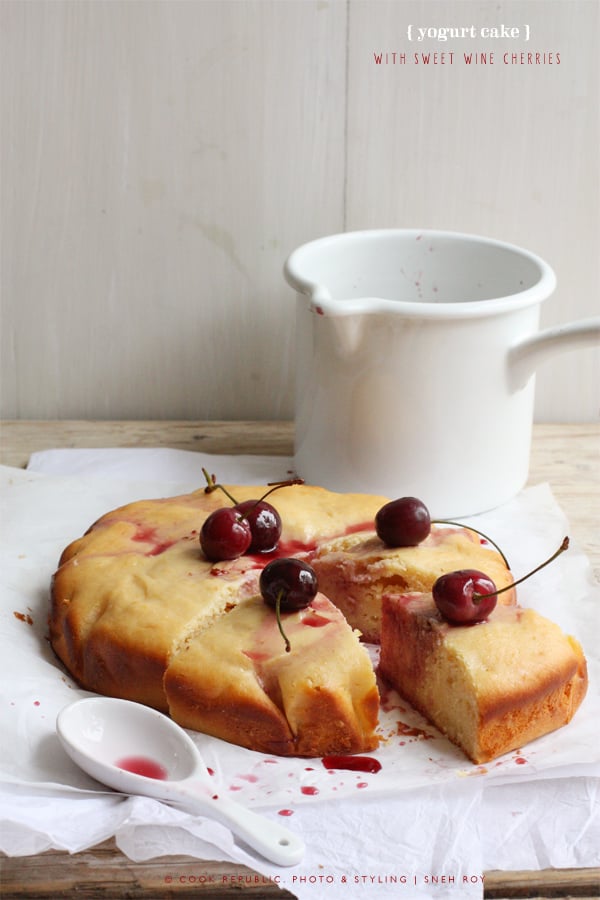 This is a simple cake. Quite healthy. Quick to bake. One of those blank canvas cakes that I love so so much. On most days, I love to eat a big slice with a generous dusting of icing sugar. For a special treat, I make a compote or poach some seasonal fruit in liqueur to go along with the cake. When it bakes slowly, the top is like a huge dollop of snow white yogurt blushing golden. You look at the cake and you just know that it was baked with yogurt. It has that swirly, dollop induced creamy quality to it.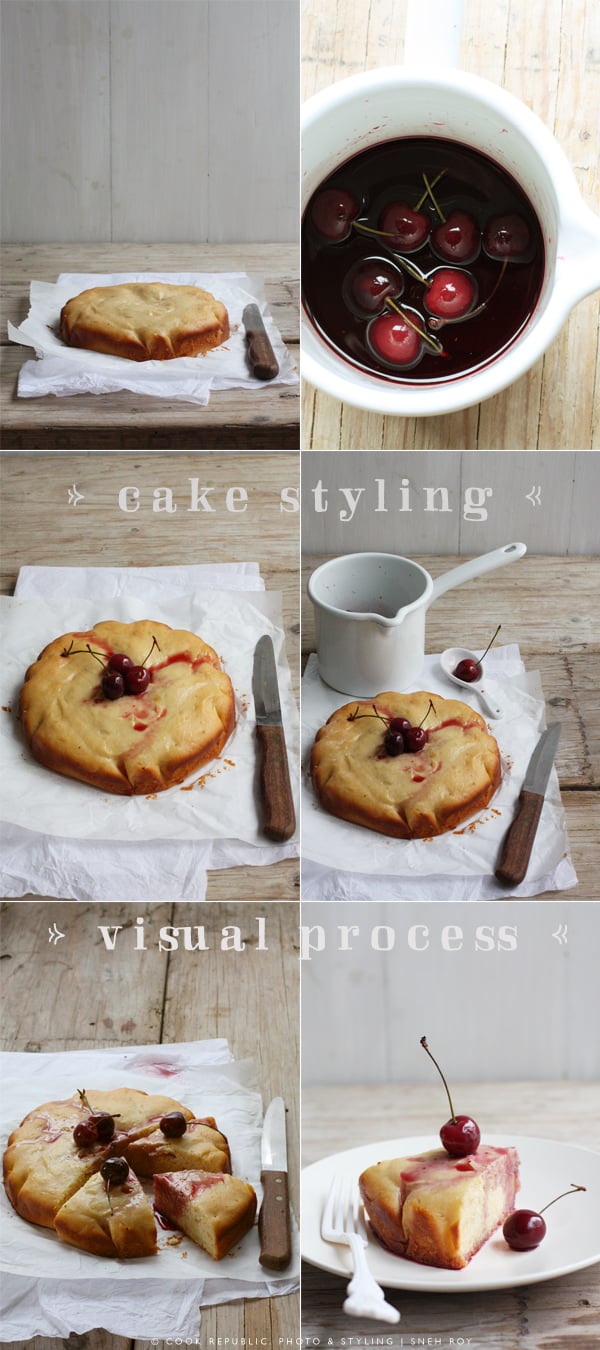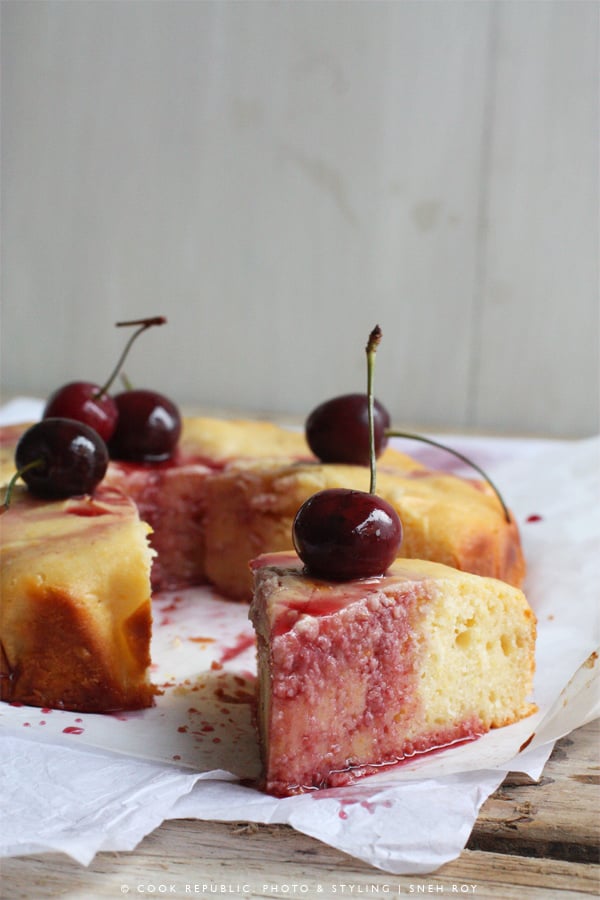 [print_this]
Yogurt Cake With Sweet Wine Cherries
adapted from Delicious - Simply The Best by Valli Little
A simple, healthy cake with the tang of Greek yogurt and the sweetness of wine and vanilla poached cherries.
Preparation Time - 10 minutes
Cooking Time - 45 minutes
Makes - To Serve 6
Ingredients
for the cake
1 cup Greek yogurt (thick)
1 cup caster sugar
1 tablespoon vanilla extract
2 eggs
1/3 cup rice bran oil
pinch of salt
1 2/3 cups plain flour
1 1/2 teaspoons baking powder
finely grated zest of 1 lemon
finely grated zest of 1 orange
for the cherries
1 cup red wine (I used Shiraz)
1 teaspoon vanilla extract
1/3 cup water
1/3 cup caster sugar
1 tablespoon grated zest of orange
10-12 fresh cherries
Method
to make the cake
Pre-heat oven to 170C. Grease and line a 20cm round springform tin with baking paper.
Combine yogurt, caster sugar, vanilla extract and salt in a bowl. Beat with an electric mixer until pale. Add the eggs and beat for another minute. Add the oil and beat for a couple of minutes until mixture is light and fluffy. Add the flour, baking powder and zest. Beat until completely mixed for a minute or two.
Spoon batter into prepared tin and bake in the oven for approximately 45 minutes until cooked through and golden on top.
Remove from the oven and allow to cool in the tin.
to make the cherries
Combine all ingredients in a heavy bottomed saucepan on low heat. Simmer, stirring gently from time to time for around 20-25 minutes. The liquid should be of the consistency of a runny syrup, a tiny bit sticky but not too much.
Scoop cherries and poaching liquid onto the cake to serve.
[/print_this]
Note - This cake was baked in the Profiline Push Pan that was sent to me to be reviewed. It is a springform pan like no other. It has a silicone seal at the base, so no clips or sneaky leaks. I love it. It is so easy to use and I don't even have to line my pan in most cases. A truly gorgeous and ingenius product if you happen to be an avid baker.