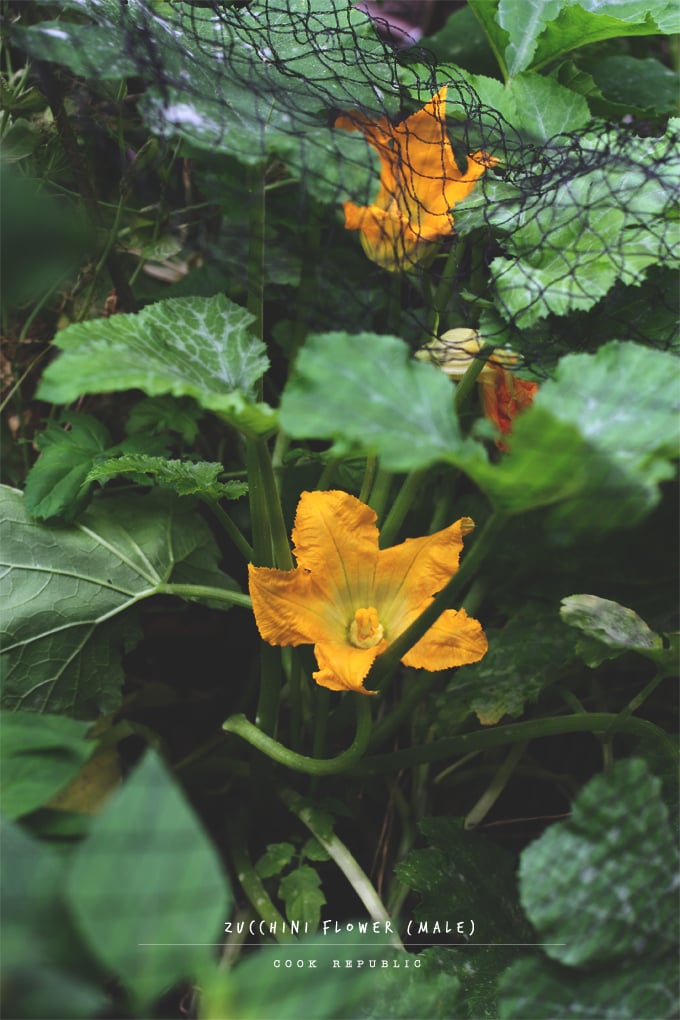 Zucchinis can grow in abundance like a weed if you are privvy to the fact that you may have to umm ... facilitate zucchini sex. Sydney blogger Mel talks about this delicate topic at much length and with much hilarity on her blog. Being a novice gardener, I was positively thrilled when my zucchini seeds obediently sprouted within a day of planting. By the end of the week, the first of the maple-shaped leaves had popped up. At the end of the second week, the stalks had grown strong and hairy. Flower buds had popped up and we talked about what we would do with our zucchini harvest, because obviously there was going to be enough to sell at the local farmer's market. Every morning we would um and aah over the gorgeous yellow flowers. In a matter of days, one by one the flowers started dropping like flies whereas new ones would pop up every now and then. No zucchini in sight!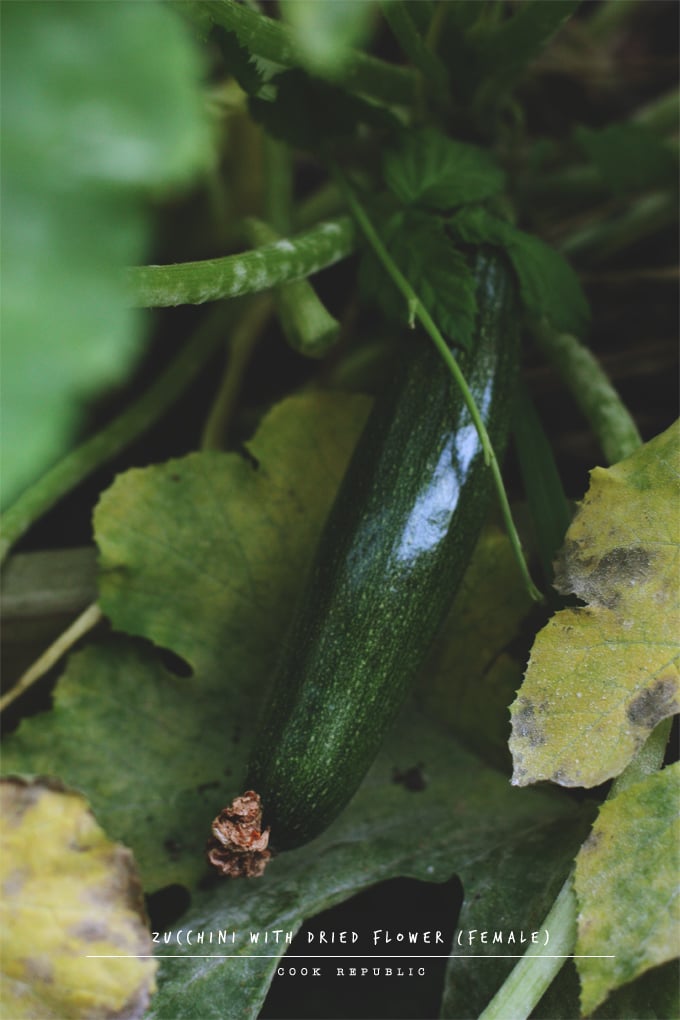 The first shadow of doubt loomed followed by a worrying bad feeling in the gut. So I did what I always do when I panic. Google it! It was then that I discovered the fascinating world of zucchini sex. From reading numerous articles and blogs, this is what I discovered about zucchinis. There are two kinds of zucchini flowers, male and female. The male has a male part in the centre that looks like, well - a male part (pictured). The female flower has a centre that is round with an opening and has a teeny tiny zucchini attached to the bottom of the flower which will eventually grow into a full zucchini if the female flower is fertilized. If there are no strong winds or bees in sight, you may have to enable zucchini sex yourself. Because the female flowers usually open very early in the morning, you may have to set an alarm to make this happen. Swabbing the pollen on the male part (centre part in the male flower) with a cotton bud, you quickly and gently dust/touch/swirl over the female part.  Now that your part is done, you can go get yourself a strong cup of coffee. When you get back, you might see the female flower closed. All you can now do is pray and hopefully a zucchini will start to grow soon.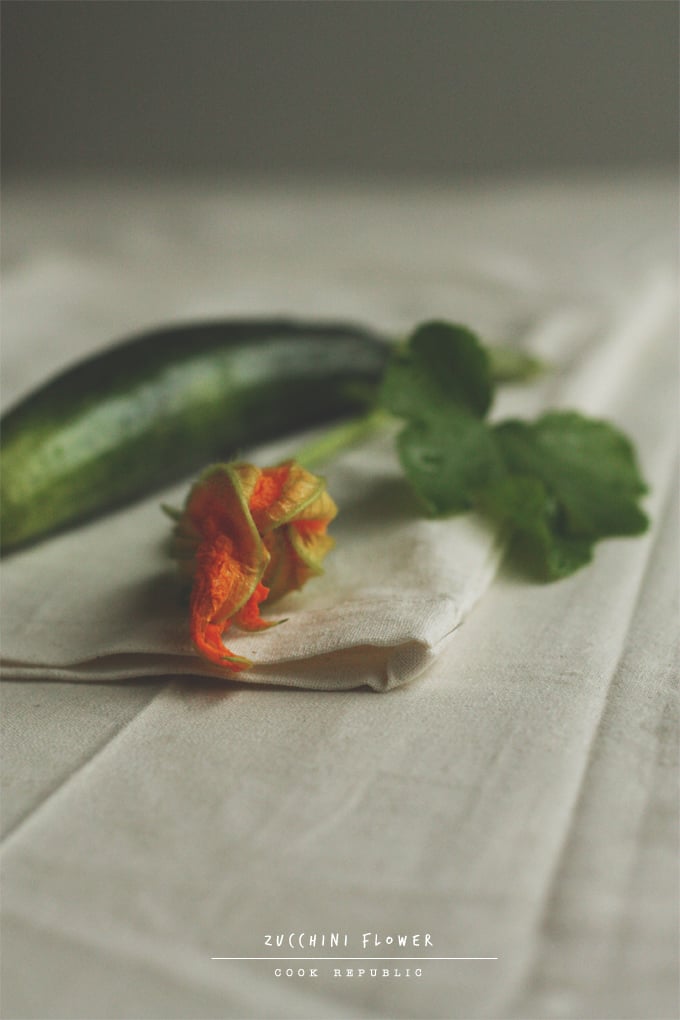 We managed to grow one zucchini during the season. ONE! What can I say, I am not much for setting alarms nor vegetable sex. But it was a good zucchini and deserved to be put in a special dish. I love mushroom sauce, the kind that you make for a Christmas roast. Creamy. White. Rich. Indulgent. But that is at Christmas. One can't possibly eat Christmas-rich food in February, at the peak of Australian summer. So I decided to make the creamy mushroom sauce with grated zucchini. A very light version of the indulgent white sauce, it went well with freshly cooked hot pasta and some simple seasoning. Next summer though, will be the era of the zucchinis. I can feel it!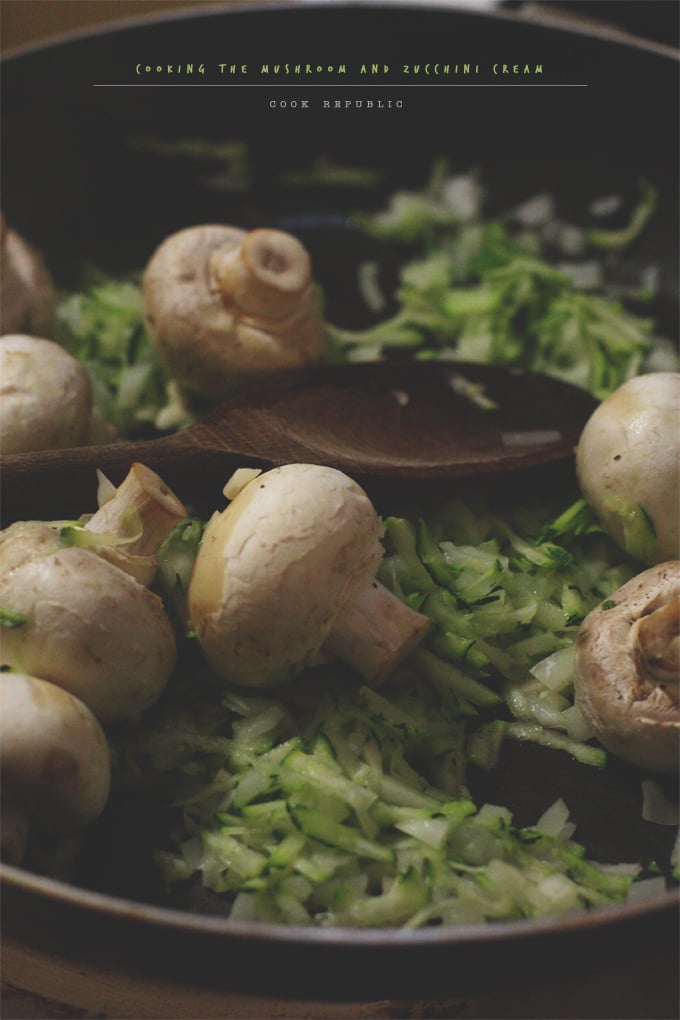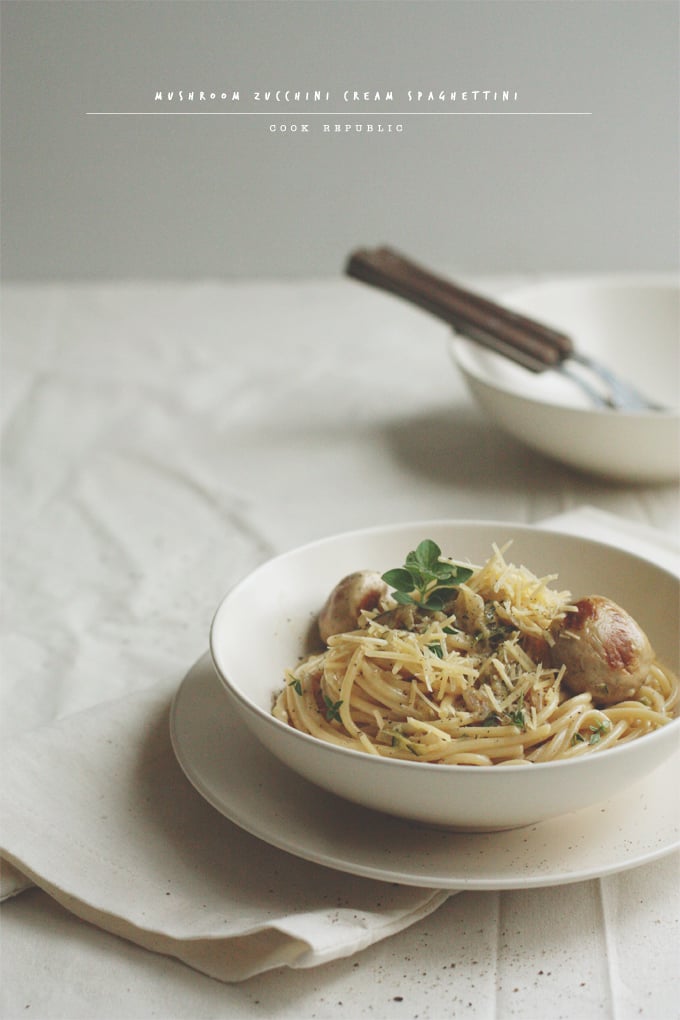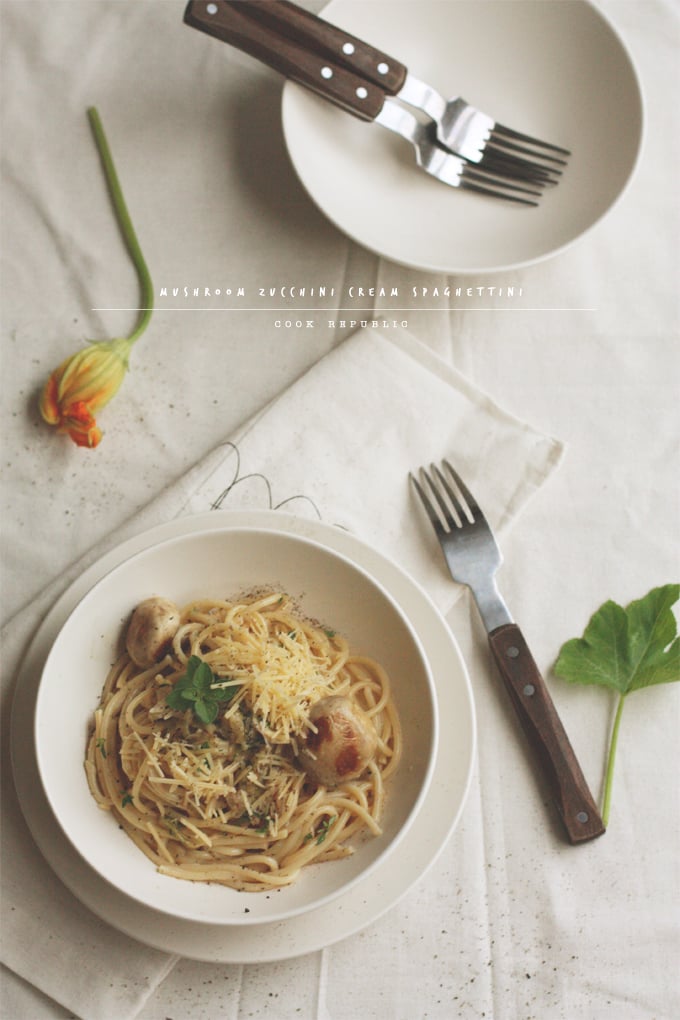 [print_this]
MUSHROOM ZUCCHINI CREAM SPAGHETTINI
Strands of delicate pasta cooked in a beautiful creamy mushroom and shredded zucchini sauce for a posh dinner for two. Delightfully light and surprisingly easy.
Makes - To Serve 2
Ingredients
1 brown onion, finely chopped
1 zucchini, grated
2 garlic cloves, finely chopped
1 bay leaf
2 tablespoons olive oil
2 cups white whole button mushrooms
1 cup lite cream
2 tablespoons flour mixed with 1/2 cup water
1/2 cup vegetable/chicken stock
1 tablespoon raw sugar
salt to taste
freshly ground black pepper
few sprigs of fresh thyme
freshly grated Parmesan
extra thyme leaves to serve
pre-cooked spaghettini
Method
Heat oil in a sauté pan on medium. Add onion, garlic and zucchini. Cook for 5 minutes till the onions start to caramelise. Add mushrooms. Cook for another 5 minutes till the tops of the mushrooms start turning golden.
Add cream, bay leaf, salt, sugar and pepper. Reduce heat to low and simmer for 5 minutes, stirring occasionally. Add the flour water, stock and thyme. Mix well. Cover and simmer for 5 minutes until sauce starts to thicken.
Remove from heat. Toss through pre-cooked spaghettini and top with freshly grated parmesan and extra thyme leaves.
[/print_this]