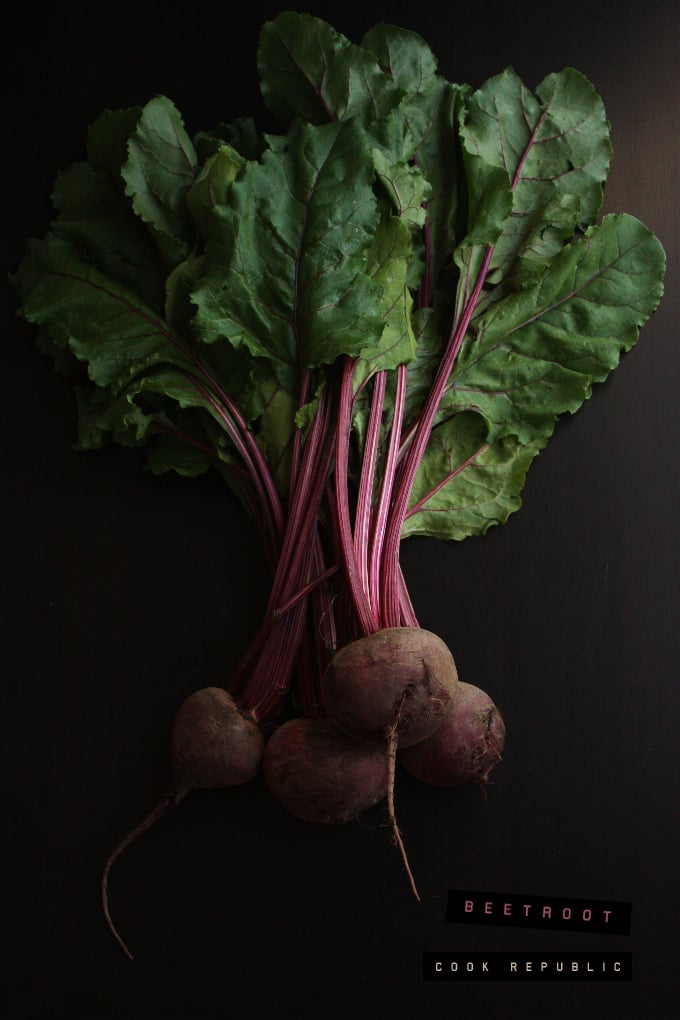 For the longest time I thought I was allergic to beetroot. It was suggested to me as a child. Can't remember when or by whom. So I stayed away (dear old responsible me!). When I was a little older, I had beetroot quite by accident, on a long distance train of all places. It was hidden amongst a bunch of other veggies in a croquette. When I came to know what I had consumed, I thought I was going to die. That night I waited anxiously for the cold hands of the Grim Reaper to grab mine. But I must have nodded off (which should tell you how concerned I really was!) because the next morning I was fine and maybe even had a red blush from all that beetroot I ate. Well that was the end of that dramatic chapter in my life and the start of a new friendship. With Mr. Beet who always brought with him a promise of rosy cheeks and red red lips.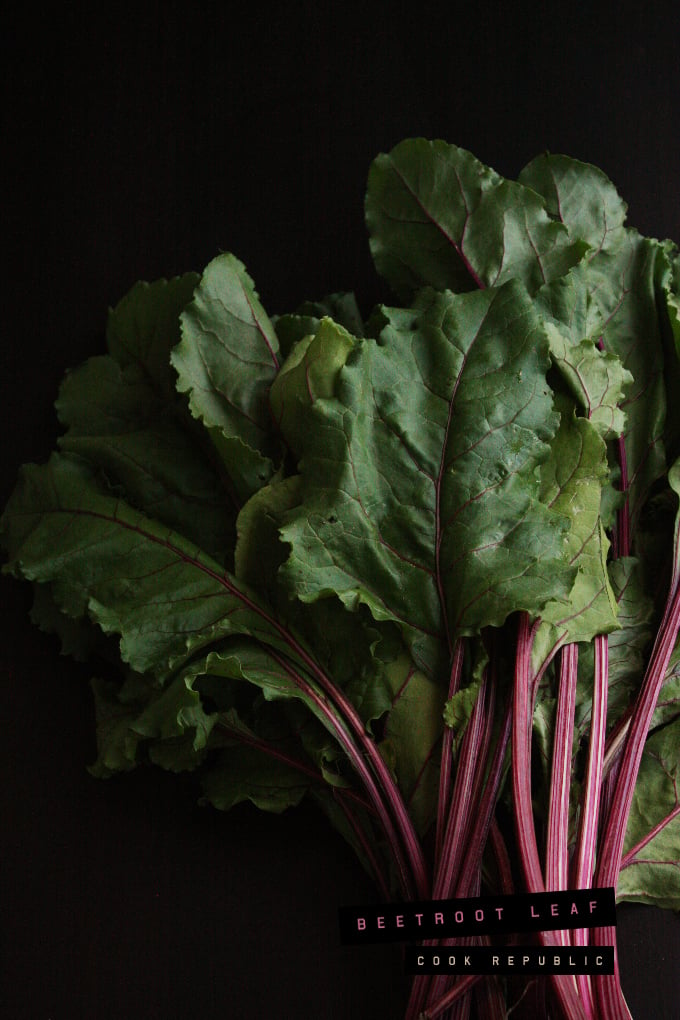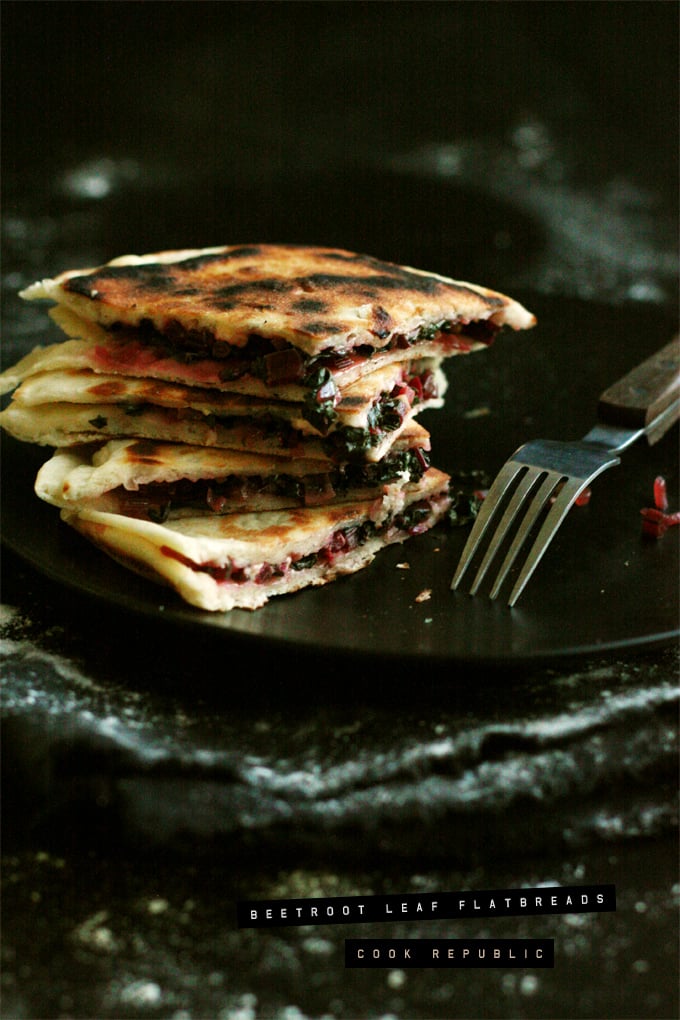 Beetroot has a very earthy flavour and is one of the prettiest, most versatile vegetables in the vegetable kingdom. I have used the fat maroon root in beetroot cake, beetroot juice, dip, salad, soup, curry and sandwich. Inspired by Matthew Evans' recipe where he talks about utilising the leaves of beetroot because they are highly edible and have a taste akin to silverbeet, I cooked them into a delicious filling for some golden yoghurt flatbreads or gozleme if you will. Flatbreads are one of the easiest breads you will make, especially because they are cooked on a pan just like pancakes. They need not be perfectly round, in fact the more uneven they are the more rustic their appeal. They make a great breakfast and are perfect for packing away on camping and picnic trips.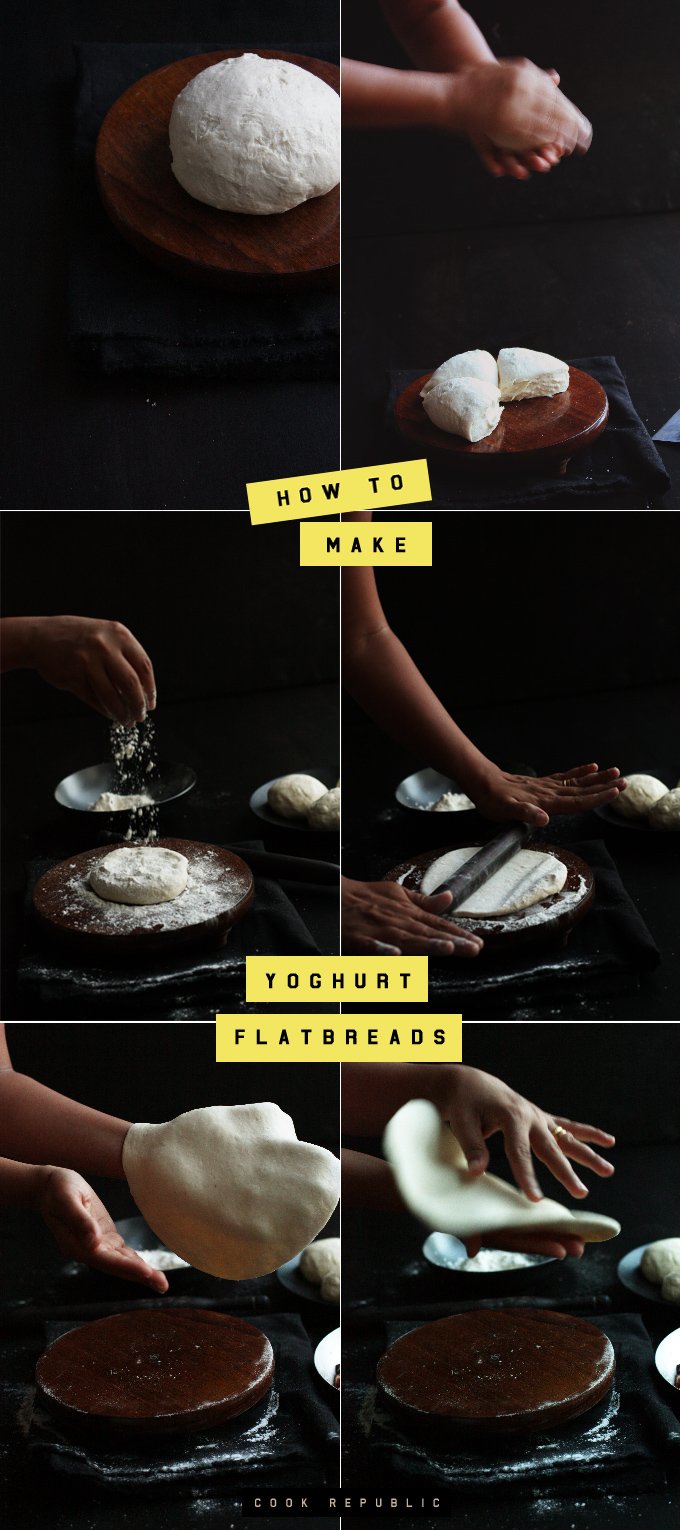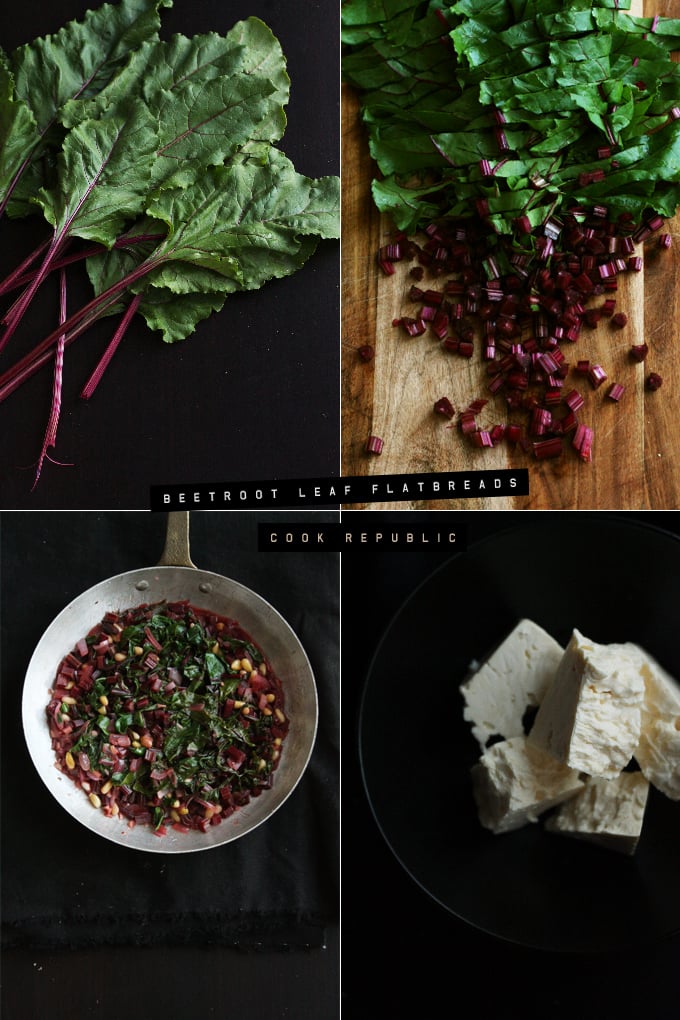 Remmber to use the freshest leaves, usually best straight from the markets. The filling can be made ahead and frozen for a couple of weeks. The post is picture heavy and hopefully all the action shots will make the process less daunting for those of you who would like to try your hand at making these scrumptious flatbreads.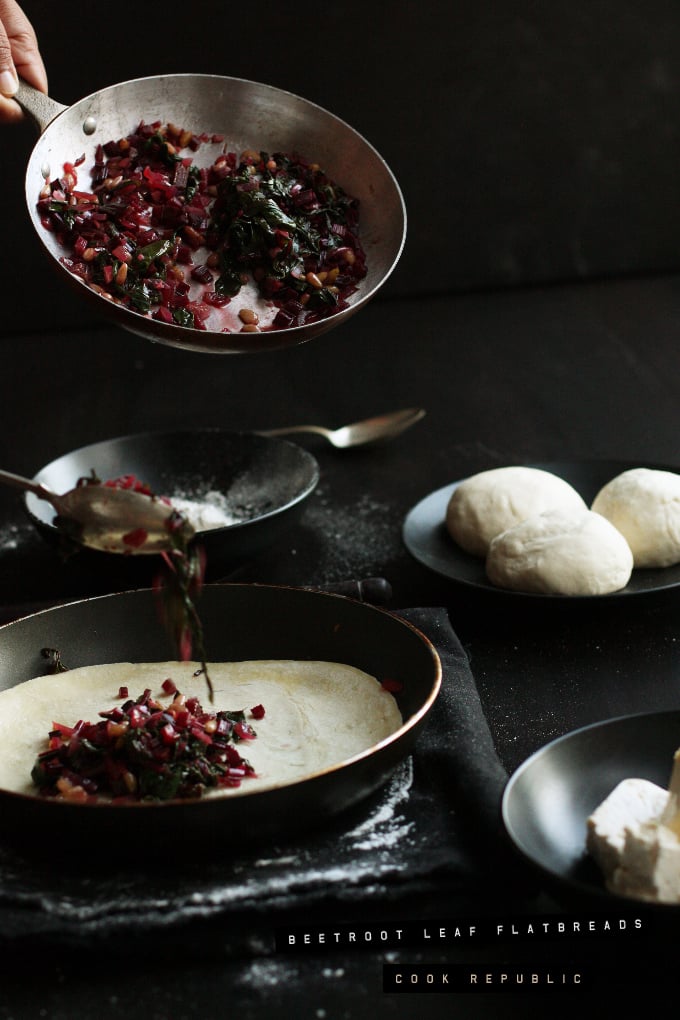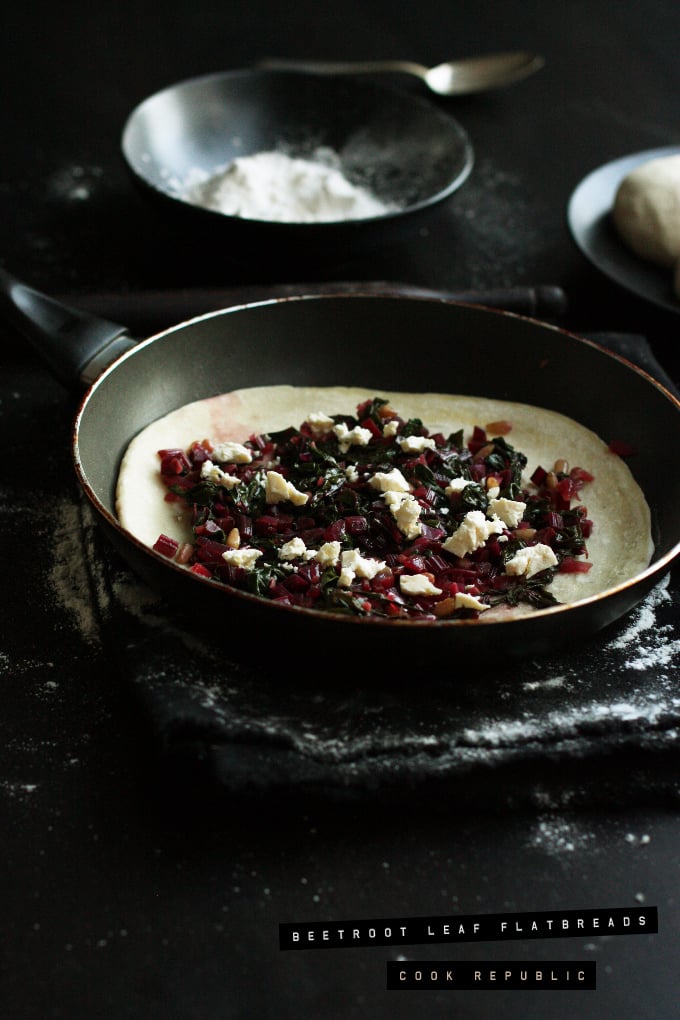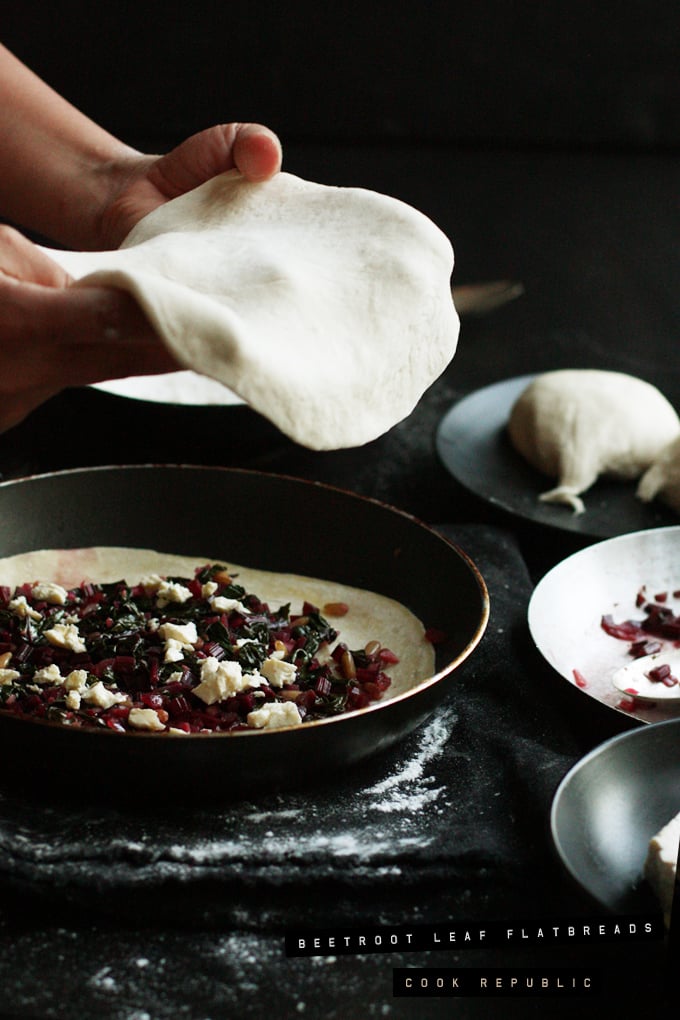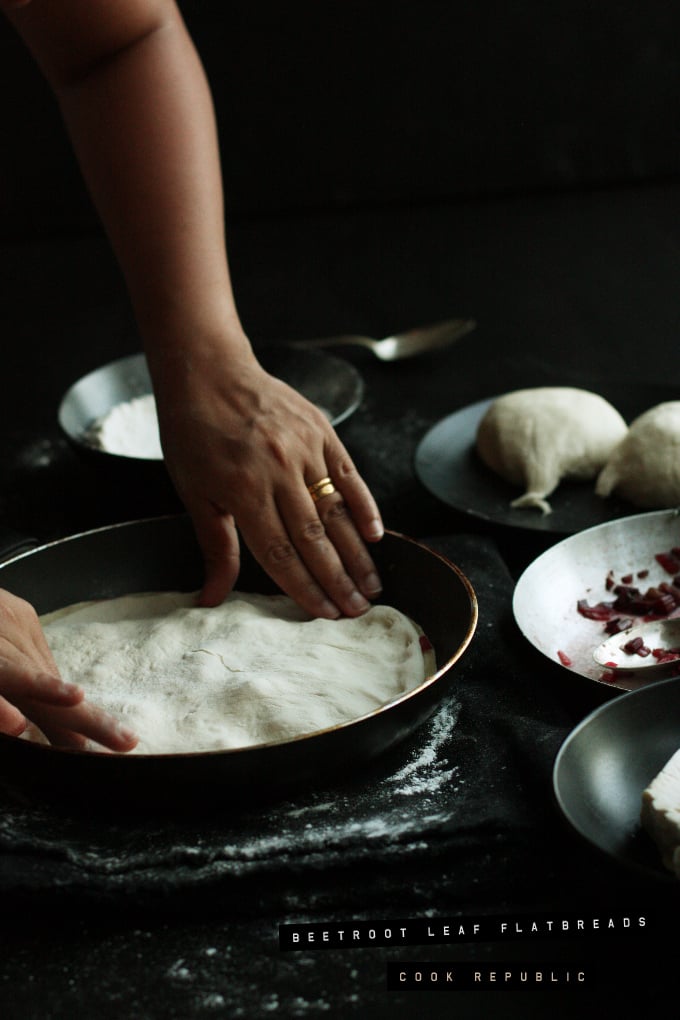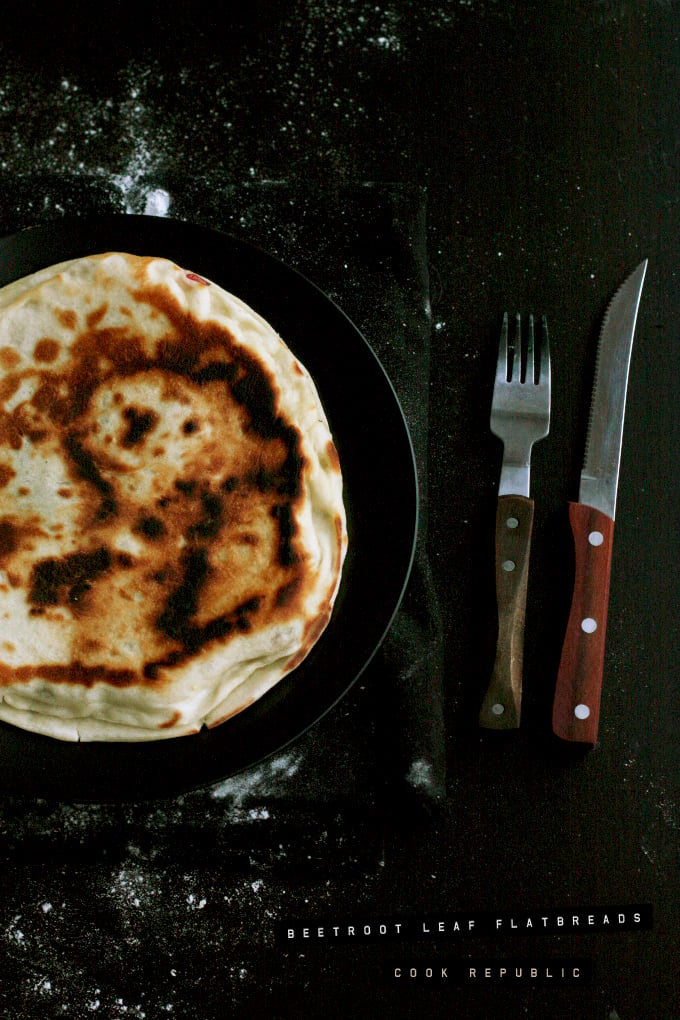 [print_this]
BEETROOT LEAF AND YOGHURT FLATBREADS (GOZLEME)
A healthy yoghurt flatbread recipe with an unusual and tasty filling of beetroot leaves and feta cheese for a hearty picnic snack. Rustic, full of texture and flavour and absolutely delicious.
Makes - 2 large flatbreads to serve 4
For The Flatbread/Gozleme (Makes 4)
2 cups plain flour (approximately 270g)
3 tablespoons Greek yoghurt
1/2 teaspoon baking powder
1/2 teaspoon dry yeast
pinch of salt
2 tablespoons olive oil
1/2 cup water (approximately 150ml)
For The Filling
8 to 10 beetroot leaves and stems
2 tablespoons olive oil
1 red onion, finely chopped
2 garlic cloves, finely chopped
1/4 cup pine nuts, toasted
1 teaspoon ground cumin
1 teaspoon smoked paprika
1 cup crumbled feta cheese
pinch of salt
To Make The Yoghurt Flatbread/Gozleme
Combine all ingredients except olive oil in a large bowl. Mix with a spoon. Turn onto a flour dusted surface and knead for a few minutes until smooth. Return to the bowl. Cover with a tea towel and set in a warm corner of your kitchen for about 30 minutes to prove.
At this point the dough would have doubled in size. Knead in the olive oil to get a smooth dough ball. Cover and set aside for another 30 minutes. Divide dough into 4 balls. Roll each dough ball into 20 cm rounds that are about 1/2cm in thickness.
In a large frying pan, cook each side for 30 seconds on medium-high heat until slightly browned. Remove onto a plate.
To Make The Filling
Wash beetroot leaves and stems. Pat dry and chop finely.
Heat olive oil in a large pan. Cook garlic and onion for about 5 minutes until softened. Add beetroot leaves, stems, pine nuts, cumin, paprika and salt. Cook for 10 minutes on low heat with half cup of water until beetroot leaves start to wilt. Increase heat to high to dry up the water. This should take a minute or two. Stir to avoid sticking.
To Assemble And Cook Flatbreads
Heat a little oil in a heavy bottomed frying panon medium-low heat. Add 1 flatbread. Top with half the beetroot mixture and half the crumbled feta. Place another flatbread on top and press down with a spatula. Cook for 2 minutes until filling is warm, cheese is melted and flatbread is toasted. Carefully flip the flatbread over and cook the other side for 2 minutes. Drizzle oil around the side to toast it.
Repeat process with the remaining flatbreads and filling.
Place cooked flatbread on a serving board/plate and wait for it to cool before cutting it into quarters.
Eat straight away with salad greens and hot sauce or wrap each quarter in wax paper and take along in a box for a great picnic snack.
Alternative Method - For each stuffed flatbread, you need two rolled out flatbreads. Cook only 1 for 30 seconds on each side. Place this flatbread on an oiled hot frying pan, top with filling and then with an "uncooked" rolled flatbread. Carefully press down the seams around the edges over the filling. (See pictures). Continue cooking on either side for 2 minutes to toast well.
[/print_this]