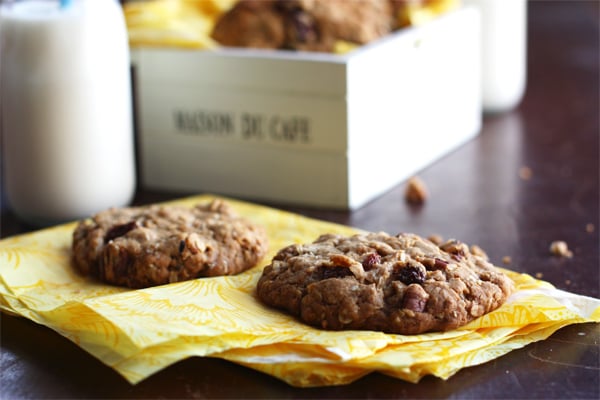 I love big cookies. The ones that you get at coffee shops and delis for $3-$4 a piece. Cookies that are meals in themselves. Cookies that make you feel really naughty because they are so big, they don't even fit in one hand while you hold your coffee cup with the other. This week I baked big fat pecan and sultana cookies and I felt like Lara Croft - Dangerous!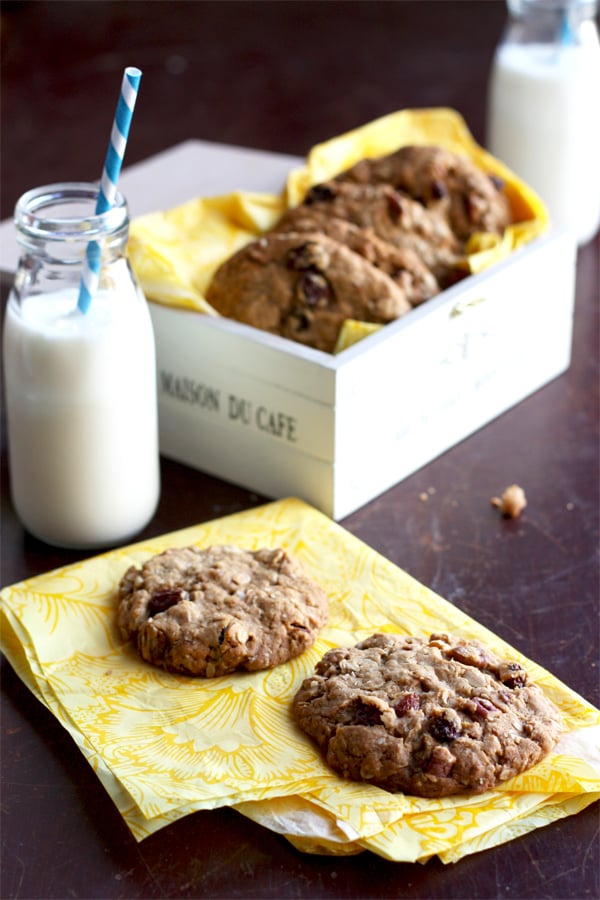 My little boys took one look at the cookies and scampered off like skittish mice, lest I forced them to have something that was equivalent to their lunch and dinner combined. That did nothing to dampen my spirits though. "More for me!" I thought The smallest cookie of the batch was 10 cm in diameter. I felt like a proud mamma.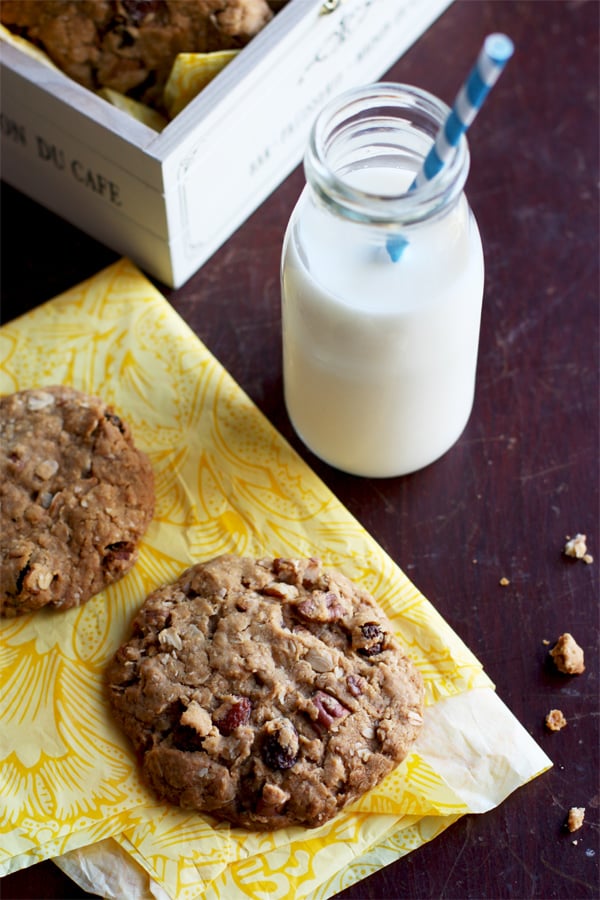 These cookies are crunchy on the outside with a chewiness that pops out and surprises you. There is pecan, oat, coconut and sultanas. Plenty of fibre and they are egg free. Perfect for those playdates with dietary restrictions. What's not to love?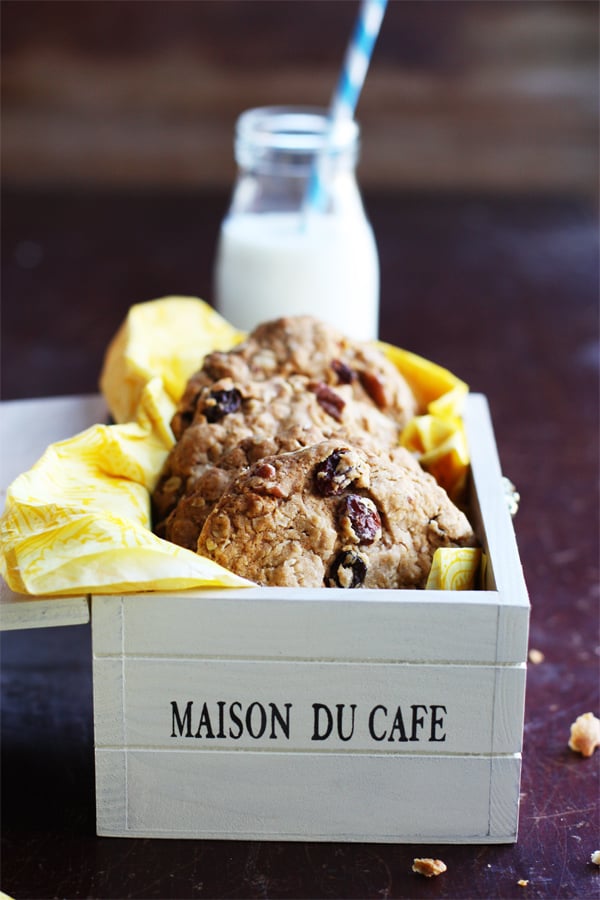 Food Styling Props - White Box with French Lettering ($6 - Victoria's Basement), Yellow Patterned Crepe Paper salvaged from present wrapping, Glass Milk Bottle ($24 for a pack of 6 - Bed, Bath & Table), Blue & White Striped Paper Straw ($7.95 for a pack of 144 - House).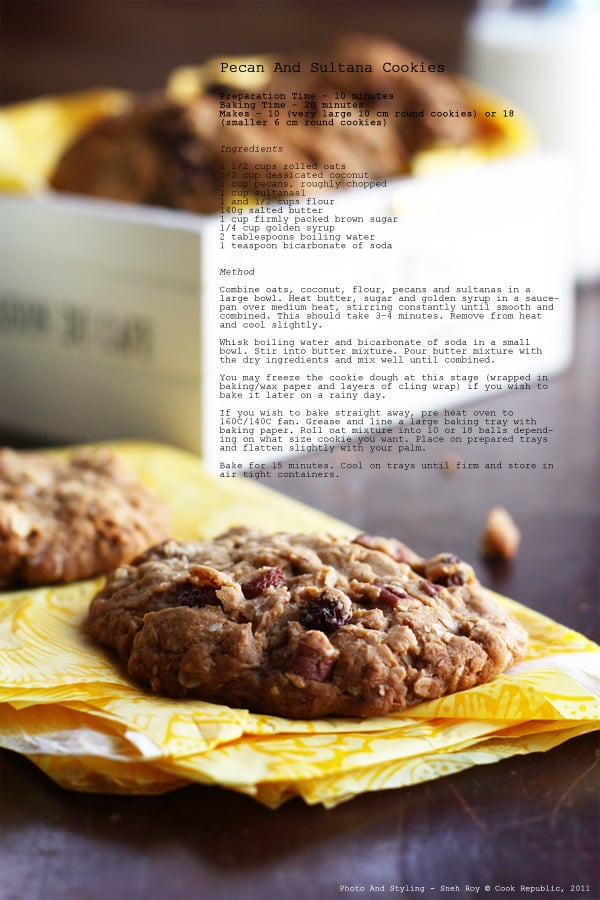 (Click On Recipe Card For Larger Size)
[print_this]
recipe

Pecan And Sultana Cookies
Preparation Time - 10 minutes
Baking Time - 20 minutes
Makes - 10 (very large 10 cm round cookies) or 18 (smaller 6 cm round cookies)

Ingredients
1 1/2 cups rolled oats
1/2 cup dessicated coconut
1 cup pecans, roughly chopped
1 cup sultanas
1 1/2 cups plain flour
140g salted butter
1 cup firmly packed brown sugar
1/4 cup golden syrup
2 tablespoons boiling water
1 teaspoon bicarbonate of soda

Method
Combine oats, coconut, flour, pecans and sultanas in a large bowl. Heat butter, sugar and golden syrup in a saucepan over medium heat, stirring constantly until smooth and combined. This should take 3-4 minutes. Remove from heat and cool slightly.
Whisk boiling water and bicarbonate of soda in a small bowl. Stir into butter mixture. Pour butter mixture with the dry ingredients and mix well until combined.
You may freeze the cookie dough at this stage (wrapped in baking/wax paper and layers of cling wrap) if you wish to bake it later on a rainy day.
If you wish to bake straight away, pre heat oven to 160C/140C fan. Grease and line a large baking tray with baking paper. Roll oat mixture into 10 or 18 balls depending on what size cookie you want. Place on prepared trays and flatten slightly with your palm.
Bake for 15 minutes. Cool on trays until firm and store in air tight containers.
[/print_this]