You will be surprised to know that Singapore Noodles don't actually exist in Singapore. I lived in Singapore for five years and not once did I come across Singapore Noodles. What I had there that was as close to this delicious dish was called Fried Bee Hoon. But it was still different from the curry powder spiked, golden yellow noodles prevalent in the Western world. Singapore Noodles are a takeaway staple in countries like Australia, Hong Kong, US, UK and Canada. Noodles stir-fried in a screaming hot pan with prawns, char siu pork, garlic, greens, sprouts and the ingredient that makes them so unique - curry powder.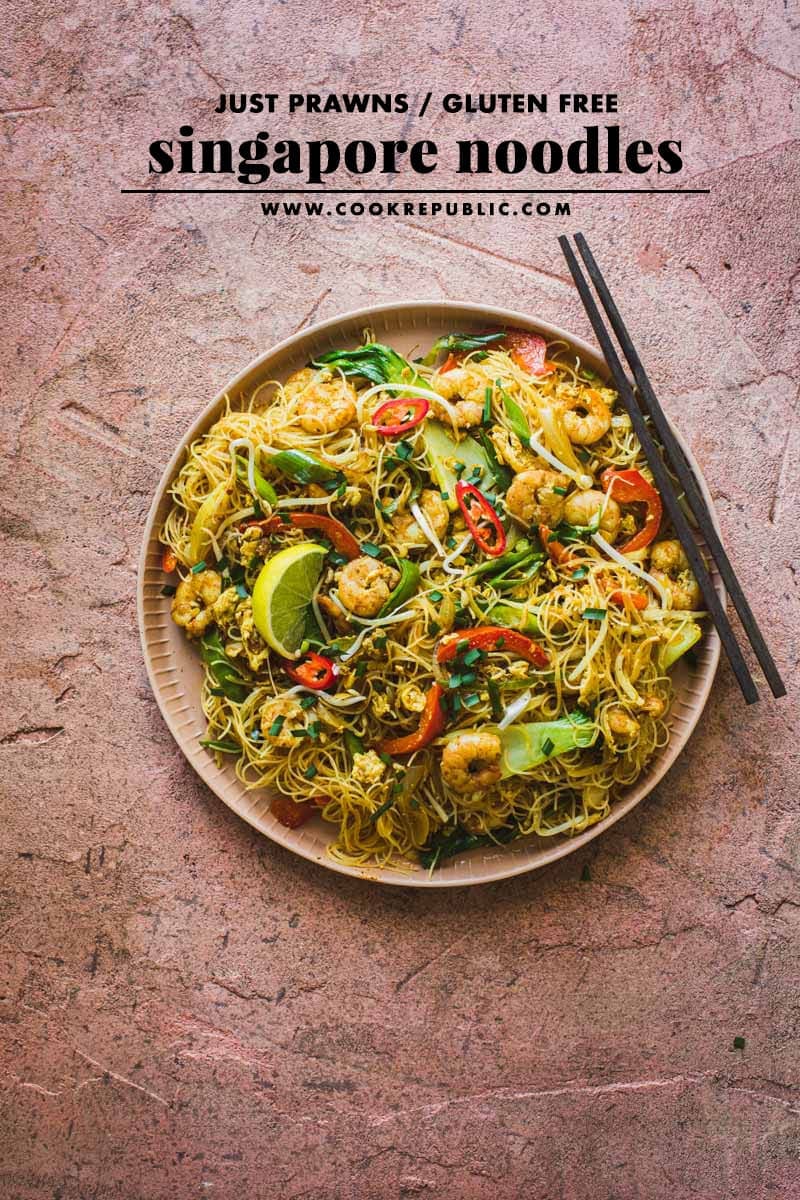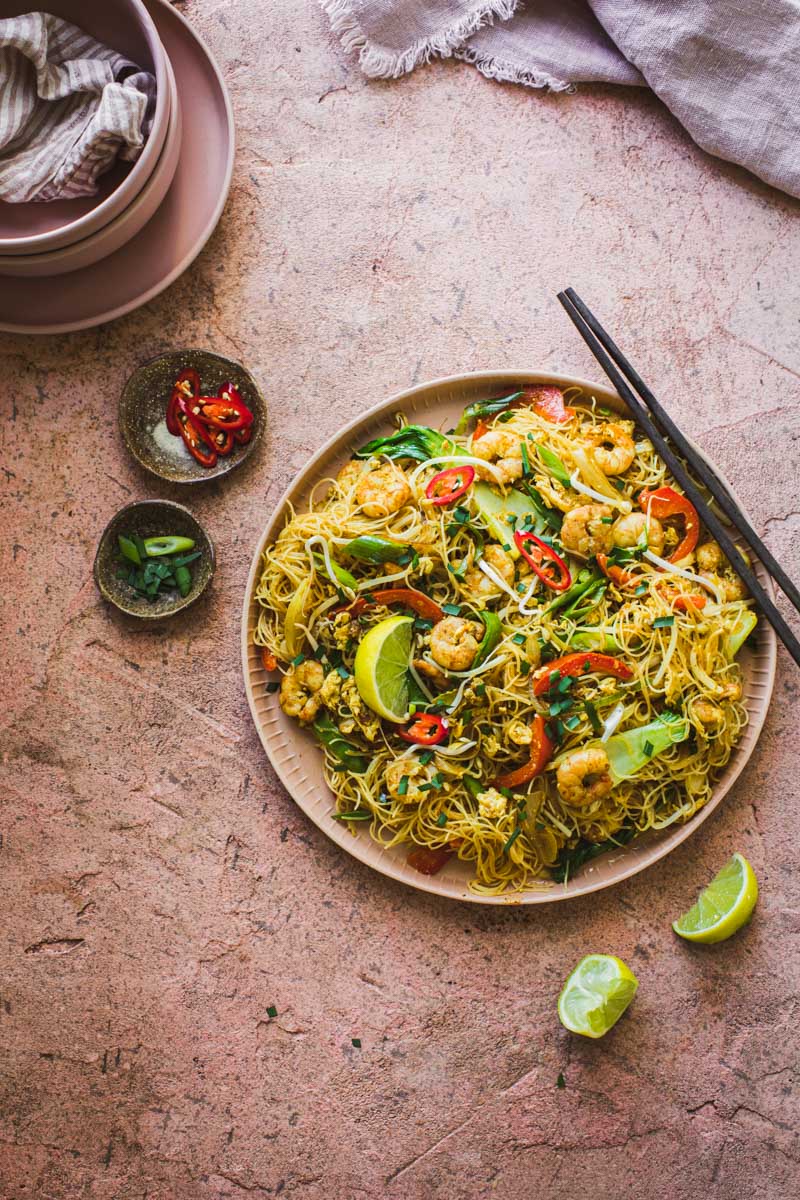 The traditional version has char-siu pork (BBQ pork), but my version only has prawns - because Pescatarian! I actually have a super delicious Vegan Singapore Noodle Recipe that I have been testing for a very special project to be unveiled later in the year, so stay tuned for that (So Exciting!).
Non-Traditional Singapore Noodles And The Wok Clock
Singapore Noodles are dry vermicelli noodles packed with big flavours. A try example of fusion food - a mishmash of cultures and flavours for the ultimate takeaway treat. The thin vermicelli noodles are actually rice noodles which not only makes this dish gluten-free but also mind-numbingly easy to cook. Vermicelli noodles don't really need to be cooked, they just need to be soaked in boiling water for 5 minutes and then drained. You could rinse them in cold water, but I never do and they are perfect for stir-frying.
Just like any other Asian stir-fry dish, you have to have your mise en place done. I follow the Wok Clock (a very useful technique by one of my favourite Asian chef - Jeremy Pang). You do your ingredient prep in separate little bowls and arrange them in a clockwise pattern, starting with your first ingredient at 12 o clock.
For this recipe, I prepare the sauce, then the noodles and then arrange my wok clock as follows starting at 12 o clock and going in a clockwise fashion.
Oil
Eggs
Oil
Onion and Garlic
Snow Peas, Capsicum and Prawn
Noodles
Sauce
Spring Onions, Sprouts and Bok Choy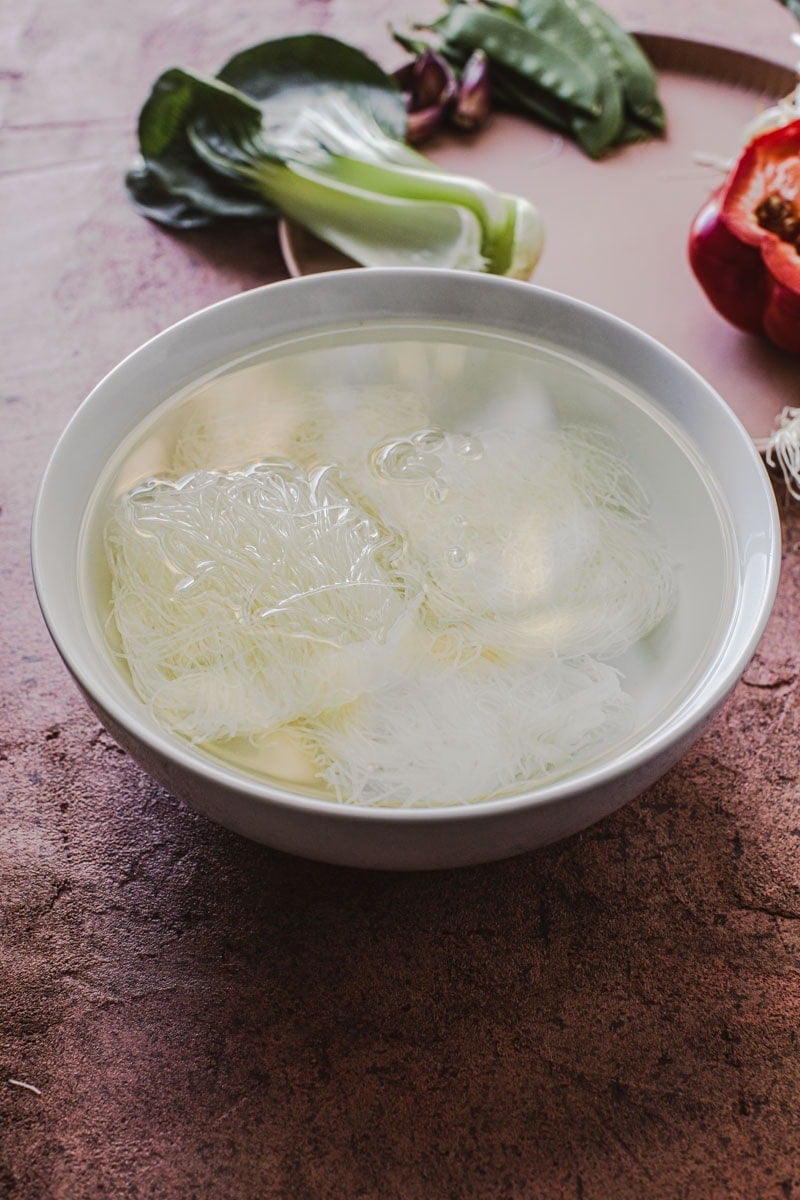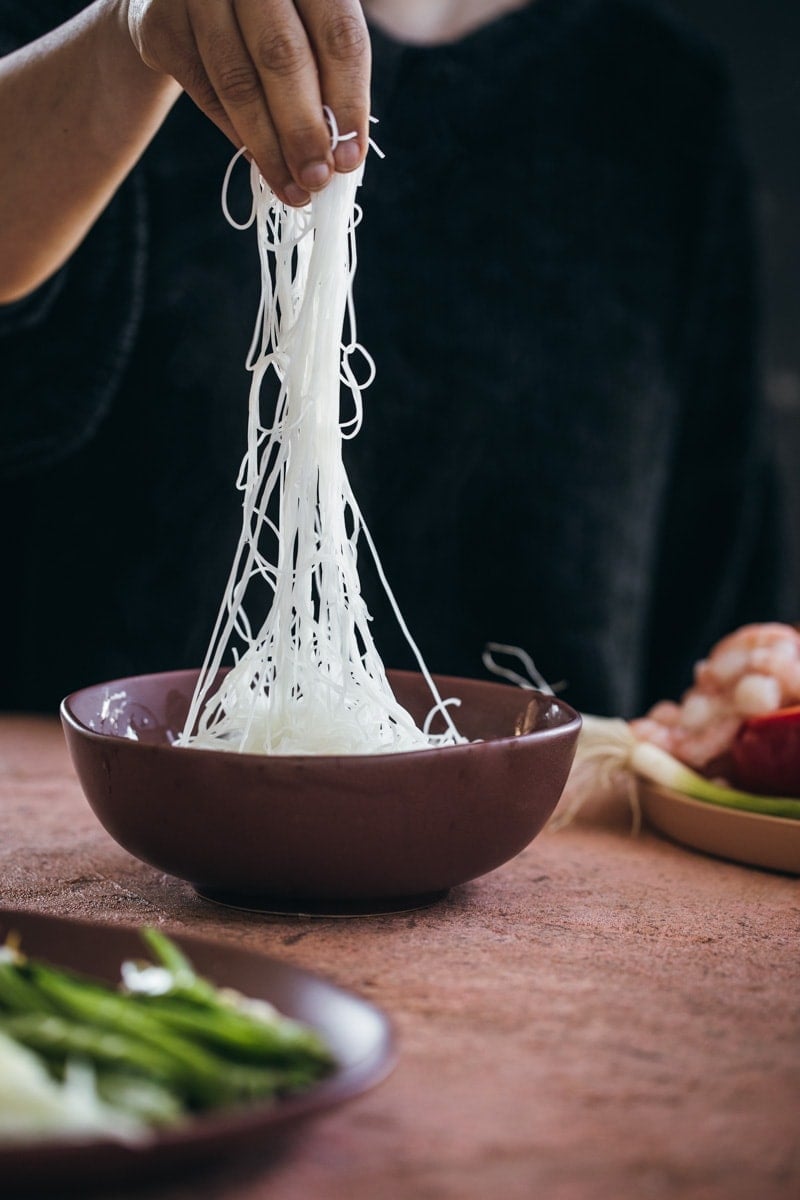 Stir-Frying 101
I like to use a carbon steel wok. It is thin and hence conducts heat beautifully, creating that lovely char that is so coveted in Asian stir-fries.
I cook on induction, but the wok does get screaming hot. Stir-fry on your highest heat. You want your ingredients to be dry and not produce any moisture. If your heat is not high enough, your ingredients will sweat, stew and become mushy.
Always have your prep done in advance as once you start stir-frying, everything moves very quickly.
If you are using fresh prawns - good job! If you are using frozen prawns (like I usually do!), make sure you thaw then first and squeeze out the moisture. I am too lazy and always working last minute so never really have the luxury of thawing. This is what I do. I boil water, put frozen prawns in a bowl. Pour boiling water over, stir the prawns for a few seconds and then drain the water out. The prawns are now thawed. I then squeeze out all the liquid I can by pressing down on them and draining them. This will help keep your stir-fry dry and texturally perfect.
If you make these Singapore Noodles, I'd love to hear your feedback in the comments and ratings below. Share you noodle shots with me on Instagram by tagging @cookrepublic #cookrepublic. Enjoy!
Recipe
Hungry For More Recipes? Subscribe to my newsletter. Check out Facebook, Instagram and Pinterest to see everything I share! And if you love cooking and new cookbooks, join my free Cooking Club on Facebook!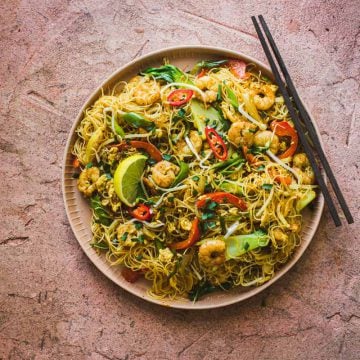 Ingredients
For the sauce
3

tablespoons

Shaoxing wine

3

tablespoons

light soy sauce

2

tablespoons

medium hot curry powder

2

teaspoons

sugar

Pinch

of salt
For the noodles
250

g

dried Vermicelli Noodles

4

eggs

,

whisked

3

tablespoons

peanut oil

1

brown onion

,

thinly sliced

6

garlic cloves

,

minced

½

large red capsicum

,

thinly sliced

12

snow peas

,

thinly sliced

300

g

raw prawns

,

peeled

½

cup

spring onion/scallion

,

sliced (green only)

½

cup

fresh bean sprouts

1

bunch Bok Choy

,

ends trimmed

Red chilli slices

,

chopped chives, lime wedges – to serve
Instructions
Prepare the sauce by mixing all ingredients for it in a small bowl.

Prepare the Vermicelli Noodles by placing in a large bowl and covering completely with boiling water. Allow to soften for 5-6 minutes, then drain completely and set aside.

Heat 1 tablespoon of oil in a large wok on high heat. Add the eggs and swirl the wok around to create a thin omelette shape. Using a wooden turner/spatula, break up the egg after a few seconds and remove it to a bowl when it is just cooked.

Heat 2 tablespoons of oil in the wok on high. Add onion and garlic. Sauté for a couple of minutes till the onion starts to soften. Add capsicum, snow peas and prawns. Stir-fry on high for a minute or two until veggies are glossy and starting to char and prawns are dry.

Add the noodles, sauce, spring onion, bean sprouts and Bok Choy. Continue stir-frying on high while tossing and mixing with large tongs or wooden/steel turner until all the noodles are coated with the sauce and heated through (approximately 2-3 minutes).

Remove from heat. Garnish with chopped chives and chilli slices. Serve hot with lime wedges.
Notes
If you cannot have alcohol, skip the Shaoxing wine. Instead, add the same quantity of vegetable broth and an extra teaspoon of sugar.
This recipe uses a "medium" curry powder by Bolst's. It is not at all spicy in the quantity used. If you would like the noodles to be spicy, add 1/2 t 1 teaspoon of red chilli flakes or hot sauce to the noodles and mix.
Did you make my recipe?
I'd love to hear how you went! Tag me on Instagram @cookrepublic