Crispy Smashed Potatoes are the gold standard of after-school snacks! I mean, we can have oven-baked chips every day but if there is a better, more adventurous and crispier way to sample our afternoon carbs then .... why not? These bay leaf-infused crispy roasted potatoes are perfect on their own but that magic Avocado and Dill Green Sauce just makes them next level.
How To Make A Good Crispy Smashed Potato
This isn't a recipe per se. It is more of a reminder to try cooking your potatoes differently for a change. You can make crispy roasted smashed potatoes out of any potatoes, I reckon. But for the ultimate shattering crispiness and pop-in-your-mouth-with-ease factor, I would suggest baby salad potatoes. They are great for boiling and not floury which means they won't fall apart when you boil them. It also means, they will retain their shape when you (gently) smash them. See, I told you. More kitchen science than a recipe.
Now you can smash them with anything flat that you can bear down on. But I like to use the metal skimmer (see picture) because of the tiny holes. The tiny holes as opposed to the large slats of a turner don't cause the potato to disintegrate and pop out of the slats. Rather, they make sure the potato doesn't pass through the holes and even create a beautiful pattern sometimes. I leave the thin skin on the potato as it amps the crispy factor when it blisters and curls around the edges as it roasts.
Creamy carbs need something sharp and fresh to cut through the richness. My 2-minute green sauce is a fabulous accompaniment to these gorgeous crispy roasted smashed potatoes. The avocado forms a lovely smooth base and gives it that stunning vibrant green colour while the dill and capers and lemon add acidity to make this sauce utterly delicious and spoonable. Try them both tomorrow and tell me what you think. Mine disappear off the plate in literally 3-4 minutes!
A little catch-up from my world
We are still in self-imposed limbo due to Covid here in Sydney. Staying in, working, cooking, going on walks, driving to school and back - on repeat. We are only going out every few weeks for a haircut. I have sourced masks on Etsy and from the lovely Rachel Gyan and they feel good. Nick is doing well. I can't believe next week it will be a year since he went into surgery. He has come an incredibly long way in his recovery.
That promise I made to myself four years ago at the height of my food depression - I have kept that promise going. I have kept cooking every day to rediscover my joy of food and eating. I must have cooked a thousand meals since then and learned so many more cooking techniques and dishes in the process. It means I have been treating myself to a lot of cookbooks too - Aran, The Cook And The Baker and Flour & Stone are among my recent ones.
It has been awfully cold here this week due to large amounts of snowfall in parts of our state. We have been occasionally roasting marshmallows over open fires out in the garden. But the rains are forcing us back indoors. Some of my lemon trees are still burgeoning with golden fruit. I keep telling myself to harvest them or else the possums will get to them. There are so many lemon favourites I want to make, like this Lemon Cake or this lemony brown butter friand cake or this homemade Iced Lemon Tea. But I also want to try out a spicy lemon pickle and a vegan lemon mousse.
After re-igniting my Sourdough passion in April at the start of isolation and lockdown (the last time I baked was almost 8 years ago) I have graduated to baking up to five loaves of sourdough a week. I am giving away two loaves every week and working on finessing five beautiful sourdough recipes that I hope to share in a few weeks (hopefully you have already looked at my Illustrative Sourdough Starter Guide). Along with a basic Starter Sourdough Recipe, I am really excited to share my favourite Rosemary & Potato bread, Walnut Fennel & Raisin bread, Turmeric Caramelized Onion & Nigella bread and Chocolate Walnut & Raisin bread.
The winter sun in the garden is like a salve to my soul. The stark sunlight is only an illusion as the warmth is as gentle as a soft breeze. Gentle enough that my breath fogs over my coffee cup as I walk around to get my five minutes of Vitamin D, discovering new colours in the leaves and new buds on the Camelias. If this isolation has taught me anything, it is that I am a homebody and that a slower lifestyle can be a boon sometimes. Until next time. Ciao! Be Well!
Recipe
Hungry For More Recipes? Subscribe to my newsletter. Check out Facebook, Instagram and Pinterest to see everything I share! And if you love cooking and new cookbooks, join my free Cooking Club on Facebook!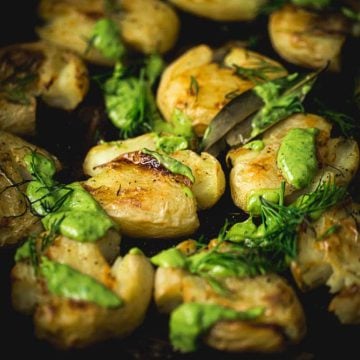 Ingredients
For The Potatoes
16

chat potatoes

,

(baby potatoes)

2

tablespoons

olive oil

8

bay leaves

sea salt flakes and pepper

,

to taste

fresh dill

,

to serve
For The Green Sauce
1

small avocado

,

seed removed and flesh scooped out

juice of 1/2 lemon

2

tablespoons

fresh dill

,

chopped

2

tablespoons

fresh parsley

,

chopped

1

garlic clove

1

teaspoons

capers

1

tablespoon

white vinegar

1

tablespoon

extra virgin olive oil

salt and pepper

,

o taste

1/4

cup

(

60

ml

)

water
Instructions
Pre-heat the oven to 220°C (convention)/200°C (fan-forced/convection).

Wash the potatoes. Bring a pot of water to boil and add the potatoes to the boiling water. Cook at medium heat for 15 minutes. Remove from heat, drain the boiling water and rinse under cold water to stop the cooking process.

Place each potato on a chopping board. Using a flat spatula or metal skimmer or slotted turner, gently smash/flatten the potato until it cracks and spreads but is still held together.

Heat 1 tablespoon of the olive oil in a large shallow oven-proof frying/sauté pan on medium (I use a cast iron skillet). Crush the bay leaves between your fingers to release the oils. Add the bay leaves to the hot pan and sauté for a few seconds.

Gently place smashed potatoes in the pan. Drizzle them with the remaining tablespoon of oil. Sprinkle with salt and pepper. Roast in the pre-heated oven for approximately 30 minutes until they are golden and crispy. Remove from oven.

To prepare the sauce, place all ingredients for the sauce in the bowl of a small food processor and process until smooth.

Drizzle over the roasted potatoes. Garnish with fresh dill. Enjoy hot.
Notes
Make sure your frying-pan/skillet is large enough to hold 14-16 smashed potatoes. If you don't have a large enough pan, fry the bay leaves in a bit of oil in a small frying pan. Add this oil and bay leaves to a rimmed metal baking tray. Place smashed potatoes on top, drizzle more oil and salt and pepper. Proceed to roast as per the recipe.
The green sauce keeps in the fridge for up to two days.
Nutrition
Calories:
347
kcal
|
Carbohydrates:
46
g
|
Protein:
6
g
|
Fat:
17
g
|
Saturated Fat:
2
g
|
Polyunsaturated Fat:
2
g
|
Monounsaturated Fat:
12
g
|
Sodium:
38
mg
|
Potassium:
1205
mg
|
Fiber:
8
g
|
Sugar:
2
g
|
Vitamin A:
278
IU
|
Vitamin C:
52
mg
|
Calcium:
40
mg
|
Iron:
2
mg
Did you make my recipe?
I'd love to hear how you went! Tag me on Instagram @cookrepublic