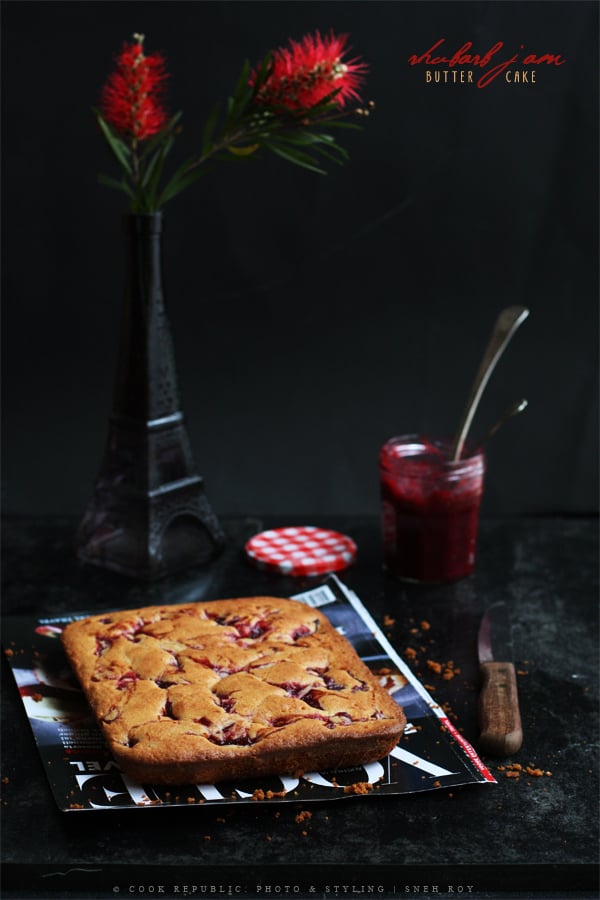 I love Downton Abbey. I love the gentle crescendo of the theme song rising and falling in perfect rythm with charming visuals of the romantic age, an era gone but not forgotten. I love the fuss they make downstairs, the chivalry, the poise, the elegance. Upstairs I love the festivity, the exuberance, the extravagance. I love the fancy garbs, noses sticking in the air, the utterly over the top flower arrangements and Maggie Smith's sarcastic humour. But above all I love what goes on in Mrs. Patmore's kitchen. No surprise there. I am a food geek and Downton Abbey is no exception when it comes to obsessions.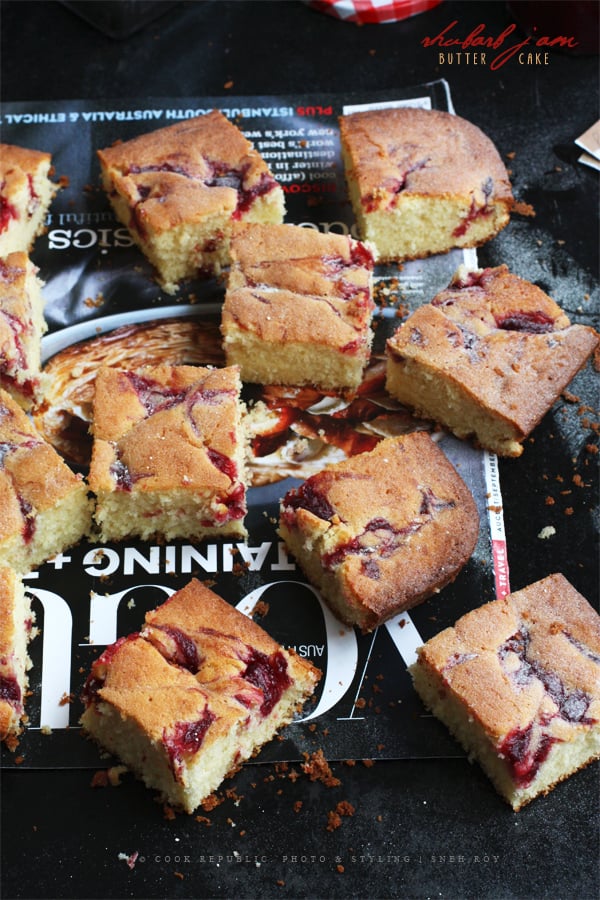 If you pay close attention during the show, you will see plenty of gold rimmed china, vintage floral plates, ornate silver flatware and beautiful teapots. I imagine a place like Downton Abbey would know their high tea and take it very seriously indeed. Perfectly arranged assortment of pastries, cakes, jams, creams, sandwiches and biscuits daintily washed down by Earl Grey tea? In recent years, the charming practice of high tea has become even more mainstream with tea parlours getting increasingly creative. I love going out to high tea, love the abundance of it. It is very hard to replicate that abundance at home especially if you are only catering for two or three people. So we do the only logical thing to do. We bake a fancy cake, make a big pot of tea and call it Afternoon Tea, thinking about Downton Abbey of course.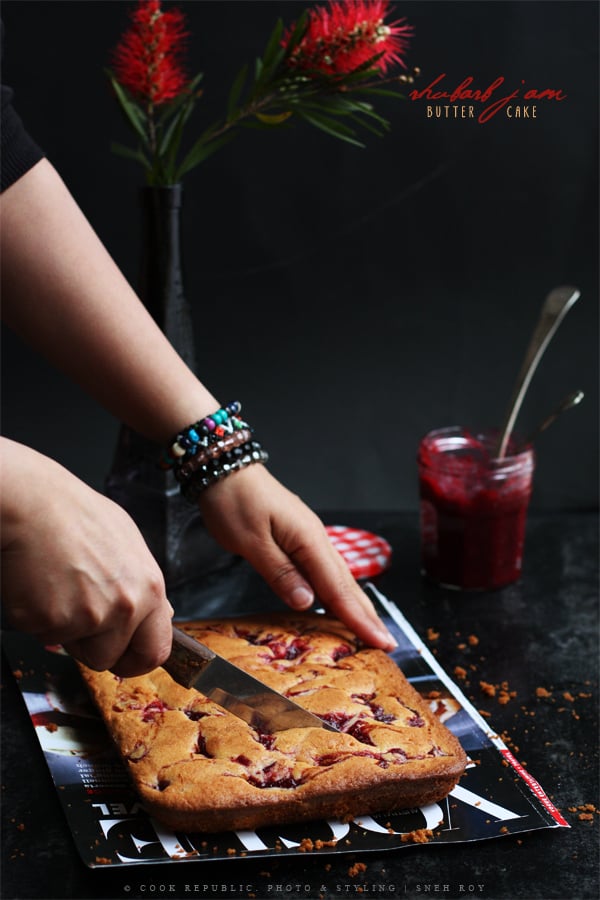 I always have a jar of homemade rhubarb jam on hand. It is my most favourite jam to make and eat in the whole wide world. If you haven't tried it yet, I insist you do. This time I glamourised a plain butter cake with dollops of this gorgous ruby red jam and went creative with a skewer marbling it for a tea for two affair. This is a simple and beautiful cake. You could make variations with whatever jam you have available. The vanilla is plentiful and marries perfectly with the rhubarb. This recipe is also in time for the Sweet Adventures Blog Hop - High Tea at the Delicieux blog. Now tell me, are you a Downton Abbey nerd like me?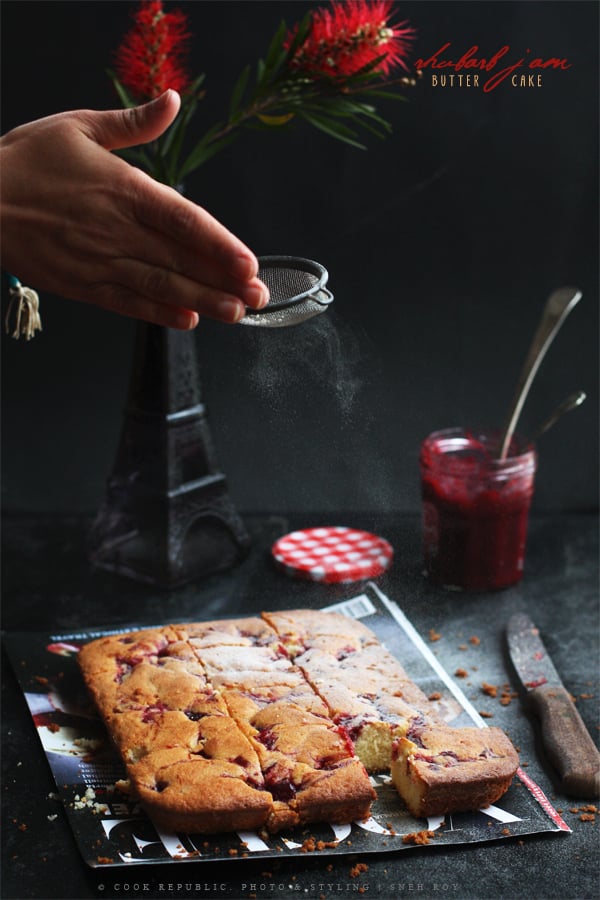 [print_this]
RHUBARB JAM BUTTER CAKE
A plain vanilla butter cake is made glamorous with dollops of sweet home made rhubarb jam. Perfect for high tea.
Ingredients
6 tablespoons rhubarb jam
1 1/2 cups (225g) plain flour
1 teaspoon baking powder
120g unsalted butter, softened
2/3 cup (160g) caster sugar
2 eggs lightly beaten
1/2 cup (125ml) milk
1 tablespoon vanilla extract
t a pinch of salt
Method
Preheat oven to 160C (325F). Sift the flour, salt and baking powder into a bowl and set aside. Place butter in an electric mixer and beat for a few minutes until smooth. Add sugar and beat for a couple of minutes until pale and fluffy. Add the egg, beat for a minute. Add the flour mixture, milk and vanilla. Beat until smooth.
Spoon into a lightly greased and dusted with flour (or lined with baking paper) 20x26cm rectangular or 24cm round cake tin or springform pan. I used a pie dish because I wanted a flatter slice. Drop dollops of jam in several spots. Using a wooden skewer, create a swirly pattern in the jam. Bake for approximately 40 minutes until cooked through and golden.
Allow to cool completely in tin before turning out onto serving plate. Cut into square or rectangle slices. Dust with pure icing sugar to serve.
[/print_this]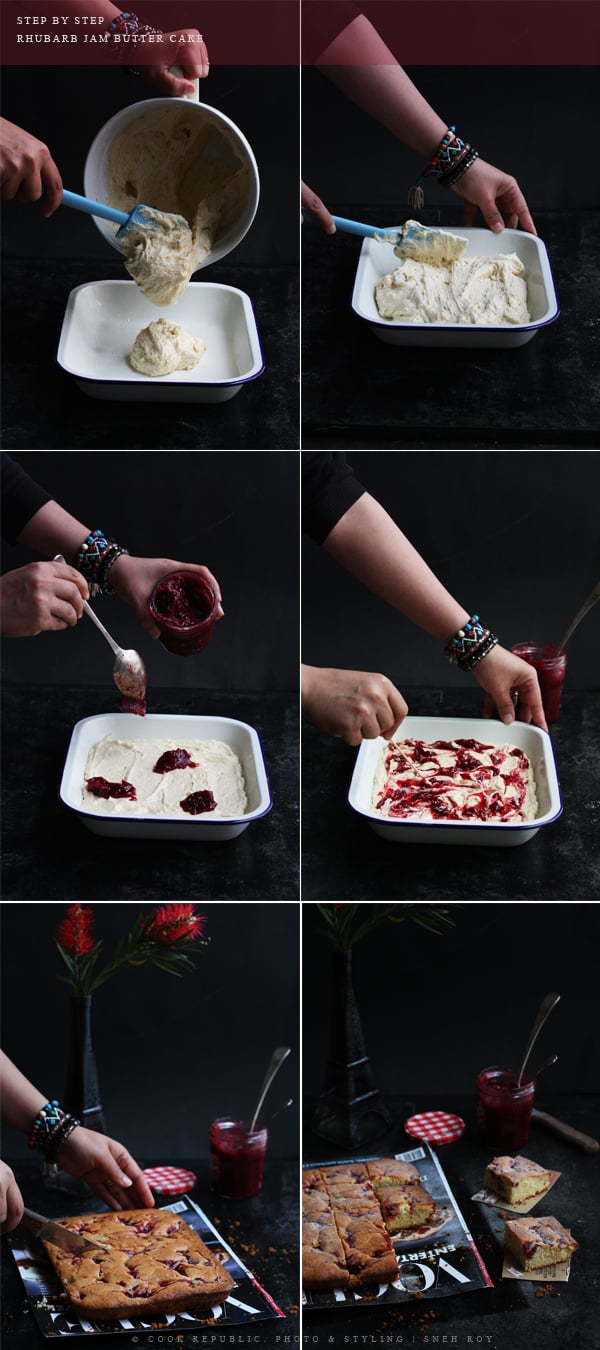 Interesting High Tea Resources
Downton Abbey Cooks - Exploring the fine art of high tea, this Canadian blogger shares scrumptious recipes from the Downton Abbey era.
The Unofficial Downton Abbey Cookbook - From lady Mary's Crab Canapes to Mrs. Patmore's Christmas Pudding.
The Vintage Tea Party Book - Angel Adoree
Martha Stewart Afternoon Tea Recipes