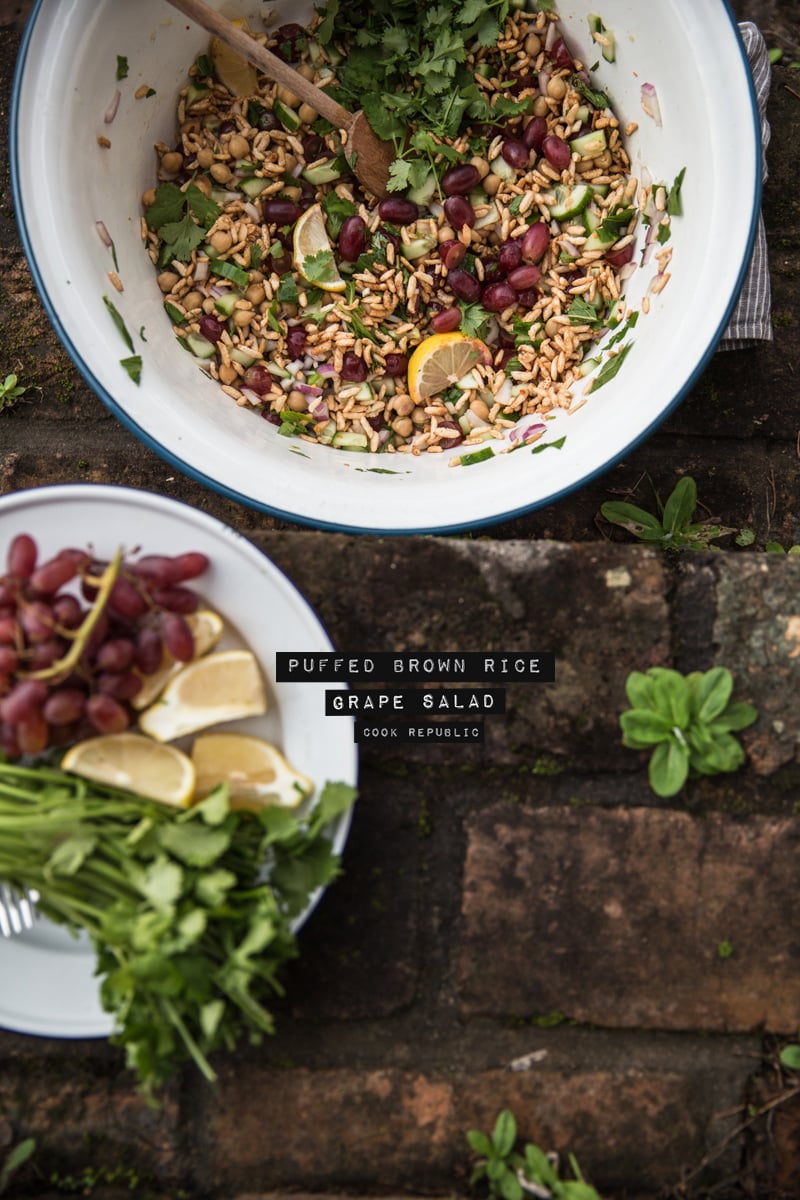 Over the past few years, I have truly gravitated towards eating seasonal. Which means apart from buying from local farms and small organic co-ops, I also adapt more of a seasonal approach to sourcing an ingredient when its season is coming to a close. I either freeze, bottle or can it to keep it longer in my kitchen. In the past I would buy Australian garlic or grapes during their season here. Once their season finished off, I would often buy garlic and grapes that were imported from Peru and USA. It took a while to form the discipline to only buy local but once I started doing that, I realised the romance and anticipation of eating the freshest produce in season and then getting creative with ways to make it last longer.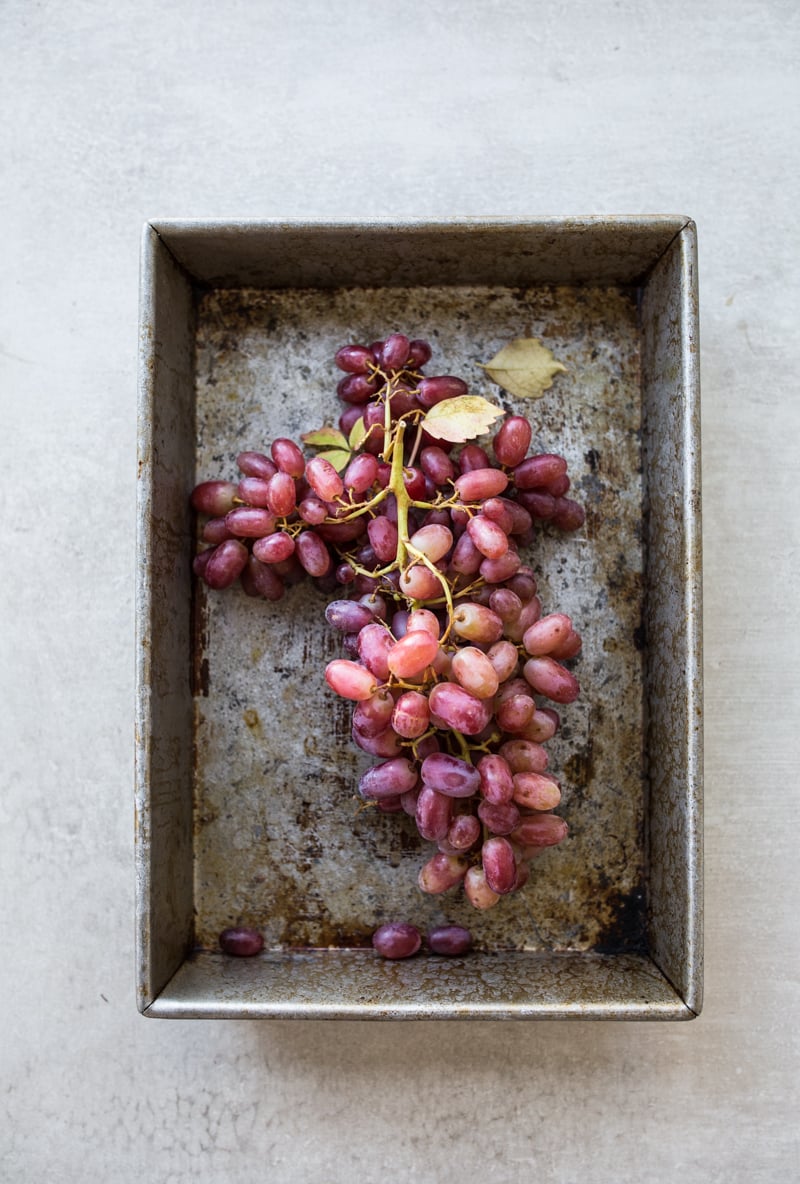 Grapes freeze well. I have tried it. If they are firm and fresh when frozen, they will be firm and crunchy when they thaw gently. When grape season wanes off in May, I love to freeze bags of Aussie green and red grapes to use mainly in smoothies and salads when only grapes from USA are available during the cooler months. I will freeze some whole and some after slicing them in half like I have done for this beautiful salad. This salad is a riff off that famous street salad from Bombay. I love that I can use puffed brown rice and pomegranate molasses in this recipe, two ingredients that are beautiful in the complexity of their flavours but hardly ever see the light of the day in my kitchen.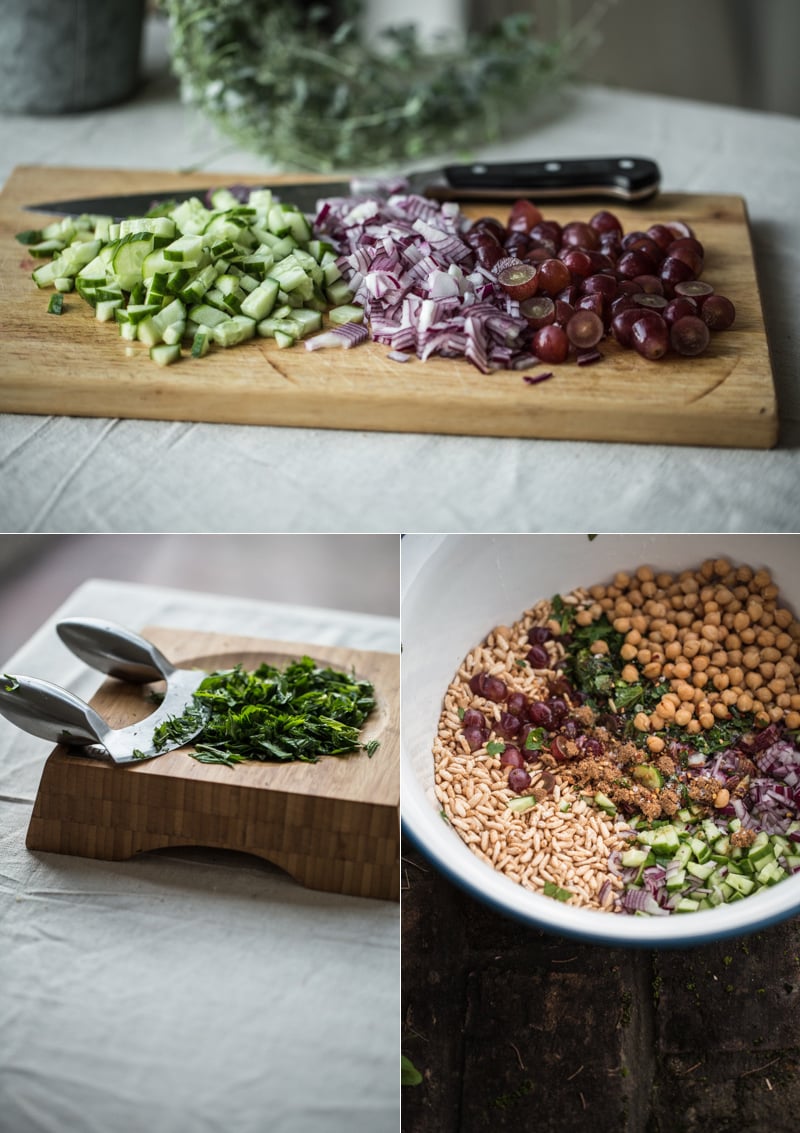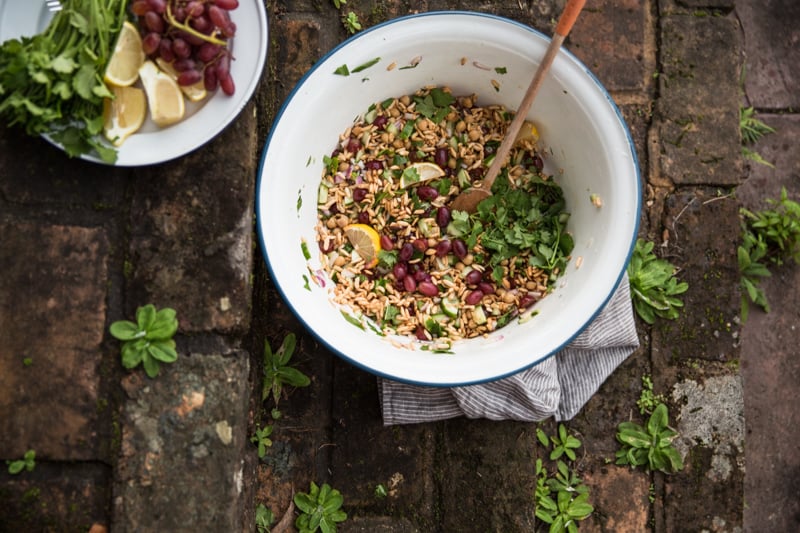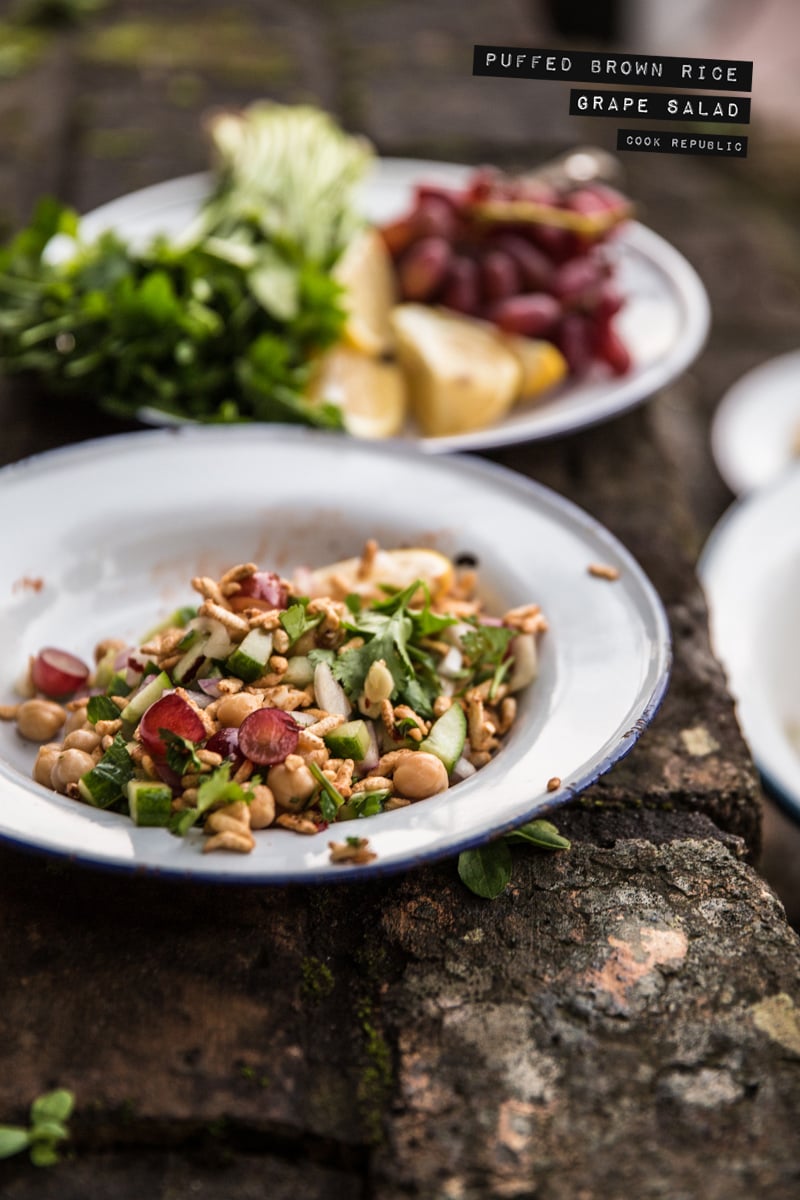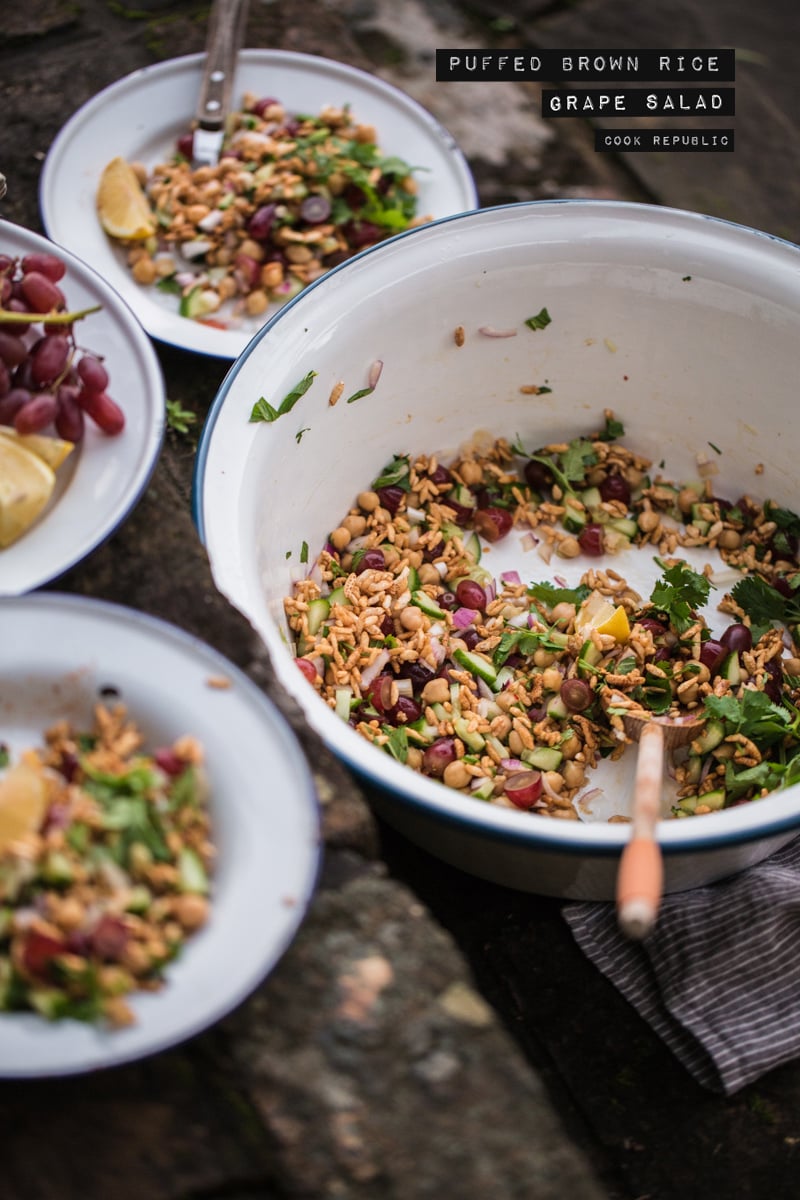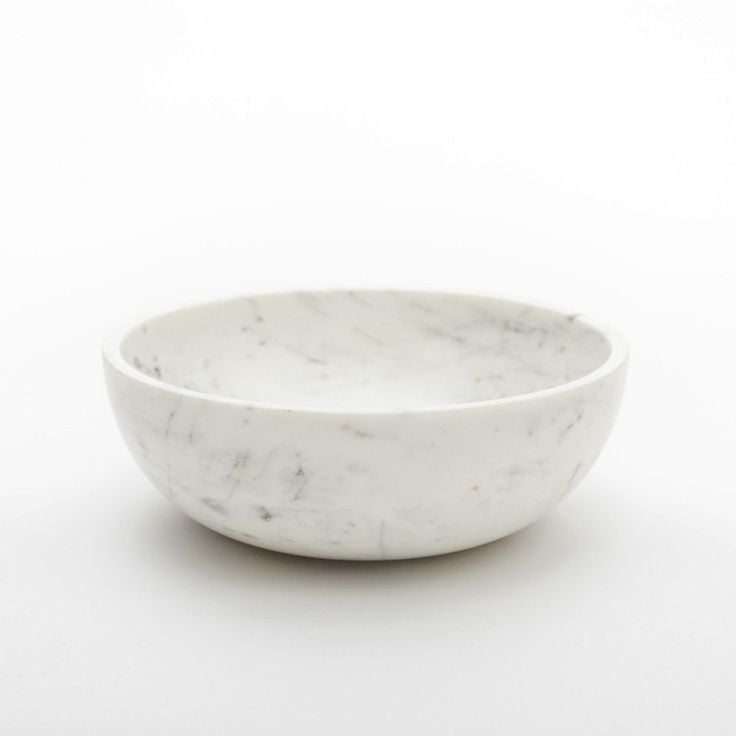 Australian Grapes are generously sponsoring a stunning 28cm marble fruit bowl from Marble Basics worth $235 for my readers. I can imagine this salad being showcased in this white beauty.
To Win this marble bowl,
LEAVE ME A COMMENT BELOW starting with "Pop goes the grape ..." and tell me in about less than 25 words your MOST CREATIVE grape recipe.
Competition open to Australian Residents only. Ends on May 29, 2015. Winner Announced on June 1, 2015.
Good Luck!!
[print_this]
PUFFED BROWN RICE AND GRAPE SALAD
A surprise pairing of lesser known ingredients creates a fast, textural salad that hits all the right sweet, sour, salty and spicy notes. This salad is perfect as a stand-alone meal on a warm day or a tangy side to a more hearty and warming meal.
Serves –4 to 6
Ingredients
for the salad
3 cups puffed brown rice
1 large red onion, finely diced
1 large cucumber, deseeded and finely diced
1 ½ cups red seedless grapes, halved
1 (240g) can of chickpeas, rinsed and drained
½ teaspoon red chili flakes
½ cup toasted peanuts, crushed
a large handful of coriander leaves, chopped
a large handful of mint leaves, chopped
lemon wedges, to serve
for the dressing
juice of 1 ½ large lemons
1 teaspoon rapadura (or brown sugar)
½ teaspoon salt
2 tablespoons pomegranate molasses
Method
Place ingredients for the dressing in a glass jar. Cover with lid and shake to mix well.
Place all the ingredients for the salad in a large bowl. Add the dressing and toss gently to mix. Serve immediately with lemon wedges.
Notes
Mix the dressing with the dry salad ingredients just prior to serving as the puffed rice tends to become soggy after about half an hour of mixing.
White puffed rice can be substituted for brown puffed rice.
Pomegranate molasses can be substituted with a sauce made by boiling, blending and straining dates and tamarind together.
[/print_this]
Note - This recipe was developed for Australian Grapes