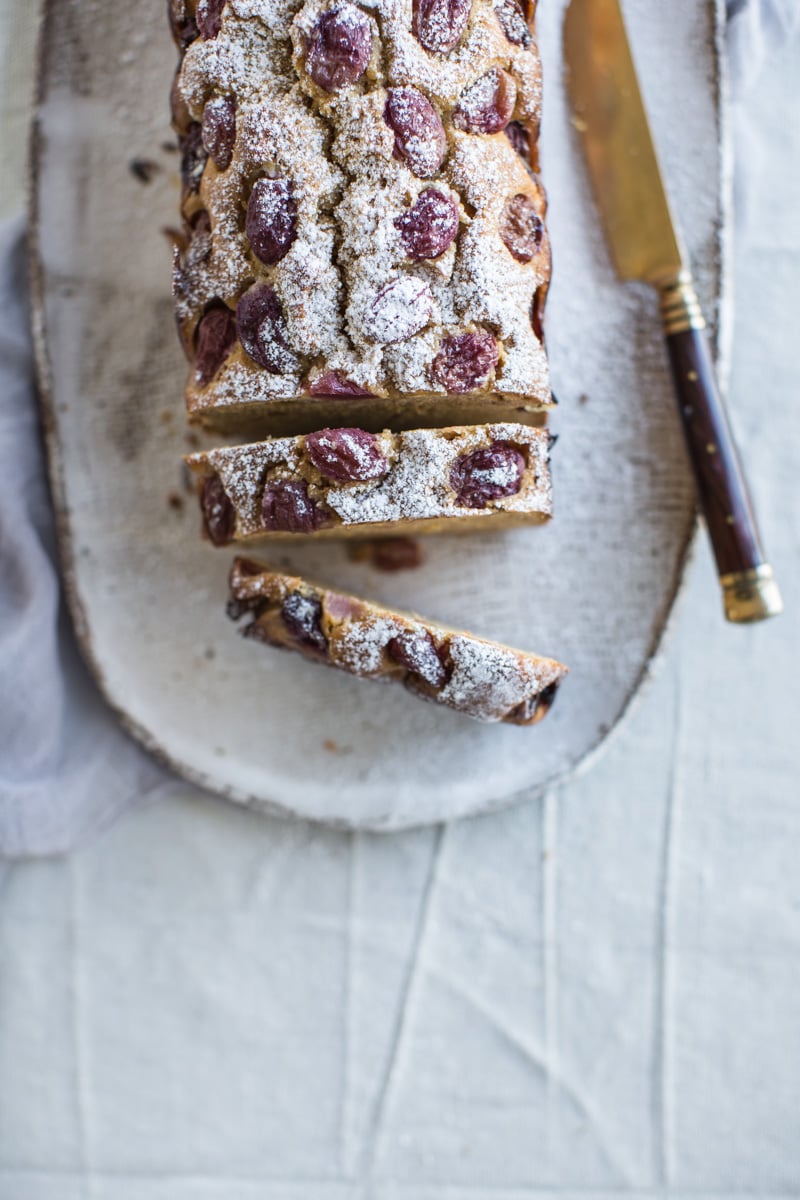 Back in the good old days, a pound each of basic baking ingredients was quite literally mixed in a bowl to get what became known as the pound cake. One can never go wrong with an old-fashioned pound cake. Soft, pillowy and yet firm when warm from the oven, a pound cake tastes even better unadorned and stale a couple of days later. With the Aussie grape season fast coming to a close in the end of May, I tend to buy grapes even more and use them liberally in salads, pickles, smoothies, jams and even a lassi. Grapes fare well when paired with ingredients that tone down their sweetness and in doing so accentuate their glorious taste. Having tried every fruit out there as a topping for my pound cake, a grape pound cake seemed like the next logical thing to do.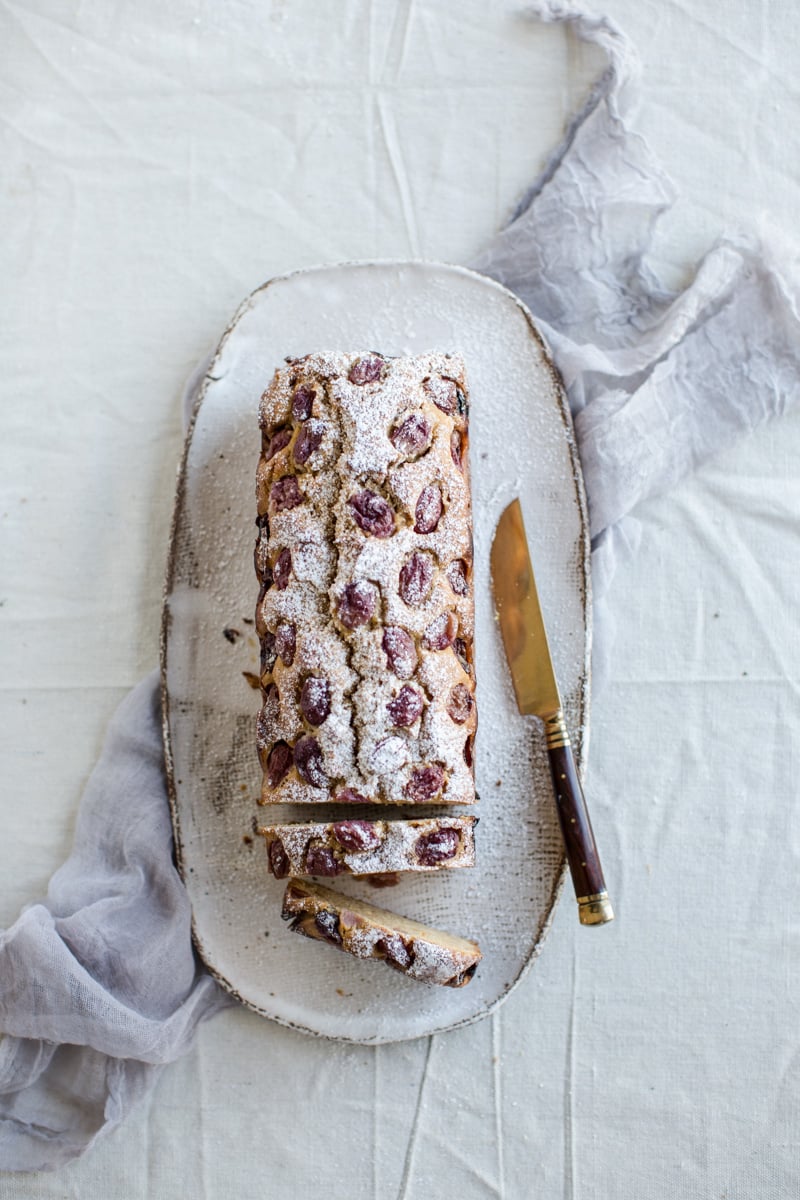 I have used my basic pound cake recipe and livened things up by adding a generous amount of citrus zest. I have used coconut sugar for this pound cake which not only imparts a beautiful caramel tone quite fitting for autumn but also marries well with the juicy grape topping and sour base notes. As always, a gentle dusting of icing sugar suffices for this dense cake which was made for baking, packing away in a container and bringing along to a picnic in the sun.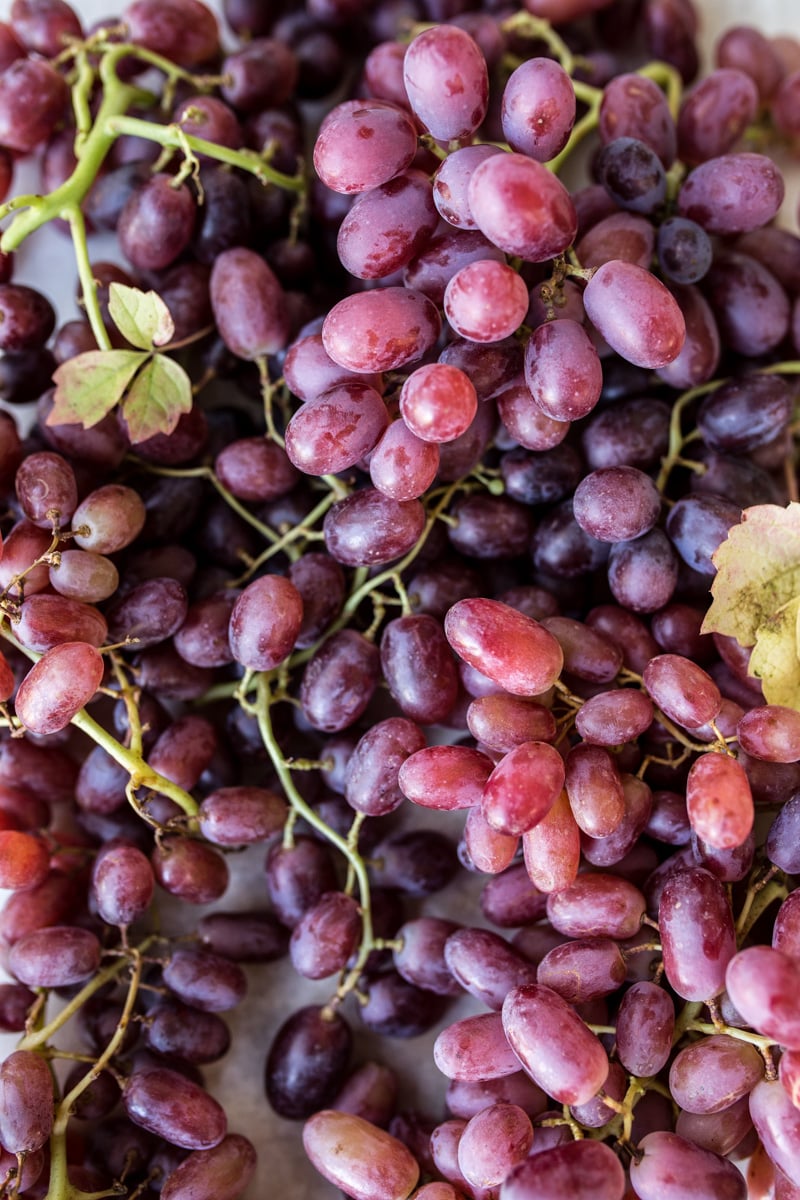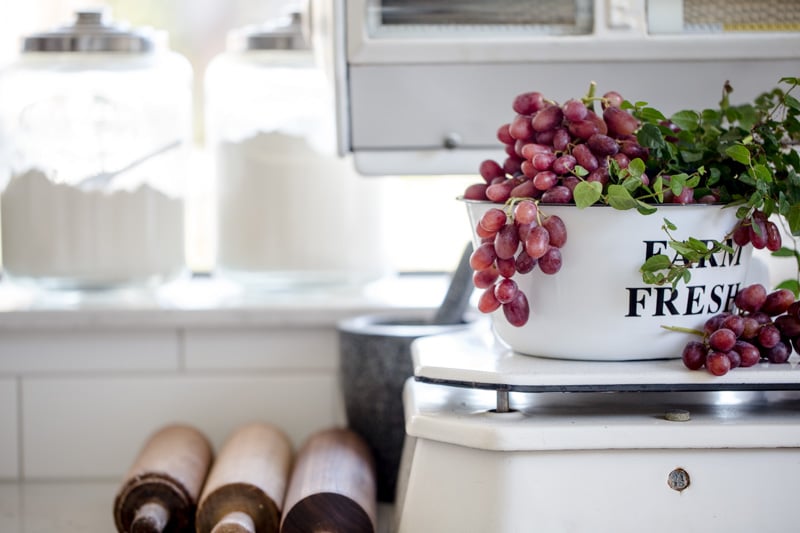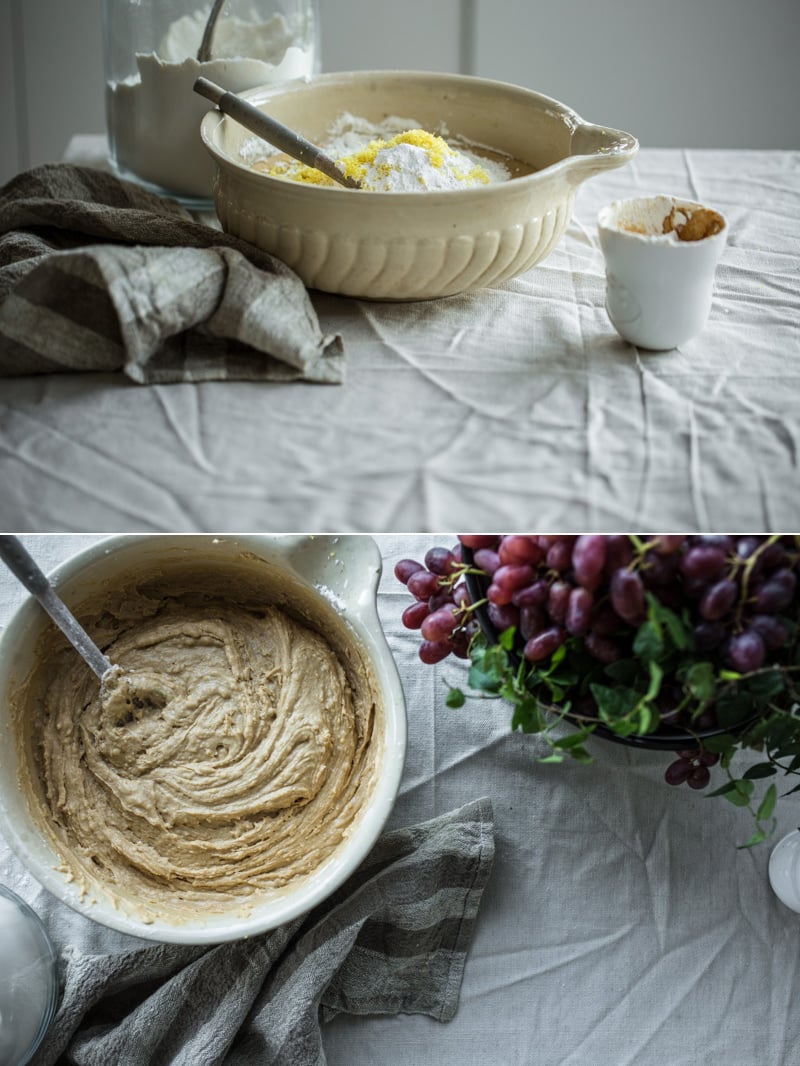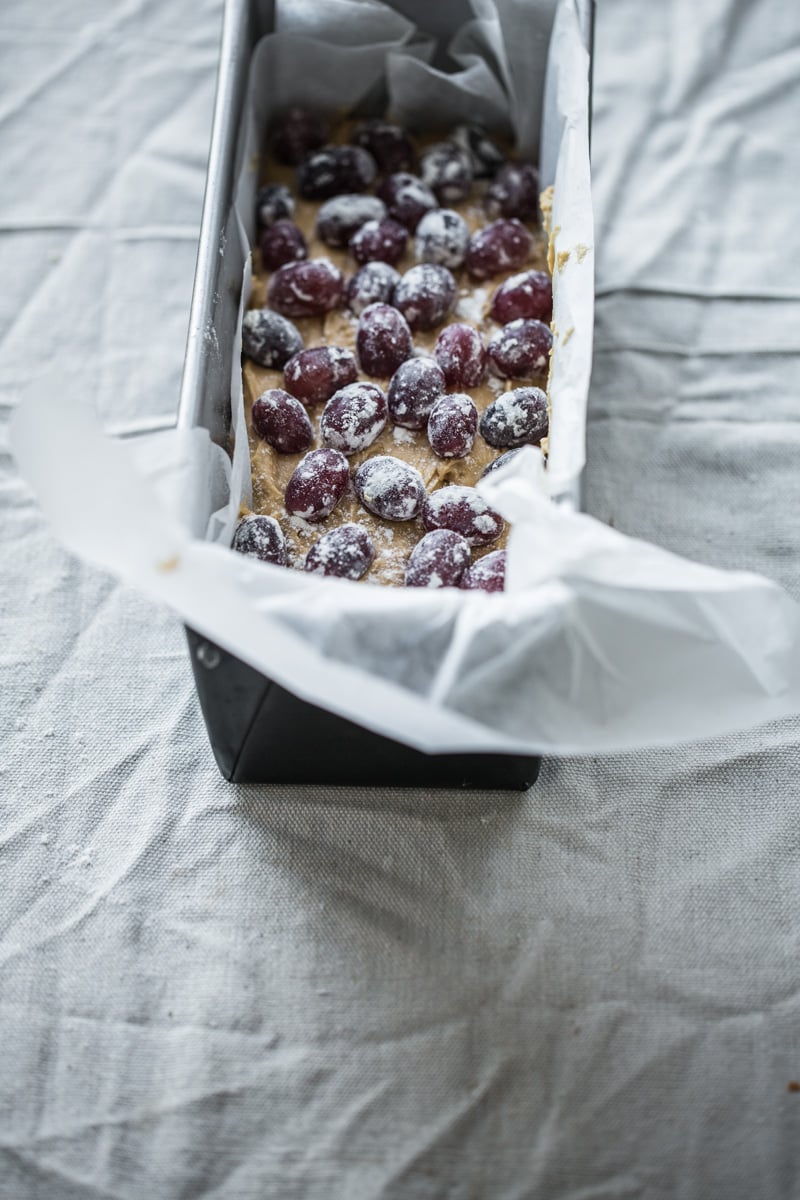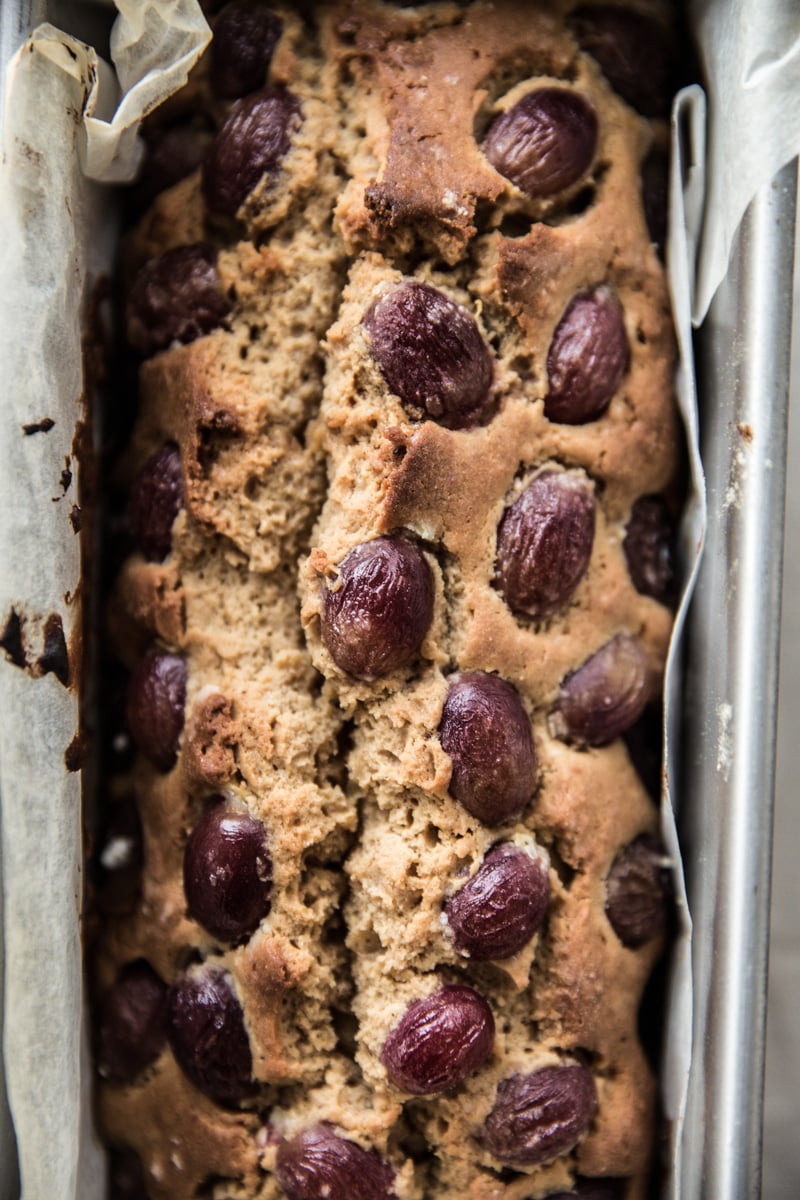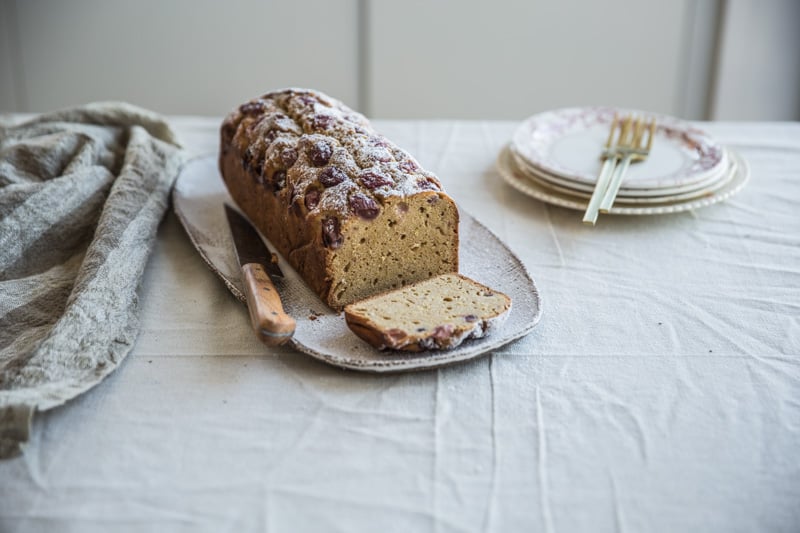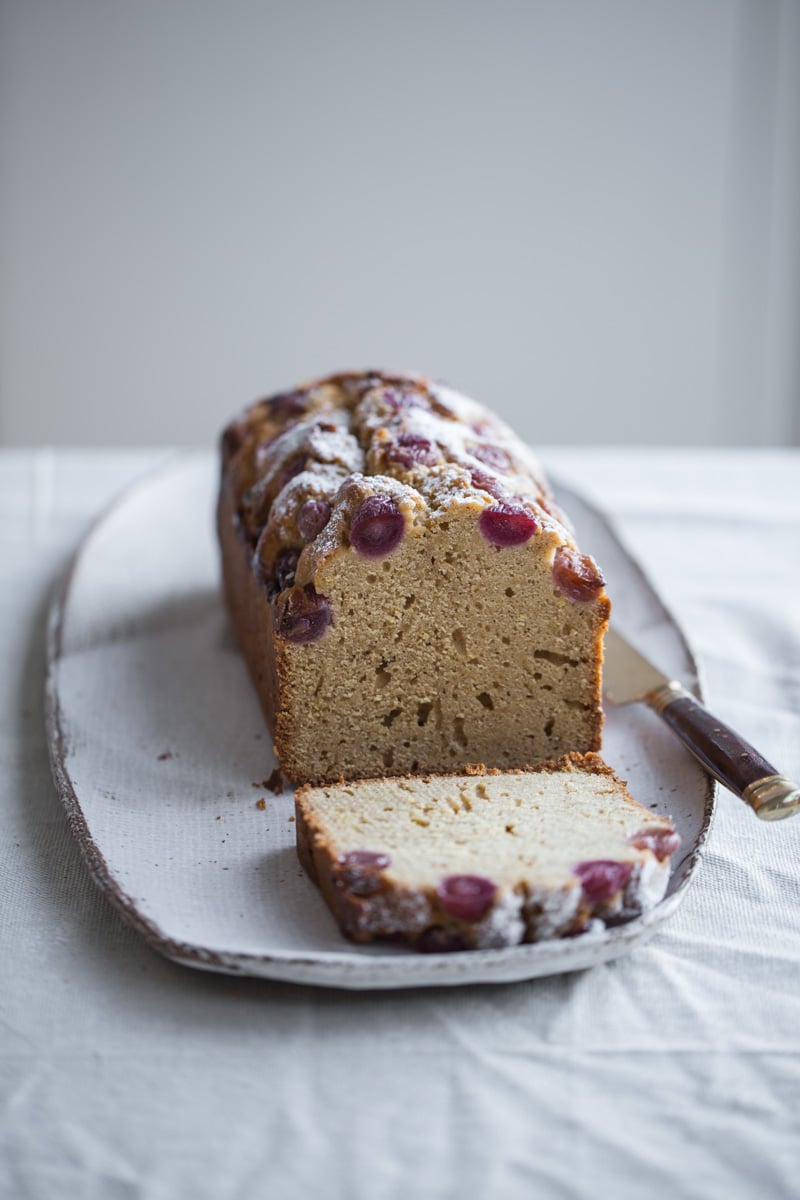 [print_this]
CARAMEL GRAPE POUND CAKE
A dense old-fashioned cake baked with coconut sugar to render golden caramel tones is offset with the sweetness of the juicy red grape topping and the tartness of lemon zest.
Serves -8
Ingredients
250g butter, softened
1 ½ cups (240g) coconut sugar
5 large eggs (325g)
¼ teaspoon salt
1 cup (235g) sour cream
1 teaspoon vanilla powder/extract
zest of 1 large lemon
2 ½ cups (375g) plain flour
2 teaspoons baking powder
1 cup (150g) red seedless grapes
2 tablespoons flour to toss grapes in
icing sugar to serve
Method
Pre-heat oven to 180C. Line a 25 X 9 cm base measurement loaf tin with baking paper. (My tin is 10 cm high).
Combine sugar, eggs, salt and butter in a large bowl and beat with an electric beater until pale and fluffy (about 3-5 minutes). Add sour cream and beat for another minute until mixed and smooth. Add flour, baking powder, vanilla and zest. Mix with a wooden spoon until thoroughly combined. Spoon the batter in the prepared loaf tin. Place grapes and the extra flour in a small bowl. Toss to coat the grapes lightly with flour. Place grapes evenly over the top of the cake batter.
Bake in the pre-heated oven at 180C for approximately 45 minutes. Reduce oven temperature to 170C and bake for another 15-20 minutes until golden on top and cooked through when tested with a cake skewer down the middle. Remove from the oven and cool in the tin.
Serve with a dusting of icing sugar.
Will keep in the fridge for 4-5 days.
Notes
Coconut sugar can be substituted with rapadura or raw sugar.
For a truly indulgent celebration cake, drizzle with caramel sauce.
If you have smaller sized loaf tins, divide the batter into two tins equally and bake for  slightly shorter duration than mentioned in the recipe.
[/print_this]
Note - This recipe was developed for Aussie Grapes.