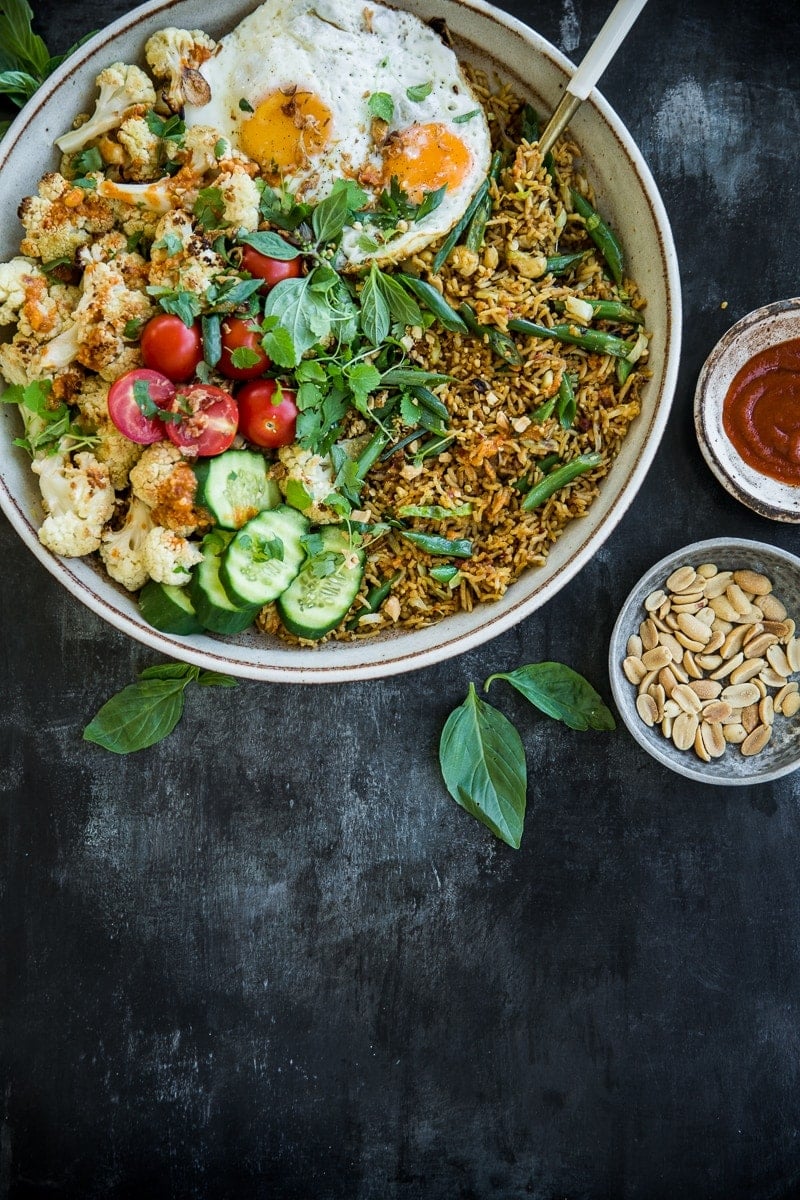 About eight months ago, Nick welcomed the 40s and life served up a reflux and elevated cholesterol problem. It was like a switch being flipped. One minute everything was fine and the next minute, it felt like a heart attack. We later found out that it was just reflux but it was scary and prompted us to investigate the factors causing both issues. Now Nick has always been quite fit and lean, he plays soccer throughout the year and is on the go perpetually .. coaching, gardening, building things etc... We realised that a lot of his symptoms (both reflux and high cholesterol) were caused by eating out while at work (mostly Asian - the stale oils and spices are debilitating for the gut) and eating the wrong kind of foods in abundance (eggs, coconut based products, dairy - all these in excess will elevate your cholesterol).
So we made a lot of easy dietary changes - cutting out dairy, reducing eggs to 1-2 per week, watching the coconut and avocado intake (switching to coconut water instead of milk or using lighter coconut based products), increasing our weekly vegetable intake four fold, preparing and eating 95% of all our meals at home and creating a steady supply of wholesome, homemade, health boosting curry pastes and sauces to fuel our love for Asian stir-fries and curries.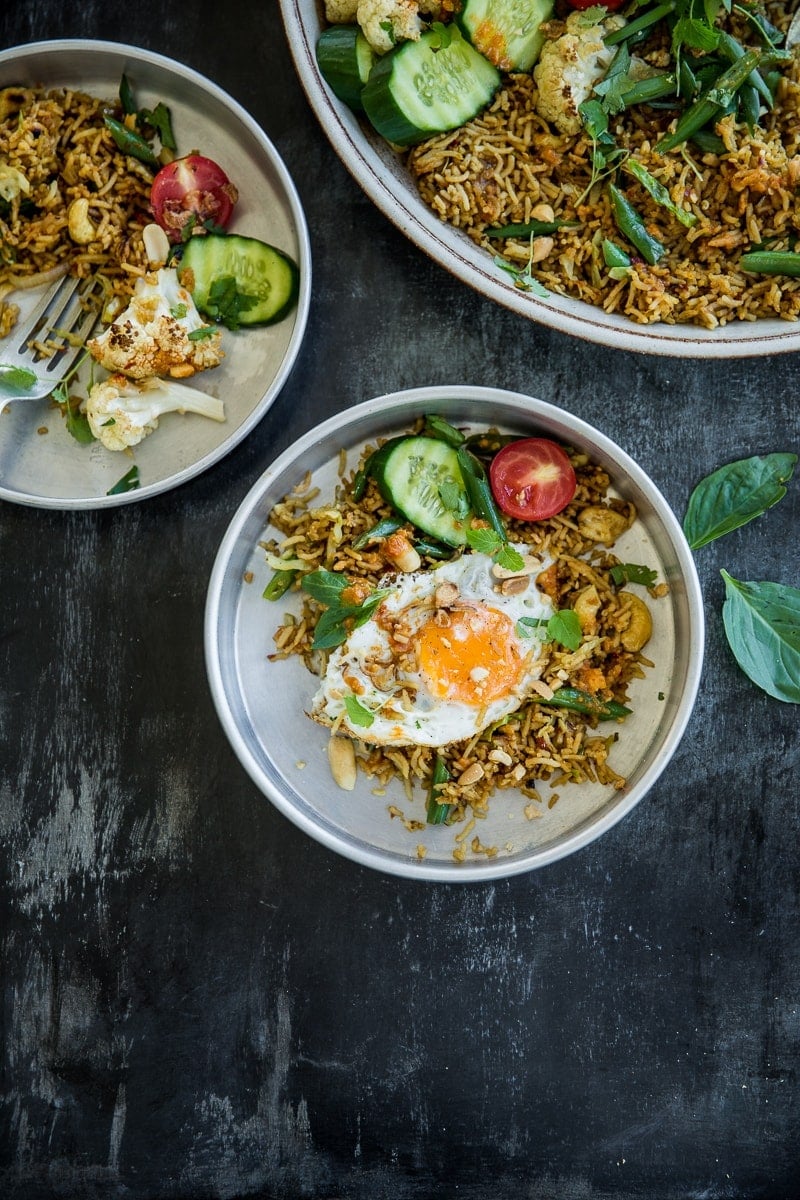 Eating Asian food at restaurants can be quite a challenge if you are vegetarian (or vegan). But especially restrictive and unhealthy if you have an underlying digestive or cholesterol problem. The stir-fries are often drenched in stale oil, the curry pastes have artificial colours, preservatives and flavour enhancers and everything is heavy on meat. Even the vegetarian fried rice often has ham in it. Don't get me wrong, there are some great Asian restaurants out there and while they exercise a lot of care in preparing their food; you can't eat out all the time.
The next time you have a hankering for a big bowl of Nasi Goreng - the definitive spicy Indonesian Fried Rice, use this recipe. I have been testing out this recipe for the past 6 months (yes, all new recipes shared in the past year or so have been tested at least 3 times before they appear here on the blog!) and I am very excited to share this with you today.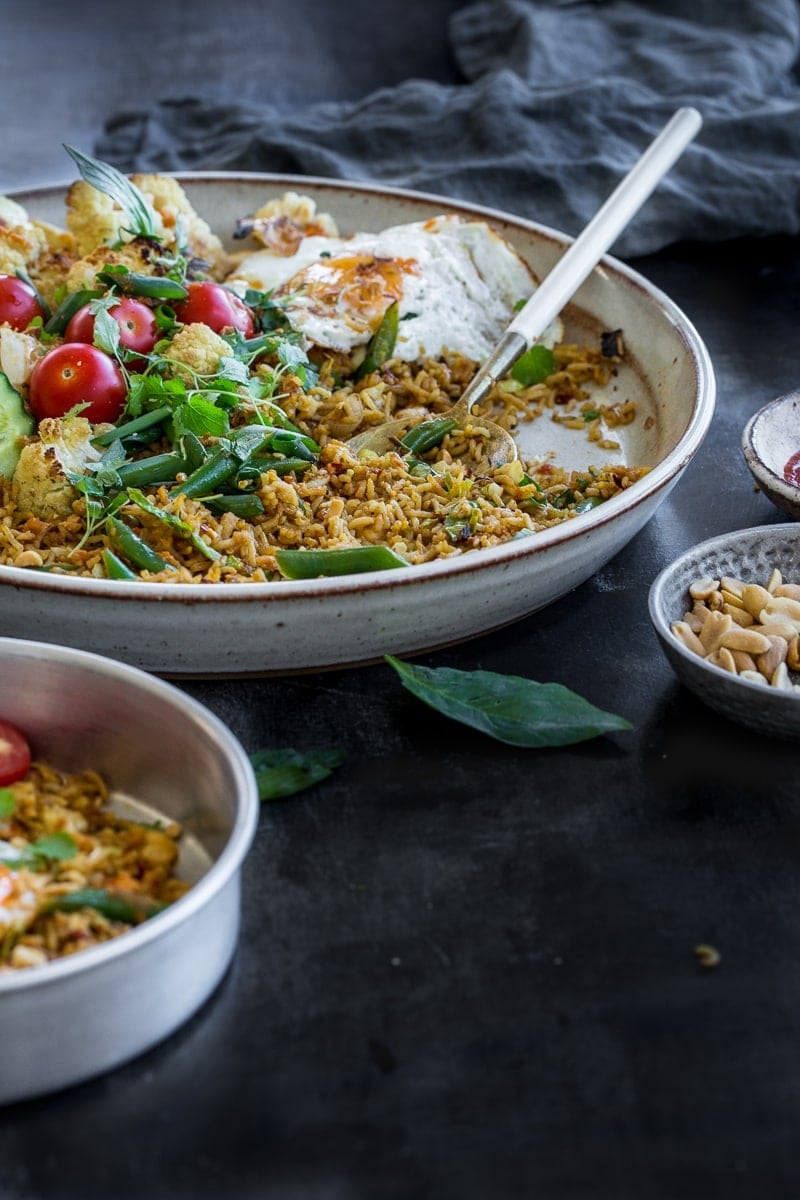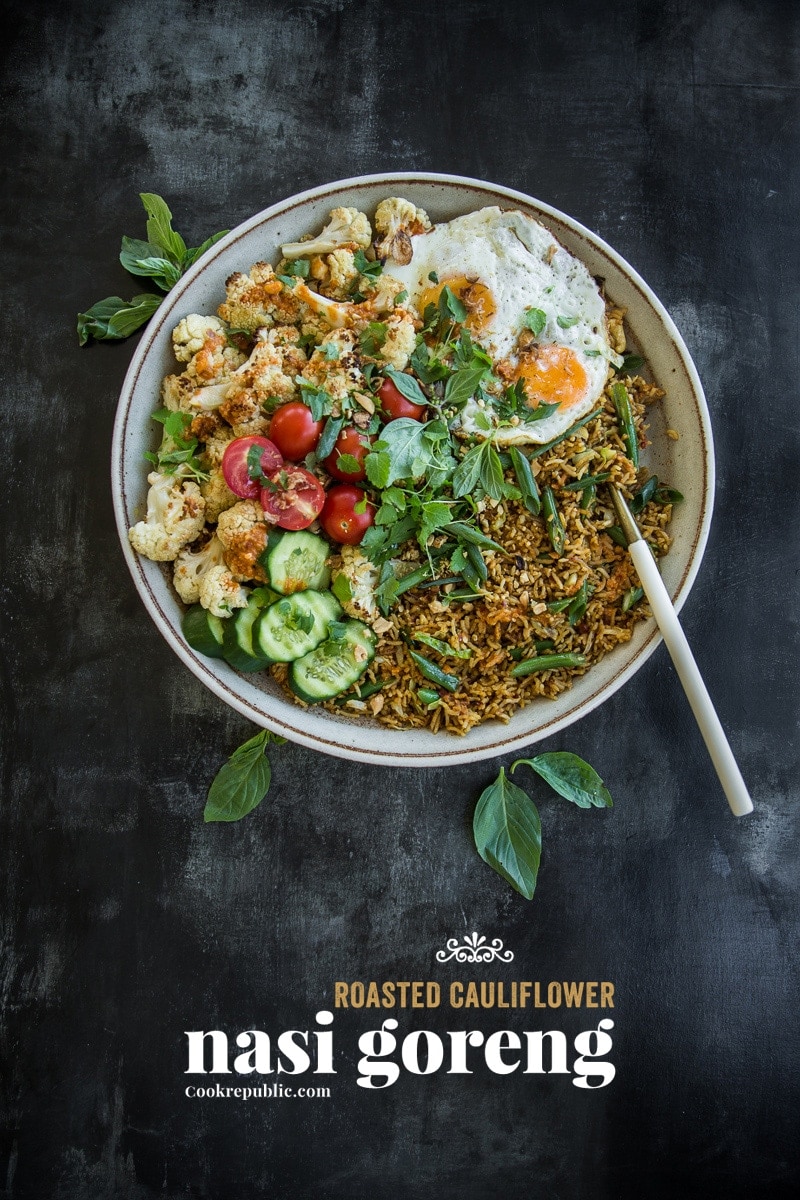 A few pointers ..
a. Always use cold cooked rice for a stir-fry like this one. I have included instructions on how to cook rice for this recipe in the notes. Always have your stir-fry ingredients prepped and ready to go. It only takes a few minutes but makes a huge difference to the cooking process. Stir-fries cook very quickly on high heat and having all ingredients laid out means that your stir-fry will be crisp, hot and texturally perfect as opposed to soggy and limp and overcooked.
b. Use a wok at least twice in size to the amount of ingredients you are going to put in it. A carbon-steel wok gives a great charred flavour but a non-stick wok will work fine too. Just make sure it is really hot when you start cooking.
c. When tossing and mixing cold rice and paste in the wok, I find it useful to break up  and mix the cold rice quickly using a potato masher. Cool kitchen hack!
d. I have included a handy hotness scale in the notes below. It tells you how spicy this dish is and how you could make it spicier if needed.
e. the homemade Nasi Goreng curry paste is vegan and the real deal. Traditionally the Nasi Goreng paste would have belachan (pungent shrimp paste) but my vegan version has the goodness of miso paste and turmeric instead. Plus it tastes like Nasi Goreng should, you'll see! The recipe I have shared below makes about 8 tablespoons of paste that can be stored in the fridge or frozen and you will be able to make this fried rice twice with that quantity.
f. the whole dish is vegan really (I only cooked the fried eggs for the boys because they love it like that and they are only little and don't have to worry about grim issues like cholesterol). The roast cauliflower bulks it up nicely and is a vegetarian's dream (Did you know that cauliflower is the number one fat-busting, weight-loss inducing, gut-enhancing vegetable out there??)
g. as with all my recipes, I provide you with a blueprint of a recipe and urge you to go to town with what you have on hand. All you really need for this Nasi Goreng is the curry paste and some cooked basmati rice. From there on, you can follow my recipe to the letter or make it your own and add whatever it is that you like or have at home and it will still taste like Nasi Goreng - promise!
If you make an love this recipe, I would love to hear your feedback in the comments below. Don't forget to rate it too! If you have any questions, please leave write them in the comments below as opposed to Instagram so I can get to them quicker and others can benefit from them as well. I hope you enjoy this recipe. Sneh x
Recipe
Hungry For More Recipes? Subscribe to my newsletter. Check out Facebook, Instagram and Pinterest to see everything I share! And if you love cooking and new cookbooks, join my free Cooking Club on Facebook!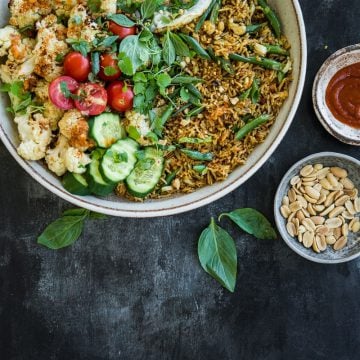 Ingredients
For The Nasi Goreng Paste
6

garlic cloves

2

shallots

,

peeled and chopped

25

g

raw peanuts

1

tablespoon

red chilli flakes

,

or 3-4 red bird's eye chillies, deseeded

2

tablespoons

rapadura or palm sugar

1/2

teaspoon

ground turmeric

2

tablespoons

peanut oil

1

teaspoon

red miso paste

1

tablespoon

tamari or light soy sauce

1

tablespoon

rice flour

2-3

pieces

sun dried tomatoes

1

teaspoon

sea salt flakes
For The Cauliflower
500

g

cauliflower florets

4

garlic cloves

,

minced

1/4

teaspoon

white pepper

1 1/2

teaspoons

sea salt flakes

1

tablespoon

lime juice

2

tablespoons

olive oil
For The Rice
1

tablespoon

peanut oil

2

shallots

,

thinly sliced

100

g

green beans

,

sliced

1

cup

cabbage

,

finely chopped

3

cups

cold cooked basmati

,

or brown basmati rice

handful of raw cashew nuts

1

tablespoon

kecap manis

1

tablespoon

white vinegar

4

tablespoons

Nasi Goreng Paste

2

spring onions

,

sliced

salt to taste
To Serve
sliced cucumber

,

tomato wedges, fresh coriander, roasted peanuts, fried shallots, fried egg (optional), lime wedges, Sriracha sauce, micro herbs, Thai basil
Instructions
To Make The Nasi Goreng Paste
Place all ingredients in the bowl of a small food processor (or Nutri bullet/blender) and process until smooth. Store in an air tight glass jar in the fridge until ready to use. Paste keeps well in the fridge for up to a week. It can be frozen in a zip lock bag and keeps well in the freezer for up to 3 months.
To Make The Garlic Lime Cauliflower
Mix all ingredients for the cauliflower in a medium bowl. Toss to combine well. Pre-heat oven to 200°C. Line a baking sheet with baking paper. Place cauliflower on the prepared baking sheet and roast in the oven for 25-30 minutes until cooked and starting to brown. Remove from oven  and set aside.
To Make The Nasi Goreng
Heat oil in a large wok on high. Add shallots, beans and cabbage. Stir fry for a minute until glossy.

Add the rice, cashew nuts, kecap manis, Nasi Goreng paste and vinegar. Reduce heat to medium high and stir fry, pushing and tossing the ingredients constantly with a flat metal spatula until rice is coated evenly with the sauces (about 2-3 minutes).

Add spring onion and adjust seasoning. Remove from heat.

Serve hot topped with fried egg(optional), roasted cauliflower, cucumber, tomato, coriander, lime wedges and Sriracha. Sprinkle with crushed peanuts or fried shallots for extra crunch.
Notes
Make It Vegan -  Skip the egg while serving. The recipe here including the Nasi Goreng paste is vegan.
Toppings - I have included a selection of toppings in the

"To Serve"

section of the recipe. You can choose all or as many as you have on hand. A typical Nasi Goreng would have roasted peanuts, fried shallots, sliced red chilli, coriander, cucumber and tomato.
Hotness Scale - The curry paste produces a dish that has a mild kick to it. It qualifies as Mild if you were to pick between Mild, Medium and Hot at a restaurant. This Mild version will appeal to everyone, my 10-year-old loved it too. He said it was a tiny bit spicy but he loved having it. My chilli-hating friend could eat it without any problem as well.

To make it Medium

- Add an additional tablespoon of red chilli flakes to the original paste before blending.

To make it Hot

- Add an additional 1 1/2 tablespoons to the original paste before blending. Or you could make a medium paste and go crazy with the Sriracha when you serve. But tread carefully, it can get hot very quickly.
How To Cook Rice - My preference for this dish is Basmati or a mix of Basmati and Jasmine rice. For any kind of rice, wash rinse and drain the rice several times in cold water to remove a lot of the arsenic that rice contains. This process also allows rice to cook properly giving you single grains as opposed to a sticky lump.

For Basmati And Jasmine Rice

- I use 1:1.5 ratio (1 cup rice - 1.5 cups water).

For Brown Basmati Rice

- I use 1:2 ratio (1 cup rice - 2 cups water)
Did you make my recipe?
I'd love to hear how you went! Tag me on Instagram @cookrepublic