This is really good fried rice! The kind you have at the Chinese restaurant and wonder why yours never tastes like that. Well, this one does! And the secret lies in five very simple things as you will find out soon. So, let me show you how to make a really delicious batch of Veg Fried Rice in just 18 minutes! Perfect for eating with Mushroom Ma Po Tofu or Chinese Cashew Chicken.
Jump to:
The Secret To Restaurant-Style Chinese Veg Fried Rice
Over the years, I have made countless batches of wok-fried rice. My fried rice is usually always vegetarian with an occasional batch that has prawns in it. After years of cooking Veg Fried Rice, I am going to share my tips and tricks for achieving that authentic Chinese restaurant-style fried rice. Both in the look and taste.
There are five very important things to remember
Use medium or long-grain white rice like jasmine or Basmati.
For this recipe, use day-old cooked rice that is cold and has been refrigerated.
Do not use dark soy sauce. Dark soy sauce (Mushroom-flavoured dark soy sauce or the sweet Kecap Manis both have a very distinct flavour that can be overpowering in a simple fried rice recipe. They also render the fried rice a very dark shade of brown which is the exact opposite of authentic Chinese restaurant-style fried rice which is usually very light and bright. Almost a pale yellow colour.)
Do not use butter or sesame oil to stir-fry your fried rice. You want to use peanut or some neutral oil. Peanut oil is the best and gives a fantastic result.
And lastly, you will need a large carbon-steel/metal wok that can reach super-high temperatures. It doesn't matter if you have an induction cooktop (like I do). The thin metal wok is vital to achieving that beautiful smokey flavour in your fried rice and ensuring perfectly cooked grains of rice.
How To Get That Fried Rice Flavour
Chinese restaurants often use chicken stock or chicken powder along with bacon bits in their standard fried rice recipes that go by the names "Special Fried Rice" or "Yangzhou Fried Rice". Their seafood fried rice most likely has seafood stock. And if they have a special Vegetarian Fried Rice on the menu, chances are it might have MSG added to it. All of these are flavour enhancers. So how do you go about adding maximum flavour in a Veg Fried Rice without using stock powders, MSG or other flavour enhancers?
Flavouring your stir-frying oil - This involves frying and caramelizing your onion and garlic in the oil.
Cooking your veggies perfectly - The carrots, peas and mushrooms only need a minute to cook. The spring onion only needs a few seconds to soften and become sweet.
Creamy eggs - The egg is a great flavour enhancer in a basic Veg Fried Rice recipe. There are two ways to cook the egg.
a. The first is to scramble it on high heat with oil for just a few seconds until set and then add it to the rice towards the end.
b. The second is a more traditional method and creates a better-tasting fried rice in my opinion. This method involves cooking the fried rice first and then pushing aside the rice in the hot wok creating a well and adding the whisked egg in the centre. You let the egg set for a few seconds and then scramble it and turn and mix the rice so that soft, half-cooked, creamy egg bits coat the rice creating that beautiful yellow fried rice with a lovely depth of flavour.
Saltiness - The saltiness in my recipe comes from a small amount of light soy sauce (to retain the bright colour of the rice) and a generous pinch of salt.
White Pepper - White pepper is key to Chinese cooking. It's often pungent but floral and earthy tones transform the dish without it being too hot.
Wok hei - Not an ingredient but probably the most important flavour enhancer of them all. Meaning "wok breath" in Cantonese, is the beautiful smoky flavour you get from cooking in a wok. A thin carbon steel/metal wok on high heat creates a beautiful char that has unbelievable depths of flavour that cannot be achieved in regular non-stick or heavier cast-iron pans.
Tips For Making The Best Veg Fried Rice
A. Create your wok wheel. Prep all ingredients in advance in little bowls. Arrange them in a clockwise fashion in the order in which they will go into the wok with the first ingredient positioned at 12 o'clock.
B. Irrespective of the variety of rice used, start by washing, rinsing and draining the rice in cold water several times until the water runs clear. A rice cooker is great for cooking rice quickly.
C. For Basmati Rice - Use 1 1/2 cups water for 1 cup of raw rice.
For Jasmine Rice - Use 1 1/4 cups water for 1 cup of raw rice.
D. Make sure you use a large (30cm+) wok or skillet. You don't want to overcrowd the wok and need plenty of space to toss the rice around.
E. Use a flat metal/wooden spatula to break up the rice and press it against the sides of the wok while stir-frying and tossing. I find a metal potato masher great for breaking up hard lumps of cold rice and stir-frying it in the wok. I use it the same way I would the spatula.
More Modern Chinese Recipes
Recipe
Hungry For More Recipes? Subscribe to my newsletter. Check out Facebook, Instagram and Pinterest to see everything I share! And if you love cooking and new cookbooks, join my free Cooking Club on Facebook!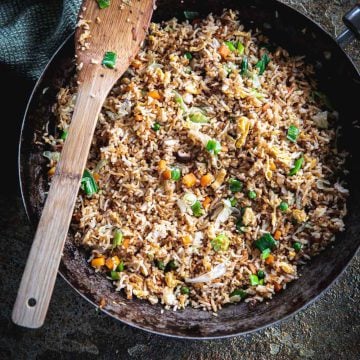 Ingredients
3

tablespoons

peanut oil

,

(or any neutral oil)

3

eggs

,

lightly whisked

2

garlic cloves

,

minced

1

small brown onion

,

finely diced

1/2

cup

diced carrot

1/2

cup

green peas

½

cup

shiitake mushroom

,

finely chopped

4

cups

cooked rice

,

basmati or jasmine (see notes for raw quantities)

1/2

teaspoon

sea salt flakes

1/2

teaspoon

raw sugar

¼

teaspoon

white pepper

1

tablespoon

light soy sauce

4

spring onions

,

thinly sliced

1

cup

,

shredded lettuce
Instructions
Heat a tablespoon of oil on high in a large wok. Swirl the oil carefully in the wok to coat the surface. Add the egg, swirl it to coat the sides of the wok and lift the wok off the heat while scrambling and stirring rapidly. Remove egg when it is barely set and still wobbly and runny. Transfer to a small bowl and set aside.

Return wok to the hob. Heat the remaining oil on medium-high in the wok. Add garlic and onion. Sauté for a few seconds until the onion starts to caramelize. Reduce heat to medium and cook for a minute or two until onion has softened.

Increase heat to high. Add carrot, peas and mushroom. Sauté for a minute until veggies are glazed. Add half the spring onion and stir-fry for a few more seconds.

Add cooked rice, cooked egg, salt, sugar, pepper and soy sauce. Mix well and stir-fry for a minute, tossing constantly.

Add the remaining spring onion and lettuce. Mix well, toss constantly and stir-fry on high for a minute until everything is combined well and heated through.

Remove from heat and serve hot.
Notes
Make It Vegan - Skip the egg Make It Gluten-Free - This recipe is gluten-free, just ensure that the soy sauce you are using is free of gluten. Rice - I like to use Basmati rice as I grew up using and cooking Basmati rice especially in Indo-Chinese recipes. Traditionally, you will want to use medium to long grain rice like jasmine. I cook my rice in a rice cooker to save time. I can put it on and forget about it. I also like to turn the rice cooker off and let the rice cool completely for a few hours before I use it to make fried rice. You can also cook the rice on a hob. After washing, rinsing and draining the rice several times, place rice in a heavy-bottomed saucepan with water and bring to a boil on medium-high heat. Then reduce heat to low, cover and simmer for 11-12 minutes. Turn heat off and allow to rest (covered) for 10 minutes. mix lightly with a wooden spoon to separate the grains a bit. Cover and refrigerate. [Use 1 1/2 cups water for 1 cup of Basmati Rice. Use 1 1/4 cups water for 1 cup of Jasmine Rice] Vegetables - Make sure you are dicing vegetables really fine. Fresh or frozen veggies are fine. No need to thaw if using frozen. I use green peas, carrot and shiitake mushrooms. Prawns - If using prawns, make sure they are peeled and raw. Add them along with the veggies. I would use 3/4 cups of raw peeled prawns for this recipe. Salt - I use sea salt flakes in all my cooking. It is different to table salt. It is coarse and has large crystal flakes. When I use 1 teaspoon of the sea salt flakes, I am essentially using less salt than a crushed table salt variety.
Nutrition
Calories:
435
kcal
|
Carbohydrates:
65
g
|
Protein:
9
g
|
Fat:
16
g
|
Saturated Fat:
3
g
|
Polyunsaturated Fat:
6
g
|
Monounsaturated Fat:
6
g
|
Trans Fat:
0.01
g
|
Cholesterol:
0.2
mg
|
Sodium:
606
mg
|
Potassium:
373
mg
|
Fiber:
7
g
|
Sugar:
8
g
|
Vitamin A:
2942
IU
|
Vitamin C:
13
mg
|
Calcium:
116
mg
|
Iron:
2
mg
Did you make my recipe?
I'd love to hear how you went! Tag me on Instagram @cookrepublic