Every Thursday when I walk into my home with my baskets and jute bags full of fresh market produce, I make this broth. Like clockwork. I set my bags down, grab the Kilner jam pan (who knew it would be just perfect for big batches of stock and sauces) and fill it with 6 litres of filtered water. And because I have now been doing this every single week for the past two years, I chop veggies on automaton, toss them in the water and get the heat going. By the time I make myself a cup of coffee and finish putting away the veggies and other produce from my market bags, I have 6 litres of delicious nutrient-rich veggie broth ready to be bottled for a week's supply of fresh nourishing meals. It is essentially stock but I call it broth because broth is supposed to be lighter in taste, something that you can drink straight up.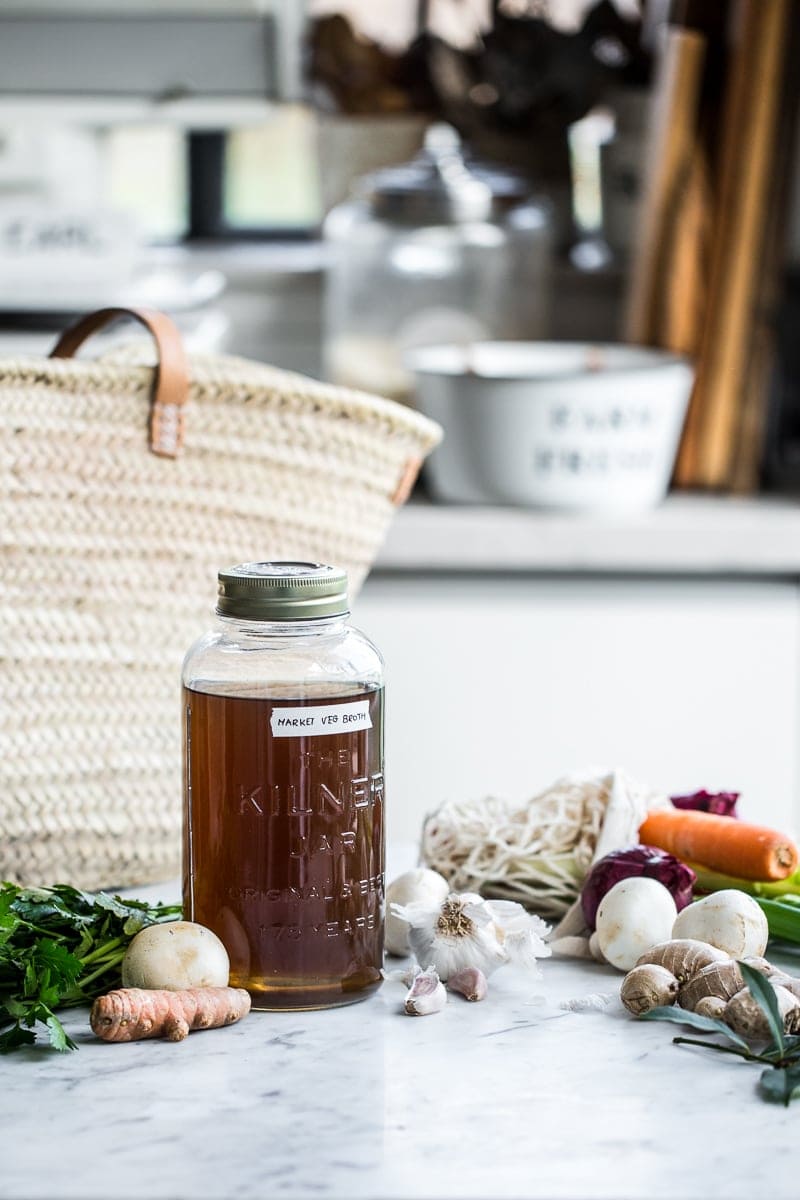 It is amazing how a simple habit and a bit of discipline can make a huge difference in not only your monthly grocery bills but also in your health. Rewind to a few years ago and a container of all natural, additive free veggie stock was part of my weekly shop. At $4 a pack, it wasn't much. But when you added up 5-6 packs (because that was how much we were using in a month), it amounted to $25-$30 a month. Again, that wasn't much but my only gripe was that it wasn't fresh and I could never bring myself to drink it straight.
So I decided to make a huge batch every week with fresh veggies from the market and see how that worked for us. When I slow simmered my first batch of this veggie broth and tasted it from a cup, I couldn't believe how utterly delicious and clean it was. I realised then that I would never be able to go back to the store bought stock.
What I love is that I am in control of what goes into the broth. I have always loved boosting the nutrition factor of my dishes with anti-inflammatory and gut healthy ingredients. And there is loads of that in this vibrant broth. Leek, ginger, garlic and turmeric are absolutely amazing ingredients. Besides being phenomenal sources of vitamins and minerals, they enhance your gut flora and maintain a healthy heart.
This broth is an excellent way to get more of these vegetables and spices in your body. Try replacing your afternoon cup of tea with a hot cup of this beautiful broth a couple of times during the week and see how amazing you feel. Or heat the broth and add raw sliced veggies (cauliflower, beans, carrot, spring onions, snow peas and some salmon or tofu), top with a dash of soy sauce or miso and a hot chilli sauce. One of my go-to satisfying quick lunches!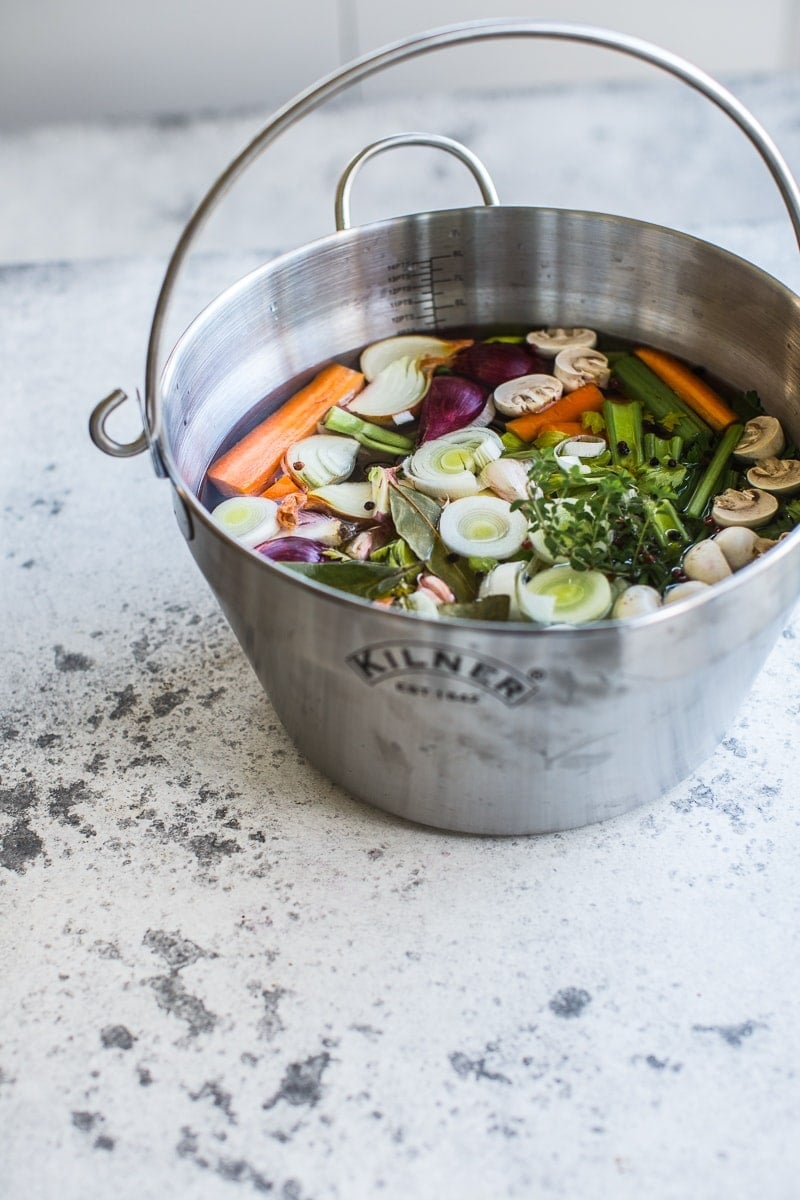 In the past few months, I have started using filtered water for drinking (mostly) and for cooking. We just use this Brita jug and fill bottles with the filtered water as and when required. The water tastes much nicer, softer, sweeter and crisper after filtering. And it makes a huge difference to the taste of the broth as well. The Kilner jam pan is fantastic because it works well on my induction cooktop and has volume measurements marked on the inside (super useful!).
The combination of vegetables below yields a very umami tasting broth. I often add cauliflower greens and dried porcini or chanterelle mushrooms in addition to the veggies below. If I am freezing the broth, I like to do so in different sized containers. 2 litre containers are useful when I want to make soup. 600ml containers are great when I need stock for sauces, stir-fries or curries.
If you manage to work this little broth recipe in your weekly routine, I would love to hear your feedback and thoughts in the comments below. You can also try out this Turmeric Chicken Broth (that my boys love and often sip on cold mornings before going to school) or this rich tasting Mushroom Broth. And here are some recipes you can use the broth/stock in
Thai Red Curry Tofu Soup With Sweet Potato Noodles
Recipe
Hungry For More Recipes? Subscribe to my newsletter. Check out Facebook, Instagram and Pinterest to see everything I share! And if you love cooking and new cookbooks, join my free Cooking Club on Facebook!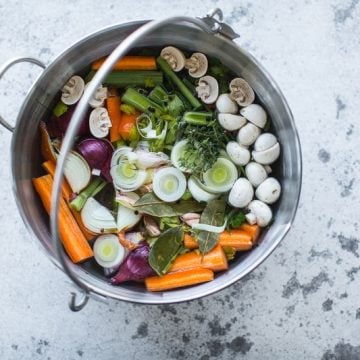 MARKET VEGGIE BROTH
A simple vibrant vegetable stock brimming with nutrients and immense flavour, this can be made in bulk from fresh market finds and frozen for a rainy day. A lifesaver in the kitchen and a healthier option for making soups, sauces or just sipping piping hot instead of tea.
Print Recipe
Rate / Comment
Ingredients
2

leeks

,

washed and sliced (white only)

3

carrots

,

washed and chopped

2

red onions

,

quartered

3

celery sticks

,

washed and chopped

4

parsley sprigs

,

washed and chopped

6

thyme sprigs

4

garlic cloves

,

peeled and crushed

1

inch

ginger piece

,

chopped

1

inch

fresh turmeric root

,

chopped

100

g

button mushrooms

10

peppercorns

4

bay leaves

salt to taste

,

usually 2-3 teaspoons

6

litres filtered water
Instructions
Place all ingredients in a deep 8-litre sauce pot or canning pot. Bring to a rolling boil on high. Reduce heat and simmer for 30-40 minutes until vegetables are tender.

Remove from heat and allow to cool completely. Strain into clean and dry glass jars and store in the refrigerator for up to a week.

Alternatively, strain into freezer safe containers. Cover and store in the freezer for up to 3 months.
Notes
I usually store a quarter of the broth/stock in a glass jar in the fridge. The rest I divide between different sized freezer safe containers and stock up the freezer. The most handy sizes are 2 litre containers which I used for soups and 600ml containers which I use for making sauces and curries.
Always wash off any dirt from the veggies, especially in celery stick grooves and ends of the leeks.
I also like to add cauliflower greens to the stock if I have found any on the day I am making it.
If you can't find fresh turmeric root, substitute with 1 teaspoon of ground turmeric. Your broth/stock will be more yellow but taste pretty much the same.
Salt is really important in this recipe. Whether you are using the broth for cooking or for drinking, an under salted broth is not very pleasant. You can still fix the seasoning if you are cooking, but if you are drinking the broth you want to make sure that it is seasoned correctly.
Did you make my recipe?
I'd love to hear how you went! Tag me on Instagram @cookrepublic