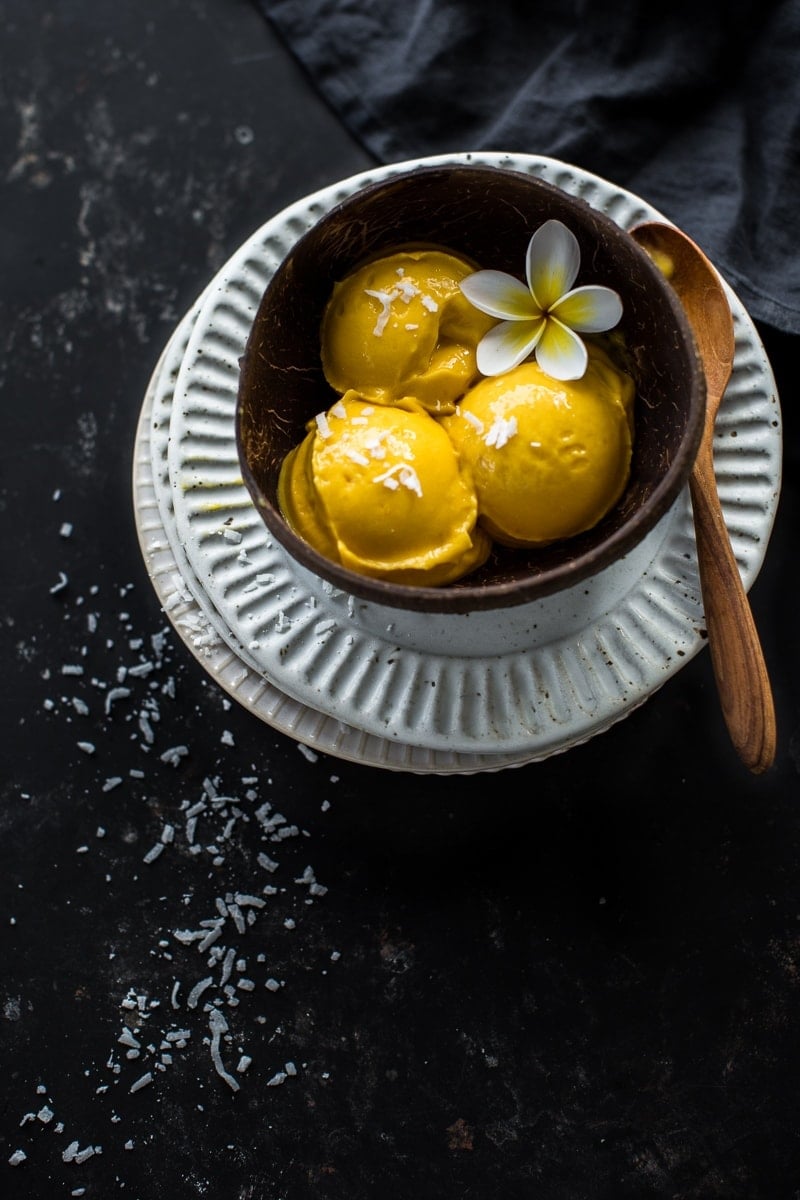 The Secret Ingredient To Amplify The Flavour Of Mango
Do you often wonder why when you make mango ice cream or smoothies at home, do they taste like bland sweetness whereas that mango ice cream from that gelato place tastes like sheer pleasure in a cone? There are two main reasons. The first being the type of mango. The key to a good mango ice cream is the variety of the mango used. I do not trust recipes that call for any mango to make an ice cream. Because all mangoes were not created equal!
All mangoes will add sweetness to your dessert but only some mangoes will add that complexity and depth of flavour to create a dessert worthy of culinary nirvana. And the second reason is salt. Yes, you heard me right! A pinch of salt draws out the sweet and sour complexity of the mango like nothing ever will. And with these two simple tricks on hand, I have created the most perfect 4-ingredient instant vegan mango ice cream that will blow your mind.
A Childhood Spent Amongst Mango Trees
My childhood was literally spent under the shade of mango trees. We had quite a few growing on the property we lived  on and mangoes were always in abundance, a constant fixture in our lives. With the arrival of summer would come the annual trip to the mango bazaar where the best mangoes were auctioned off. Alphonso (the king of mangoes) with its golden skin and saffron coloured flesh, Kesar (the queen of mangoes) with creamy delightful flesh squeezed into pulp and consumed by the bucket. We would buy crates of mangoes layered with hay, the greenest at the bottom and the ripest at the top.
Everyday we would open the crates and work our way from the top to the bottom as the mangoes ripened throughout the season in the warmth of the hay. It was and is still one of my most favourite memories of summer. Opening the creates and turning the mangoes and discovering a perfectly ripe one for a snack. It was like finding a bar of gold in an old treasure chest. Sundays would be for pulping the mangoes in buckets for the most delicious mango nectar to be enjoyed with puris over a long family lunch. My grandparents had a mango room in their home - a small dark walk-in cellar with a sliding door to store the hundreds of mangoes that would fall off the trees on their property!
While in India every single mango was sweet and punchy and tangy and delightful, that was not the case when I first arrived in Australia more than a decade ago. Mangoes were sweet, but that was it. Just sweet and delicious but lacking that honeyed saltiness, the saffron tanginess and the complex almost spicy hit. Until I started paying attention to the time of the season and particular varieties on offer. That is when I hit gold, quite literally. I realised that if you were after that beautiful rich taste, you had to work extra hard to source and buy the right mangoes. Nowadays though, the right mangoes are plentiful and in abundance.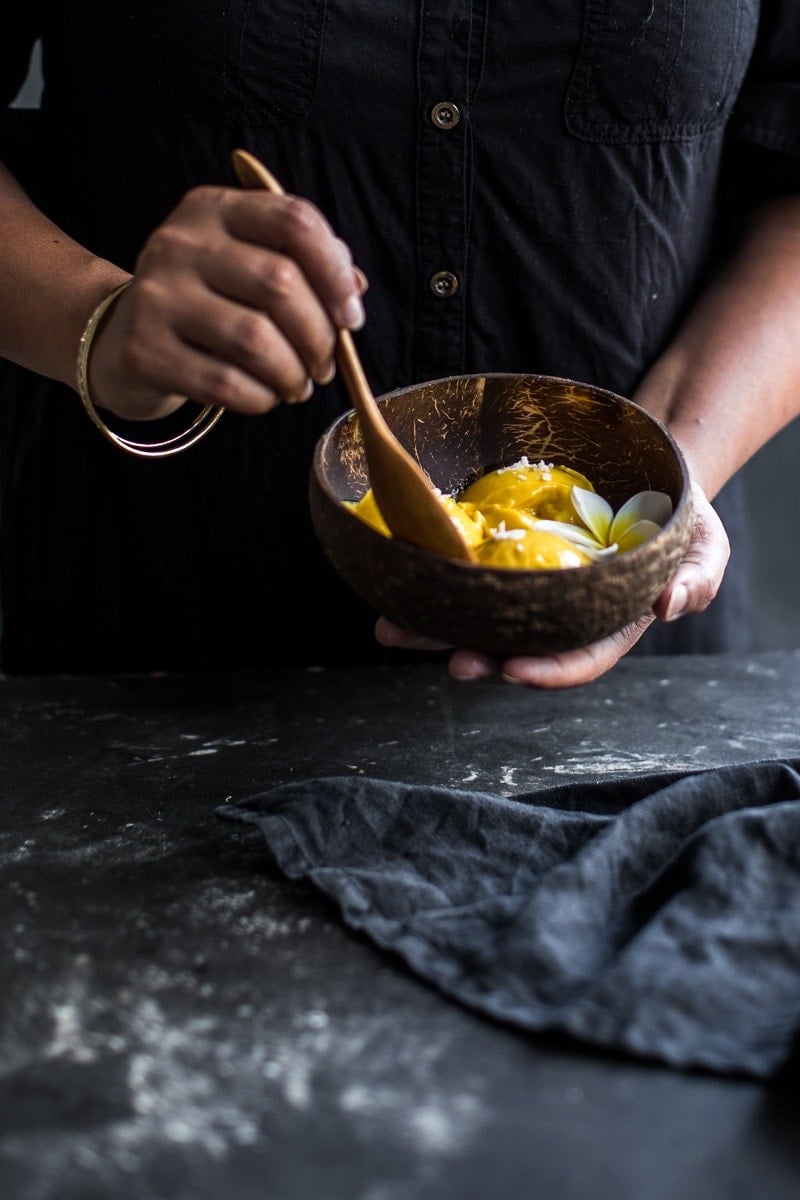 The Best Variety Of Mango To Use For Making Ice Cream
We have a huge variety of mangoes in Australia - Kensington Pride, R2E2, Pearl, Calypso, Keitt, Honey Gold etc. In Australia, mango season starts with the much loved Kensington Pride (Bowen) mangoes. At the start of the season, they are a bit blah but as the season progresses and crosses the halfway mark; they start to develop that rich punchy complex flavour. Their flavour is sweet and tangy with a touch of saltiness. This is important to the flavour of the ice cream you will make. The tanginess of a mango. Most other varieties are classified as sweet and mild. But Kensington Pride is classified as sweet and tangy. Another late season mango which is even better than Kensington pride in its sweet and tangy flavour is the Pearl mango (a personal favourite of mine). And the exceptionally juicy and tangy Honey Gold (a happy cross between the Kensington Pride and an unknown variety).
Mango desserts (cake, ice creams, smoothies, puddings, popsicles, fudge) are best made from mid-season Kensington Pride mangoes and late season Pearl and Honey Gold mangoes. I have made this vegan ice cream with a mix of Pearl and Kensington Pride mangoes. And I have added salt. The salt is essential to lift the flavour of the mango and to balance the sweetness of the flesh. Like salted caramel, you know? Caramel is great by itself but salted caramel is a whole new beast!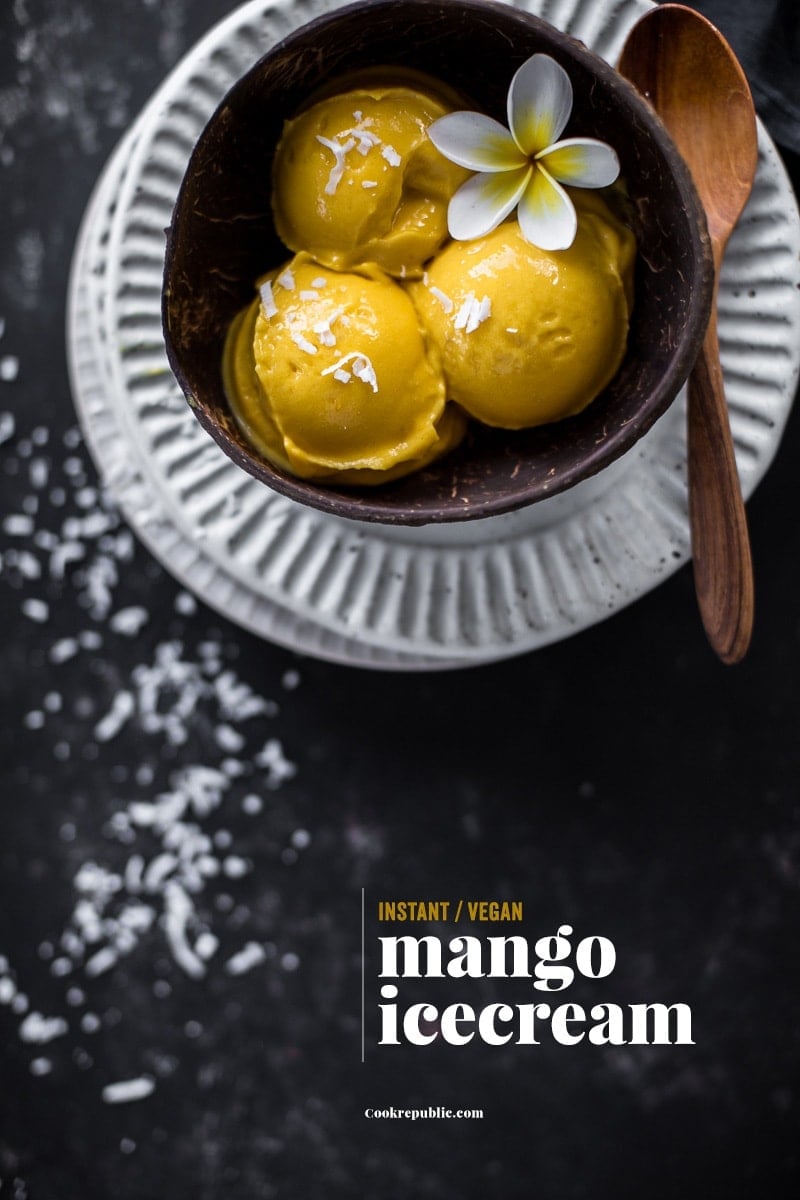 It is Valentine's Day today and we are going to be celebrating the day of love as a family. I am cooking everyone a gorgeous Sweet Potato & Spice Laden Layered Baked Biryani (coming soon!) and for dessert we shall enjoy scoops of this divine mango ice cream. While the whole world does chocolate and strawberries, we love our tropical fruits a bit too much. After all we grew up in the land of mangoes! I want to wish you all a very Happy Valentine's Day. If you love this mango ice cream, do leave me a comment and rating below and don't forget to share your creations with me on Instagram by tagging #cookrepublic. Big love! Sneh x
Recipe
Hungry For More Recipes? Subscribe to my newsletter. Check out Facebook, Instagram and Pinterest to see everything I share! And if you love cooking and new cookbooks, join my free Cooking Club on Facebook!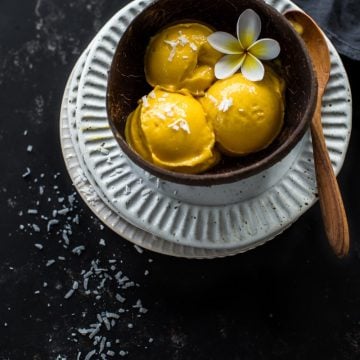 Ingredients
700

g

frozen mango flesh

125

ml

chilled coconut milk

2

tablespoons

maple syrup

big pinch of salt
Instructions
Place all ingredients in the jug of a high powered blender and blend until smooth.

Serve immediately or store in an air-tight, freezer-safe container in the freezer for up to 2 months.

If frozen, thaw at room temperature for 10 minutes before scooping and serving.
Notes
I peel, deseed and chop the mango flesh into small pieces before weighing the lot and freezing it. I have a couple of 700g containers of frozen mango pieces in the freezer, ready to go when I need them.
If you feel that your blender is struggling to blend the frozen fruit (due to lack of liquids), let the fruit thaw for 10 minutes and then process it.
This quantity makes 6-8 large scoops.
Did you make my recipe?
I'd love to hear how you went! Tag me on Instagram @cookrepublic