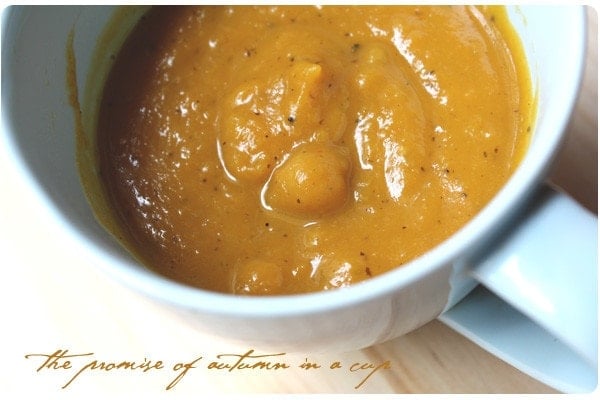 After the mad heat of the past few weeks, the weather has cooled down a bit as we head into autumn soon. The chill in the air is beginning to get cooler and the wet weather begs for something heartwarming in a cuppa. Pumpkins are beginning to show up in abundance at the local markets and greengrocers. I scored a lovely little butternut pumpkin last week and was browsing for simple recipes that would be very quick to make, since I was pressed for time and working towards a deadline. I decided to try the "Roasted Pumpkin And Chickpea Soup" recipe from Donna Hay's No Time To Cook which I bought over Christmas. The recipe looked straightforward and fuss free. I slow roasted the pumpkin cubes [after I had painstakingly peeled it, which I hate doing and which makes me fear for my fingers every time I do it]. You can skip that step and directly cook the pumpkin in the saucepan, but I assure you that it is so worth roasting it for the sweet, mouthy flavour it imparts to the soup. I adapted the recipe, added my bits and bobs and ended up with a soup I am going to make at least a dozen times this autumn. And every time I make it, I am going to experiment with what I add into it, leaning towards organic, more whole, super-protein packed ingredients.
Roasted Pumpkin And Chickpea Soup
[Preparation Time : 20 minutes/ Cooking Time : 30 minutes/ Serves 4]
Ingredients
1 small butternut pumpkin, peeled and diced
2 brown onions, coarsely chopped
6 cups chicken stock
1/2 cup light cream
125g can chickpeas
2 tsp Moroccan spice mix [optional]
1 tsp dried dill
1 tsp olive oil
salt and pepper to taste
Method
Slow roast the diced pumpkin in an ovenproof tray, in the oven at approximately 180oC. Heat oil in a saucepan, saute´ onions on medium heat till golden. Add roasted pumpkin and chicken stock. Cook for 5 minutes. Process with a hand blender till smooth and silky. Reduce heat to low, add spice mix and cream. Simmer on low heat for approximately 20 minutes. Remove from heat, add the chickpeas and mix well. Season with dill, salt and pepper. Serve hot with crusty bread or grilled polenta.