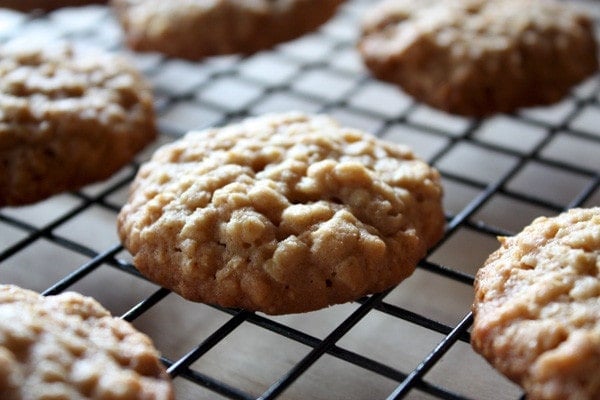 I realized earlier today that my cookie supply needed to be replenished [yes, another of my New Year's resolutions is to bake and devour my own cookies, not store-bought ones]. I went through a couple of cookbooks till a recipe for simple oat cookies from Tessa Kiros's *Apples For Jam* caught my eye. Picking a recipe you really like, from a gazillion recipes is quite a mean task. It all eventually boils down to the randomness of it all and of course the presentation. This time around I have followed the recipe almost verbatim, but I plan to make this a staple for all our breakfast needs and to keep it interesting, I am going to try these with some coconut [a la Anzac] or some wheatgerm [trying to pack more super foods in my daily diet] next time. These turned out quite crispy and moreish and almost looked like my favorite Anzac biscuits, albeit smaller ones. The texture is to die for. And with a cup full of oats in here, they might make you feel less guilty about munching on an extra one after brekkie.
Oat Cookies
[Preparation Time : 10 minutes/ Baking Time : 20 minutes/ Makes : 30]
Ingredients
1 egg
80g butter, softened
1/2 cup packed light brown sugar
1/4 cup plain flour
1/4 cup wholemeal flour
1 cup quick cooking oats
1 tsp vanilla extract
1 tsp baking powder
1 tbsp milk
Method
Preheat oven to 180oC. Line a cookie sheet with baking paper. Combine egg, sugar, butter and vanilla extract in a bowl. Process using a hand blender till light and fluffy. Place flours, baking powder, salt and oats in a bowl. Mix well. Add dry ingredients to the egg mixture along with the milk and mix gently till a smooth dough is formed.
Roll small portions of dough, the size of dried apricots; and place them on the tray at least 5 cm apart. Flatten them a little bit so they resemble a hamburger patty. Bake for 15-20 minutes till golden and cooked through. Cool on a wire rack and store in an air-tight container for up to 2 weeks.