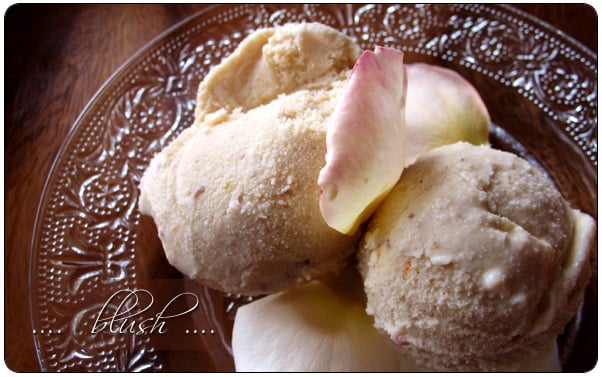 [Note
: I have decided to submit this entry to my first ever Weekend Herb Blogging hosted this week by Kel at Green Olive Tree. Thank you
White On Rice Couple
for directing me there and suggesting I enter!! Here goes ... ]
Roses grow in abundance in India. The concept of using fresh roses in cooking is probably as ancient as Indian cooking itself. A favourite ingredient to spike delicate desserts for the Rajahs and Maharajahs, rose; its aroma and flavour were explored by the Ayurvedics and Naturalists to concoct everything from plain rosewater for skin remedies to the fragrant "gulkand" [rose petal jam] to be used for stomach ailments. The fragrance of rose is unlike anything you will ever smell, it lifts you up and fills you with visions of beauty and etherealism.
When my summer garden exploded in roses this year, I started toying with the idea of using it to cook something unique. I gave rose jam a miss since I have plenty of that stocked in my fridge [and you should try it at your health store next time because it works miracles for your skin]. Dessert!! I thought. But what? Every single dessert idea that popped into my head would need infusing with rosewater or making rose syrup. These sounded very superficial, tried and tested numerous times before. What i was looking for was more guttural, not just skimming the rose plant but exploiting the very essence of it ... its petals! Now what could I do with rose petals that would be totally fantastic?? Kulfi [a creamy, milk based Indian ice cream chockful of chopped nuts, delicately flavoured with saffron with a hint of rose], my mind suggested. No! admonished my heart. We want more flavour, we want more texture! Rose Petal Ice Cream would be perfect then, i decided. No artificial essences, no whiffs of fragrance. Just an abundance of pure rose petals through and through. So I went to my garden and plucked two of the rosiest blossoms, one red and one baby pink. Then taking care so as to not destroy the stamens, I sat and began an exercise of "He loves me! He loves me not!" [well not really, but it felt like it when I was gently pulling out the petals]. Once the petals were plucked, I gathered the ingredients I would need. Within half an hour the ice cream mix was ready and cooling in the fridge. Later that evening I churned it in the ice cream maker and froze it for several hours. At night, just a day after the roses began their journey to the ice cream maker, we had the most delicious ice cream that wove an exotic web between our senses, tantalizing us with the beautiful creamy and grainy texture of crushed nuts and the loving aftertaste of endless tiny crushed petal pieces.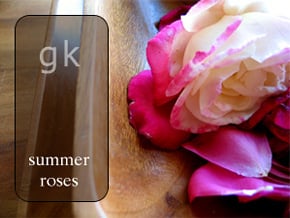 [Makes 1 litre | Preparation Time 25 mins | Cooking Time 20 mins | Chilling Time 6-8 hours]
Ingredients
1 cup fresh rose petals
3 cups full cream milk
1 cup sweetened condensed milk
1 cup pouring cream
2 tbsp sugar
1 tbsp milk masala
1/4 tsp cardamom powder
1/2 tsp grated orange rind

Method
Bring milk, cream, condensed milk, sugar and rose petals to a boil in a heavy bottomed saucepan. Add ground cardamom and milk masala. Blend with a hand blender. Mix well and set aside to cool in the fridge for 1 hour. Add orange zest and churn in an ice cream maker following the manufacturer's instructions. Alternatively cover with cling film and freeze in the freezer for 6-8hours. Garnish with fresh rose petals before serving. I use the Everest brand for milk masala which is available in most Indian grocery stores. If you don't have milk masala at hand, try making it at home with 1tbsp slivered almonds, 1 tbsp pistachios, 1 tbsp unsalted cashew nuts, 1/4 tsp cardamom seeds and 7-8 strands of saffron. Assemble all ingredients in a mortar and pestle. Grind them well till the mixture reaches a couscous like coarseness.