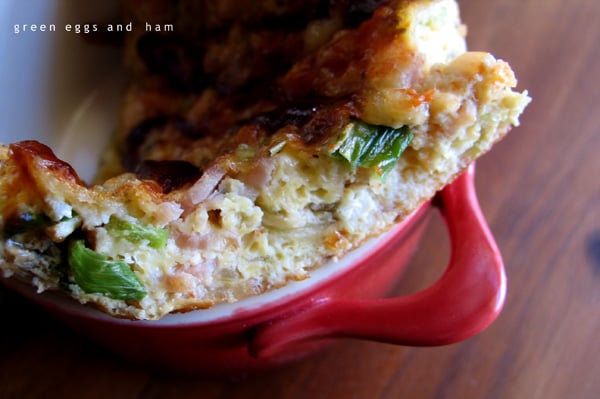 Have you seen Horton? I mean, have you really taken a long, good look at him? Beside the fact that he is the cutest animated elephant I have ever seen, he also manages to resemble Jim Carrey a bit. I have been eagerly awaiting the release of "Horton Hears A Who" for a while now. I will have to curb my excitement and continue waiting patiently for the DVD release as it is Nick's turn to take our firstborn to the movies while I babysit our little one. I have also been reading Dr. Seuss to my older son in the hope that he warms up to it and sees the hilarity it presents. Not yet though, I think he might not be old enough to grasp the madness that ensues in the books. With Dr. Seuss so much in your face everywhere, it can become very hard to ignore it. So continuing along those lines I decided to do a dish which honors his stories, at the same time trying to entice my fussy eater to brave something out of the story book ..... "Green Eggs And Ham"!! It is a simple dish and has been done a million times before. But I believe that every person who cooks it can make it his own. I have used spring onions for the "green" and honey soaked ham for the "ham". I baked the eggs in the oven and then grilled them with the cheese browning on top to add crunch. They tasted just right, soft on the inside and browned on top with a dash of barbecue sauce.
GREEN EGGS AND HAM
[Prep Time : 10 mins/CT : 30 mins/Serves : 3]
Ingredients
4 eggs
1/2 cup honey soaked ham, finely diced
1/2 cup spring onions, finely sliced
1 small brown onion, finely sliced
1/2 cup mozzarella cheese, shredded
salt to taste
freshly ground black
pepper barbecue sauce to serve
olive oil
MethodHeat oil in a medium, oven proof frying pan on low. Swirl it around gently to coat. In a medium bowl combine eggs, onions, spring onions, ham, salt and pepper. Beat well. Pour into the frying pan. Cook for a minute till slightly set. Remove and sprinkle with cheese. Place in a preheated oven and bake for approximately 25 minutes at 160 oC. Remove and place under the grill for 5-8 minutes until browned on top. Cut into wedges and serve hot with barbecue sauce.