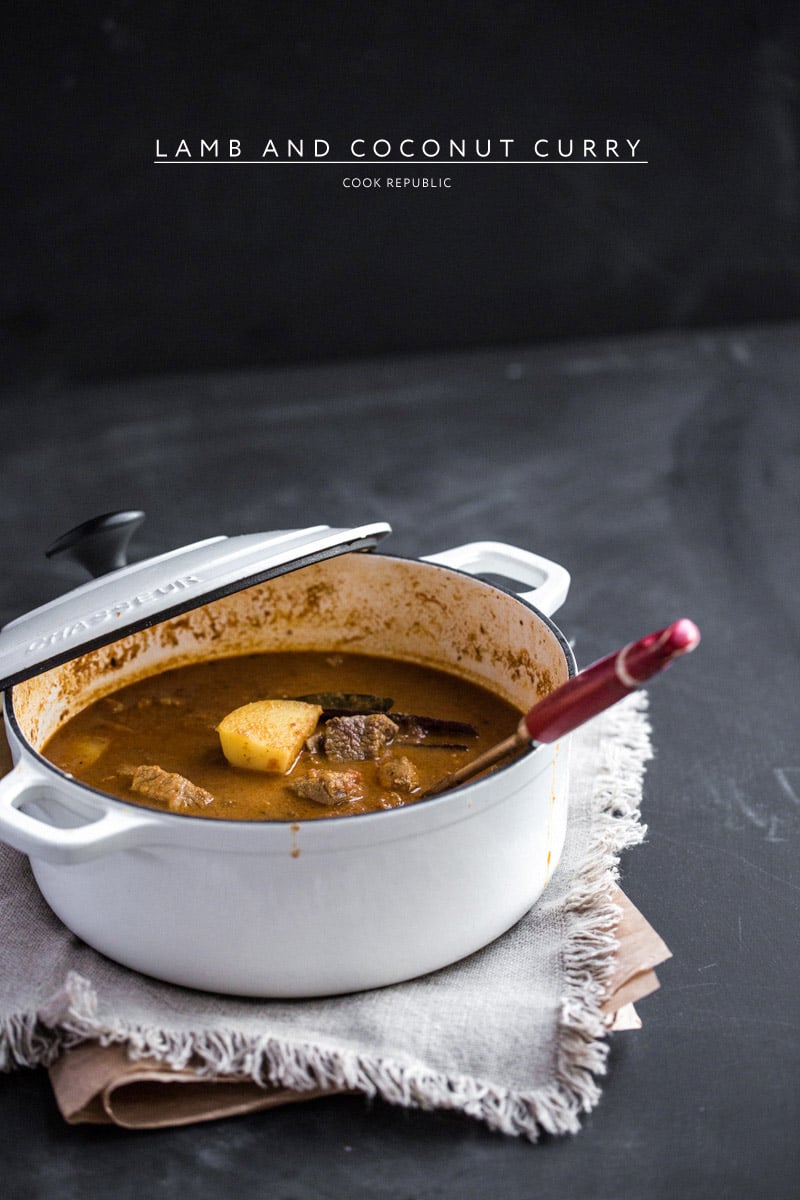 A curry made from scratch is not only deeply satisfying, it is also incredibly tasty. The beauty of spice pairing while cooking a curry is that you often don't have to do a thing other than toss everything in a big pot and simmer until it smells like you just want to eat it. No wonder curries are a constant in my busy life.
Every curry rests its laurels on a delicious sauce, whether it is dry-ish and chunky or creamy and spoonable. If you are a fan of a creamy simmered sauce, a blender will be your lifesaver. Besides, when you are not mixing up curry bases you will be concocting smoothies. So if you don't have a blender, get one. It doesn't have to be fancy, but it will make your life easier.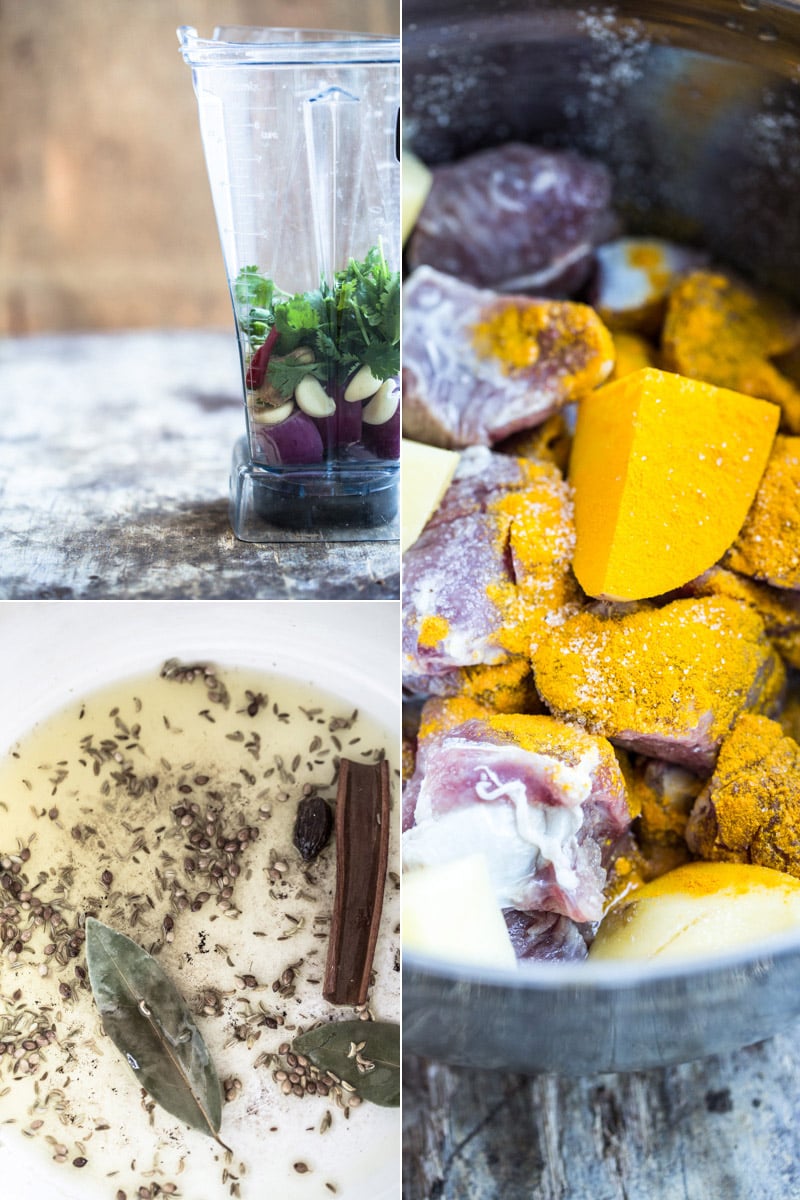 I love using whole crushed cardamom pods in my curries (there are some delicious recipes in the book as well). Green cardamom is readily available everywhere and is used in many different cuisines. It is fragrant and has a sweet flavour quality thereby making it ideal for sweet desserts as well as delicate savoury dishes. Black cardamom, also known as Bengal cardamom or brown cardamom has a much bigger pod and an intense smoky fragrant flavour. This makes it ideal for hearty curries and it is rarely ever used for desserts.
The flavour of the black cardamom is quite unique and if you happen to find it (most likely at your local Indian or Nepalese grocer), your curry will take on that distinct flavour you associate with good Indian restaurant curry. One crushed pod in a pot of curry for four is all you will need. The longer it simmers and cooks, the more intense the flavour.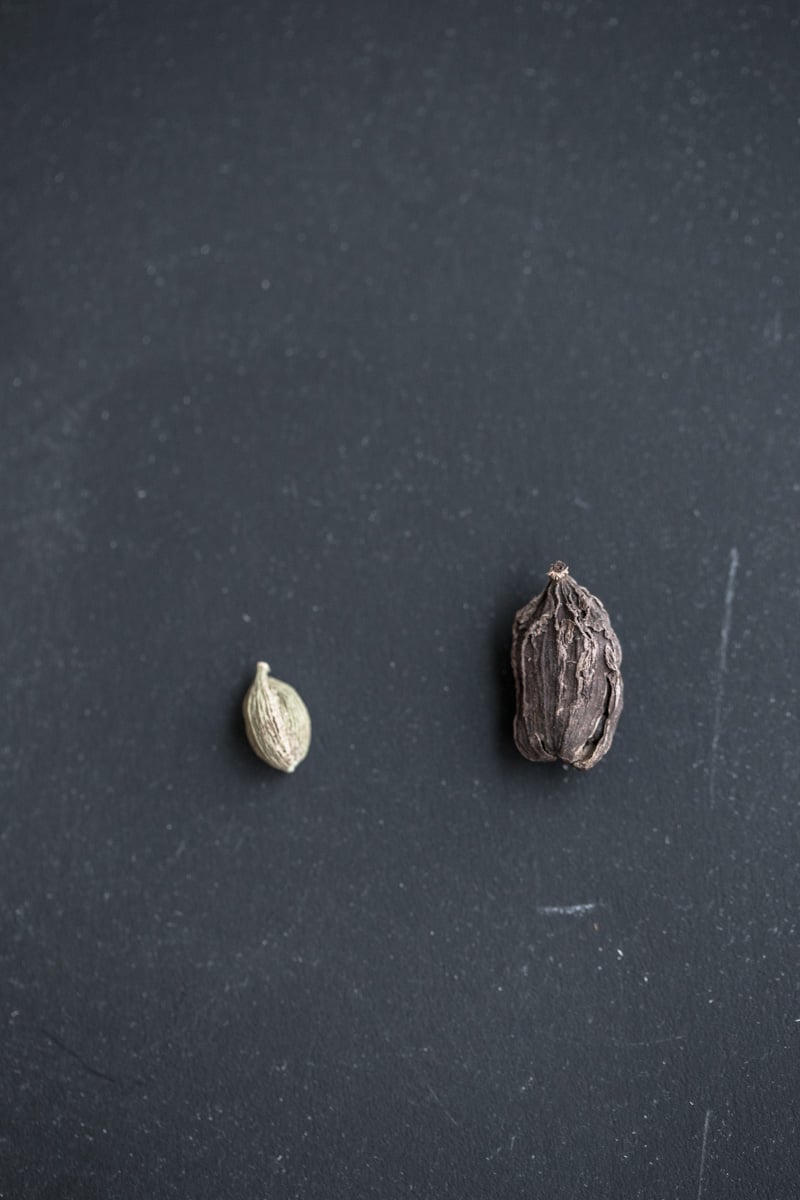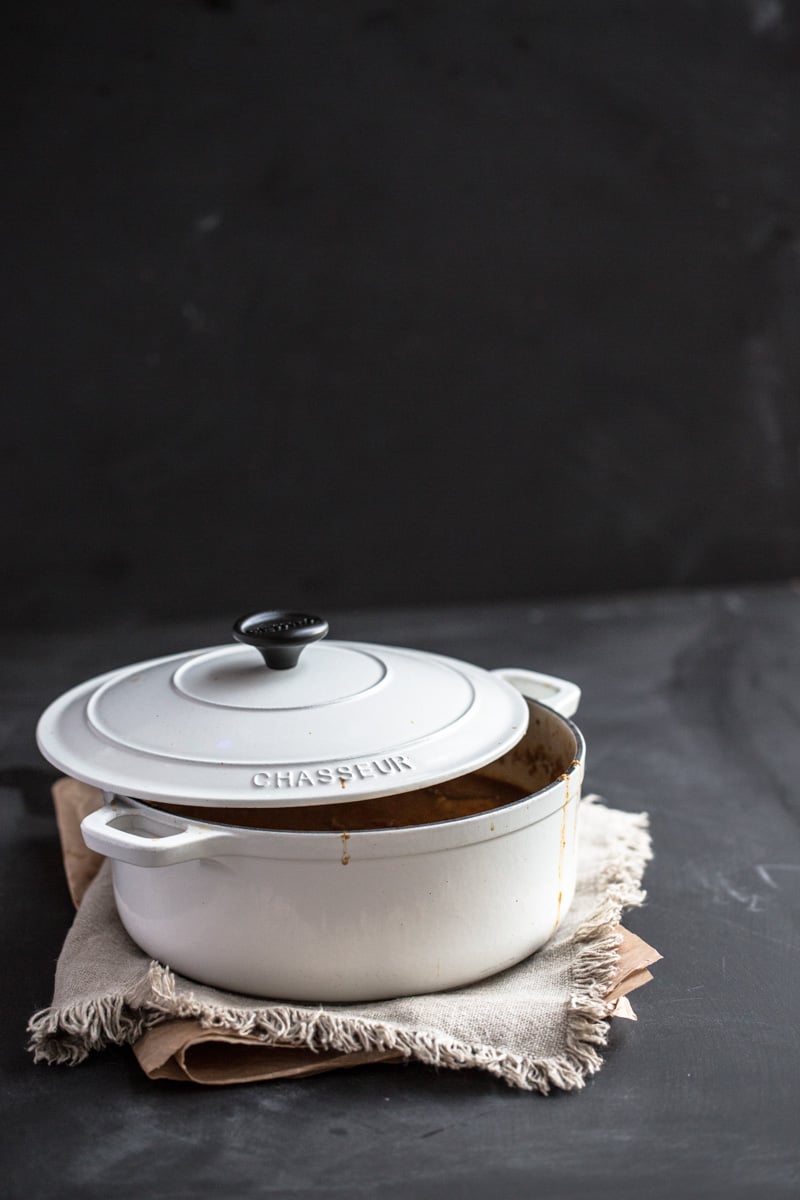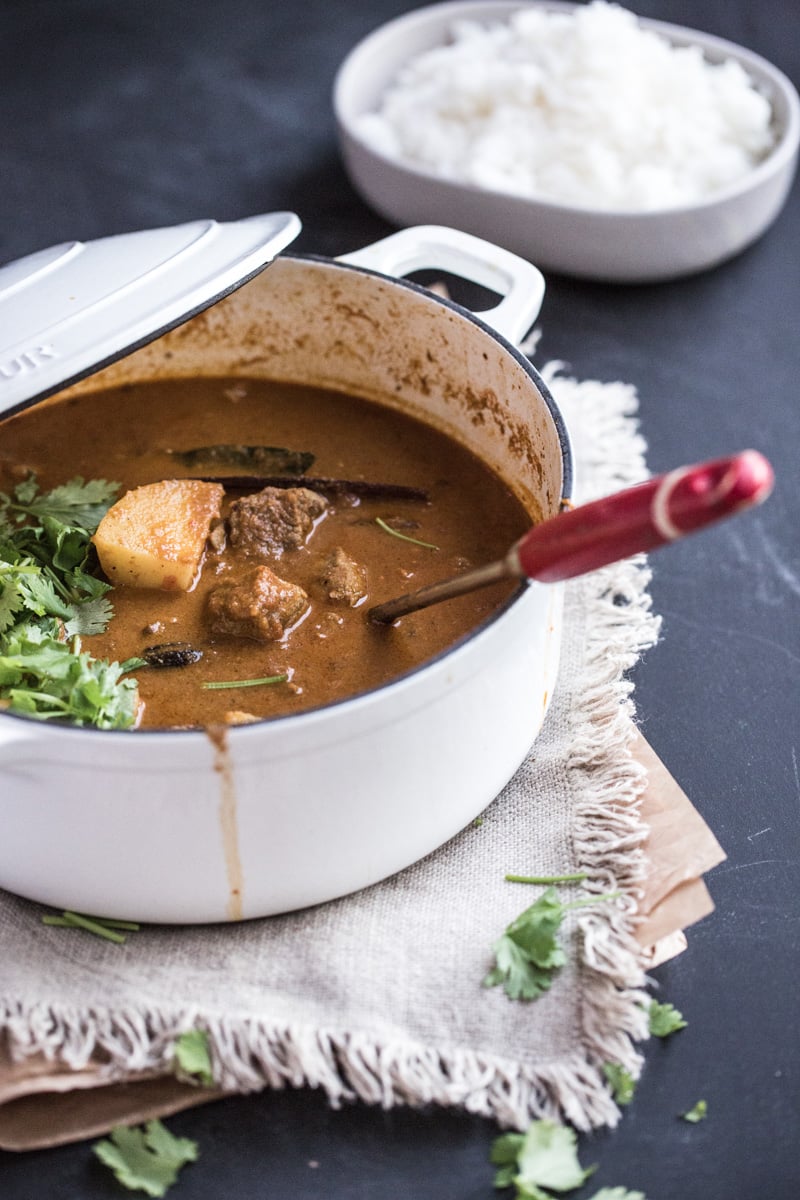 Recipe
Hungry For More Recipes? Subscribe to my newsletter. Check out Facebook, Instagram and Pinterest to see everything I share! And if you love cooking and new cookbooks, join my free Cooking Club on Facebook!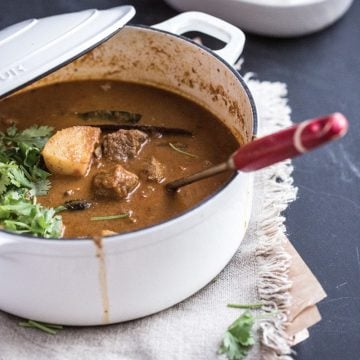 RUSTIC LAMB AND COCONUT CURRY
A fuss-free north-Indian-inspired curry with succulent lamb pieces and a creamy coconut and spice sauce makes your weeknight smell like an Indian restaurant.
Print Recipe
Rate / Comment
Ingredients
500

g

lamb

,

boneless and cut into 2-inch pieces

2

large potatoes

,

peeled and cut into large chunks

1/2

teaspoon

ground turmeric

1

teaspoon

salt

2

large red onions

10

cloves

of garlic

1-

inch

piece of ginger

a handful of coriander leaves

1

small red chilli

1

tablespoon

ghee/butter

1/2

cinnamon stick

2

bay leaves

1

black cardamom pod

1

teaspoon

coriander seeds

1

teaspoon

fennel seeds

1

tablespoon

ground cumin

1

teaspoon

garam masala

1

400g can crushed tomatoes

1/2

cup

coconut milk
Instructions
Place lamb pieces and potatoes in a large bowl. Add turmeric and salt. Mix well. Cover and rest in the fridge for 30 minutes.

Place onion, garlic, ginger, coriander leaves and chilli in the jug of a blender with 1 cup of water. Process until smooth. Set aside.

In a large heavy-bottomed saucepan or cast-iron casserole, heat ghee on high. Add cinnamon, bay leaf, coriander seeds, fennel seeds and black cardamom. Sauté for a few seconds. Add the marinated meat and potatoes. Sauté for a few minutes, tossing occasionally until meat is sealed on the outside and starting to brown. Add the onion mixture and reduce heat to medium.

Add cumin, garam masala and tomatoes. Season with salt to taste. Cover and simmer on medium for 40 minutes. Reduce heat to low. Add coconut milk. Cover and simmer for a further 15 minutes. Serve hot with steamed rice.
Notes
This curry is sauce heavy. You can easily remedy this by increasing the quantity of lamb to 800g and adding an extra potato.
Some things you can do to assure your curry is more authentic tasting. Use ghee instead of oil or butter. Do not use curry powder or paste. Don't skimp on the spices.
I have made the above curry with goat. It is probably even more delicious.
Slow Cooker Version - Reduce the amount of water to puree onions from 1 cup to 1/4 cup. Add all ingredients to the slow cooker and cook on low for 8 hours.
You can substitute the protein for chicken or even a medley of vegetables and chickpeas for a meat-free option.
Curry freezes well for a month in the freezer. I like to make a big batch of the curry and pack it in several containers with rice for quick work lunches throughout the month.
Did you make my recipe?
I'd love to hear how you went! Tag me on Instagram @cookrepublic