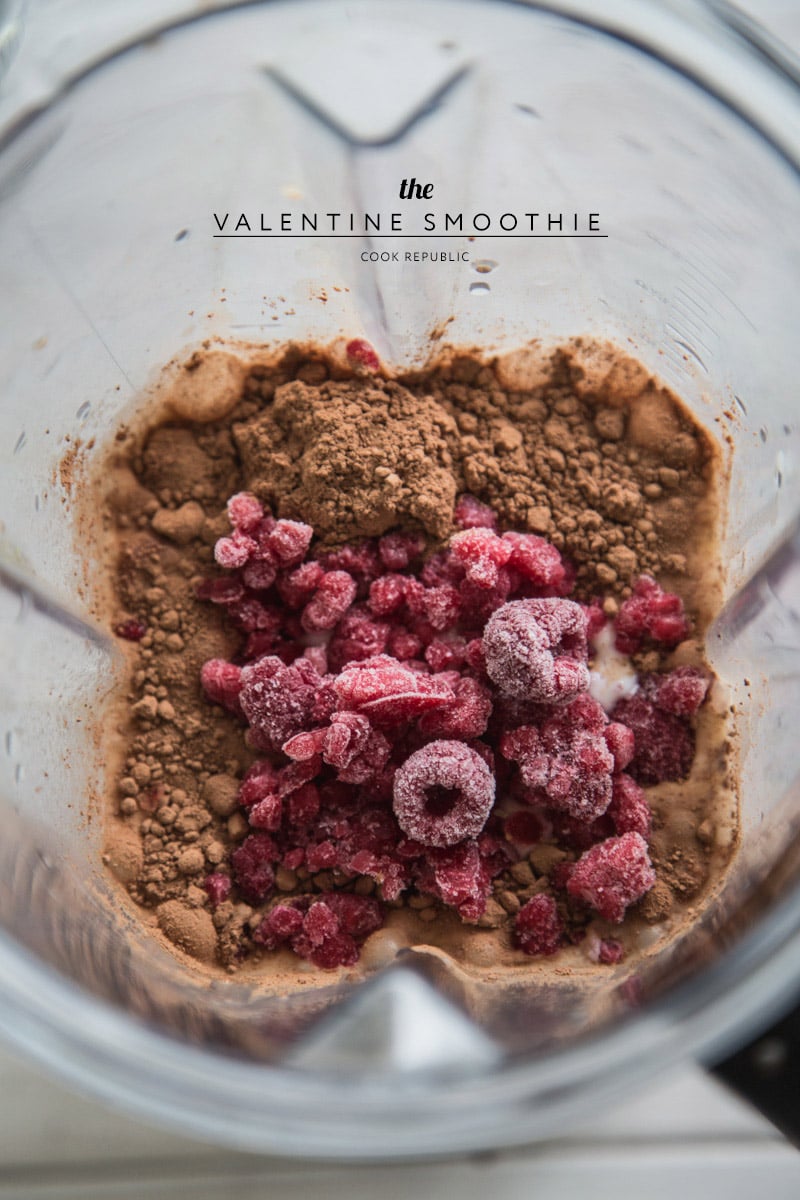 I have an addiction. I feed it at eight o'clock every morning. Long before I feed it, I am thinking about it. Wondering how it will make me feel. Today, I fed it as usual.
My addiction.
It made me feel voracious and larger than life. It felt indulgent and smooth and dark and sweet and consuming. When I was done, I felt satisfied and nourished. Like being bear hugged from behind and being swept off my feet (by him!). It felt almost that good.
The smoothie.
My addiction.
Every single day. Before breakfast.
For a while now since I got my Vitamix, I have been creating smoothies. What started out as a couple of times every week, has now become my daily ritual. My addiction. It grew when I realised that I could go to town and get really creative with the smoothies. After the initial excitement of tossing random things in the jug of the blender and figuring out that they tasted great no matter what, I started getting serious with my daily concoctions.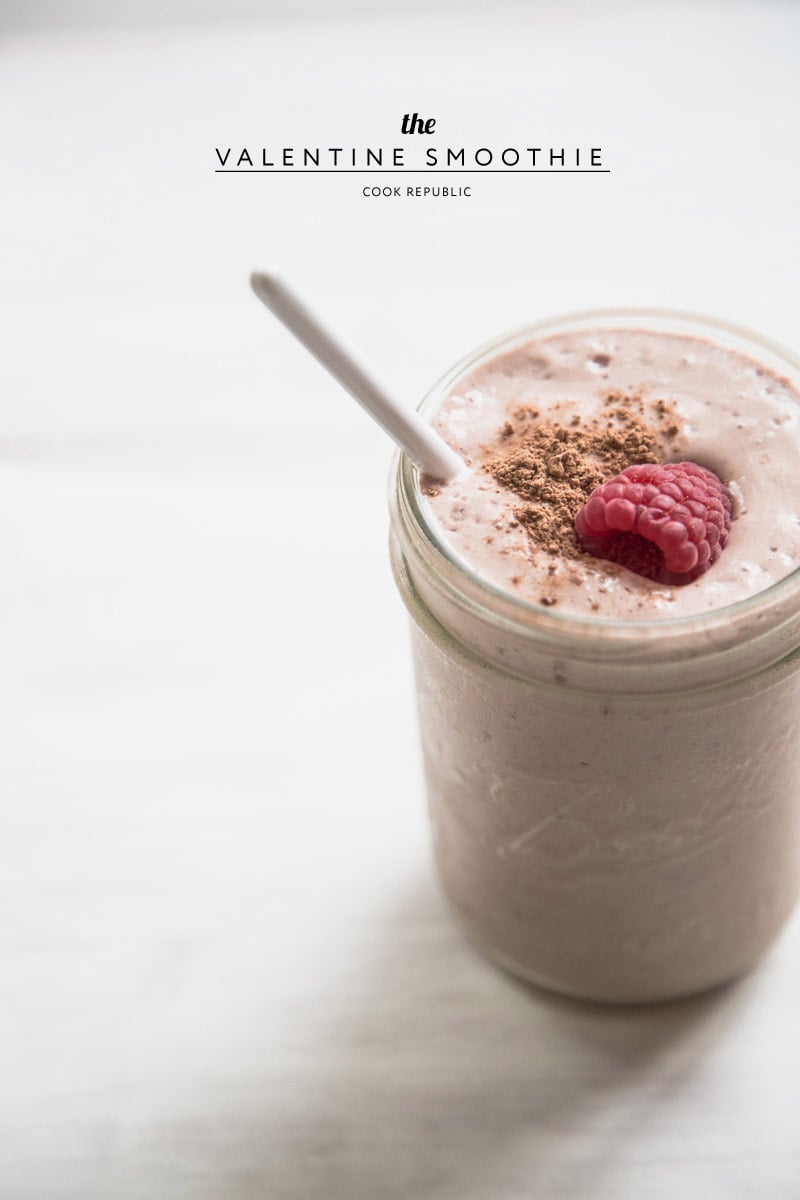 I consume very little sugar. Six years ago I cut back copious amounts of sugar from my diet, switched to more natural and wholefoods and started running. I eventually lost 22 kilos in the space of two years and have managed to keep it off. I do not take sugar in my tea, coffee or cereal. I rarely ever have dessert (I am a savoury girl!). So I make an exception in my smoothies. With a fruit and vegetable base, my smoothies will often have mango or banana which provides me with the sugar my body craves to charge through the morning. Spinach, celery, raspberries, blueberries, orange or pineapple will provide the supporting act to the star fruit. Oats are a constant fixture. As are nuts. I skip conventional dairy and opt for soy milk, almond milk and coconut water to thin the smoothies. Ginger and turmeric have been immensely valuable in my quest to heal the body from within. The fancy (and expensive) additives often include Maca powder, Acai berry powder, cacao nibs, matcha, wheatgrass powder, probiotic powder and protein powder. I ought to have a mobile smoothie lab with little glass containers filled with everything from exotic to mundane. I can picture myself rolling up my hypothetical sleeves and dropping in a spoonful of this and a drop of that like a modern day smoothie witch.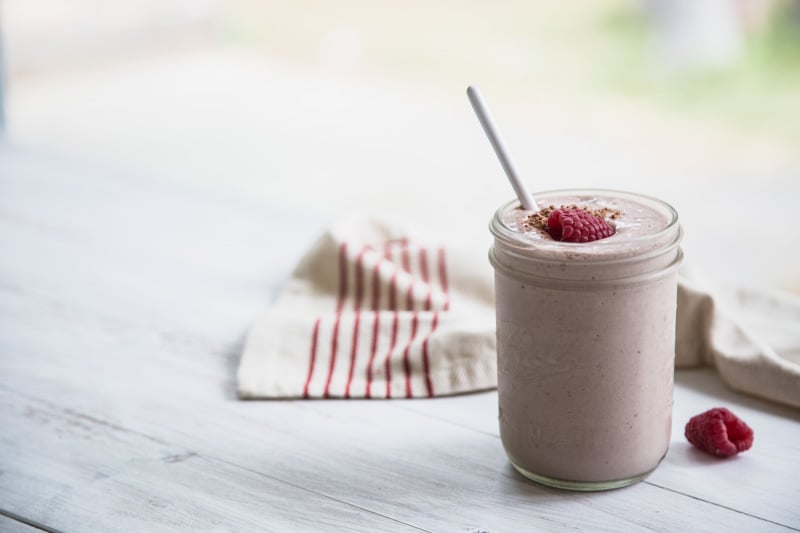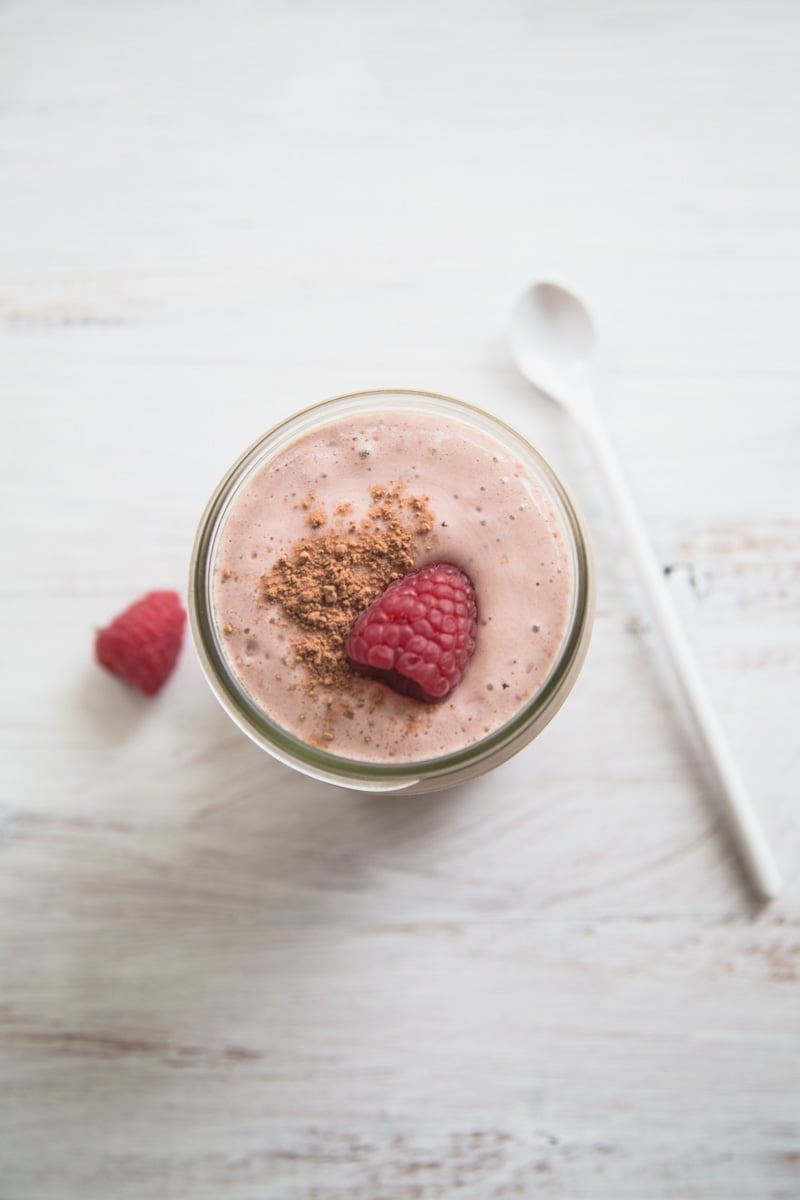 Today's smoothie is an ode to today. Valentine's Day. Not the day that guilts you into buying overpriced flowers and boxes of chocolates. But a day dedicated to the single greatest  thing that makes this world go around (besides physics!) - love. If you want to know where Valentine's Day originated and it's symbolism, go read the Wiki. For me, it is just another day with a few add-ons and flourishes. A day to hug your loved ones just a bit more tighter and longer. A day to look at love with fresh eyes (did you notice that the raspberry looks like a heart?). A day to step outside the ordinary, take a page off Ashley Rodriguez's brilliant concept and go on a date with my husband - at home. Today, we are celebrating our 19th Valentine's Day together. And I made him a special aphrodisiac-laced smoothie that has one of his favourite words in it. Cacao. It cracks him up. Every single time. His amusement makes me smile. Every single time I hear him parrot it like a macaw.
Sometimes it feels like only yesterday that we met, all fresh-faced and giddy in love. And then on other days when I wake up next to him every morning and he has hit the snooze button for the second time, I lie there and look at his peaceful face; wakefulness still evading him. I look at the lines on his face and an entire lifetime flashes through my head. In that instant, I realise that I just can't remember the time before I met him. Over almost two decades, I have loved him and have grown into the person I am because of him and his love. I am thankful for it. So today, I wish you all love. Because there is someone or something to love. There is life. It is precious. Never stop looking at it with fresh eyes!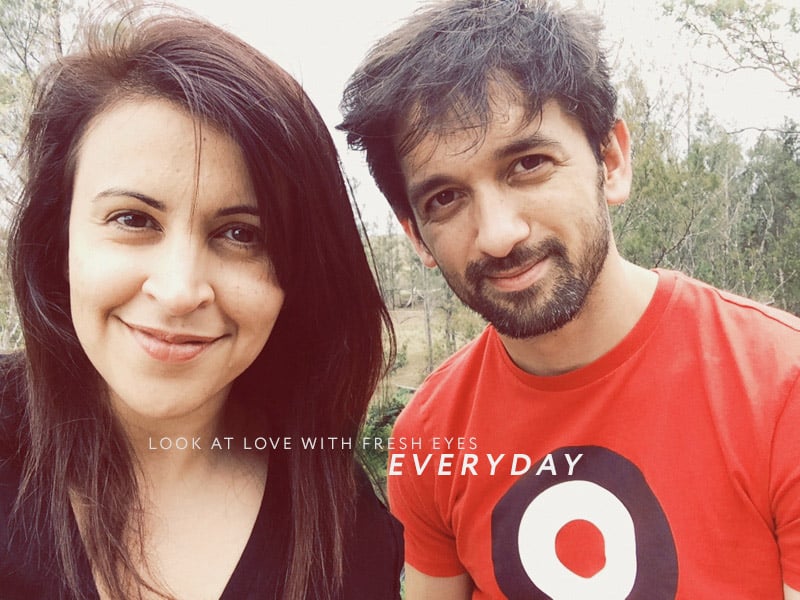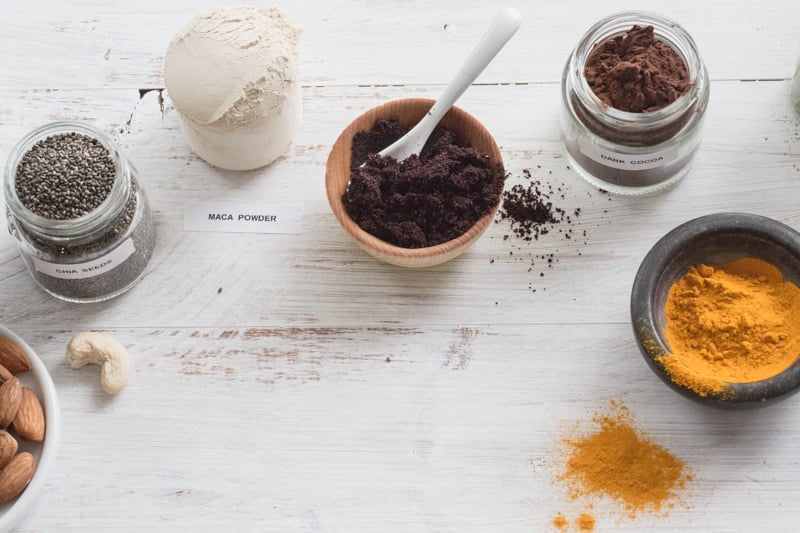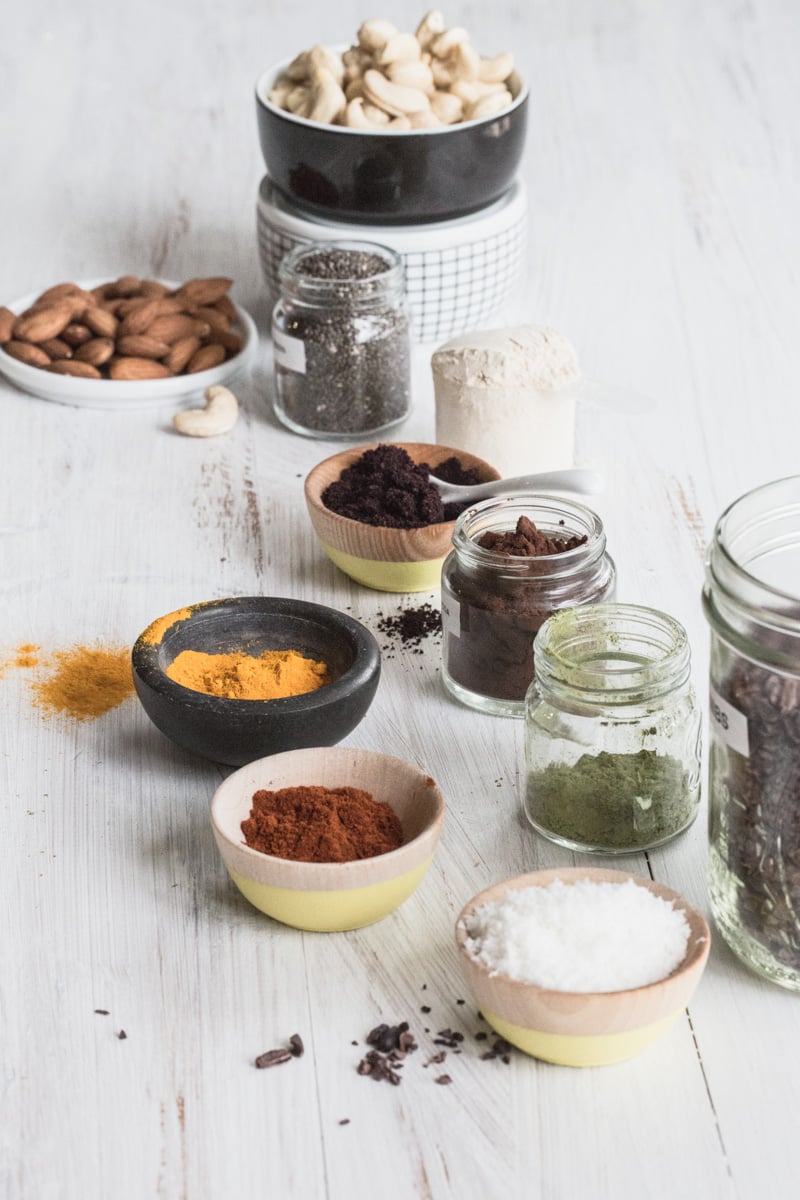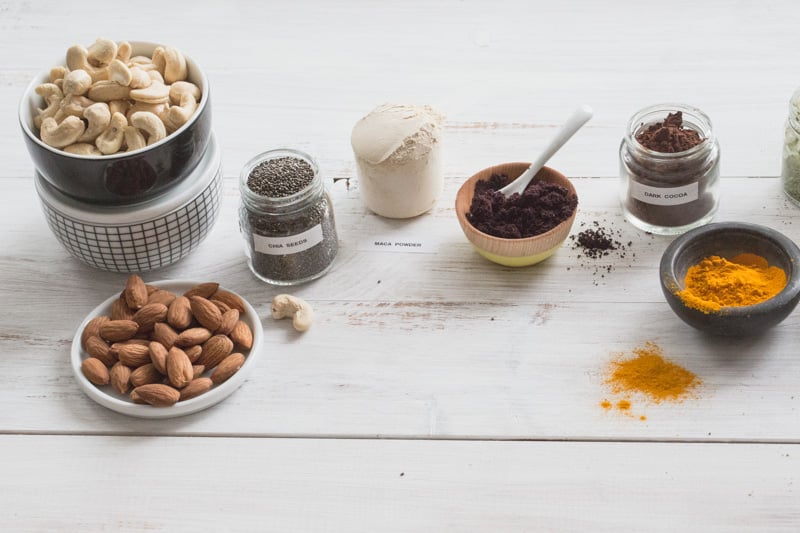 [print_this]
The Anatomy Of A Smoothie
1. Main And Supporting Fruit Or Vegetable - Choose 2 or 3 from this group
mango, banana, spinach, blueberries, raspberries, avocado, pineapple, orange, kale, celery, cooked pumpkin, cooked sweet potato, apple, pear, peach, beetroot, grapes.
2. Fibre And Bulking Ingredients - Choose 1 or 2 from this group
instant oats, desiccated coconut, pecan nuts, pistachios, almonds, macadamia nuts, nut butters, coconut oil, cottage cheese, ricotta cheese, silken tofu.
3. Thinners - Choose 1 or occasionally 2 from this group
cow milk, soy milk, almond milk, rice milk, quinoa milk, coconut milk, coconut water, buttermilk, yoghurt.
4. Health And Wellness Extras - Choose 1 or 2 from this group
chia seeds, green tea powder (matcha), maca powder, protein powder, raw cacao powder, cacao nibs, turmeric, cayenne pepper, fresh ginger or ginger powder, acai berry powder, probiotic powder.
5. Flavour Ingredients - Choose 1 from this group
cocoa powder, cinnamon, nutmeg, cardamom, chai spice powder, pumpkin spice powder, lemon juice, lime juice, herbs.
6. Sweeteners (optional)
rice malt syrup, maple syrup, dates, dried figs, honey, vanilla extract.
7. Toppers (optional)
chia seeds, sunflower kernels, pumpkin seeds, desiccated coconut, goji berries, cacao nibs, nuts.
Notes
As a rule of thumb, add no more than 8 to 9 ingredients in order to draw the maximum flavour of one star ingredient in the recipe.
Use frozen fruit. Once a week, prepare smoothie packs of chopped fruit in ziplock bags. Freeze.
Use ice cubes if you don't have frozen fruit.
Sneak in healthy ingredients you would never dare to eat on their own. Avocado? Kale? Seriously overripe banana?
Do have a mid morning "real" breakfast of eggs maybe? Protein is vital.
[/print_this]
You can add as many ingredients as you want. Once you start experimenting, you will figure out which flavours compliment each other well. And remember to have fun! Before you know it, your body will crave the goodness of all these beautiful ingredients even before breakfast.
[print_this]
THE VALENTINE SMOOTHIE / gluten free/ dairy free / vegan
(RAW CACAO, RASPBERRY, FIG AND PAPRIKA SMOOTHIE)
An indulgent and healthy smoothie blended with raw cacao powder, fresh figs and a hit of paprika for a wickedly smooth morning treat.
Serves 2
Ingredients
2 cups chilled soy milk
1 cup frozen raspberries
2 small fresh figs
1/2 cup cashew nuts
2 tablespoons raw cacao powder
1 teaspoon maca powder
1/2 teaspoon sweet paprika
1 tablespoon maple syrup
fresh raspberries, to serve (optional)
Method
Blend all ingredients in a blender until smooth. Serve topped with a sprinkling of cacao powder and fresh raspberries.
[/print_this]
More Smoothies
Cashew Nut Blueberry And Mango Smoothie
Mango Berry And Turmeric Smoothie