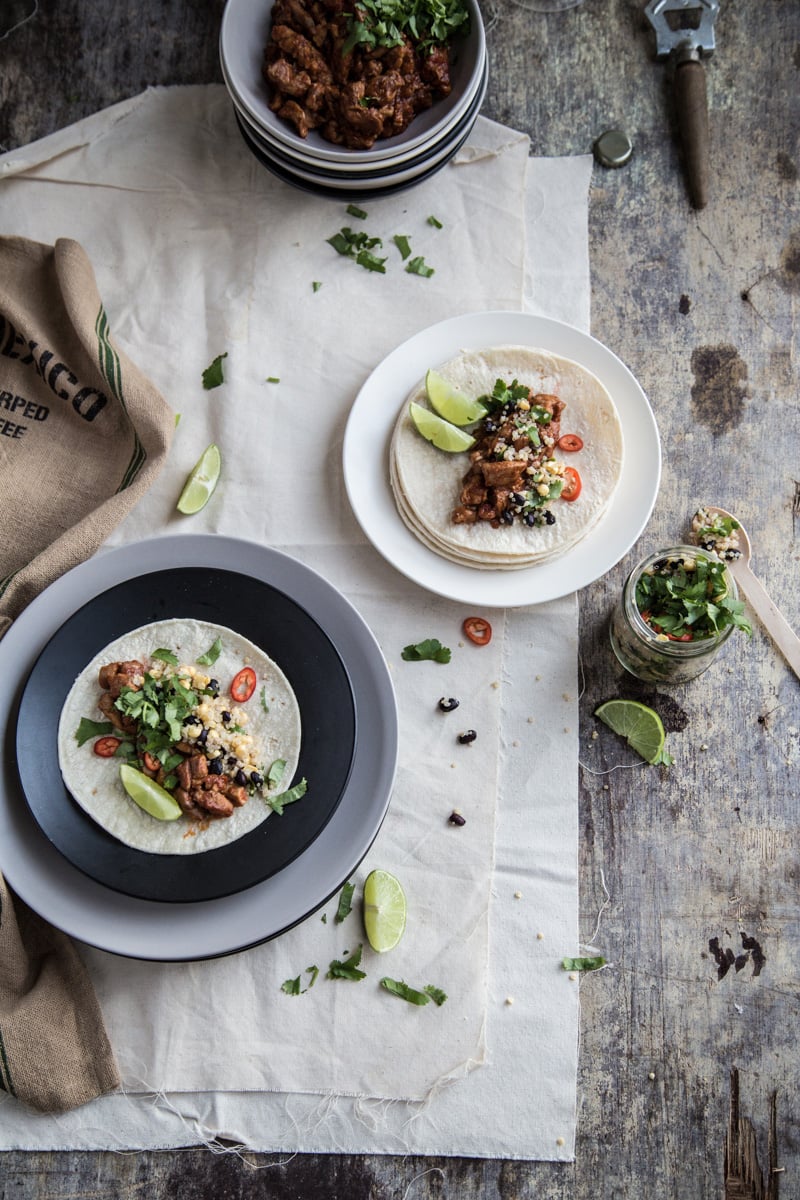 Today is day 50. Since I was last here. Writing. I have been counting. A lot has happened. A lot. Some good. Some not. This was my year. Everyone says that. I am grateful for that. But somewhere, somehow, I drowned. And it felt peaceful in the cold, shadowy depths of limbo. It is day 50 today. And I feel a prickle in my fingers and a tingling in my toes. I feel a little hard to breathe under water. I feel the urge to rise up from the dark shadowy depths and suck in glorious air as my head breaks the surface of the water. Slowly. The words are flowing. And so I am here.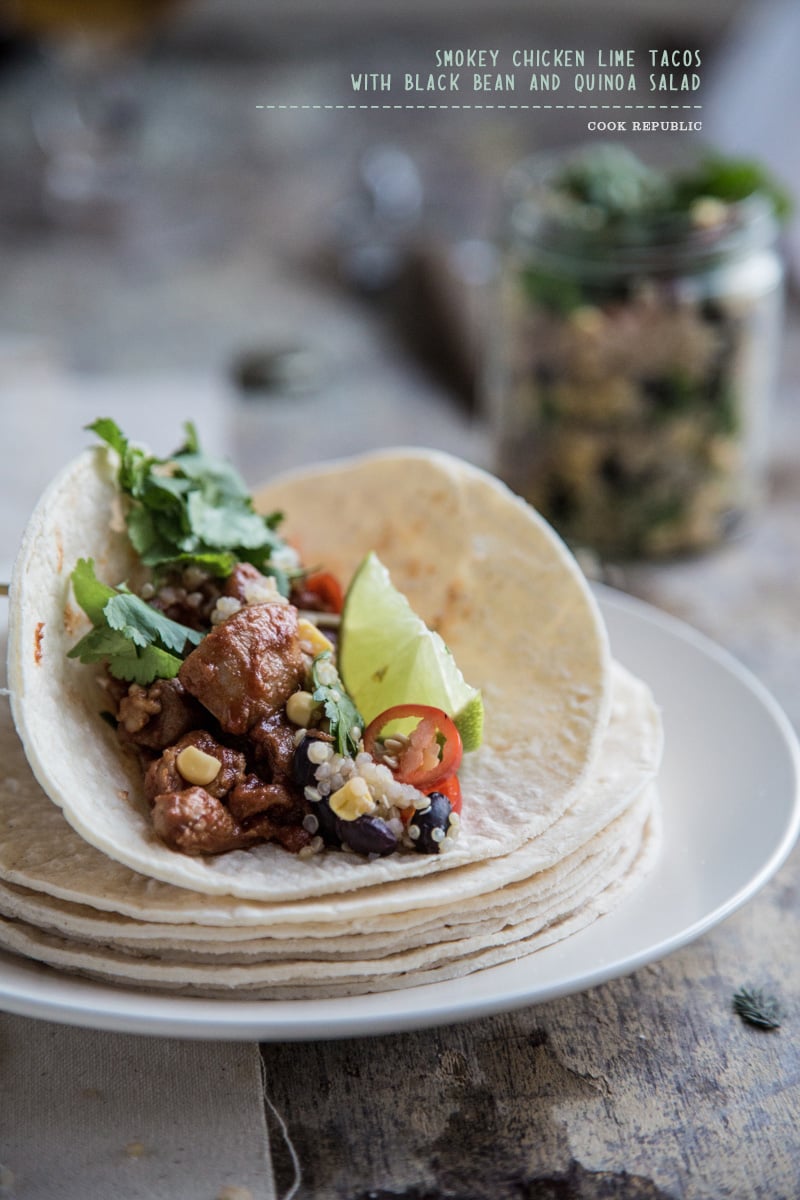 I finished the book. On the deadline. It is my heart and soul. You will see. I revealed the cover of Tasty Express. Ten days ago, I graduated from Shillington. I almost didn't. But somehow I stumbled across the finish line. I flew to Melbourne for a few hours and won at the Kidspot's VOICES Of 2013 awards night. A $30,000 kitchen makeover by The Good Guys. Today, I will wrap up the March 2014 feature for ELLE magazine, send off my last newspaper column and post process my last photography project for this year. And then I will breathe. For a little while. Just for me.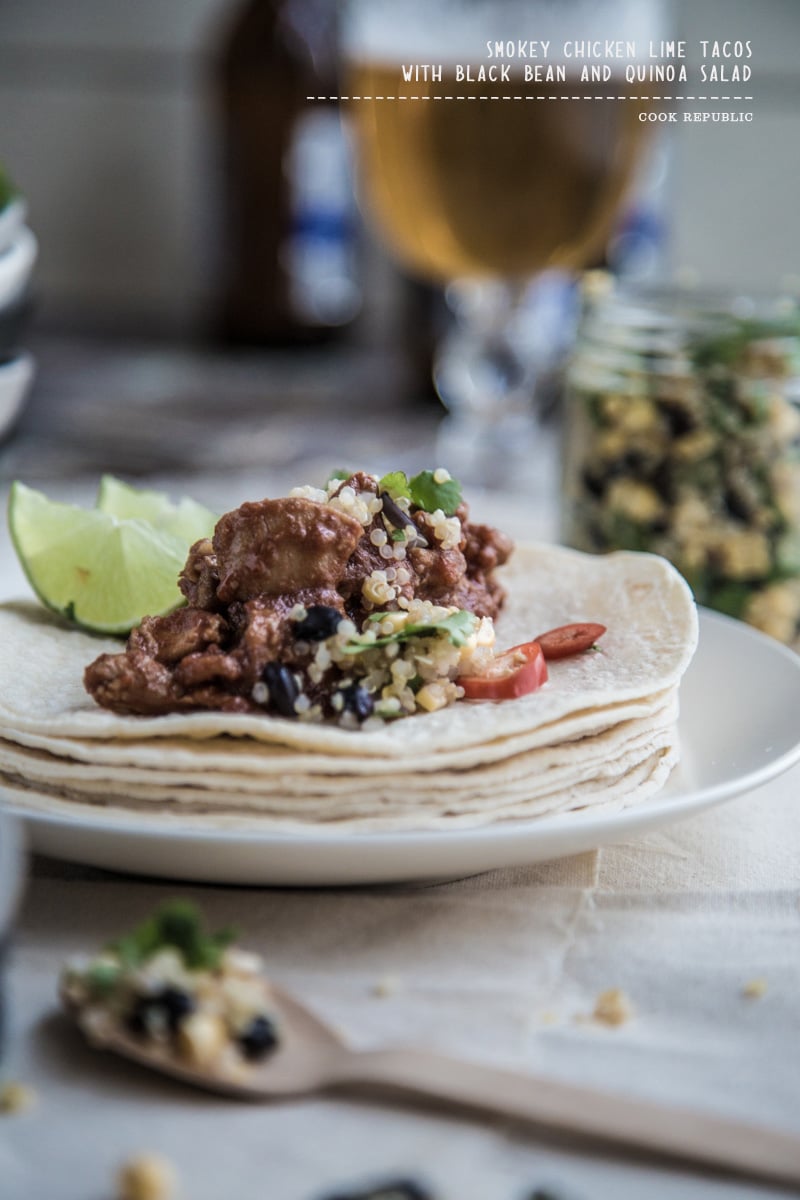 This taco recipe is hip, modern and smashing. It is great for a quick dinner or a make-yourself-a-taco dinner party with a bunch of people. It is one of my most favourite recipes and first appeared in the launch issue of ELLE magazine. When I asked on Facebook about the recipe you would like me to share from the past issue of the magazine, you taco fiends picked this over the grilled watermelon and granita. I was hoping you would. So here it is. For you.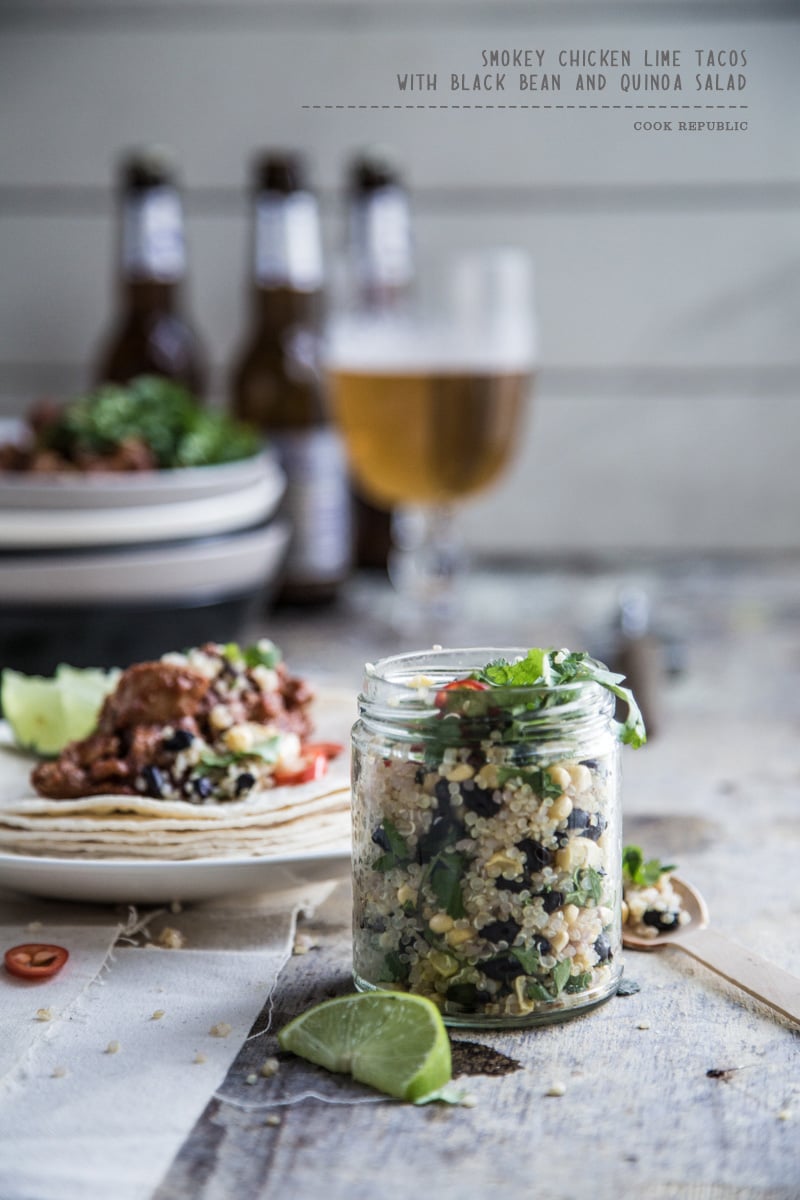 I hope you have all been well. I have been reading your blogs, seeing your Instagrams, looking at your Facebook pages and tweets and reading your comments here. I think of many of you every single day, of how you have affected my life and are a part of it. I have missed you and I hope the silly season brings you a quiet joy and takes you into a new year of contentment and  possibilities.
Much love!
S
Recipe
Hungry For More Recipes? Subscribe to my newsletter. Check out Facebook, Instagram and Pinterest to see everything I share! And if you love cooking and new cookbooks, join my free Cooking Club on Facebook!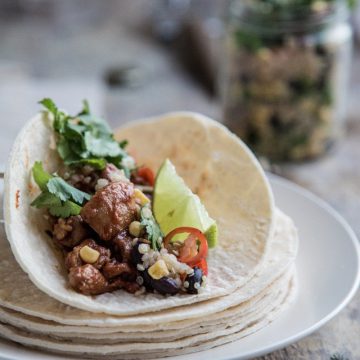 SMOKEY LIME CHICKEN TACOS WITH BLACK BEAN AND QUINOA SALAD
A simple Mexican-inspired chicken stir fry perfect for taco night with a textural black bean and quinoa salad and loads of smokey chilli.
Print Recipe
Rate / Comment
Ingredients
For the chicken

6

chicken thigh fillets

,

700g cut into 1-inch strips

2

cloves

of garlic

,

minced

1

tablespoon

olive oil

1

tablespoon

ground cumin

1

teaspoon

smoked paprika

1

teaspoon

salt

200

g

canned diced tomatoes

For the salad

2

cups

cooked quinoa

1

cup

fresh corn kernels

½

cup

canned black beans

½

cup

fresh coriander leaves

,

chopped

juice of 1 lime

salt to taste

To serve

8 to

rtillas

sliced red chilli

handful of coriander leaves

lime wedges

sour cream

,

optional
Instructions
Heat oil on high in a heavy bottomed skillet or saucepan. Sauté garlic for a few seconds. Add chicken, salt, cumin and paprika. Sauté for 5 minutes until chicken starts to brown. Add tomatoes, reduce heat to medium and cook for approximately 25 minutes until the chicken is cooked. Remove from heat, cover and set aside.

Combine ingredients for salad in a bowl. Toss gently to combine.

When ready to serve warm tortillas in the microwave. Place a tortilla on a plate. Spoon some chicken on the tortilla. Top with salad, extra coriander, chili, lime and sour cream. Fold and eat.
Did you make my recipe?
I'd love to hear how you went! Tag me on Instagram @cookrepublic