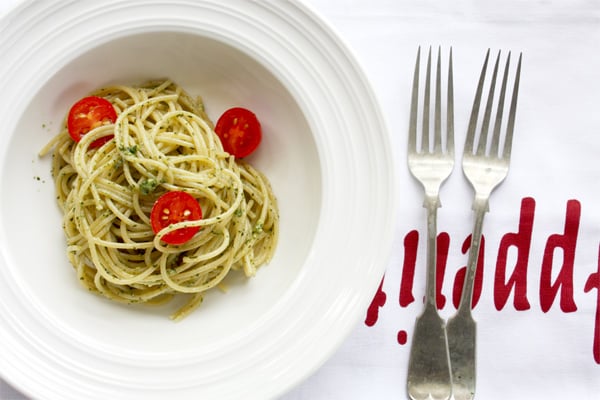 For the past two weeks, I have had my nose buried in Audrey Gordon's Tuscan Summer, a cookbook of hilarious proportions. The book is so funny that my boys have to stop what they are doing and give me a worried look as I first splutter coffee over my sweatshirt and then race to get a tissue, all the while chuckling and shaking my head. The cookbook also has some simple and beautiful working recipes.
Spaghetti Al Pesto, is that what locals call Pesto Spaghetti in Tuscany? I am sure they do. Like Elizabeth Gilbert in Eat Pray Love, I love the Italian language, the food and the people. It is true that I have never been to Italy, nor do I speak the language. But it is a dream I carry in my heart as I indulge in cooking beautiful pasta and robust stews that are regional champions in the heart of Italy. As they say," Keep the romance alive!". So my long-distance love affair with Italy is kept alive by gorgeous food.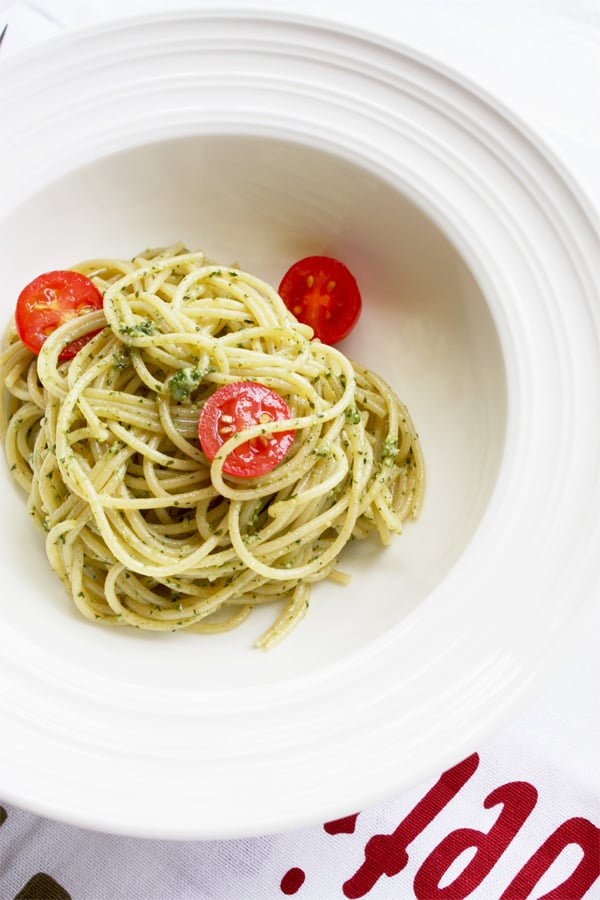 Pesto Spaghetti is one of the most simple and satisfying meals you will ever have. And it will evolve and transcend with every different variation of pesto you make. The pesto in this quick-to-make dish is a simple basil and pine nut pesto. Enjoy responsibly with a good drop of Pinot Grigio. And to get an idea of the refreshing humour in this cookbook, read the recipe and excerpt from the cookbook itself. I followed the recipe and added my little twist with a few cherry tomatoes.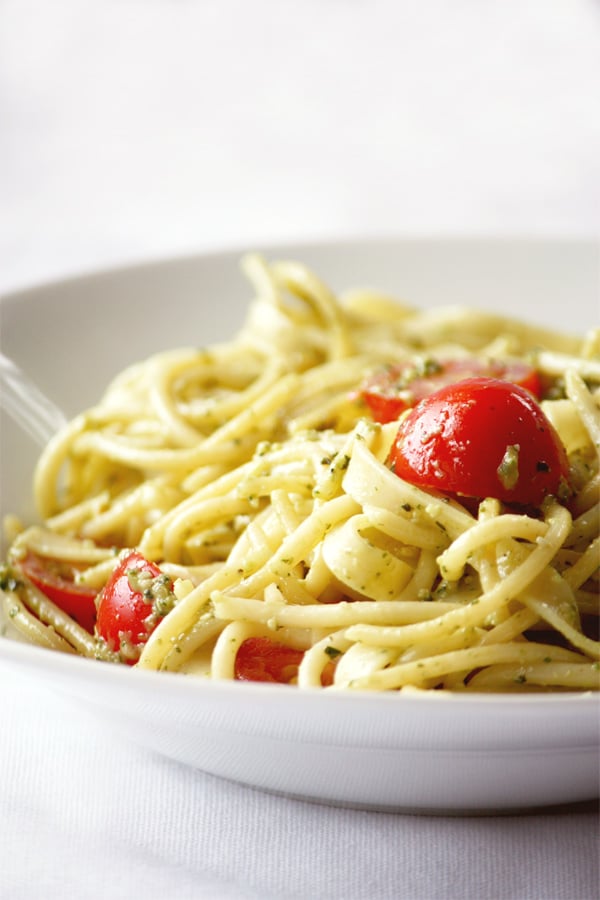 Recipe
Hungry For More Recipes? Subscribe to my newsletter. Check out Facebook, Instagram and Pinterest to see everything I share! And if you love cooking and new cookbooks, join my free Cooking Club on Facebook!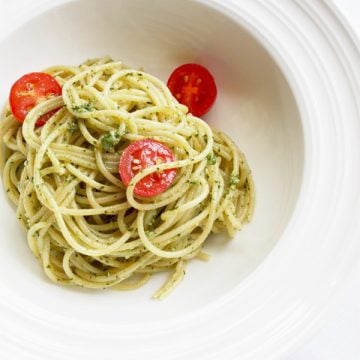 Spaghetti Al Pesto
book excerpt - Pesto. Is there any other ingredient that so perfectly captures the essence of summer? To open and smell a jar of properly made pesto is to be immediately transported to a still, cloudless morning, waking on crisp linen sheets to the sound of ducks foraging in the wood heap for worms while somewhere off in the distance a young shirtless farmhand cuts hay with muscular strokes of his broad, suntanned arms. I love pesto.
Print Recipe
Rate / Comment
Ingredients
1

clove

garlic

,

chopped

3

handfuls chopped fresh basil leaves

sea salt

handful pine nuts

,

very lightly toasted

handful freshly grated pecorino

,

plus extra to serve

extra-virgin olive oil

small squeeze of lemon juice

,

optional

400

g

fresh spaghetti

freshly ground black pepper
Instructions
Pound the garlic and basil leaves with a pinch of salt in a mortar and pestle. Add the pine nuts and pound some more. (Some people toast the pine nuts until they're coloured, as this gives them a more nutty taste, but I prefer to just lightly toast them as it brings out more of a buttery creaminess than a nutty nuttiness.)

Spoon the mixture into another bowl and add half the cheese, along with a little olive oil. You only need enough oil to bind everything, so don't overdo things.

Add the remaining cheese and a little more oil, enough to keep the pesto moist. You might like to add a squeeze of lemon juice at this stage but I don't so neither should you.

Bring a pot of lightly salted water to the boil. Add the spaghetti and cook until al dente. Drain the pasta and stir through the pesto.

Serve with grated pecorino and freshly ground black pepper.
Notes
Audrey's Tip - Though simple, this makes an ideal light lunch, hearty enough that little else need to be served except perhaps a bowl of fresh apricots and some ginger tea. So I was surprised to discover Helena munching hazelnut pralines out on our patio a short while later. Hopefully, your guests will exhibit a little more self-control.
Did you make my recipe?
I'd love to hear how you went! Tag me on Instagram @cookrepublic