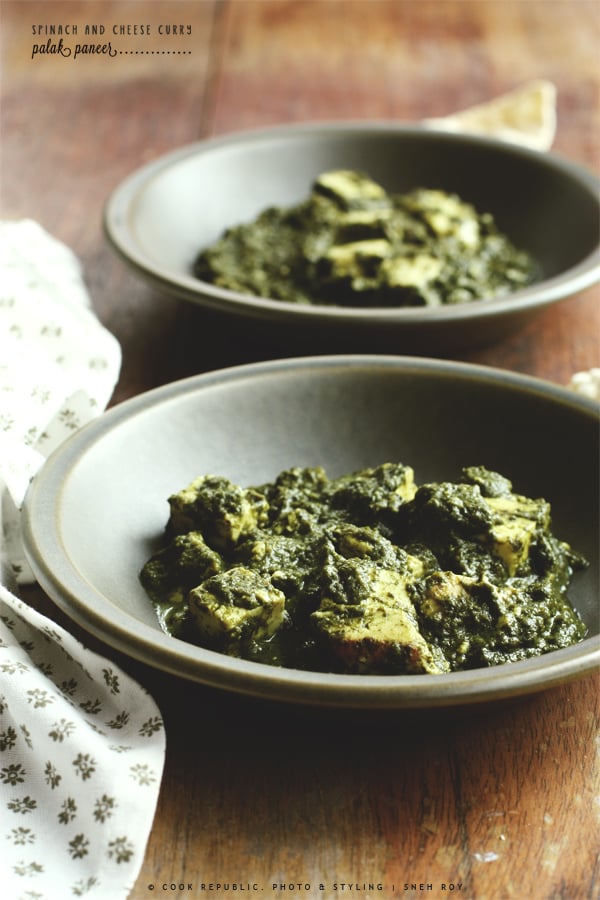 When I was very little, we almost always ate at home. Going to dine out was a luxury and reserved for very special ocassions like someone's wedding. Over the years, that luxury was extended to birthdays and then to celebrate small achievements - an award at school, completing another year at school, promotion at work. And then just like that, I was at college and we no longer needed an excuse to dine out. We went when we felt like it. The world had changed.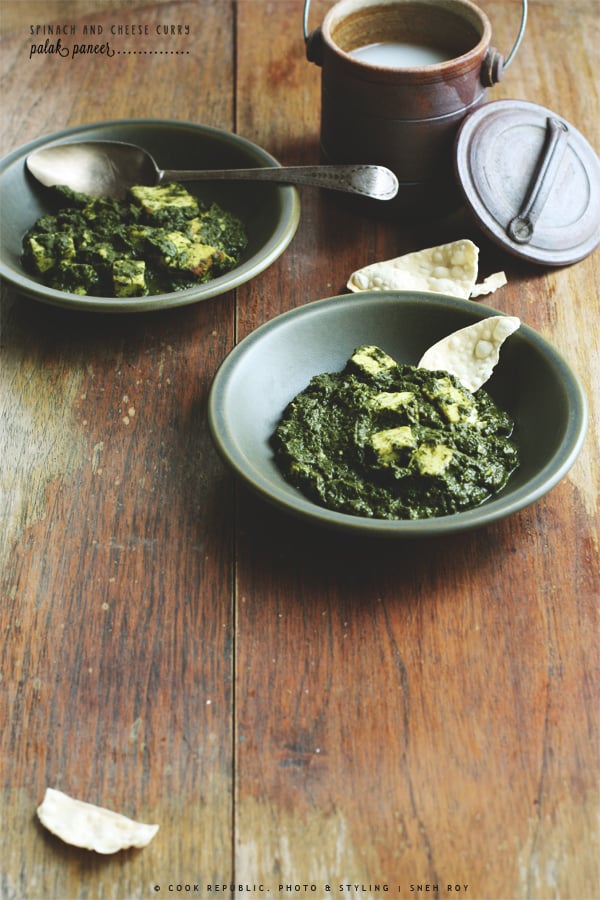 My parents were creatures of habit. To a very large extent, they still are. They belong to the clan of people that believe that if you love something, just do that very thing every single time and nothing else. In all those years of first dining out frugally and then more and more often, they always chose to go to the same restaurant. It was their favourite and because my brother and I didn't know any better, it was our favourite too. It was an Indian vegetarian restaurant that served beautifully cooked dishes from the Northern and Southern regions of India. The curries were always spectacular and consistent, the food was fresh and hot and arrived in a matter of minutes. One of the first dishes I had there was Palak Paneer [paa-luck puh-nir]. A traditional Punjabi (hailing from Punjab in India's north) dish of puréed spinach dotted with golden cubes of fried paneer (cottage cheese) and served with a swirly dollop of fresh cream. It was a beautiful dish with a rich emerald hue and was greedily lapped up with pieces of oven baked rotis and naans.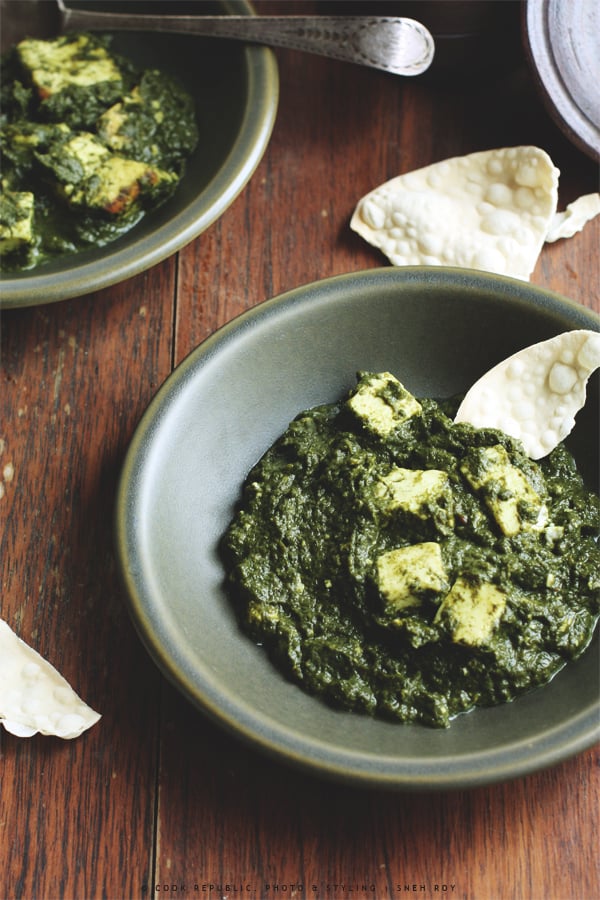 I left India 11 years ago and went back only once in those 11 years. I was still drawn to that restaurant and on our one day stop-over in Mumbai we made sure we visited it. The Palak Paneer tasted just like I remembered it from my growing up years and with my blogger's palate in place I tried to hold on to all those beautiful flavours. This recipe is a result of that. Hope you enjoy it!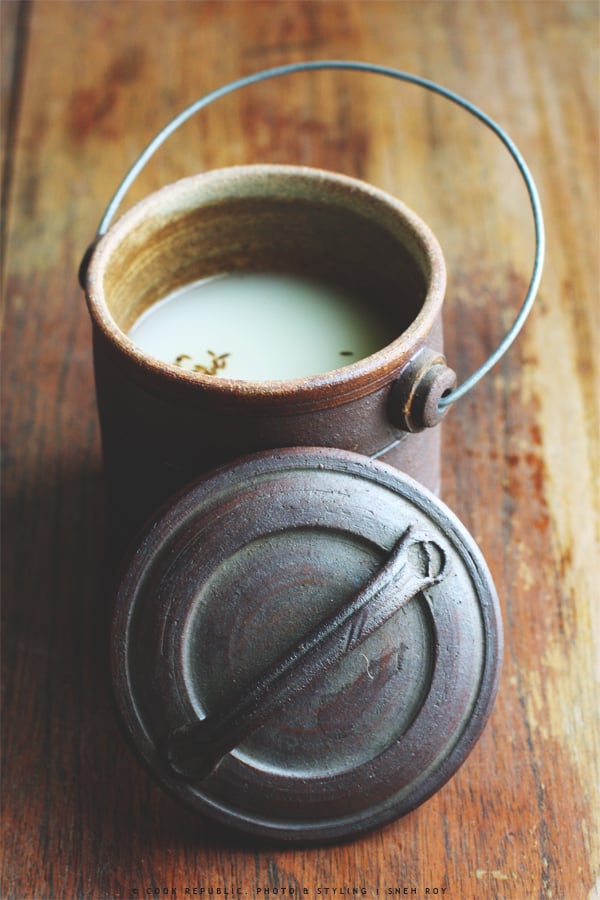 [print_this]
Spinach And Cheese Curry (Palak Paneer)
A classic Indian vegetarian curry that is timeless, easy to prepare and has a rich rustic flavour.
Preparation Time - 20 Minutes
Cooking Time - 30 Minutes
Makes - To Serve 4 to 6
Ingredients
700g frozen or fresh spinach leaves
2 spanish (red onions)
1/2 inch piece of ginger
1 small green chili
1 large bay leaf
1 inch piece of cinnamon
8 to 10 peppercorns
1 cup water
2 tablespoons ground cumin
1/2 teaspoon ground nutmeg
salt to taste
400g paneer (cottage cheese) cubes
1 tablespoon olive oil
1/4 cup fresh cream (optional)
1/2 teaspoon chaat masala (optional)
Method
If you are using fresh spinach leaves, blanch. To blanch the spinach, bring a large pot of water to a rolling boil. Drop spinach leaves in the pot and cook for 2 minutes. Remove from heat and drain the water.
If you are using frozen spinach leaves, steam. To steam the spinach, bring a large pot of water to boil. Put frozen spinach in a colander or steamer and place inside the pot. Cover and steam for 8 to 10 minutes. Remove from heat.
In a blender, combine onion, ginger, chili and half of the spinach with 1/2 cup of water. Blend to a smooth paste.
Heat oil in a deep, heavy bottomed saucepan on medium. Add bay leaf, cinnamon and peppercorns. When the spices start sizzling, add the onion-spinach paste. Sauté and cook for two minutes until the mixture starts becoming richer and darker in colour. Reduce heat to low.
Blend the remaining spinach with 1/2 cup of water to a smooth paste. Add this to the saucepan. Add cumin, salt and nutmeg. Add the paneer. Cover and cook for 20 minutes, stirring every now and then to make sure the curry doesn't stick. Feel free to add a bit of water if you think the curry is becoming too thick.
Adjust seasoning, add cream and chaat masala (if using) and cook for 5 more minutes. Remove from heat and serve hot with naan bread or rice.
My Notes -
Indian restaurants usually deep fry the paneer cubes before adding to the curry. This tastes sensational and must be tried at least once. If you would like the smokey flavour of the paneer but want a healthier option, grill the paneer on a griddle or hot plate before adding to your curry.
This dish is also great as a chunky dip served with poppadums at an Indian banquet.
[/print_this]
Additional Sources
Buy Chaat Masala online
Recipe for Chaat Masala.
How To Make Paneer at home.