This cake was a thought. An idea that took flight and landed in a white pie plate. It came about slowly with a lick here and a taste there. A haphazard yet thoughtful marriage of ingredients. My ode to autumn. A bid to hold on to the season that has passed. The sin of brown butter. The warmth of nutmeg. The scent of citrus amidst that of woody bark.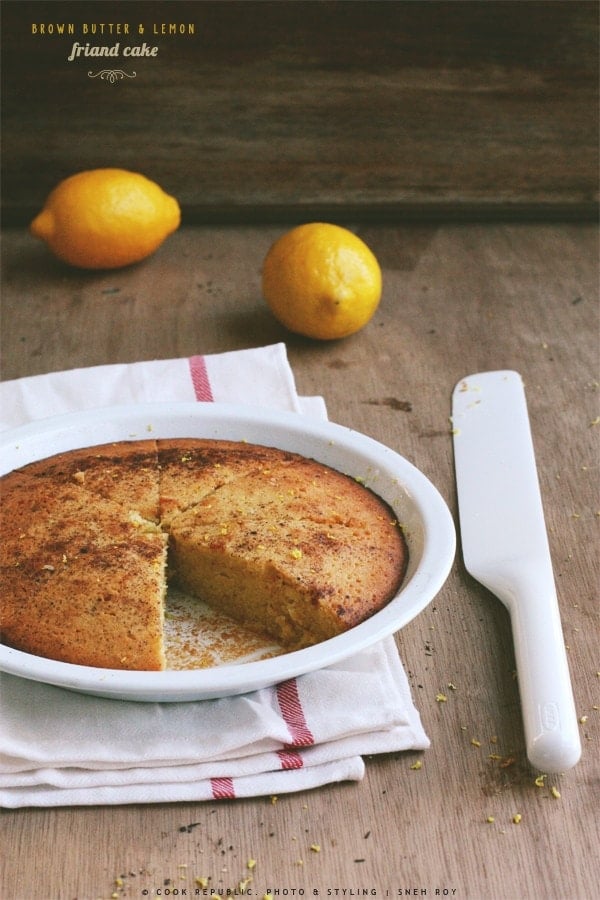 I absolutely adore friands. Almond meal heavy, they are cakey in a glorious way with a super moist crumb that is dense yet light and melts in your mouth. There is neigh a friand I can go past at my weekly farmer's market bread stall. The citrus ones are my favourite. Beautiful golden crumb topped with candied rind of lemon or grapefruit and brushed with a citrus glaze.
My friand cake is inspired by that citrus friand. It has lots of fresh lemon zest and plenty of extra nuttiness from the browning of butter. Although it doesn't have a citrus jam glaze, you could always brush the warm cake with slightly heated jam. I bet it would be divine. The cake can be dressed up with fresh berries and dusted with a kiss of icing sugar for a chic dessert. Best had warm from the oven, unadorned with the smell of nutmeg filling every inch of your being. The way I like it.
The chill seems to have returned today scaring Spring away and I for once, am loving it with a cup of brewed plunger coffee. This cake can be baked as 12 individual friands in muffin cases or a friand tin. Reduce baking time by 5 minutes and you should be good to go.
Recipe
Hungry For More Recipes? Subscribe to my newsletter. Check out Facebook, Instagram and Pinterest to see everything I share! And if you love cooking and new cookbooks, join my free Cooking Club on Facebook!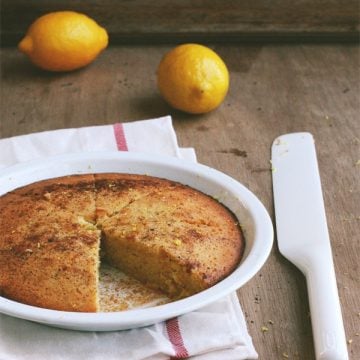 BROWN BUTTER LEMON FRIAND CAKE
A simple cake with a friand base, this almost tart like afternoon treat is golden and moreish due to the brown butter, lemon and nutmeg.
Print Recipe
Rate / Comment
Ingredients
180

g

unsalted butter

1 1/4

cups

(

125

g

)

almond meal

1/2

cup

(

75

g

)

plain flour

1 1/2

cups

(

170

g

)

icing sugar

6

egg whites

1

tablespoon

vanilla extract

1

tablespoon

ground nutmeg

pinch

of salt

finely grated zest of 1 large lemon
Instructions
Preheat oven to 180°C (350°F). Brush a 24cm pie plate or quiche dish with melted butter.

In a saucepan, melt butter on medium-low heat. Continue to cook for about 5 minutes until butter starts to brown. Add the vanilla extract and salt. Mix. Remove from heat and cool completely.

Place almond meal in a large bowl. Add flour and icing sugar. Add the lemon zest and stir to combine.

In a separate clean dry bowl whisk together the egg whites until frothy. Add the egg whites to the flour mixture. Add the butter mixture and mix well with a wooden or silicone spoon.

Spoon the batter in the prepared baking plate. Sprinkle with nutmeg. Bake for 25 minutes until golden and cooked through when tested with a skewer. Remove and cool completely before slicing and serving.
Did you make my recipe?
I'd love to hear how you went! Tag me on Instagram @cookrepublic