This Spinach Daal is a deeply personal recipe. One from my mum's stash of recipes, it is what I grew up on. Creamy luscious yellow lentils dotted with rich dark green wilted spinach leaves ladled over fluffy white rice as warming notes of cumin and chilli filled the air. A simple homestyle vegan lentil daal (stew) that is utterly nourishing and life-giving in more ways than one. Over three decades, it has traveled from India to Australia and is beginning its journey onward yet again. This is its story.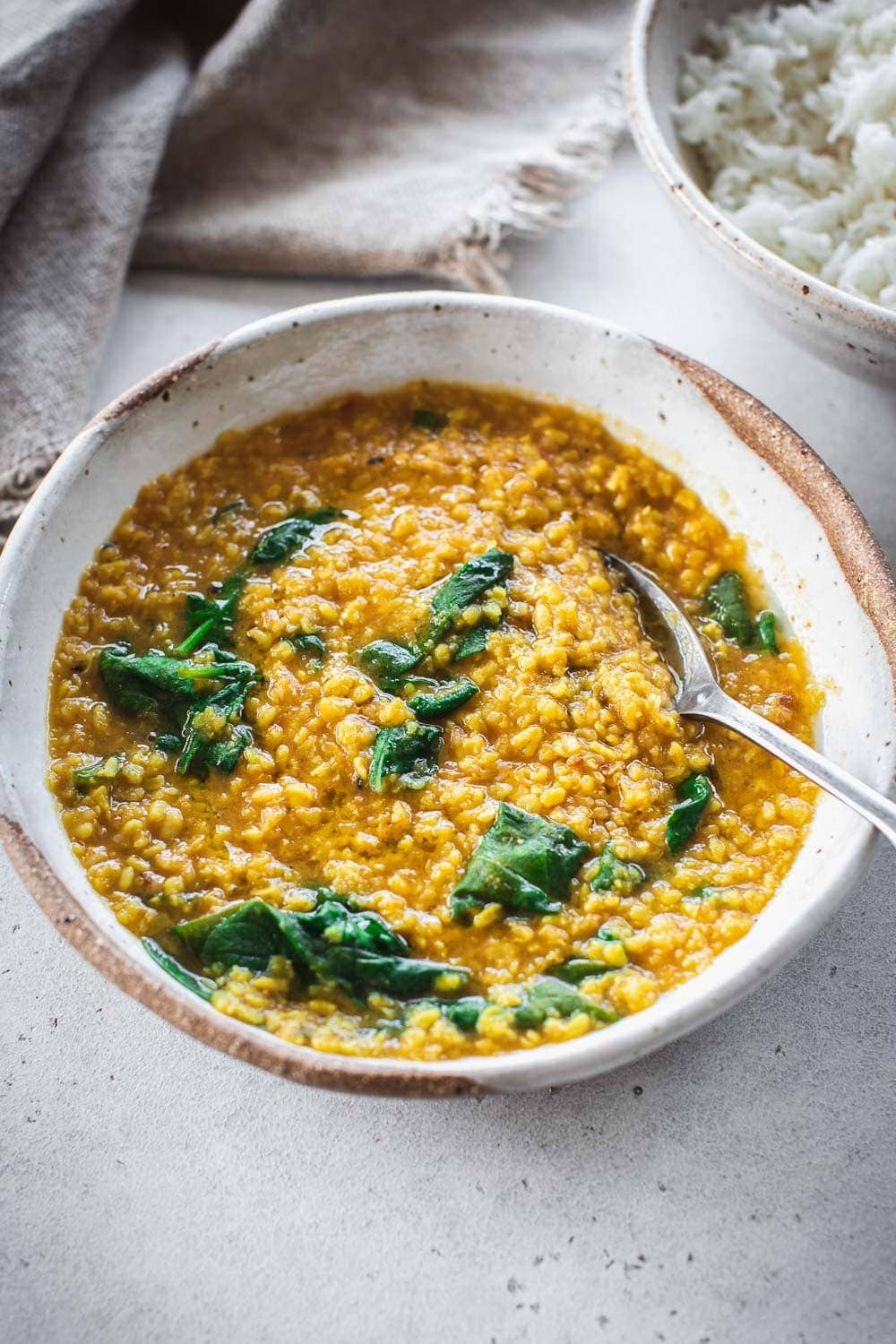 A Journey From Teenage Years To Adulthood Deep-Rooted In Asian Culture
The concept of initiating into adulthood and independence has always been very different in India and probably a lot of countries in South East Asia. My journey from child to teen and then into an adult was measured by my ability to help out, do chores and eventually cook meals for my family. That was the notion of independence – learning all the skills required to run a household without a hitch. Deep-rooted life skills that got imbibed by watching and mirroring my mum. Things I would've never learned anywhere else because they were personal and unique to our family and created a primer for me to pass on a piece of that uniqueness to my own family someday.
Daals and rotis were the first things I learned to cook in my mum's kitchen. As I got older, my rotis got more perfect and round and my daals developed that seasoned taste that comes from cooking the same thing a hundred times over.
Like all good Indian children, I lived with my parents until the day I got married. As did my best friend, Nick. When we got married, we left the country that was our home for twenty-three years with two suitcases burgeoning with everything we owned, to make a new life in Singapore and then eventually in Australia.
Fresh-faced and clueless about the real ways of the world, this newfound independence was exhilarating and terrifying at the same time. I remember my biggest concern was – What if I forgot to pay the bills on time because right until that moment, it was my dad who took care of that? Oh, the mundane worries of the middle-class!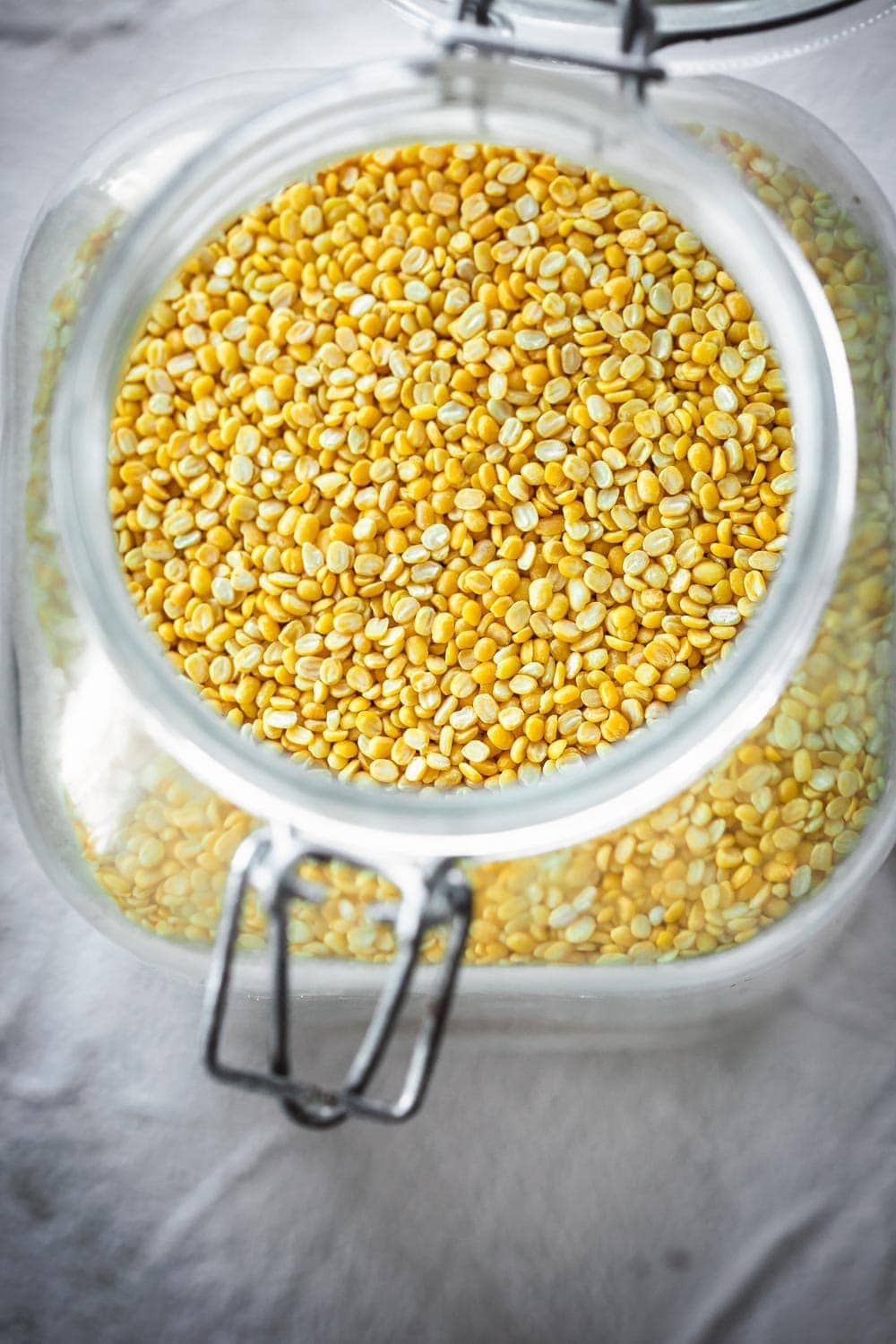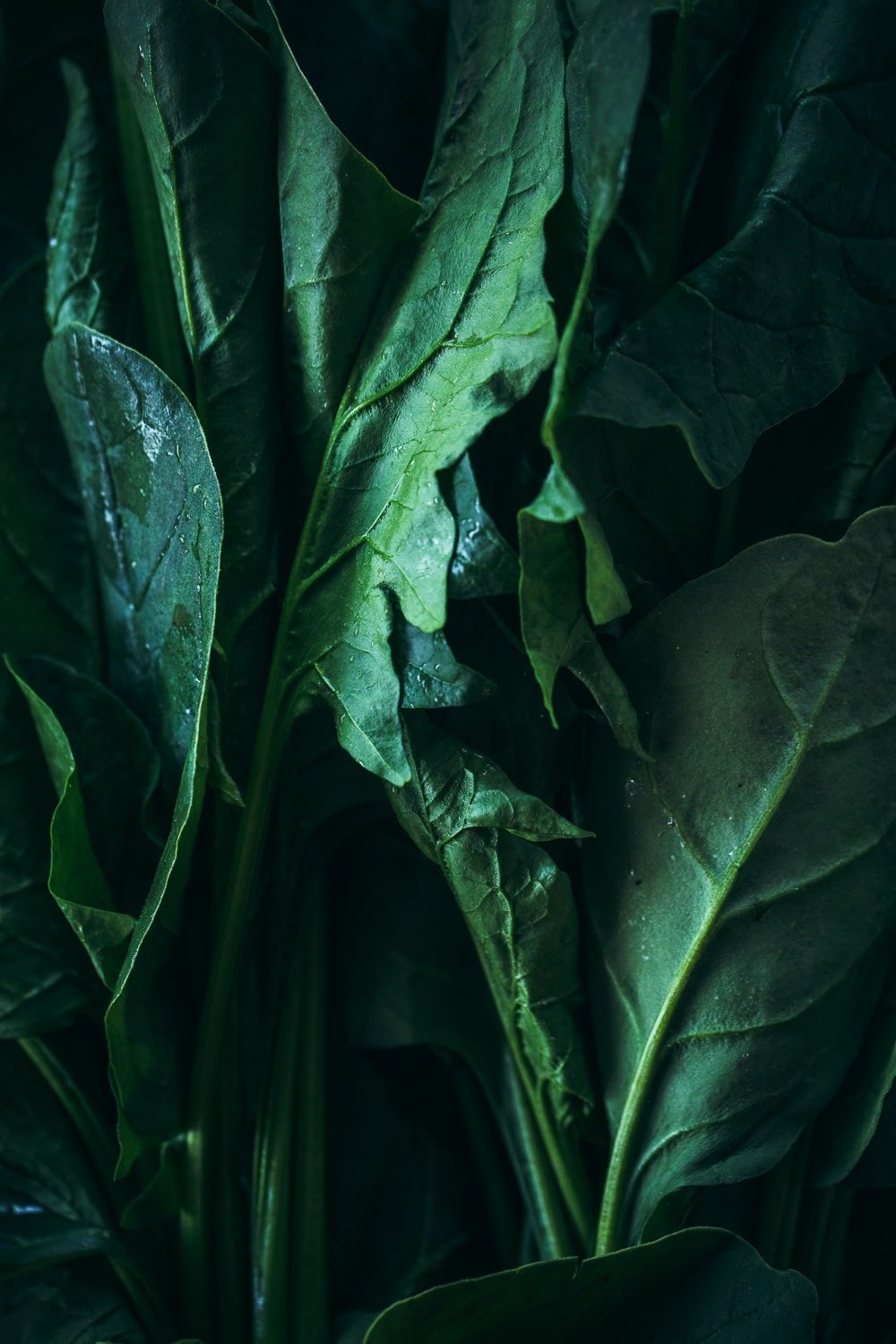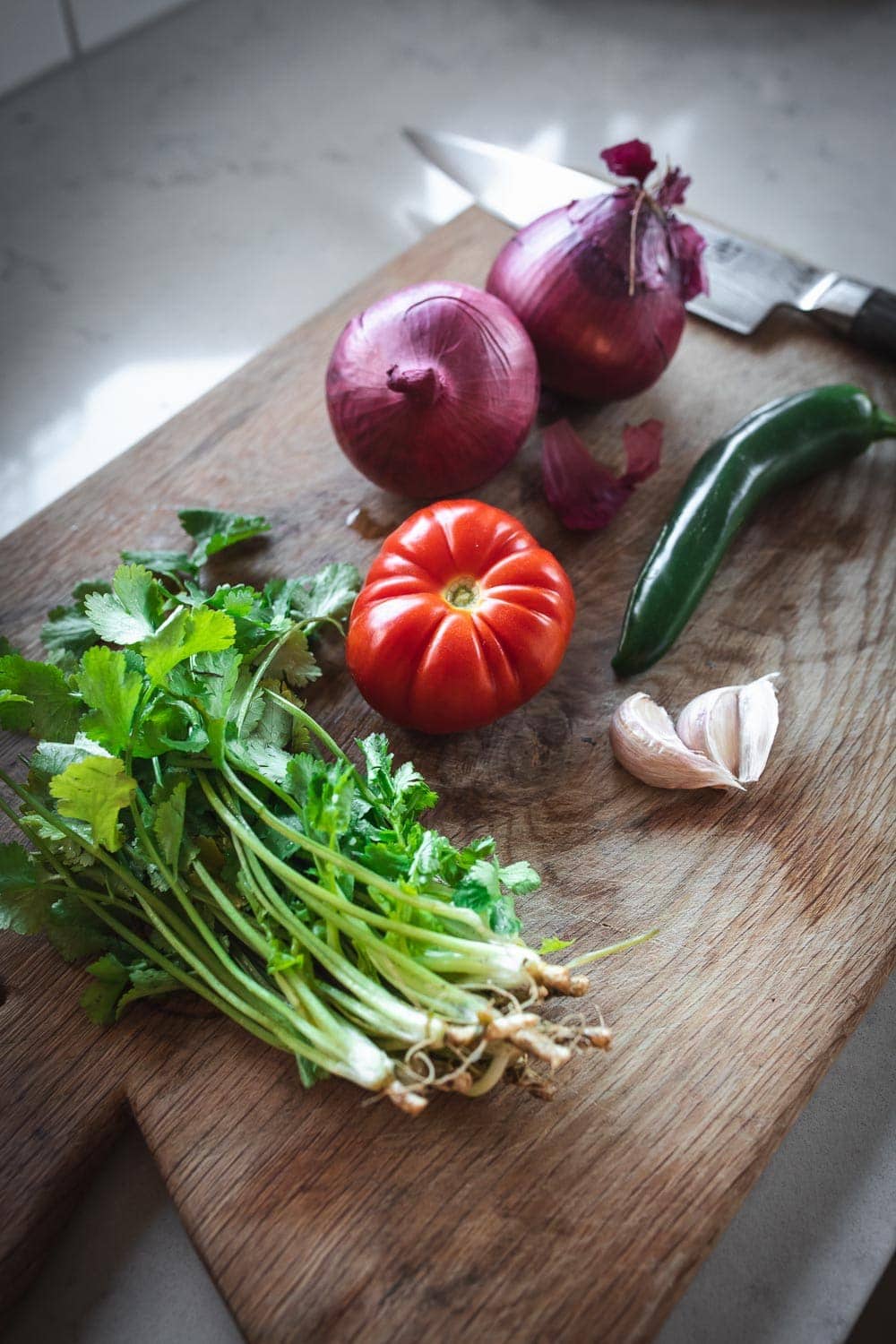 Nick and I - The Early Days
Nick and I studied together and worked together back in India. We even started a business together which continues to thrive twenty-five years on. I quickly realized that both Nick and I had a part to play in our journey as migrants and that we were both good at taking care of things the other didn't care about as much. So, he took over the bills and paperwork that bored me to tears and I took over what I had been preparing for my whole life – running our home with that unique flavour of my growing years. And that involved a lot of cooking.
I remember in those early years, how hard I tried to hold on to the aromas and flavours emanating from my mum's kitchen. But I was very drawn to the newness of my situation. Nick and I would explore and eat at the most amazing places during our stay in Singapore and visits to Thailand, Malaysia and Indonesia. And I would cook up a storm, adding new cuisines and techniques to my cooking repertoire and blogging about it – all the sweet, sour, salty and spicy flavours of Asian cooking.
From India To Australia - Continuing The Tradition
And then we had children and we migrated to Australia and I found myself getting really nostalgic about my own childhood. I had an idyllic childhood in India. I grew up amongst mango trees and chickens roaming the lawns. We even had an Australian Jersey cow on our complex that I helped milk occasionally. My week involved visiting the farmer's market daily for fresh produce, learning to haggle over prices at the fish market with my dad, lugging bags of freshly cleaned wheat to the mill with my mum and watching it magically get turned into flour, the fine white flecks dusting my eyelashes. But perhaps my most favourite part of this whole romance with food was visiting the spice markets, my nostrils tingling as we got closer, meandering carefully between freshly ground and whole spices artfully heaped in giant pyramids on massive brass platters.
Even though I was far away from home, I wanted to retain an essence of that for posterity and for my own journey to come full circle. So, Nick and I raised chickens and set up veggie patches and planted fruit trees in our home in Sydney. I started cooking a lot more of my mum's food. And my boys grew up with the unique flavours of my childhood.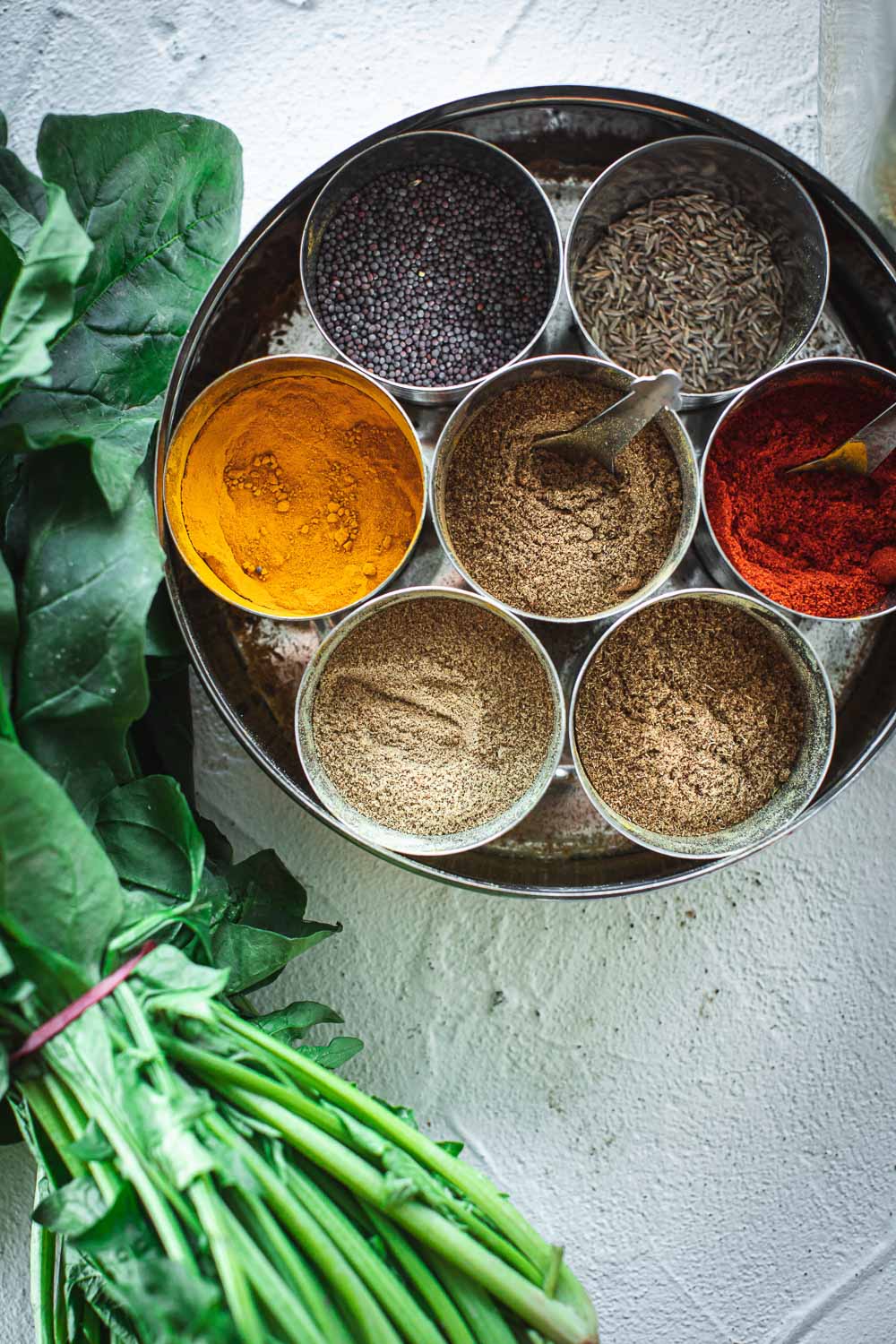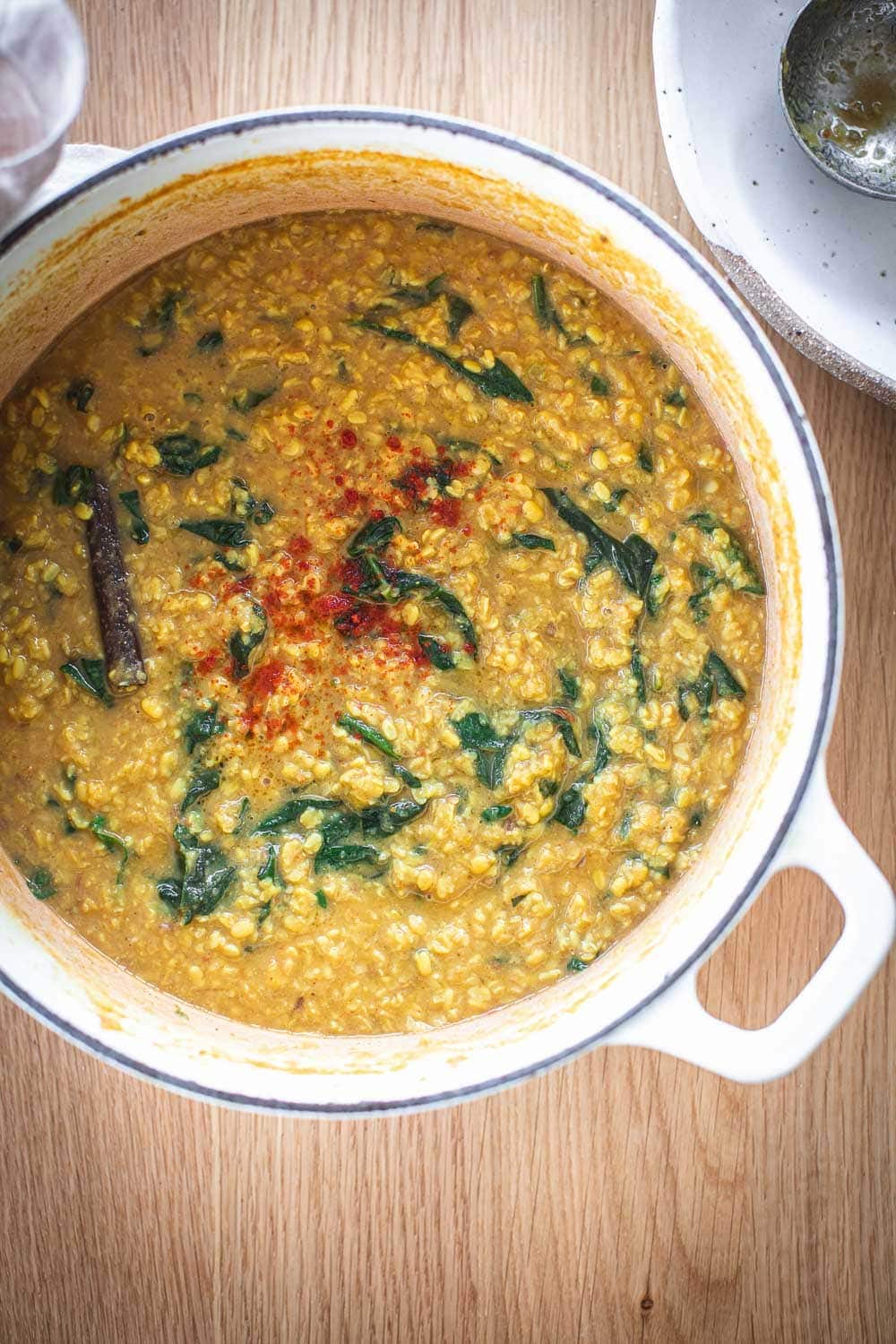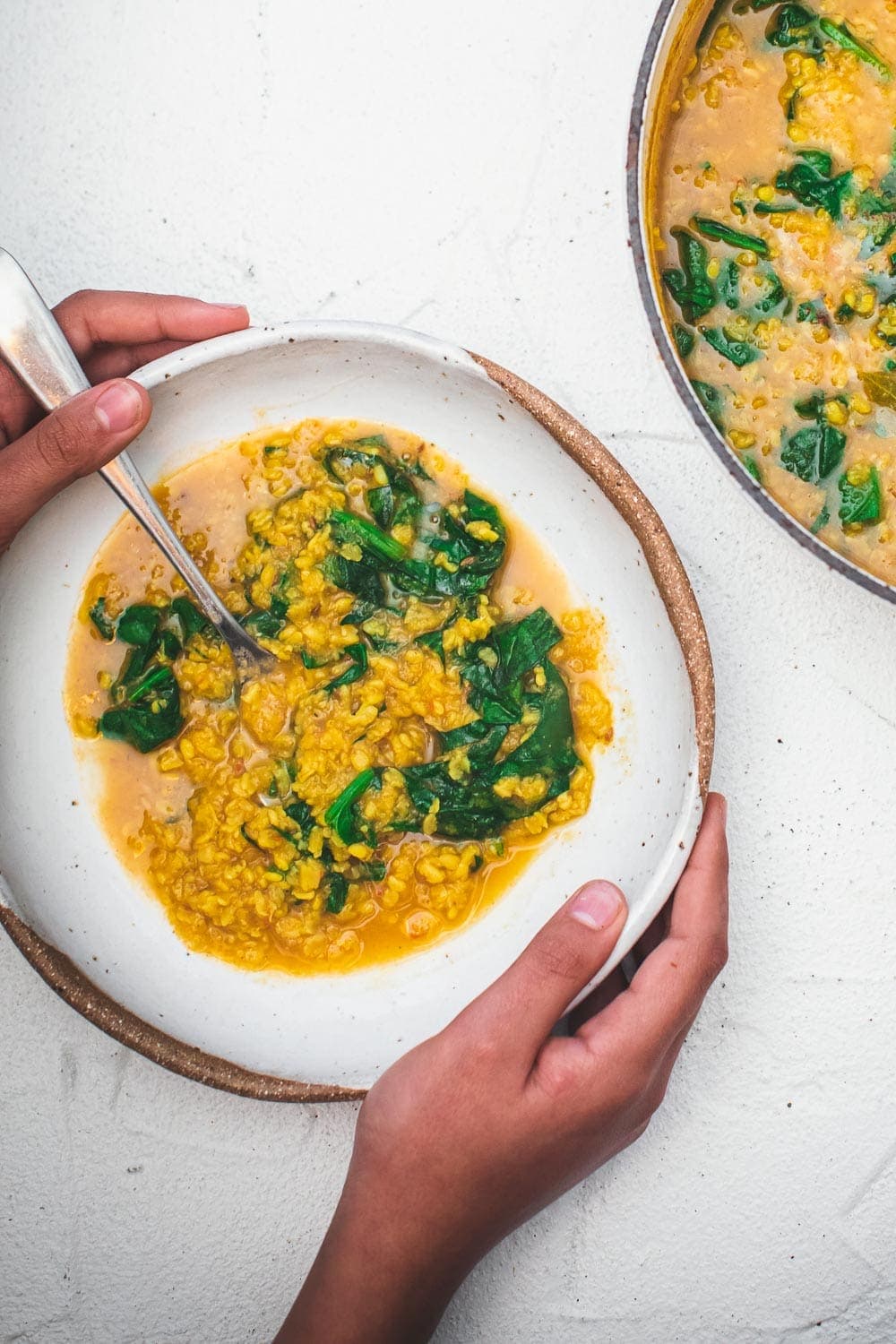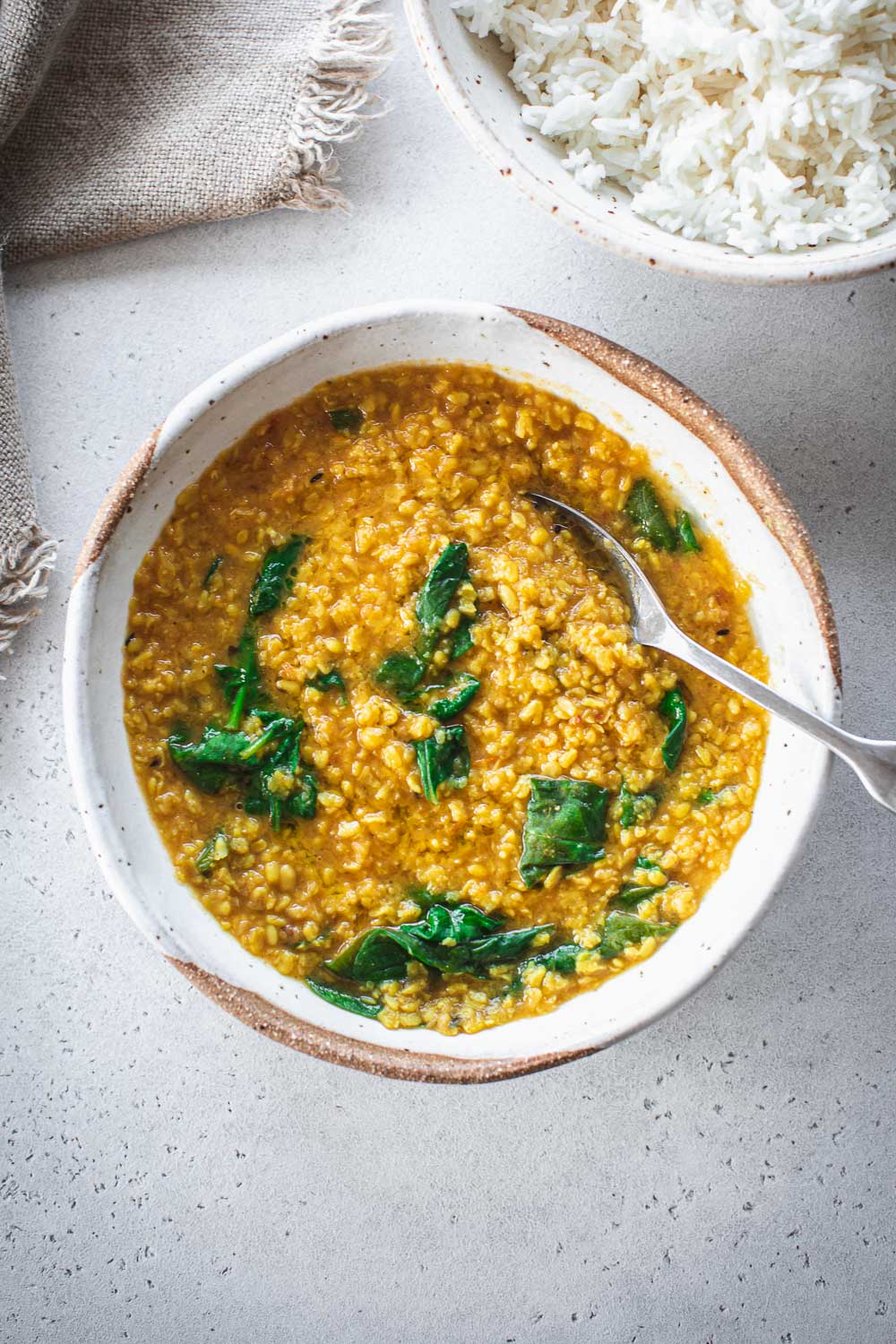 The Story Of Our Spinach Daal
One of the most comforting food for an Indian immigrant is daal. A lentil soup if you will, a cheap quick and nourishing dish often made with just lentils, spices and water. But a welcome meal at the end of the day when all you need is a little comfort and a little taste of home. Every home in India has its own version of a special daal that gets cooked probably five times a week. This Paalak (spinach) daal was my mum's. My mum practised the Ayurvedic style of cooking which believes spinach to be a life-giving ingredient – a blood booster and purifier. And when my mum believes in something, she goes all out.
So, we always had a spinach heavy dish at practically every meal. And this Spinach Daal was one of my favourites – creamy golden spice-laden lentils spiked with vibrant green spinach leaves. It was not only a winter staple (did you know that Ayurveda informs that spinach is warming/heaty when cooked and cooling when raw), it was one  I cooked a lot when my boys were babies and continue cooking to this day because they have grown to love it as much as I do. Sometimes, a dash of ghee and a serving of rice is all I need with a big bowl of this Paalak dal to be transported back home.
In fact, when we visited India recently after a fourteen-year hiatus, my mum cooked this for my boys and they couldn't tell whether it was me or her who had cooked it. And now our older son is learning to cook this daal, he says he wants to be the main cook in his family so they can enjoy all the delicious things he grew up with. And just like that, the circle of life continues.
Hungry For More Recipes? Subscribe to my newsletter. Check out Facebook, Instagram and Pinterest to see everything I share! And if you love cooking and new cookbooks, join my free Cooking Club on Facebook!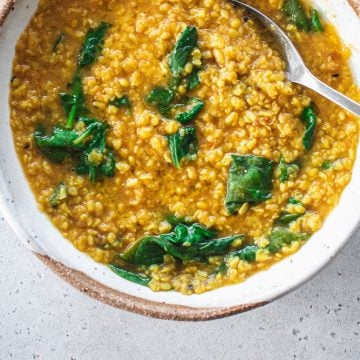 Ingredients
2

red onion

,

peeled and coarsely chopped

1

large tomato

,

chopped

3

garlic cloves

Handful of coriander roots

2-3

slices

of green cayenne chilli

1

tablespoon

olive oil or ghee

2

bay leaves

½

inch

cinnamon stick

1

teaspoon

cumin seeds

½

teaspoon

ground turmeric

1

tablespoon

ground cumin

1

tablespoon

ground coriander

1

cup

(

230

g

)

uncooked moong/mung dal

1-

litre water

3

teaspoons

sea salt flakes

1

bunch English Spinach

,

or 120g baby spinach leaves

sweet paprika/ground chilli and melted ghee

,

to serve
Instructions
Place onion, tomato, garlic, coriander root, chilli and half a cup water in the jug of a blender. Blend until smooth.

In a deep heavy-bottomed Dutch oven or saucepan, heat oil on medium. Add bay leaves, cinnamon and cumin seeds. Immediately when the seeds start crackling, add the onion-tomato mixture. Add the ground turmeric, cumin and coriander. Sauté on medium for 8-10 minutes, stirring occasionally until the daal base is fragrant and the onion has completely cooked off and is no longer raw.

Wash and rinse the mung dal. Add to the daal base in the pot and mix well. Add water and salt. Bring to a rolling boil. Reduce heat to medium-low and cook uncovered for approximately 20-25 minutes until the dal is fluffy and cooked.

Wash and rinse the spinach. Cut and discard the stems. Gather and chop the leaves thinly. Add spinach to the daal and mix well. Cook for a further 3-4 minutes until spinach is wilted. Adjust seasoning. Remove from heat.

Sprinkle with some sweet paprika or ground chilli. Optionally, add a drizzle of melted ghee. Serve hot with steamed rice.
Did you make my recipe?
I'd love to hear how you went! Tag me on Instagram @cookrepublic