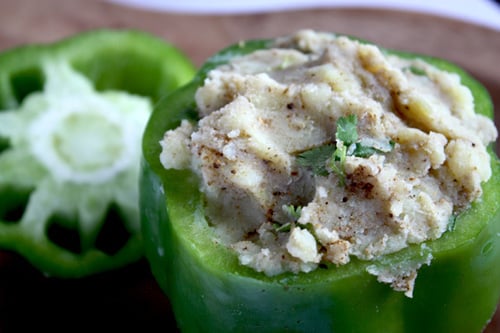 Green bell peppers or capsicums are delightfully sweet and crunchy in season. Even their seeds are very mild flavored and not at all spicy. That makes these little green beauties absolutely perfect for stuffing and cooking whole. The recipe that I share with you today can be as fancy as you want it to be or really simple, drawing on the natural flavors of the vegetables. I am doing a simple potato stuffed version today which I usually just bake with salt and pepper for the kids. Since this was for a barbecue lunch for us adults, I have spiked the recipe with some ground cumin and some beautiful smoky paprika. It is a fantastic recipe for a barbeque or picnic as it packs really well. I have baked it in the oven, but go ahead and grill it on the barbecue. The smoky charred aroma of the pepper being roasted is out of this world.
Stuffed Green Bell Peppers
[Preparation Time : 30 minutes/ Baking Time : 30 minutes/ Serves 4]
Ingredients
4 large green peppers, tops sliced, seeds removed
8 large potatoes, peeled, boiled and mashed
2 tsp ground cumin
1 tsp salt
½ tsp freshly ground black pepper
1 tsp smoky paprika
¼ cup fresh cilantro [coriander] leaves, chopped
olive oil spray
Method
Preheat oven to 200oC.
In a large bowl, combine the mashed potato with cumin, black pepper, paprika, salt and cilantro. Mix well.
Stuff the potato mixture in the peppers, flattening the top. Place the stuffed peppers in a large oven-proof pan. Gently place the sliced tops of the peppers on them. Spray the peppers lightly with the olive oil spray. Bake in the oven for approximately 30 minutes till the peppers turn olive in color and lightly browned in places.
Serve hot as a side topped with sour cream or fresh tomato salsa.
Note : I try to use salt sparingly. Have a taste of the mixture before stuffing the peppers. Adjust seasonings according to your taste.