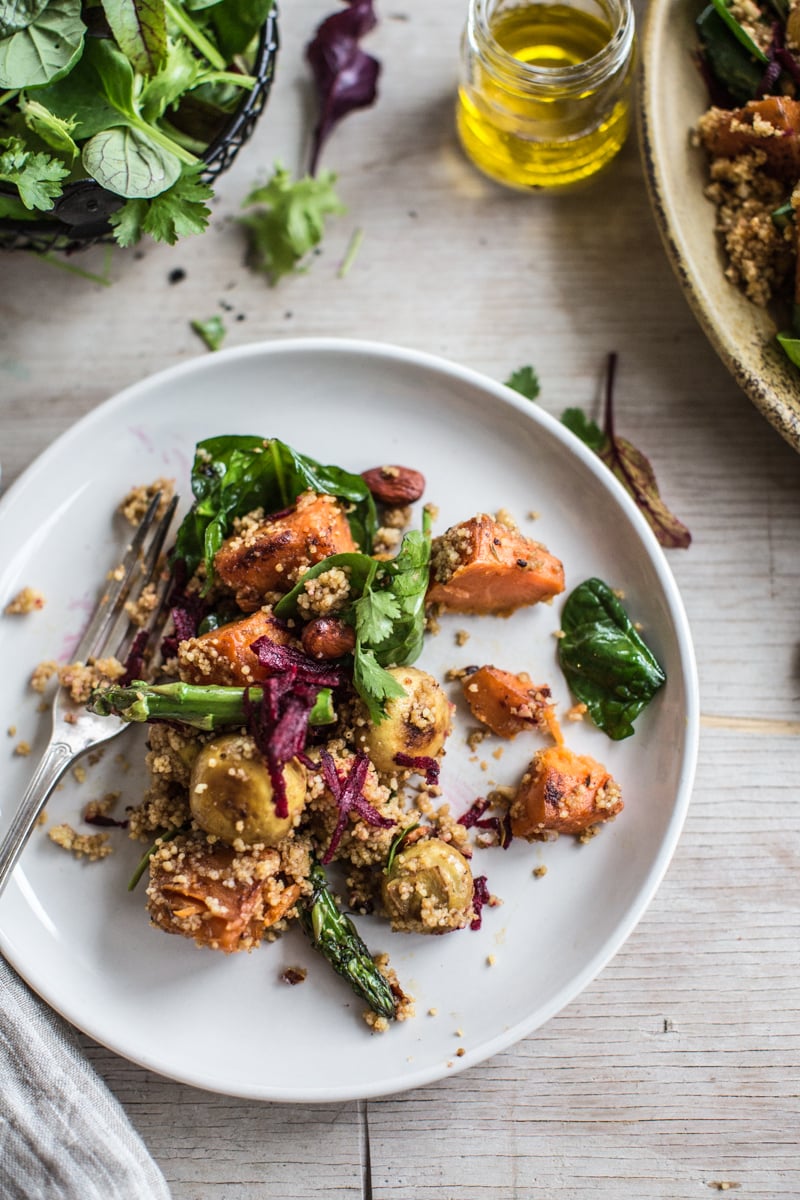 Ayurveda and the importance of food as medicine.
One of the most constant piece of advice I was given by my mum during my growing years was the importance of healing my body from the inside by harnessing the natural power of food. She knew exactly what food to serve to clear up a nasty cold, to perk up a sluggish demeanour and to make those monthly hormonal days seem like a breeze. I used to think she had magical powers because she could make me feel better without medicines. It was, later on, I realised that it was the wisdom of Ayurveda (India's alternative traditional medicine) from her ancestors and from cooking and observing for years.
According to Ayurveda, medicines and foods are either Sattvic, Rajasic or Tamasic. Sattvic foods are fresh, light, nourishing and vibrant. They provide energy without taxing your body and can be found in fruits, vegetables, legumes, grains, nuts, herbs, beans and milk. Rajasic foods are fried or processed foods that cause excitement and provide a high either temporary or permanent. Tamasic foods are dry, dead or decaying foods that include all meat, fungi, eggs and liquor.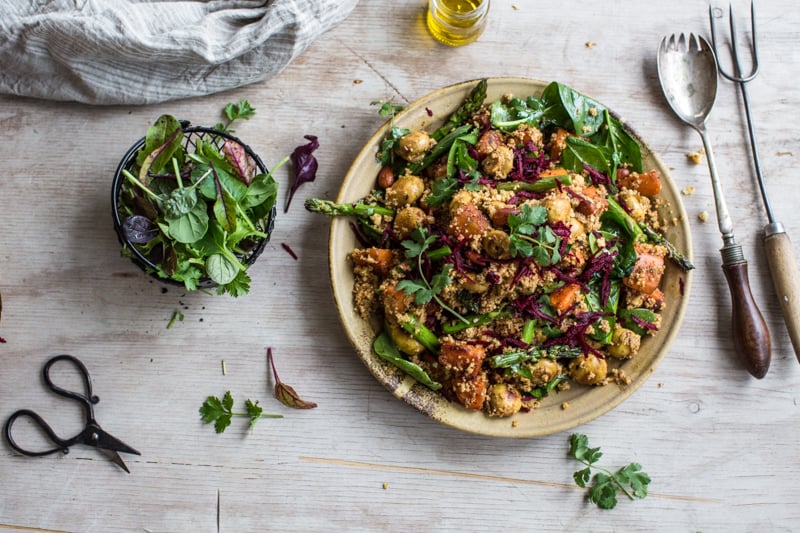 The myth of why Ayurveda considers mushrooms to be Tamasic - decaying food.
We didn't eat mushrooms while growing up. They were considered Tamasic and believers of Ayurveda avoided them. Besides, they were not readily available. In fact, my first taste of mushroom was in Singapore when I was in my mid-twenties. It was a bowl of Swiss mushroom soup and I was smitten. When I started digging into the health benefits of mushroom and the use of mushroom in a plant-based diet, I was surprised by how ignorant some of the ancient teachings of Ayurveda were. I know of folklores that suggest that mushrooms got a bad rep because of yogis residing deep in the forests, foraging for food and dying because of poisonous mushrooms.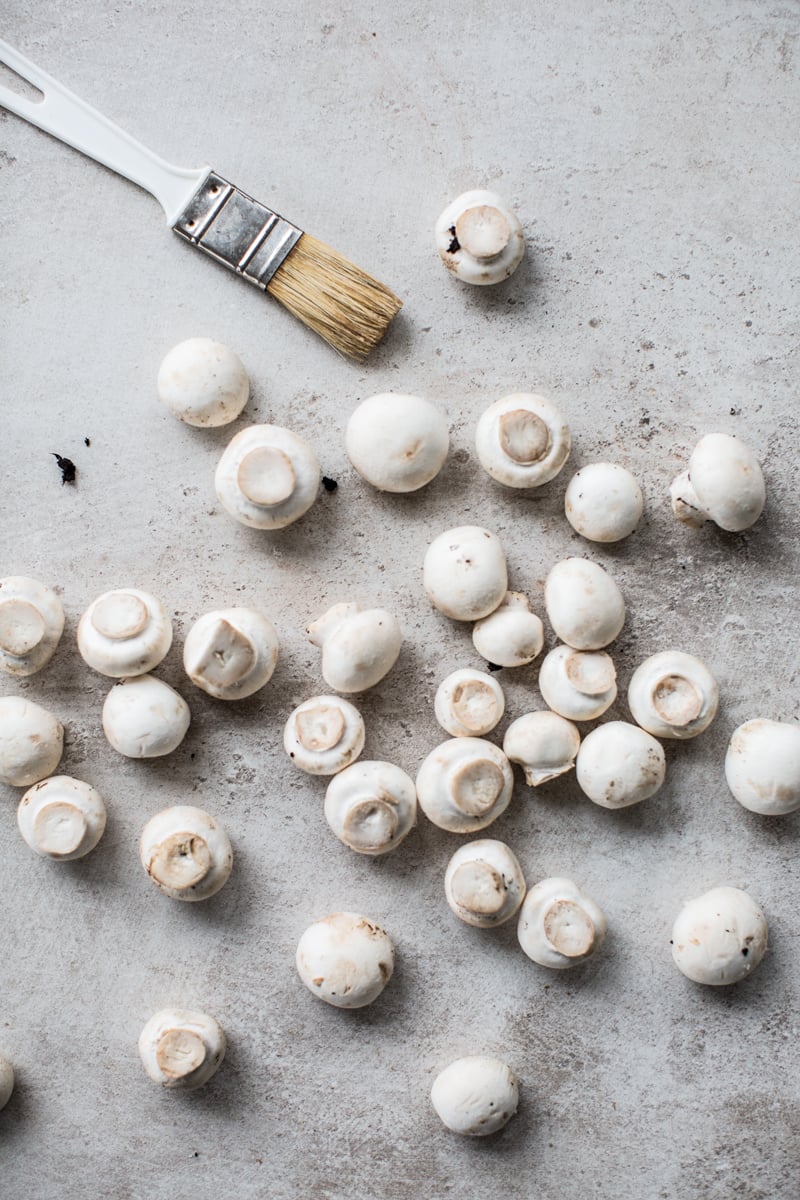 Mushrooms are super healthy and have cancer inhibiting properties
The good news is that folklores and ignorant food practices are a thing of the past. Mushrooms are slowly gaining popularity in the modern Ayurveda diet besides being immensely popular in the Western diet for years. They are one of the richest sources of folate and potassium amongst the plant/fungi kingdom with a single Portobello mushroom having more potassium than a banana. Mushrooms in recent studies have shown their prowess in inhibiting cancer cells and retarding the growth of tumours. The vitamins in mushrooms are known to repair cells and regulate new cell growth.
In 2009, research from the University of Western Australia showed that women who ate an average of only 10g of mushrooms a day had a 65% lower risk of breast cancer. So mushrooms are a natural fit in a healthy lifestyle especially for women. And because October is Breast Cancer Awareness month, the Mushroom Grower's Association of Australia are backing it up with their Mushrooms Go Pink Campaign that spreads awareness about the disease and educates on the power of mushrooms to combat it in many different ways. Since 2010 the mushroom industry has raised almost $180,000 for cancer charities in Australia.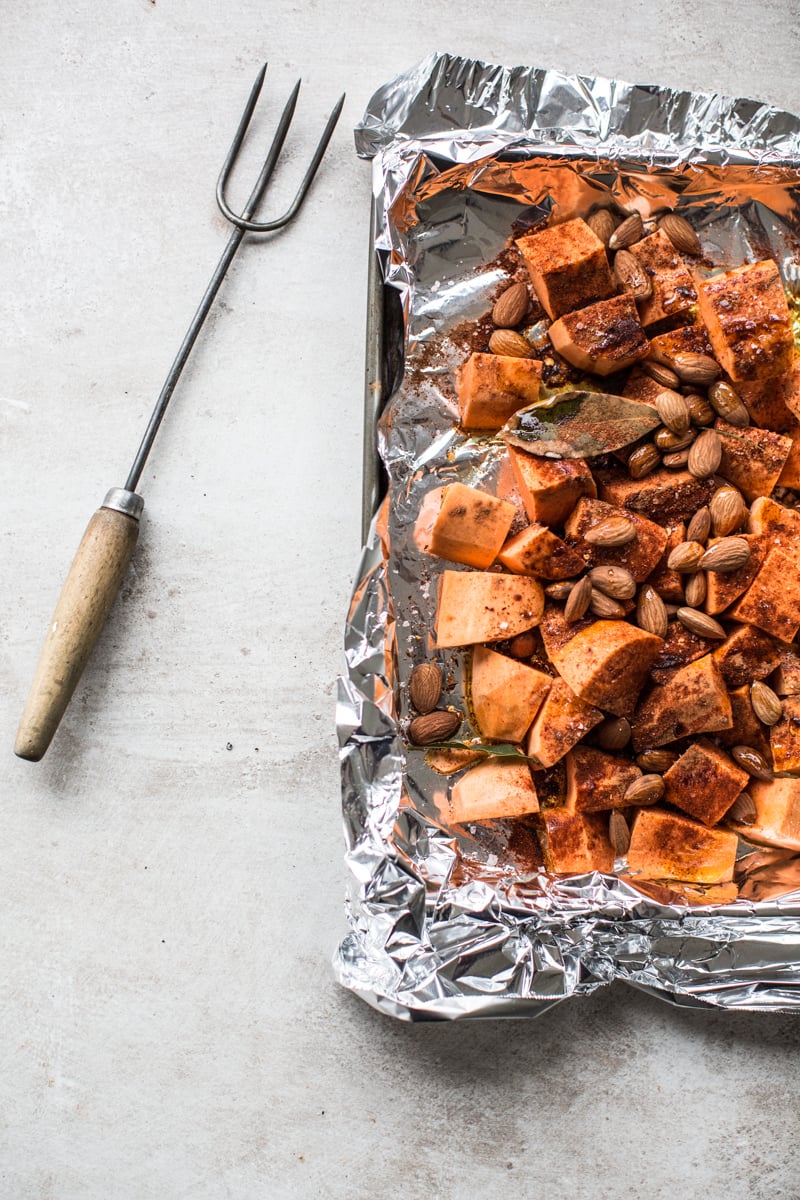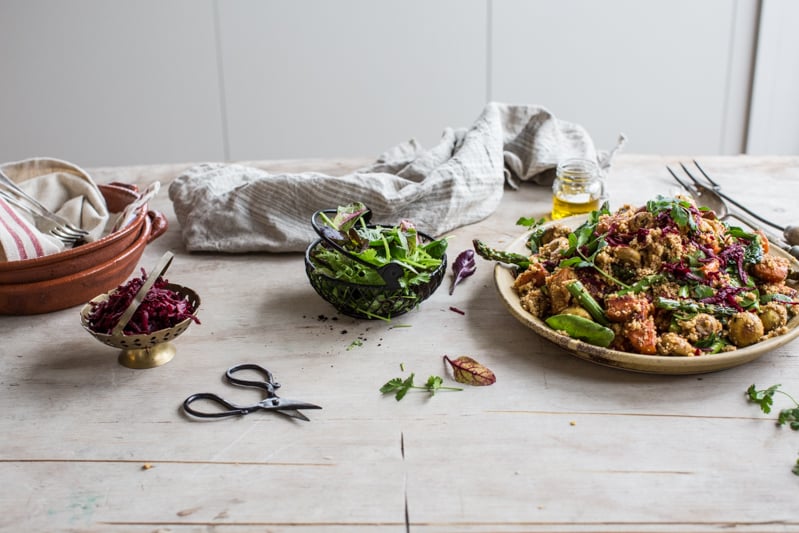 A most delicious mushroom and root vegetable packed salad.
I cannot imagine a week without a couple of mushroom meals. It is no wonder that it makes a regular appearance on this blog in these delicious recipes. In honour of Mushrooms going pink in October, I was asked by the Mushroom Grower's Of Australia to create a mushroom recipe. I wanted to create an empowering recipe for women everywhere that harnessed the healing power of mushrooms, the goodness of warming spices like turmeric and cinnamon, the blood cleansing qualities of beetroot, the earthiness of sweet potato and the vitality of fresh herbs and nuts.
This beautiful salad is a mouthful of explosive flavours and textures that satiate and nourish from the inside out. It is great as a complete meal for work or a sight to behold on a brunch table with friends. Don't fret over the long ingredient list. It literally takes only about 45 minutes to throw together.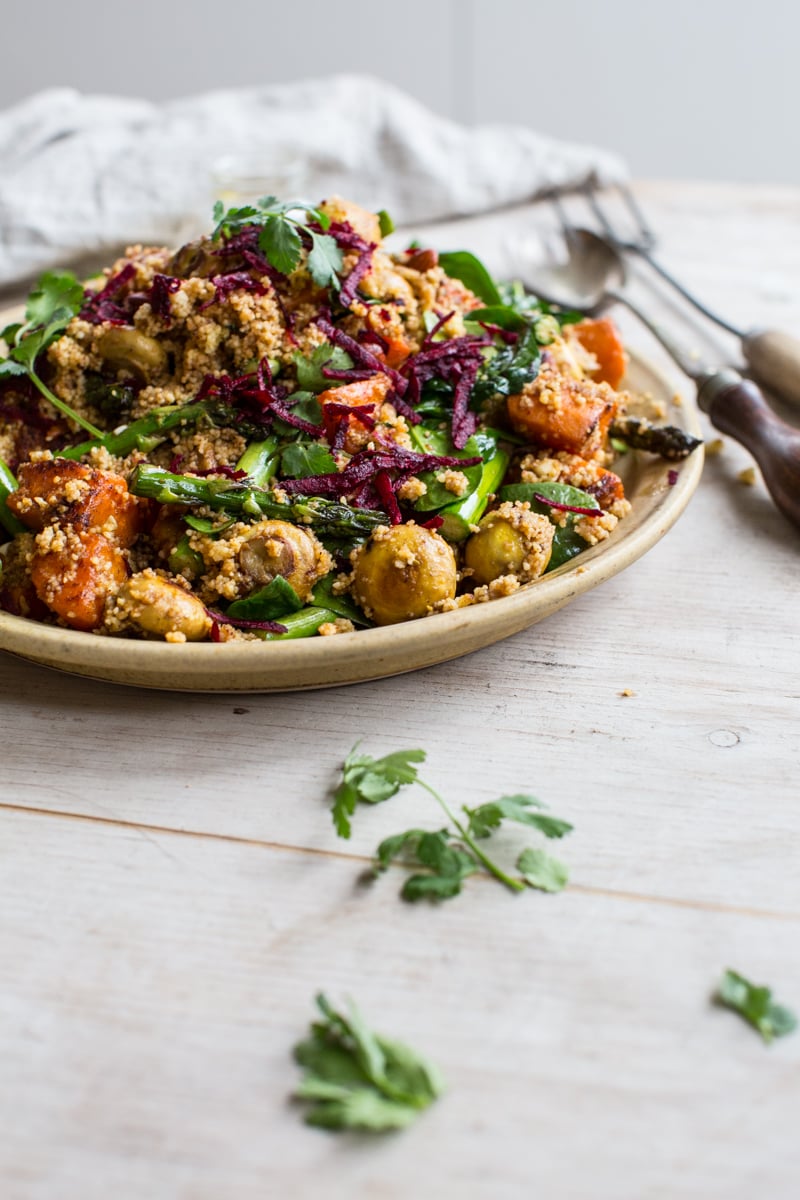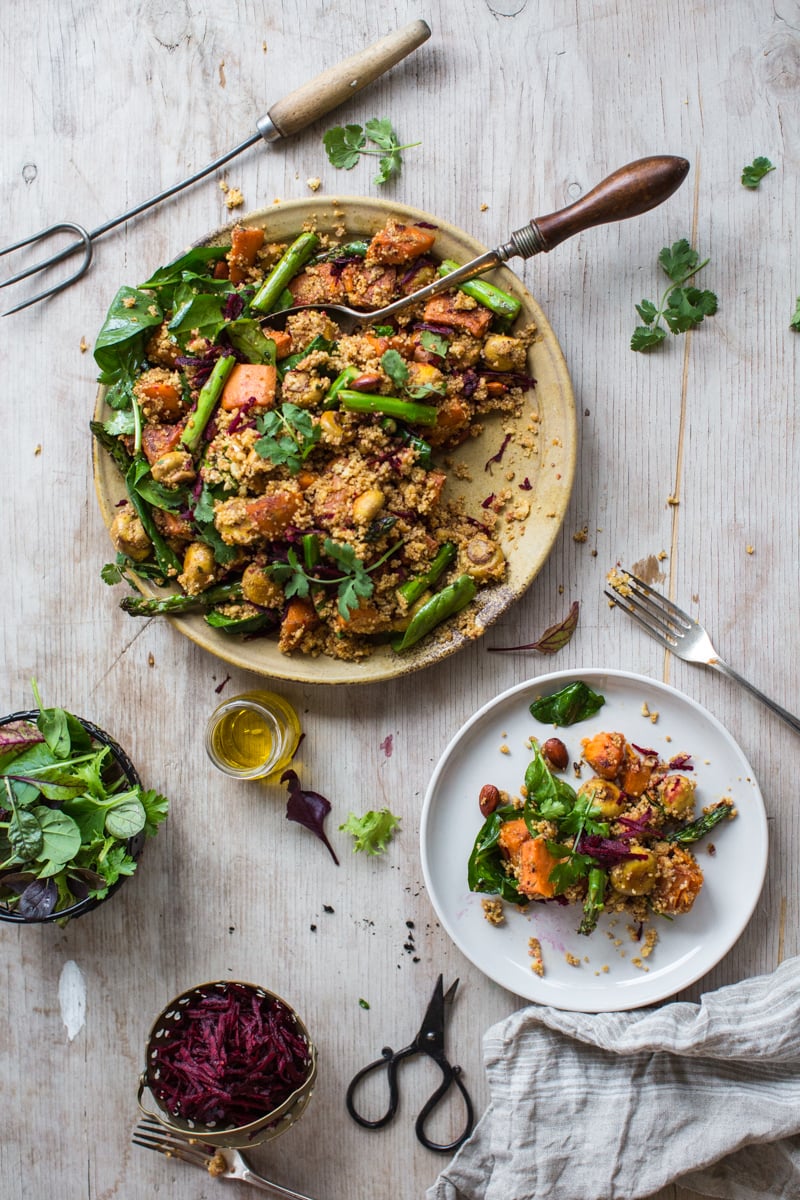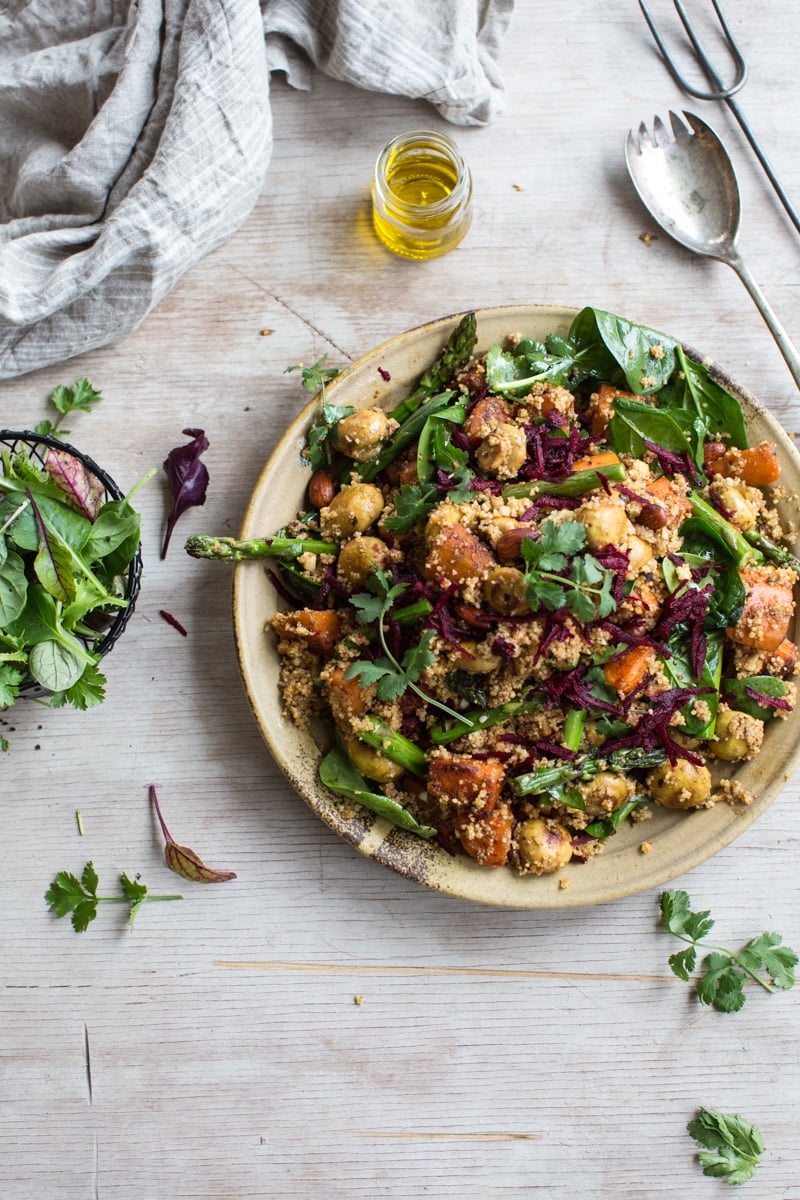 Recipe
Hungry For More Recipes? Subscribe to my newsletter. Check out Facebook, Instagram and Pinterest to see everything I share! And if you love cooking and new cookbooks, join my free Cooking Club on Facebook!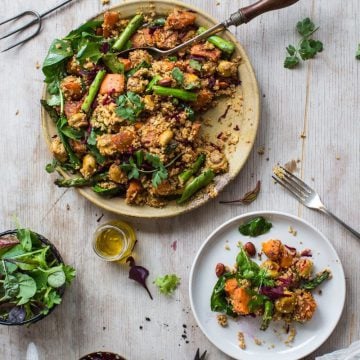 TURMERIC MUSHROOM SALAD WITH BEETROOT AND SWEET POTATO
A warming and nourishing salad packed with the prowess of immune boosting mushrooms, turmeric and almonds and packed with blood cleansing beetroot and a bowlful of greens, herbs and nuts.
Print Recipe
Rate / Comment
Ingredients
for the sweet potato
2

(

500

g

)

medium sweet potatoes

,

peeled and cubed

2

bay leaves

2

tablespoons

olive oil/coconut oil

1

teaspoon

ground cinnamon

1

teaspoon

smoked paprika

1

teaspoon

ground cumin

1

teaspoon

chilli flakes

1/2

cup

raw almonds

1/2

teaspoon

salt
for the couscous
2

cups

(

400

g

)

couscous

,

dry

2

cups

water

2

teaspoons

salt

2

tablespoons

white vinegar

1

tablespoon

extra virgin olive oil
for the dressing
1/3

cup

extra virgin olive oil

2

garlic cloves

,

minced

1

tablespoon

balsamic vinegar

1

tablespoon

honey

,

or 2 tablespoons rice malt syrup
for the mushrooms
2

tablespoons

extra virgin olive oil/coconut oil

1

teaspoon

grain mustard

2

garlic cloves

,

minced

1 1/2

cups

(

300

g

)

button mushrooms

,

brushed clean

4-5

springs of thyme

,

leaves picked

1/4

teaspoon

ground turmeric

1/4

teaspoon

salt

1

bunch asparagus

,

woody bits trimmed and rest chopped

a cup of mixed salad greens

,

to serve

handful of fresh chopped coriander leaves

,

to serve

1

small raw beetroot

,

peeled and grated
Instructions
Pre-heat oven to 180°C. Place all ingredients for sweet potato in a large bowl and mix well. Spread on a foil lined baking tray and bake in the oven for approximately 25-30 minutes until roasted but still firm. Remove and set aside. Discard the bay leaves.

To make the couscous, bring water, salt, vinegar and oil to a boil in a medium saucepan. Remove from heat. Pour in the couscous. Cover and rest for 5-8 minutes until water is absorbed. Gently fluff up the couscous with a fork.

To make the dressing, place all ingredients in a small jar fitted with a tight lid. Shake to mix well. Set aside.

To make the mushrooms, heat oil in a large frying pan on medium. Add garlic and mustard. Sauté for a few seconds. Add the mushrooms, thyme, turmeric and salt. Sauté for 15-18 minutes until mushrooms are cooked and starting to turn golden. Add the asparagus. Cook for another minute and remove from heat.

To assemble the salad place two cups of cooked couscous, roasted sweet potato, mushrooms, dressing, salad greens, beetroot and coriander in a large bowl. Toss to mix well. Serve.
Notes
You can make this gluten free by substituting the couscous with quinoa or basmati rice.
Omitting honey and replacing with rice malt syrup as suggested above will make this suitable for vegans.
Did you make my recipe?
I'd love to hear how you went! Tag me on Instagram @cookrepublic