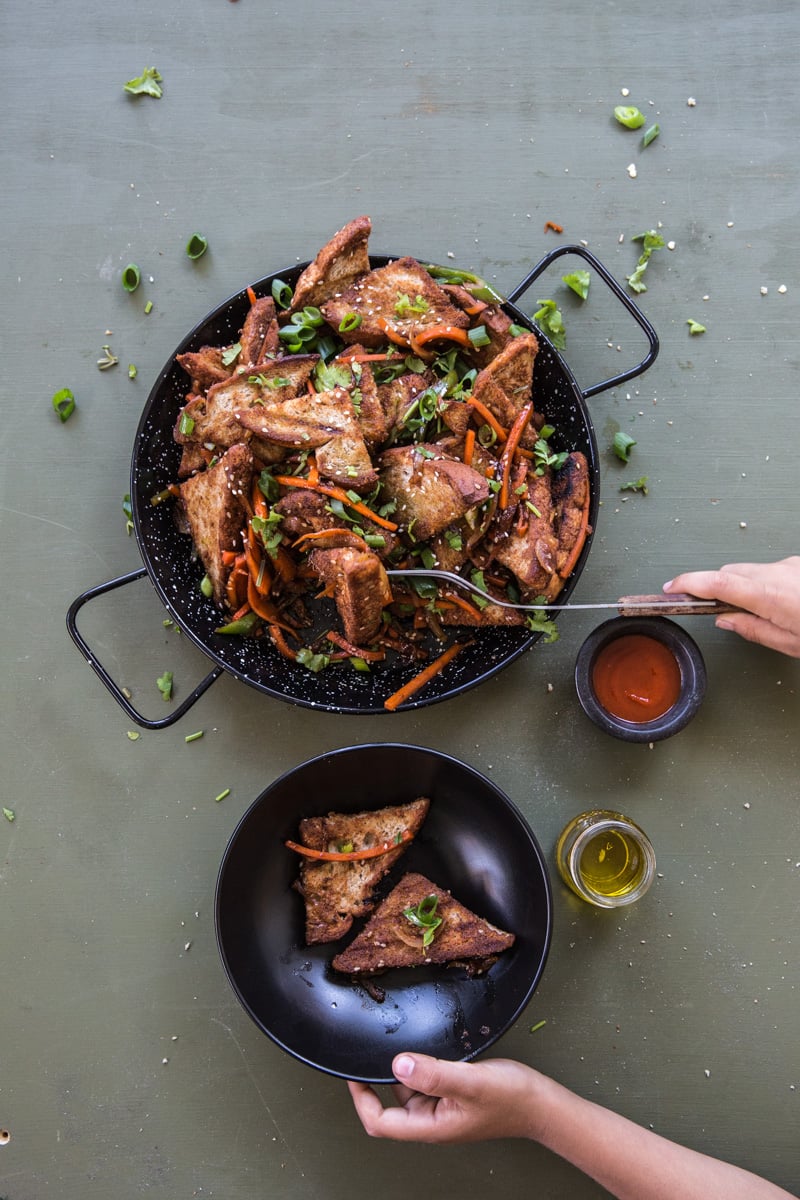 Bread is one of the most basic food human beings have been consuming over the ages. There are fables galore about this humble food that has graced quiet solitary meals and grandiose feasts for centuries. Yet, today something that has nourished us has earned a lot of disgrace. There is growing confusion about whether bread is good for you or not. Some say, bread will make you fat. Others say it will make you sluggish and give you empty calories. Yet some more say that it has gluten and avoiding gluten is the path to a healthier life. I struggle with my own growing confusion with food fads and advice. I respect people who have food intolerances and allergies and have to cut out certain food groups. I also understand the food choices a person makes based on their beliefs and their desire to do something good for the planet and for the creatures that inhabit it. Sometimes I think that it would be much easier to fall into one of these categories of people because when you don't have food intolerances or medical conditions or the circumstances to be disciplined enough to follow a certain food lifestyle, you are probably the most confused and guilt-ridden individual out there. Dr Joanna McMillan an accredited practising dietitian (who I had the pleasure of meeting recently) says that this confusion that results from too many sources of incorrect and incomplete information and fad lifestyles has resulted in a nation wrongfully cutting out carbs by eliminating bread from their diets. Bread is an ancient food, made from grain, which is a plant food. Obesity is a recent issue, and blaming bread for weight-gain is misguided. Take a look at A Grain Of Truth website where Dr Jo shows her model of the perfect sandwich using smart carbs, good fats, protein and greens. Download an infographic to help you figure out which bread is right for you.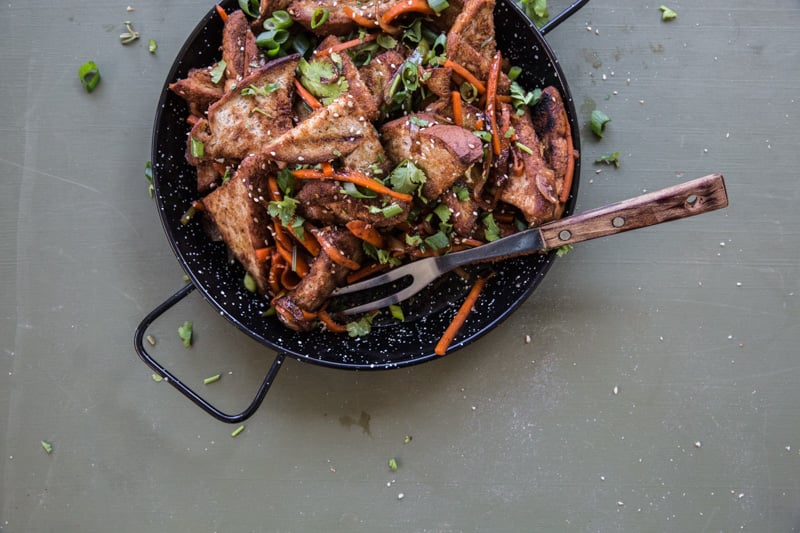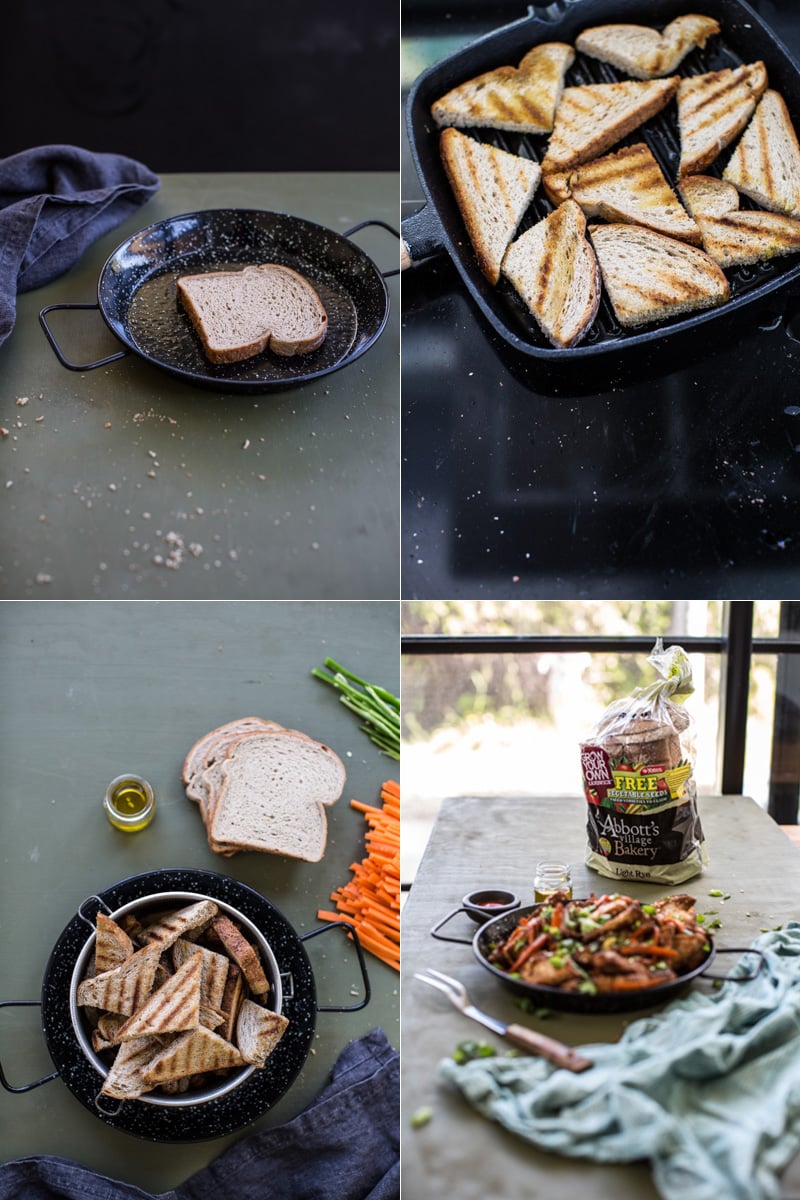 A bread that has been baked traditionally and done right has very little to no sugar. It has the goodness of grains and often the nutrients of natural yeast. It is a very rich source of protein and fibre. Apart from the fact that I am a bread lover through and through, as a mum bread is invaluable to me. It is a high energy source of wholesome goodness for my boys. The bread-crackle scene from Ratatouille makes my heart skip a beat and the only memorable morsel for me from a seven course degustation is the sourdough bread with the hand churned butter. Bread butter and jam was my lunchbox staple. It was the new-found wonder loaf, easy and convenient with a longer shelf life. I never read the ingredient list as a child. I am sure I would've been shocked if I understood what ingredients went in to that loaf of bread. As I grew older, I learned to make wiser food choices. Interestingly cutting out more than half of my sugar and switching to whole grains along with regular running helped me lose 20 kilos over two years. I never stopped eating bread even then. I just switched to having really good bread.
My love affair with bread was renewed years later when I did a bread baking class at Brasserie Bread few years ago. For 6 months after that class, I baked my own bread every single day from scratch and got a sourdough starter going that is now over two years old and thriving. Apart from buying bread at the farmer's market there were only a couple of brands I would buy at the supermarket. One of them was the Light Rye loaf by Abbotts Village Bakery. The Abbotts Village Bakery has been baking bread for Australians for almost 50 years. They pride in calling their bread – free range. A quick look at the ingredient list will confirm this fact. Their bread only has a handful of ingredients that bread is supposed to have. There are no artificial flavours, additives or preservatives. And it grows mould after 2-3 days in my pantry. Just like my home baked loaf of bread does. That makes me happy. Interestingly, I found out recently that the mould on the bread has little to do with preservatives and more to do with the shape. The denser the crumb structure of the bread, the longer it takes the mould to develop.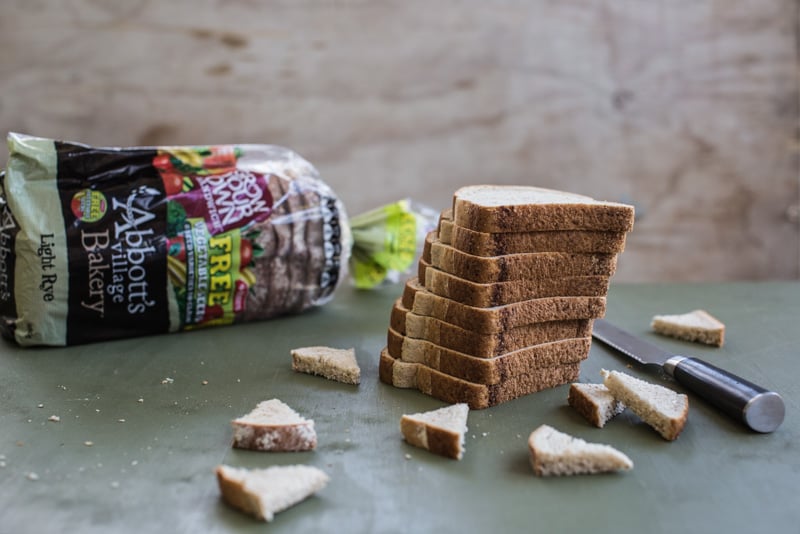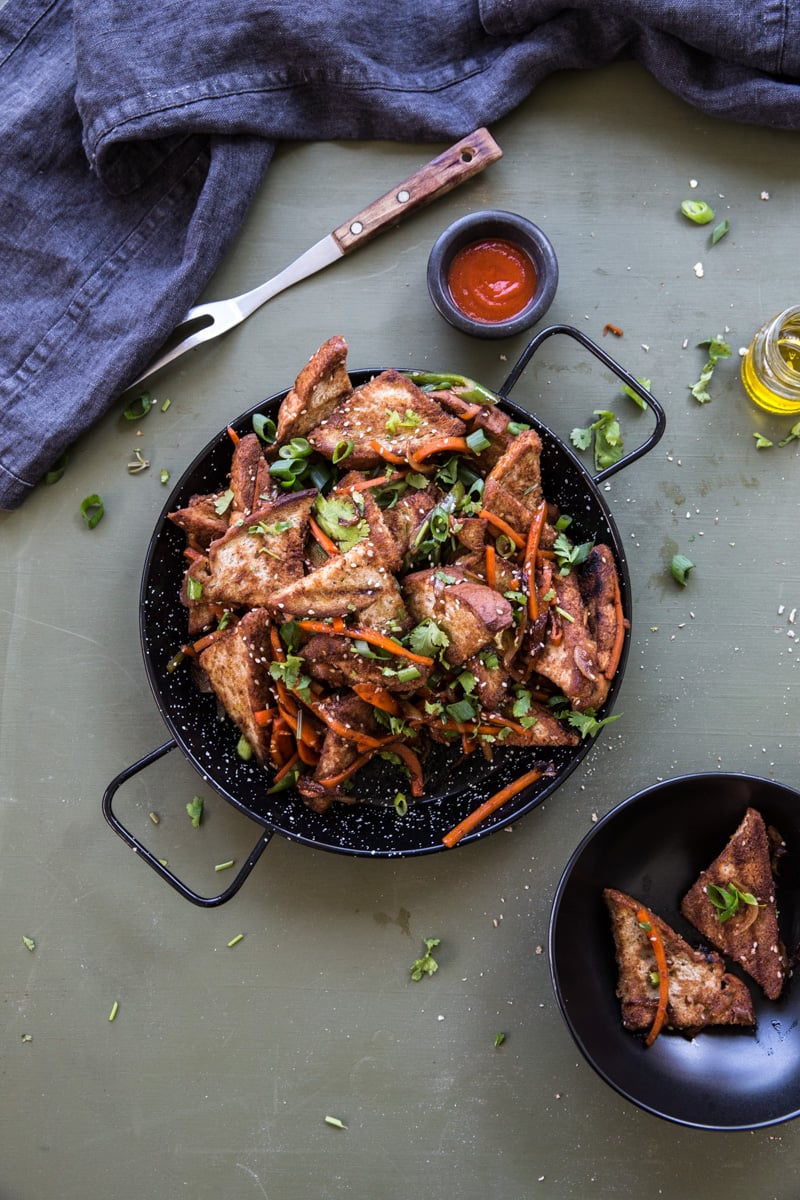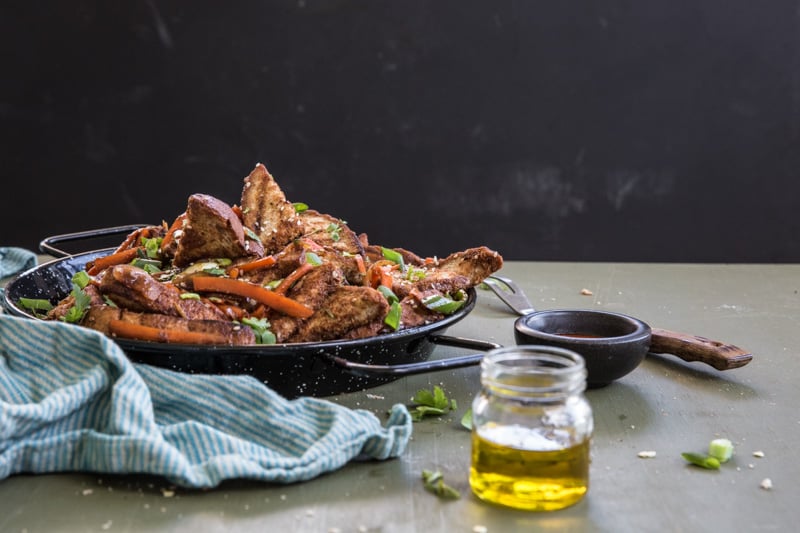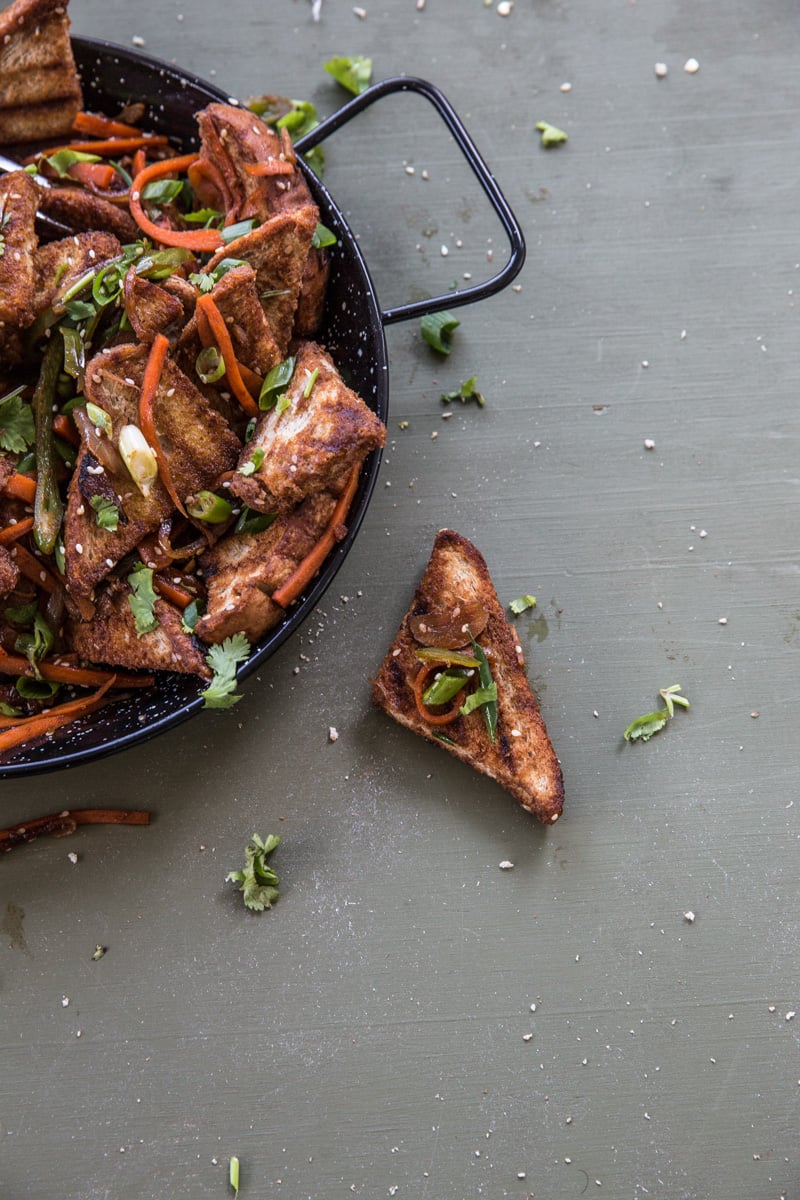 I use their light rye loaf for quick toasties, jaffle sandwiches and quick fresh breadcrumbs. I love creating fun recipes with leftover bread because, bread! Today, I am sharing a really easy and super delicious recipe that has all the makings of a good food truck dish. Spicy Bread Stir-Fry. It is a salad of sorts made with pan toasted bread slices tossed with vibrant and punchy Asian flavours. Almost like a panzanella out of China! It is crunchy and chewy all at once with the vinegar and tamari soaked up in the bread. Just lovely!
[print_this]
RYE BREAD AND CHILLI STIR-FRY / vegan
A saucy stir-fry with a crunch, this Asian-inspired salad is made with pan toasted crisped bread and stir-fried veggies doused in sweet, salty and spicy sesame dressing.
Serves - 4
Ingredients
8 slices of rye bread, each cut into four diagonally
2-3 tablespoons of olive oil
for the stir-fry
1 tablespoon olive oil
1 garlic clove, minced
1 small onion, halved and thinly sliced
1 large carrot, julienned
1 large green chilli, deseeded and cut into strips
2 tablespoons tamari
2 tablespoons balsamic vinegar
¼ cup homemade or store bought ketchup
a generous squeeze of your favourite hot sauce
2 spring onions sliced, green part only
handful of fresh coriander leaves, chopped
1 tablespoon sesame seeds
extra olive oil, to drizzle
extra hot sauce, to dip
Method
Heat a bit of oil in a grill pan on medium-low heat. Place bread triangles in the pan. Cook for a minute or two on each side until toasted. Remove bread and place in a large bowl. Add more oil to the pan and continue with the remaining slices of bread.
To make the stir-fry, heat oil in a wok on high. Add the onion and garlic. Sauté for a couple of minutes until onion starts softening. Add the carrot and chilli. Add tamari, balsamic vinegar, ketchup and hot sauce. Stir fry for a minute or two until everything is well coated. Remove from heat and cool for 10-15 minutes.
Once cooled, add stir-fry to the bread and toss to mix well. Top with spring onion and coriander. Sprinkle sesame seeds, drizzle extra olive oil and serve immediately.
[/print_this]
Note - This post was sponsored by Tip Top Bakeries. Abbotts Village Bakery is one of their arms. I only work with brands I have been using and love. All opinions are my own.