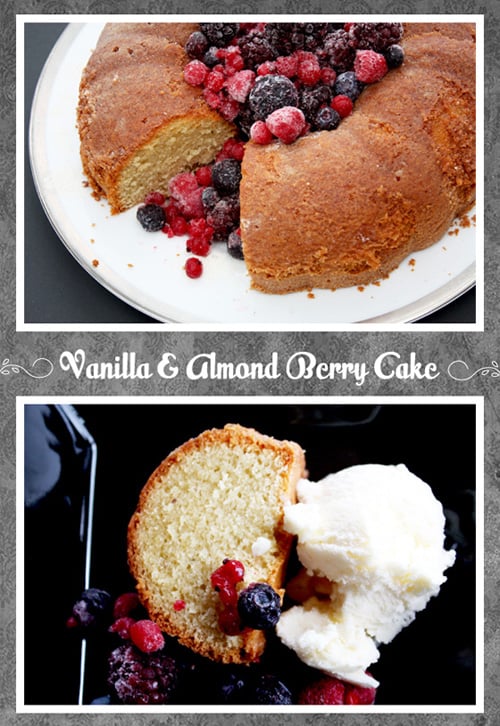 It seems like forever since I did a food post. To say I have been busy, is an understatement. But I haven't been starving myself and my family. I assure you that I have been concocting delightful things in the kitchen even though I am mostly absent on this blog. I was recently interviewed on a website called Iconshock and I thought that some of you would probably like to know a bit more about me, so here is the link to the interview. It is my first interview ever and that fact alone is very exciting for me.
When winter was withering away a few months ago, I made a beautiful cake from Michele Cranston's "Comfort". The book is from the acclaimed Marie Claire series of cookbooks and happens to be one of my favorites. This time I around I decided not to tinker with the recipe and keep it true to the book. I even decorated it with berries the way they did it in the book. It was fantastic. Cakes that have almond meal in them have a unique texture and a beautiful, buttery after taste. If you make this anytime soon, I hope you enjoy it as much as my family did. This cake is perfect for a chilly day.
[print_this]
VANILLA AND ALMOND BERRY CAKE
Preparation Time - 20 minutes/ Baking Time - 40 minutes/ Serves 8-10
Ingredients
225g caster sugar
200g almond meal
1/2 vanilla bean finely chopped
250g unsalted butter, softened and cut into cubes
4 eggs
100g plain flour
2 tsp baking powder
mixed berries, to serve
icing sugar, to serve
ice cream, to serve
Method
Preheat oven to 180oC [350oF]. Grease and flour a 27cm bundt or ring tin.
Combine the caster sugar, almond meal and vanilla bean in a bowl. Process with a hand blender for a few minutes till mixed well. Add the butter, eggs, flour and baking powder. Process till the mixture is smooth and creamy. Spoon the batter into the prepared cake tin.
Bake for 40 minutes until a skewer inserted in it comes out clean. If the cake is browning too quickly, cover it loosely with a foil. Cool cake in the tin. Turn it out gently when completely cool on a serving plate. Fill center with mixed berries, sprinkle with icing sugar and serve with ice cream.
[/print_this]