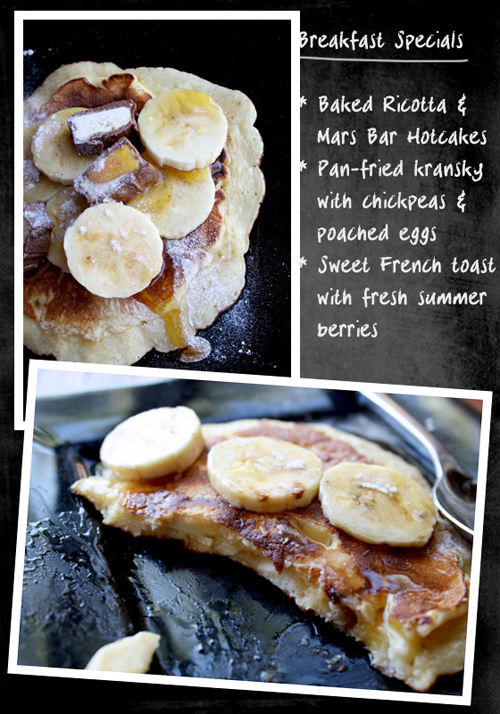 These past two weeks have been a whirlwind for me. Projects, kids, bus trips, socializing, gym, landscaping and the usual daily grind have kept me on my toes and I haven't been posting on the blog nearly as much as I would like to. I have been cooking though and really fun things at that too. We felt like comfort food on Sunday, so breakfast was inspired by sweet things we could find in the pantry and fridge. Pancakes!! said the kids. So pancakes we made. But we realized that we were out of maple syrup. A dash of golden syrup with chopped up Mars bars for toppings did the trick. Golden Syrup is not as bad as you might think it would be. You must however use extreme caution, because it does tend to be cloyingly sweet in large quantities.
BAKED RICOTTA AND MARS BARS HOTCAKES
Preparation Time : 20 minutes/ Cooking Time : 20 minutes/ Makes 6-8
Ingredients
250g baked ricotta cheese, sliced and diced fine
1 cup plain flour
1 tsp baking powder
1 tsp salt
2 tbsp sugar
3/4 cup milk
4 eggs
butter to pan fry
2 light Mars bars chopped coarsely
1/4 cup golden syrup/maple syrup
banana slices
Method
Combine ricotta, eggs and milk in a large bowl and whisk till fluffy and mixed well. Fold in the flour, baking powder, salt and sugar. Mix well, beating with a hand whisk for 2-3 minutes.
Heat 1/2 tsp of butter on a pan on medium heat. Ladle some pancake batter on the sizzling butter. Cook for about a minute till bubbles appear. Gently flip the pancake over and cook for another minute or two.
Serve with a topping of Mars bars, banana and golden syrup/maple syrup.
Notes
It always takes me one failed attempt to perfect the right temperature and time required for the pancakes. That failed pancake usually gets eaten right away unless it is damaged beyond repair in which case all the edible parts minus the burnt bits are still salvaged and eaten. So don't take my method and word to heart, try to get comfortable with your own heat setting and pan. The pan is very important too. Make sure it is not a thin crepe pan. That will usually burn your pancake straightaway. A regular frying pan should do the trick, but the heat should always be low to medium. That will give you nice and golden pancakes.