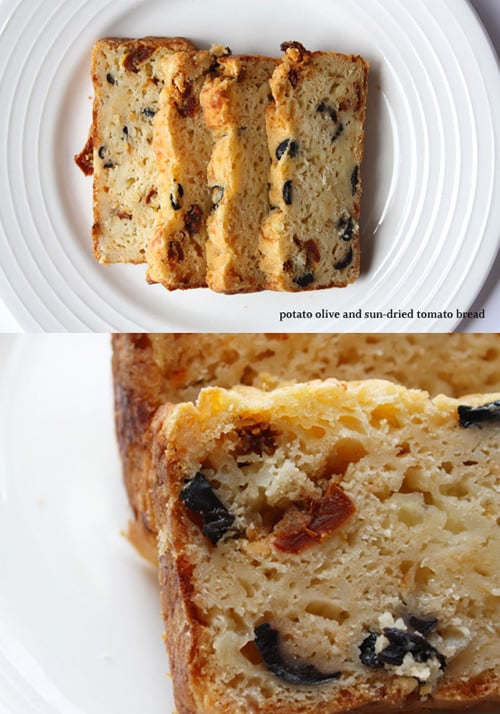 I have been baking breakfast breads for a while now and they are all sweet, invariably. So this time around I decided to bake a brunch bread instead and make it really savory. After scouring several of my books, I settled for this recipe from Australian Women's Weekly "Potato" cookbook. I love the olive and sun-dried combination so much, the slight zing of the olives is so perfectly balanced by the chewy sweetness of the sun-ripened tomatoes, not to mention it's a very good combo for a very healthy diet. And then there was potato too. I made this bread and followed the recipe to a T. I was very happy with the result. The bread was crusty and dense. We toasted it, topped it with sweet chili cream cheese and salad leaves and enjoyed the impromptu brunch affair in our backyard very much.
[print_this]
POTATO OLIVE AND SUN DRIED TOMATO BREAD
Preparation Time - 15 mins/ Baking Time - 60 mins/ Makes 1 loaf
Ingredients
250g potatoes, peeled and chopped coarsely
30g butter, melted
2 cups self-raising flour
1 1/4 cup milk
1/2 cup black olive slices
1/2 cup drained sun-dried tomatoes, thickly sliced
1 cup coarsely grated mozzarella cheese
Method
Preheat oven to 180oC. Grease a 14cmx21cm loaf pan. Line with baking paper.
Boil, steam or microwave potatoes until tender. Drain. Mash potatoes in a large bowl with butter until smooth.
Add, flour, milk, olives, tomato and cheese to potato mixture. Mix well. Spoon into prepared pan. Bake uncovered for about 50 minutes till cooked through.
[/print_this]