Who doesn't love a good Penne All Vodka - Al dente penne pasta tossed in a creamy vodka-tomato based sauce! Well if you love that, you will want to marry this recipe because it is the most delicious pasta you will ever eat. A creamy, decadent yet light Vegan Cauliflower Vodka Rigatoni - juicy cauliflower florets caramelized to perfection, the zing of garlic and chilli, the bite of preserved artichokes, a heady hit of vodka and non-dairy lush milk to bring it all together. And finally, the umami factor that can only come from miso! Is your mouth salivating yet?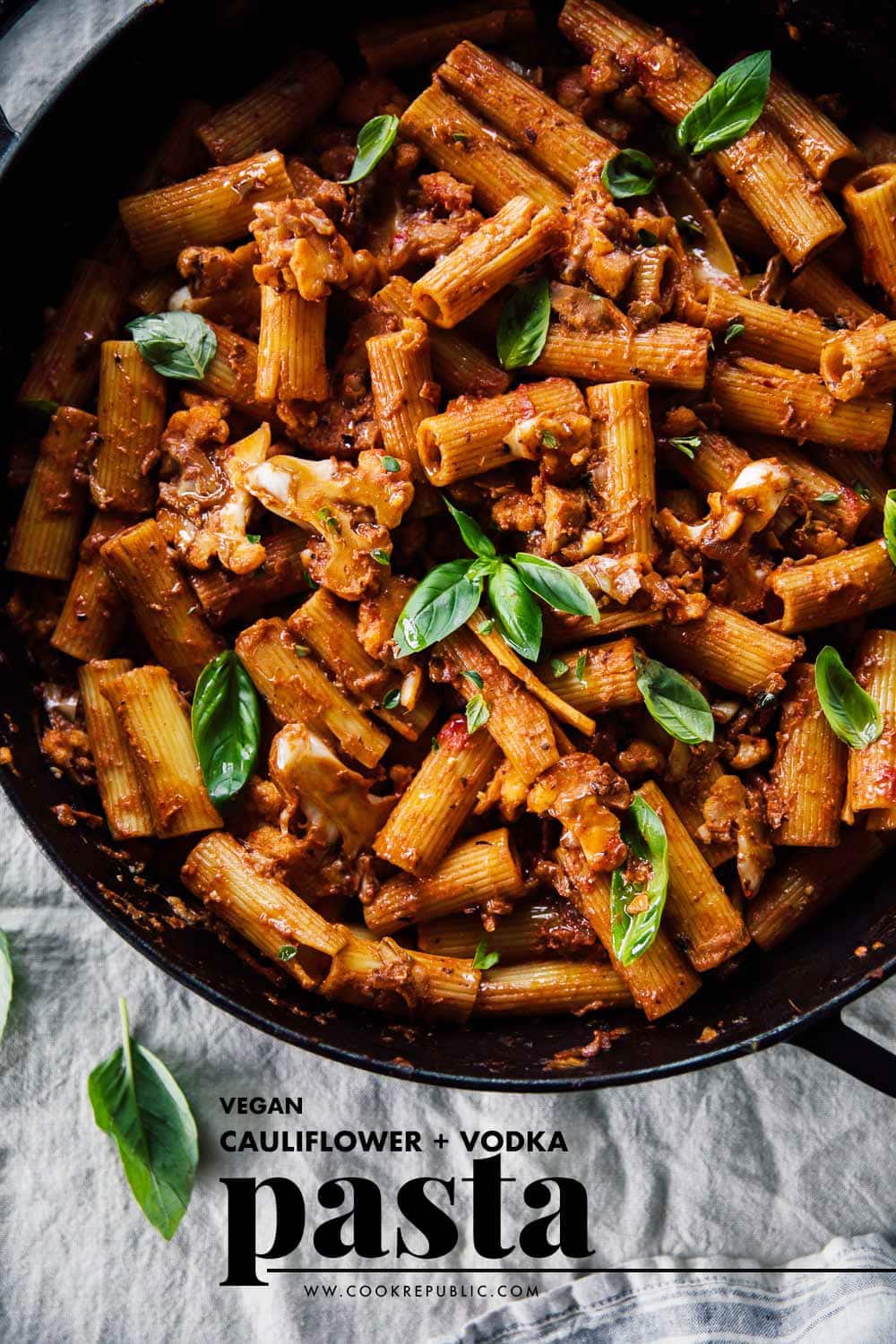 A Twist On A Timeless Classic
I don't know about you but I do love my rigatoni slightly more than penne. I don't know whether it is the sleek symmetrical cylindrical shape or the fact that the tubes are wider and hold more sauce in their bosom so when you take a mouthful, there are equal parts pasta and sauce. So my twist on the classic Penne Alla Vodka had to be with rigatoni instead.
Now my love for cauliflower is legendary in our home. If I could cauliflowerize every recipe I have ever loved, I would. Cauliflower in pasta is pretty special. If you have never tried it, you will have to remedy that right away. And this recipe would be just the thing to do that. Instead of a plain old creamy tomato sauce, I have amped it up with veggies and herbs and spices. So although it is derived from the classic, it is in fact an entirely new recipe. One I hope you will love.
Cooking A Perfect Cauliflower Pasta Dish
The flavours are all here - tried and several times. Salty, briney and spicy with the richness of garlic and creaminess of miso and soy cutting through all that tang. The technique is really important. Yes, this is a simple pasta dish. But chuck everything in the pan at once and you will never discover the glorious flavours and textures you can truly glean out of this dish. So follow my tips and tricks below, right from slicing the cauliflower (not chopping!) to adding things in the pan in a particular order.
For this dish, you need to slice the head of the cauliflower in big thin slices. The cauliflower will break down into smaller pieces automatically as it is cut. But it is important to get think slices and not chunks or florets. The cooking pan is important. I use a shallow, wide cast-iron Staub pan. The cast-iron is great for caramelizing the cauliflower. In fact, I have taken up cooking cauliflower in this fashion rather than putting it in the oven. It is much quicker and the caramelization is perfect. Only when the cauliflower and garlic and leek are all browned and golden, must you add the vodka to deglaze. This creates a beautiful flavour in the final dish.
And lastly, add your miso paste right at the end after you have taken the pasta off the heat. This will add that rich umami sweetness to the dish and will retain the health benefits of miso. I always like to marry my cauliflower with either olives or capers or both in my dishes. Artichoke was a first for me and boy was it magic! It was inspired by Donal Skehan's Cauliflower Pasta dish that had artichokes in it. Pickled or marinated artichoke in oil works really well. It is soft and buttery and has a big part in making the sauce creamier. I buy my preserved artichoke from the deli.
Enjoy this beautiful meatless pasta dish. If you make it and love, please do leave me your feedback in the comments below. Are you subscribed to my newsletter? You won't want to miss the new Issue 1 of my Get Your Food On Newsletter with weekly meal prepping tips and ideas that will go out today followed by Issue 1 of All Good Things on Friday.
Recipe
Hungry For More Recipes? Subscribe to my newsletter. Check out Facebook, Instagram and Pinterest to see everything I share! And if you love cooking and new cookbooks, join my free Cooking Club on Facebook!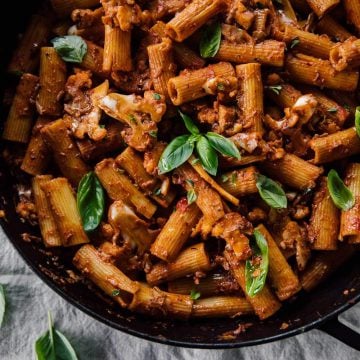 VEGAN CAULIFLOWER VODKA PASTA
A delicious new take on the classic Penne All Vodka recipe, this creamy Vegan Cauliflower Vodka Pasta is a tasty and easy weeknight dinner option for the whole family.
Print Recipe
Rate / Comment
Ingredients
300

g

rigatoni pasta

,

dry

3

tablespoons

olive oil

1

brown onion

,

finely chopped

½

teaspoon

red chilli flakes

3

garlic cloves

,

minced

300

g

cauliflower

,

thinly sliced or grated

1

teaspoon

sea salt flakes

Freshly ground black pepper

150

g

preserved artichokes

,

drained and chopped

80

ml

1/3 cup vodka

4

tablespoon

tomato paste or puree

1

teaspoon

fresh thyme leaves

1

teaspoon

dried oregano

¾

cup

soy milk or cream

¼

cup

reserved pasta water

1

tablespoon

miso paste

Fresh basil leaves

,

to serve
Instructions
Bring a large pot of water (4-5 litres) to boil. Add a large pinch of salt to the water along with the dry pasta. Cook in the rapidly boiling water for 8-10 minutes. Reduce heat to low and simmer for a further 2 minutes until pasta is cooked but still firm (al dente). Drain all but some of the pasta water and set it aside.

Heat oil in a large skillet on medium-high. Add the onion, chilli and garlic. Sauté for a minute or two until the onion starts to caramelize.

Add the cauliflower, salt and pepper. Increase heat to high and sauté tossing constantly for 6-8 minutes until cauliflower is starting to caramelize. Add artichoke and mix well. Add the vodka to deglaze the pan and loosen all the caramelized, charred bits. Cook for another 2 minutes.

Reduce heat to medium. Add tomato paste, thyme and oregano. Mix well and cook for 5-6 minutes until the sauce is heated through and cauliflower is cooked.

Drain the pasta completely (but save ¼ cup of pasta water) and add to the skillet with the cauliflower sauce. Add the soy milk (or cream) and reserved pasta water. Mix well and slow simmer for 2 minutes until heated through. Stir through the miso paste.

Garnish with basil leaves and serve hot.
Did you make my recipe?
I'd love to hear how you went! Tag me on Instagram @cookrepublic