This basic Indian Raita is a quick, tried and tested, restaurant-style recipe that only takes 10 minutes to make. High in protein and packed with gut-beneficial raw veggies, this chilled Indian yoghurt-based condiment is super delicious and will make your next Indian feast extra special. Try my easy Veg Raita today!
Jump to:
🇮🇳 What Is Raita?
Raita is an Indian condiment made with salted yoghurt, grated or chopped vegetables fruit and herbs. A staple side dish, the Indian Raita is always served chilled at restaurants, wedding parties and in humble households all over the country. The purpose of this throw-everything-in-the-bowl dish is quite simple. To have something cooling that aids digestion and combats the fieriness of the spices in the main Indian meal. The Indian cousin of the Greek Tzatziki, raita is also known as pachadhi, yoghurt dip, curd (yoghurt) dip or dahi (yoghurt) chutney.
With documented instances as early as the 19th century, the Indian Raita has probably been around for much longer. Growing up in Mumbai in the eighties, hastily put-together raita and a bowl of sliced onions and tomatoes were a constant at every single meal in my mum's kitchen. A task that was relegated to me from the age of 10.
My raita recipe always had grated cucumber and coriander while the onion and tomatoes were always sliced and sprinkled with salt and pepper. These two side dishes added a fresh and crunchy element to the simple mains which were often just homecooked daal and a dry curry of seasonal vegetables cooked in spices.
👍🏼 Why You'll Love This Raita Recipe
Let me tell you all the ways in which this basic Indian raita recipe is not only perfect but also very good for you.
It is healthy! - This raita recipe is an excellent source of protein and fibre. Raw veggies are great for your gut and provide heaps of nutrients. Yoghurt is one of the best sources of probiotics and helps with maintaining good gut bacteria. Toasted cumin helps with digestion, bloating and weight control. The raita also helps balance the spice and acidity of a rich Indian feast.
One serving of vegetables - One serving of this delicious raita will roughly give you a serving of your daily vegetables.
No cooking! - Raita is a delicious raw, vegetable and yoghurt-based condiment. All you need to do is chop and mix. There is no cooking involved.
Quick, easy and can be made ahead! - This raita recipe only takes 10 minutes to make. It also stays fresh in the fridge for up to 3 days.
📝 Ingredients
When eating out at Indian restaurants, you might be used to a creamy green mint yoghurt dip or raita that has grated cucumber and coriander. My raita recipe might seem slightly unconventional to regular patrons of Indian restaurants in western countries, but it is one that is served in a lot of restaurants in Mumbai where I grew up. Often listed as Mixed Veg Raita or simply Veg Raita on the menu, this is a basic textural, chunky raita made with finely chopped (not grated) salad vegetables and herbs. A proper side dish with a lot of heft and a joy to eat.
Yoghurt - Traditional raita is made with full-fat, unsweetened, thick Greek yoghurt. But you can use low-fat or fat-free yoghurt as it is a healthier everyday choice without compromising the taste or creaminess. Unsweetened coconut yoghurt is a good vegan option. If you can buy Buffalo Yoghurt, your raita will be even more authentic. Buffalo milk and yoghurt are widely used in India. Buffalo milk yoghurt has a beautiful tang and acidity.
Onion - Spanish onion or red onion is widely used in raita and salad dishes in India due to its colour and milder flavour. Dice your onion really fine for a better eating experience.
Cucumber - The cucumber is the stalwart of most raita recipes. I use small Lebanese cucumber for my raita. These are sweeter and have a beautiful flavour. When preparing cucumbers for raita, I cut them in half lengthways and use a spoon to scoop out the seed and pulp. I reserve the scooped seeds in a bowl. After chopping the cucumbers really fine and adding them to the raita, I also add the scooped cucumber seeds to the yoghurt. This helps loosen the raita a tiny bit and enhances the flavour.
Tomato - Use the freshest and firmest ripe tomatoes you can find. Deseed the tomatoes before dicing them finely and adding them to the raita.
Coriander - Use fresh coriander leaves and some stalks. Wash them well to remove grime and sand. Pat dry them and chop them finely.
Cumin - Toast cumin seeds in a dry pan before adding to the raita. If you don't have cumin seeds, you can add a teaspoon of ground cumin instead.
Seasoning - Salt, sugar and pepper really help draw out the flavour of the yoghurt. If you like, you may add a dash of ground chilli or cumin to the finished raita.
🥣 How To Make Raita
Add chopped cucumber, tomato, onion, coriander, yoghurt, cumin seed, salt, pepper and sugar to a large bowl.
Mix all ingredients well until the raita is thoroughly combined. Top with extra coriander.
🔪 Helpful Tips
I learned a thing or two from my years of making that cucumber raita and slicing the tomatoes and onion quite diligently.
Streamlining!
When I moved out, I started chopping all three veggies and stirring them through my yoghurt to get vibrant, crunchy raita that felt very grown-up and restaurant-style fancy I might add. It was the cookbook Dishoom that inspired me to start toasting whole cumin seeds and adding them as a garnish rather than stirring ground cumin through the raita. The result was highly aromatic and the colour of the yoghurt was vibrant white and unsullied by the ground spice.
The ratio of the yoghurt to vegetables should be almost 1:1. For this recipe I use 1 1/2 cups yoghurt (375g) and 1 1/2 cups of chopped veggies.
Most recipes call for the cucumber to be de-seeded and the soft centre to be scooped out. I like to add this de-seeded soft centre of the cucumber back into the raita. Why waste all the lovely green cucumber goodness? It also amplifies the raita's flavour.
All veggies should be chopped into very tiny pieces.
Raita should be made a couple of hours ahead of serving and chilled in the fridge to allow for the flavours to develop.
Raita can be made prettier for serving with a sprinkle of ground cumin, ground chilli, toasted cumin seeds and micro herbs.
🤔 Serving Suggestions
There are so many delicious ways to eat raita. Try it in wraps and buddha bowls. Eat it with curries and biryanis. Here are some great Indian recipes to go with it,
🥒 What Are The Different Types Of Raita?
The cucumber raita made with grated cucumber, coriander, yoghurt and salt is the most popular and widely served recipe you will find. Besides the cucumber raita, my mum would also make banana raita (firm banana slices in salty yoghurt), a dish that I abhorred but which was quite popular all around. But my favourite was pineapple raita. Maybe because that was usually served at restaurants and weddings. It was considered utterly fancy and so I loved it even more.
And then there was Boondi Raita (crispy fried chickpea balls in yoghurt), Beetroot Raita (a beautiful pink concoction), Mint Raita (a vibrant green bowl of delicious yoghurt), Pomegranate Raita and Potato Raita. So you get it, there is a deep-seated love for the raita in its many forms and if you make my basic Indian raita recipe, you'll know why.
🙋 FAQs
What is raita called in English?
Raita doesn't have a specific Indian name. The closest English translation for the term raita is cool yoghurt dip.
What does raita taste like?
A basic raita recipe is made of salted yoghurt, chopped onion, coriander, mint and ground or whole cumin seeds. It has a salty, sour, savoury taste that is also cooling and refreshing.
What is the difference between Raita and Tzatziki?
Raita is an Indian yoghurt condiment whereas Tzatziki is a Greek yoghurt dip. Although both raita and tzatziki are very similar in the fact that they are both made with thick, salted yoghurt; tzatziki is always made with grated cucumber while raita may have cucumber but also other grated/chopped veggies or fruit like carrot, onion, tomato and pineapple. Both have herbs - tzatziki has dill, mint and often parsley whereas raita has coriander and mint. Tzatziki is punctuated by the use of garlic and lemon while raita often has some spice element like chilli, toasted cumin or ginger.
Can raita be frozen?
Raita can be frozen but it is not a good practice. Freezing breaks down the protein in the yoghurt which releases water and separates the milk solids. When you thaw frozen raita, it will tend to be watery and thinner in consistency than when you made it fresh. If your raita is specially made with chopped veggies, you shouldn't freeze it as the veggies will also freeze and release water as they thaw.
Can I make raita with sour cream?
Although it is not traditional, you can make raita with sour cream. But your raita will be much thicker, heavier and sharper in taste. It will also be less refreshing and not as healthy. Yoghurt has half the fat and twice the protein of sour cream, hence is the more traditional and healthier option for making raita.
💛 More Indian Recipes You Will Love
Recipe
Hungry For More Recipes? Subscribe to my newsletter. Check out Facebook, Instagram and Pinterest to see everything I share! And if you love cooking and new cookbooks, join my free Cooking Club on Facebook!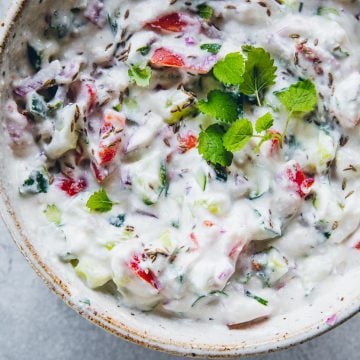 A GOOD INDIAN RAITA
A quick, easy, 10-minute basic raita recipe made with freshly chopped salad vegetables, herbs and spices. This chilled yoghurt condiment from India makes a delicious everyday side dish packed with nutrition.
Print Recipe
Rate / Comment
Ingredients
375

g

(

1.5

cups

)

full-fat Greek yoghurt

,

unsweetened

1

small red onion

,

finely diced

1

medium cucumber

,

deseeded and finely diced (reserve the seeds)

½

cup

coriander leaves

,

finely chopped

1

small tomato

,

deseeded and finely chopped

1

teaspoon

sea salt flakes

1/2

teaspoon

black pepper

,

freshly ground

1

teaspoon

raw sugar

60

ml

(

0.25

cups

)

chilled water

1

teaspoon

cumin seeds

,

for garnish
Instructions
Add yoghurt to a medium bowl. Add chopped onion, cucumber, tomato, coriander and cucumber seed to the yoghurt. Mix well.

Add salt, pepper and sugar. Mix well.

Toast cumin seeds in a hot, dry pan on medium heat for a few seconds until they start to turn a shade darker and crackle. Remove from heat. Add to the raita.

Add chilled water, a little at a time while mixing gently until you get the consistency you desire. Your raita should be thick and creamy.

Chill the raita in the fridge for at least 1-2 hours before serving. It will stay fresh in the fridge for up to 3 days.
Notes
Yoghurt - Use the thickest full-fat yoghurt you can find. Make sure your yoghurt is unsweetened. Buffalo yoghurt, sheep's yoghurt or goat's yoghurt works really well too because they all have a beautiful tang. If using goat's yoghurt, skip or reduce the amount of water as goat's yoghurt tends to be runny.
Make It Vegan - by subbing regular yoghurt with unsweetened coconut yoghurt.
Cucumber - Use a fresh, firm and green Lebanese cucumber. Cut in half lengthways. Scoop and reserve the seeds. Dice the cucumber finely and add it to raita along with the scooped seeds.
Onion and Tomato - Chop onion finely. Deseed tomatoes before dicing into tiny pieces.
Garnish - Elevate flavour by sprinkling a pinch of ground cumin and ground chilli to your finished raita before serving.
Nutrition
Calories:
45
kcal
|
Carbohydrates:
6
g
|
Protein:
2
g
|
Fat:
2
g
|
Saturated Fat:
1
g
|
Polyunsaturated Fat:
0.1
g
|
Monounsaturated Fat:
0.5
g
|
Cholesterol:
6
mg
|
Sodium:
320
mg
|
Potassium:
192
mg
|
Fiber:
1
g
|
Sugar:
4
g
|
Vitamin A:
277
IU
|
Vitamin C:
5
mg
|
Calcium:
71
mg
|
Iron:
0.4
mg
Did you make my recipe?
I'd love to hear how you went! Tag me on Instagram @cookrepublic