Red Kidney Bean Curry or Rajma Masala as it is known in India is a delicious, spice-laden, much loved home-style bean dish hailing from the northern state of Punjab. Full of vital nutrients, this hearty dish is warming and has a lovely heat to it. And today, I am going to show you my Vegan Rajma that is super creamy and delicious and easy to make in just one pot!
Jump to:
Why Canned Beans Are A Pantry Staple
Growing up in India, kitchens were always well-stocked with every kind of bean and legume imaginable. Dried, bought in bulk from sacks at the local markets, picked clean and stored in huge glass jars with a few pieces of cloves. The cloves were to keep the bugs and pantry moths away (it works!). Shelf after shelf of dried goods ..lentils, beans, varieties of rice. It was Candyland for vegetarians. My kitchen pantry in Sydney has a similar vibe. Rows of glass jars filled with colourful lentils, beans, seeds and grains. And cans and cans of red kidney beans and chickpeas.
Although red kidney beans were always soaked and pressure cooked when I was growing up, I have resorted to the necessary laziness that comes from having access to perfectly good canned organic red kidney beans. Having canned beans means cutting my cooking time in half. Which is a huge draw on a weeknight!
How To Cook The Perfect Authentic Rajma Curry?
Rajma Masala or just Rajma is a staple home dish in northern India. Rajma Chawal (Red Kidney Beans and Rice) is the epitome of comfort food in many homes just like Dal And Rice in many other parts of India. This peasant, homestyle dish is quite simple to make and is often jazzed up with some cream and a dollop of butter. My version is lighter with just a dash of coconut milk added for the creaminess. The coconut milk also helps tame the heat a bit. My mum used to make it without any fat added for creaminess and it was equally delicious.
If you were to cook from an authentic Indian cooking blog, traditionally the recipe would require you to first sauté and fry the onion garlic ginger and spices, then add the tomatoes, then cook it all down. Then puree it to get that smooth Indian curry sauce. But it is a lot of unnecessary work. So, today we'll follow the method I grew up with. Chuck everything in the pan in two instalments and let the spices do their magic.
The Secret To A Great Curry Sauce
The trick to a great curry is cooking the sauce perfectly. While cooking an onion and garlic-based sauce, remember that you MUST cook down the onion to the point where it loses its raw potent texture and flavour, instead becoming sweet and complex. This roughly takes about 20 minutes on medium heat. Kind of like caramelized onions, but in curry form. Everything else in the curry or sauce will need less time to cook, so if your onion is cooked down, it means everything else is done to perfection as well.
I always blend my base sauce ingredients in the blender and then sauté it with oil. I add spices and let the sauce cook down till it is darker, richer and more mellow in structure. Then and only then it is ready to receive the protein, whether it is lentils, beans, tofu, or meat. Traditionally, one would also add Rajma Masala Powder to this delicious bean curry. The Rajma Masala Powder is a complex spice blend of the basic key Indian spice powders along with interesting flavour additions of something sour like mango powder or spicy like black pepper and something earthy like mace or nutmeg. I have tried to bring a bit of that flavour profile in this Red Kidney bean Curry without needing that spice blend. A truly authentic taste that you will be able to achieve with simple pantry ingredients.
Indian Restaurant Style Sweet Raw Onion Salad
And finally, serve it with steamed rice and some sweet raw onion rings. In India, no meal whether it be at home or at a restaurant is complete without a few slices of raw onion. But sometimes the onion can be quite strong and spicy. There is a trick to remedy that as well. If you slice the onion thinly and soak it in cold water for approximately 20-30 minutes before serving, it transforms into a sweet crunchy delicious accompaniment to curry. Add a squeeze of lemon/lime and sprinkle with salt and pepper. Perfect!
This curry can be made 2 days ahead. It keeps well in the fridge for up to 3 days and gets more delicious every day as the spices develop in flavour. This Vegan Rajma Masala freezes really well too. It is always on my meal prep rotation. If you make this and love it, I would love to hear your feedback in the comments below. Thank you!
Recipe
Hungry For More Recipes? Subscribe to my newsletter. Check out Facebook, Instagram and Pinterest to see everything I share! And if you love cooking and new cookbooks, join my free Cooking Club on Facebook!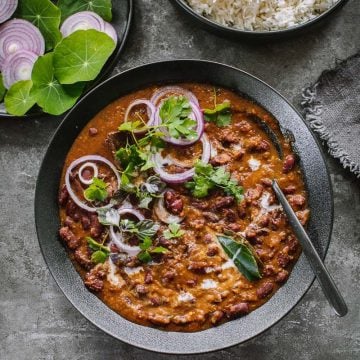 Ingredients
1

large red onion

,

trimmed peeled and quartered

3 to

matoes

,

chopped

4

garlic cloves

½

inch

piece ginger

1

small green chilli

,

or 1/2 long green cayenne chilli

1/2

cup

water

1

tablespoon

olive oil

1

teaspoon

cumin seeds

1

bay leaf

1

cinnamon stick

½

teaspoon

ground turmeric

1

teaspoon

ground coriander

1

teaspoon

garam masala

½

teaspoon

red chilli powder

½

teaspoon

ground cardamom

½

teaspoon

ground black pepper

1

tablespoon

pomegranate molasses

1 ½

tablespoons

seas salt flakes

1

tablespoon

kasoori methi

,

dried fenugreek leaves

2

X 400g cans red kidney beans

,

rinsed and drained

¼

cup

coconut milk

Fresh coriander leaves
Instructions
Place onion, tomato, garlic, ginger, chilli and water in the jug of a blender and process to a smooth paste.

Heat oil in a large (4L) cooking pot or Dutch oven on high. Add cumin seeds, bay leaf and cinnamon. In an instant, as the seeds start crackling, add the onion-tomato puree to the pot. Mix well.

Add turmeric, coriander, garam masala, chilli powder, cardamom, black pepper, and pomegranate molasses to the pot. Mix well. Reduce heat to medium. Cook uncovered (stirring frequently ) for approximately 25-30 minutes until the sauce has turned a dark, rich shade and smells fragrant.

Add salt, kasoori methi, red kidney beans and coconut milk. Mix well. Simmer and cook for another 10 to 15 minutes until creamy and heated thoroughly.

Remove from heat. Garnish with coriander and sliced onion rings. Serve hot.
Notes
If you can't find pomegranate molasses, you can use tamarind paste or mango powder or even a good squeeze of lime. It is to add a bit of acidity and sourness to round the flavour of the curry.
Kasoori methi (dried fenugreek leaves) are available at most Indian grocery stores and some supermarkets. Although there is no true substitute for the earthiness and slight bitterness of fenugreek, if you don't have kasoori methi on hand, try adding a tiny bit of mustard powder or mustard paste.
Did you make my recipe?
I'd love to hear how you went! Tag me on Instagram @cookrepublic