A smoky silky-smooth homemade Baba Ghanoush, made from fire-roasted eggplant, tahini, garlic and lemon is one of my favourite eggplant dishes to eat. But I think I love eating Baba Ghanoush even more ever since I started making my speedy Homemade Lebanese Flatbread. The easy, yeasted dough gives birth to fluffy, pillowy soft bread with the most perfectly charred puffed bubbles. It is now the only way I'll scoop and eat my Baba Ghanoush!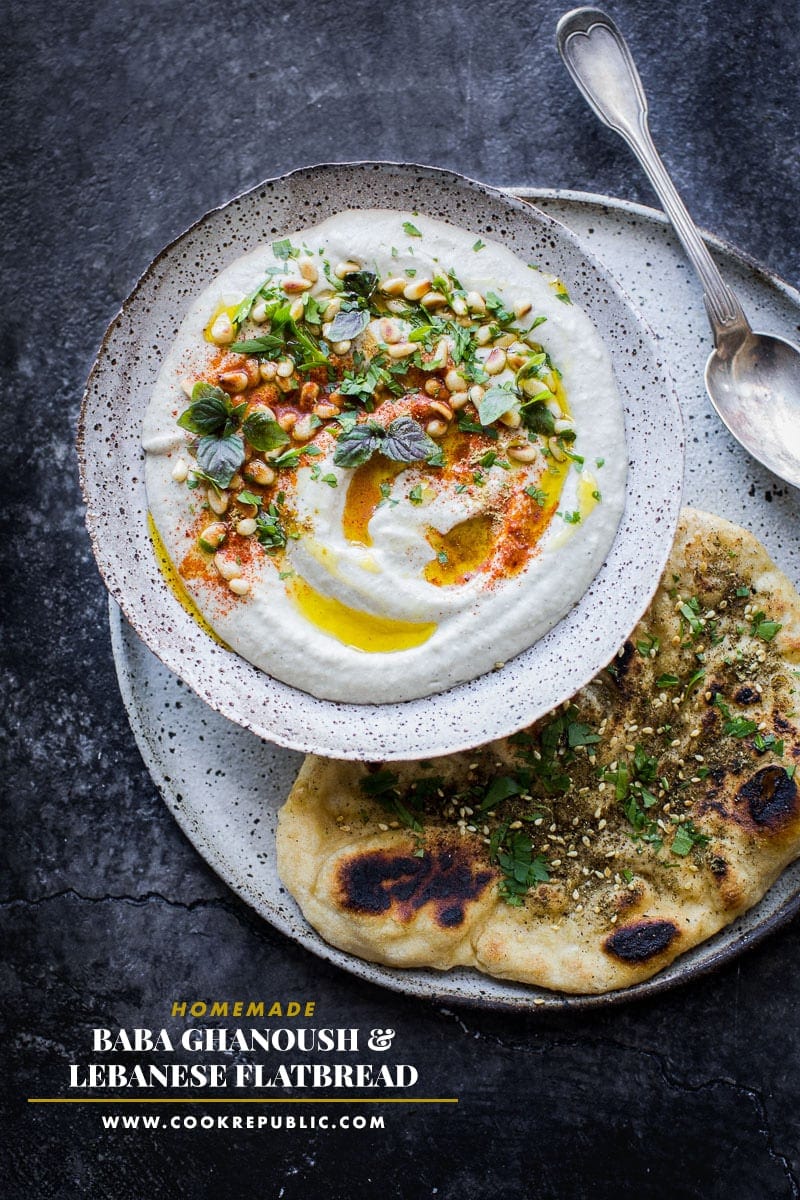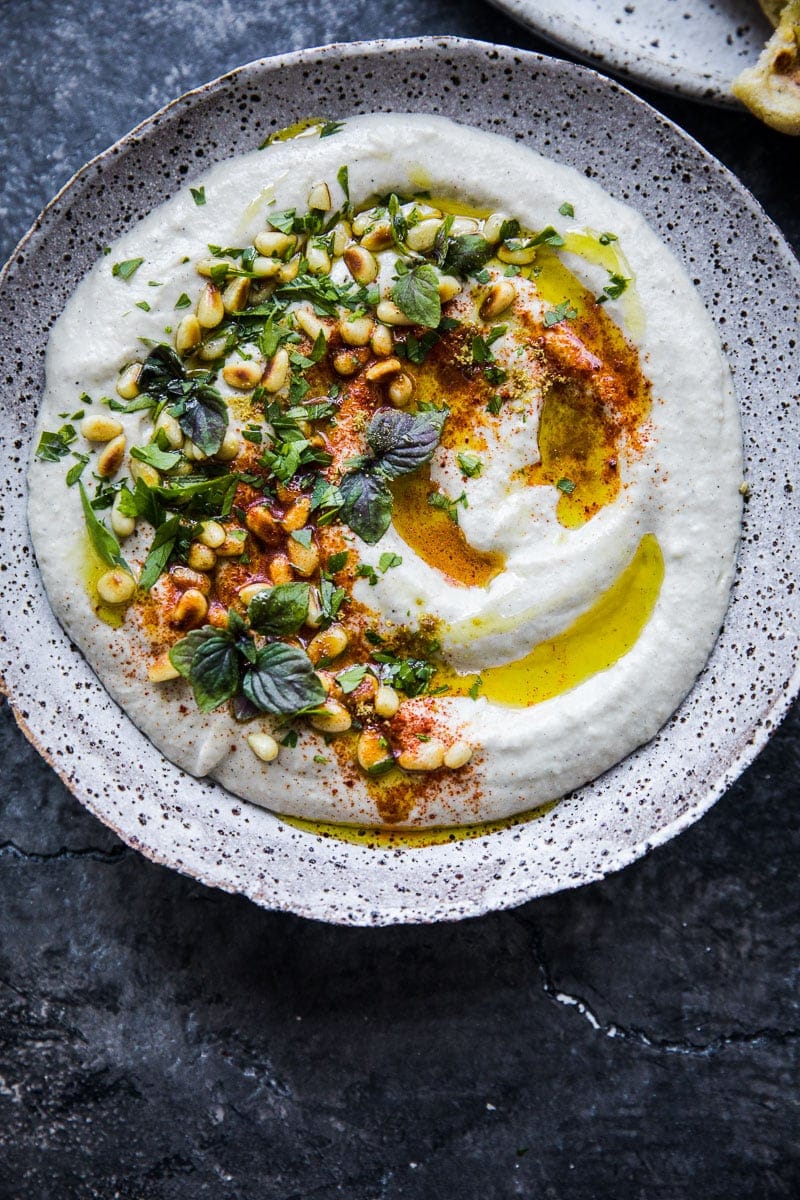 A classic, easy Baba Ghanoush
Every week when a voluptuous deep purple eggplant turns up in my veggie box, I immediately fire up my portable camping stove and roast the eggplant on an open fire. There is absolutely no indecision involved. Get an eggplant, grill it on an open fire. As simple as that. It is usually for this twice-cooked Eggplant Curry Dip (Baingan Bharta) or the Baba Ghanoush I am about to share today. If there are more eggplants, then this Miso Roasted Eggplant recipe comes into play. Otherwise, it is Smoky eggplant dips all the way!
In my kitchen, I have an induction cooktop. The portable camping stove, a cheap $20 purchase from K-Mart takes care of my eggplant and capsicum grilling needs. What I love about roasting an eggplant on an open fire is the caramelization and the smokiness that transforms the fruit into a sublime eating experience. It can then be transformed into so many delicious things and it makes a nutritious, healthy, after-school snack which my boys love. And they are also huge fans of the Homemade Lebanese Flatbread. In fact, I think they might love it a little bit more than the Baba Ghanoush itself. Just like me.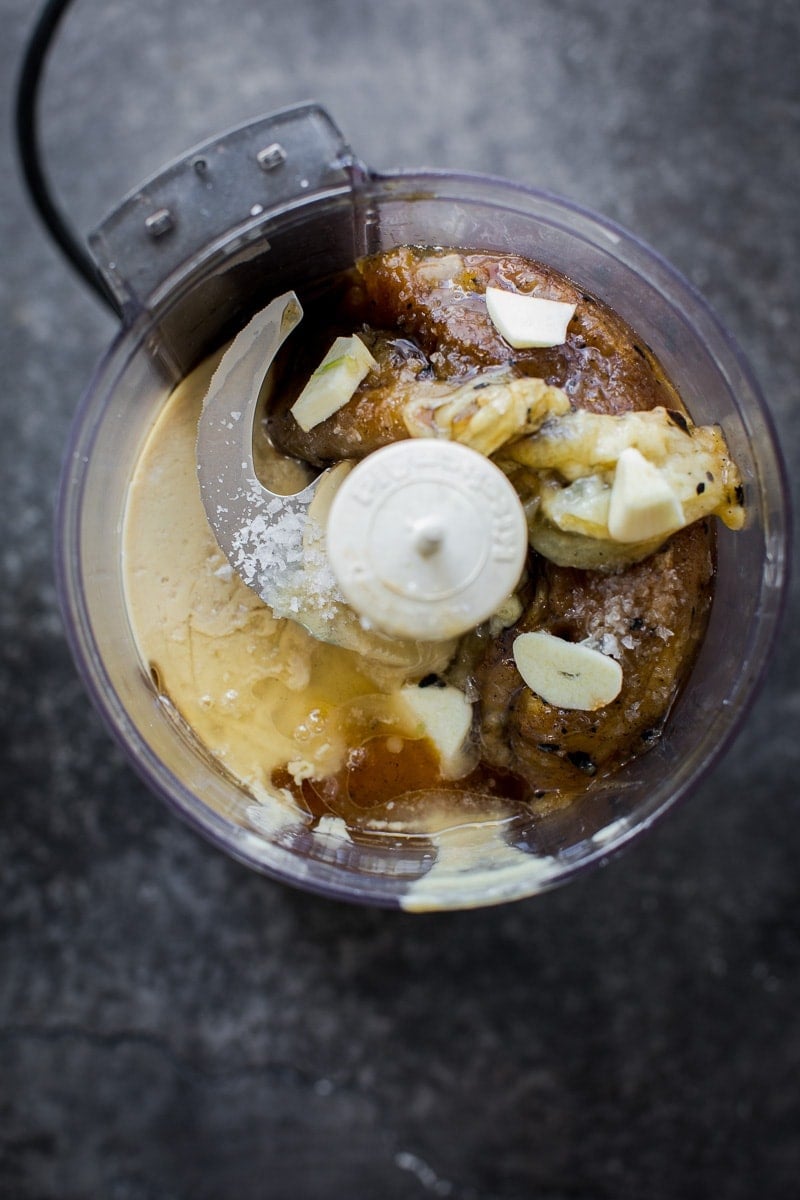 The Secret To A Perfect Authentic Lebanese Flatbread
I have never travelled to the Middle East. My knowledge of Middle Eastern food is cursory and derived from market stalls hawking traditional Middle Eastern fare, cookbooks and cooking shows. I don't actually know what traditional Lebanese bread in Lebanon would be like, I suppose there are many variations across all the regions. A deep dive on the internet (and a lovely reader of my blog from Beirut) tells me that it is called Man´oushe. It is a yeast-leavened bread, with pizza-like consistency that is stretched and cooked in a hot pan until it puffs up with air pockets. It is smeared with Za´atar and usually had for breakfast.
For the flatbread, I use a combination of the pizza dough recipe on the blog and my authentic speedy Naan recipe from my cookbook. And boy, does it work! In less than an hour, you can enjoy a thoroughly rustic, fluffy flatbread with all the gloriously delicious charred puffed bits. This Lebanese flatbread is not only super easy to make but will have you addicted. Hook, line and sinker!
The secret to that fluffy puffed rustic bread with all the street-style charred pockets is actually water! When you brush one side of the rolled dough with water and put it on a sizzling hot cast iron pan, it generates steam. The steam helps create a thin outer bread crust while sealing moisture on the inside. Simple clever science at work! I use this technique for my naans and also my sourdough loaves. It creates authentic bread every single time. Whether it is a full-fledged loaf or just a flatbread.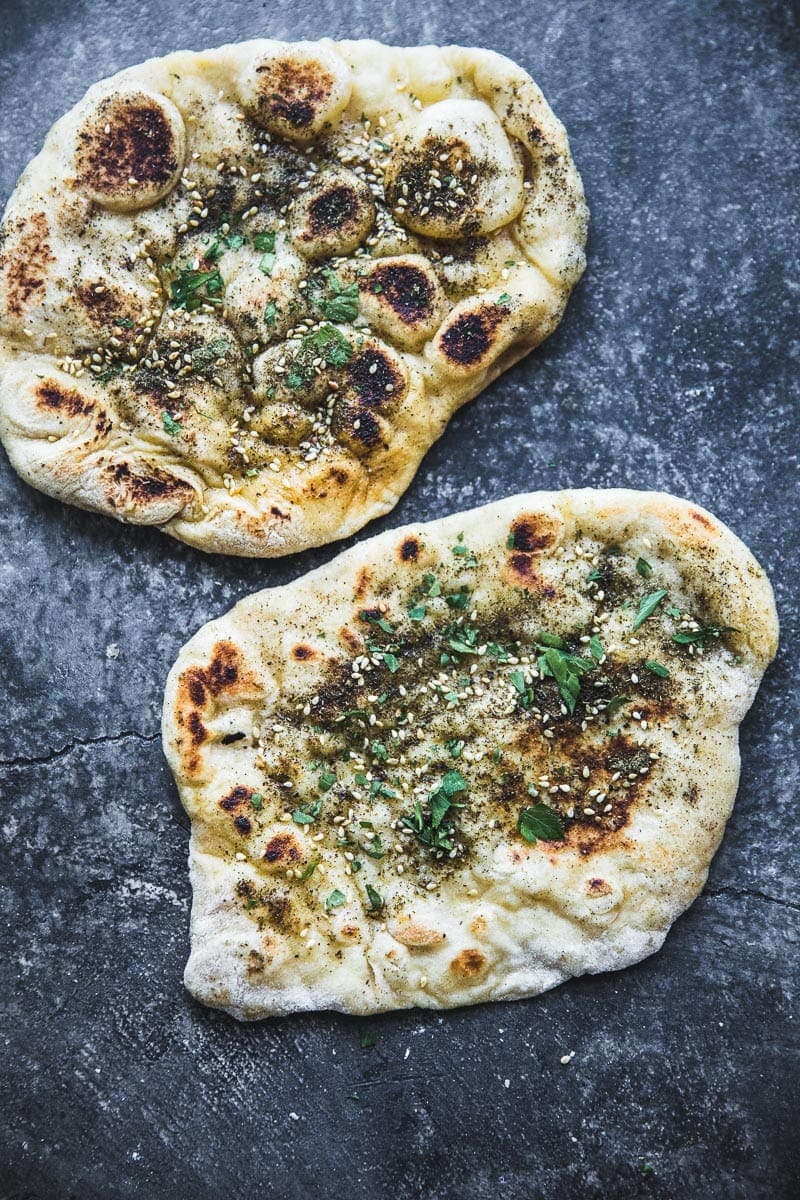 Recipe
Hungry For More Recipes? Subscribe to my newsletter. Check out Facebook, Instagram and Pinterest to see everything I share! And if you love cooking and new cookbooks, join my free Cooking Club on Facebook!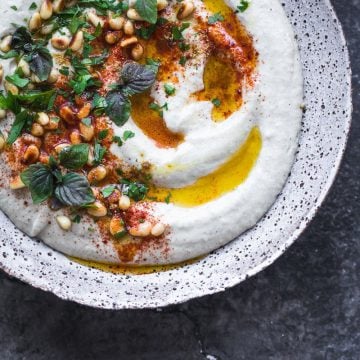 Ingredients
1

large eggplant

¼

cup

tahini

1

large garlic clove

1/2

lemon

,

juiced

1

teaspoon

sea salt flakes

olive oil, smoked paprika, ground cumin, toasted pine nuts, chopped fresh parsley, micro herbs

,

- to serve
Instructions
Roast and char eggplant on an open fire on medium-low heat. Use tongs to rotate and cook all over until the eggplant is completely cooked, the skin flaking and juices are starting to run out (the process should take 10-15 minutes)

Place roasted eggplant in a shallow rimmed bowl. Rest for 10 minutes and allow to cool to room temperature. At this point, sticky juices will be released in the bowl. Pour this out into a bowl for later.

Gently peel the flaking skin of the eggplant and scoop the flesh into a small food processor. Add the reserved eggplant juices, tahini, garlic, lemon juice and sea salt flakes. Process into a silky-smooth purée.

Scoop baba ghanoush into a shallow serving bowl. Using the back of a spoon, make a swirling pattern in the dip. Drizzle olive oil into the swirls. Sprinkle smoked paprika and ground cumin. Top with toasted pine nuts, parsley and micro herbs.
Did you make my recipe?
I'd love to hear how you went! Tag me on Instagram @cookrepublic
Recipe
Hungry For More Recipes? Subscribe to my newsletter. Check out Facebook, Instagram and Pinterest to see everything I share! And if you love cooking and new cookbooks, join my free Cooking Club on Facebook!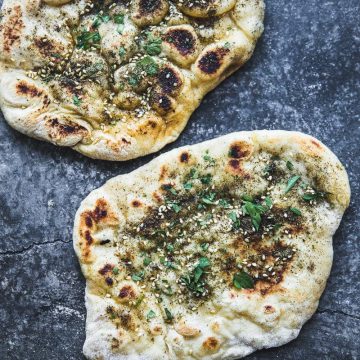 Ingredients
2

cups

strong white flour

,

or all-purpose flour

1

teaspoon

dried yeast

1

teaspoon

raw sugar

1

teaspoon

sea salt flakes

2

tablespoons

warm water

1

tablespoon

olive oil

¾

cup

warm water

Extra flour for dusting

olive oil, Za´atar, chopped parsley

,

to serve
Instructions
Place flour in a wide bowl. Make a well in the centre.

Place yeast, sugar, salt, 2 tablespoons warm water and oil in a small bowl. Mix once and allow to bloom for 5 minutes.

Pour the yeast mixture in the centre of the flour in the bowl. Mix lightly with your hand for a few seconds. Add the rest of the warm water and mix and knead into a smooth pliable dough. This should take about 5 minutes.

If the dough is too sticky, add a teaspoon of flour to make it more workable. Form a dough ball. Cover the bowl with a tea cloth and rest for at least 30 minutes to 1 hour. (You can also rest it for up to 6-8 hours in a cool spot of your kitchen)

When ready to make flatbreads heat a large cast-iron skillet or frying pan on high until smoking. Reduce heat to medium.

Divide dough into 4 balls. Stretch each ball gently with your fingertips to resemble a triangular shape approximately 20cm in length and 15cm in width. Make sure you stretch it thinly (less than 0.5cm) in thickness. You may use a rolling pin to roll this shape if stretching doesn't work.

Brush one side of the rolled flatbread with water. Gently place your rolled flatbread, water side down on the hot pan. Cook until puffed bubbles start to appear on the top surface. Flip the flatbread and cook the other side, still on medium heat till desired char is achieved.

Once cooked on both sides, remove onto a plate. Drizzle extra virgin olive oil, sprinkle Za´atar and chopped parsley. Enjoy hot!
Did you make my recipe?
I'd love to hear how you went! Tag me on Instagram @cookrepublic