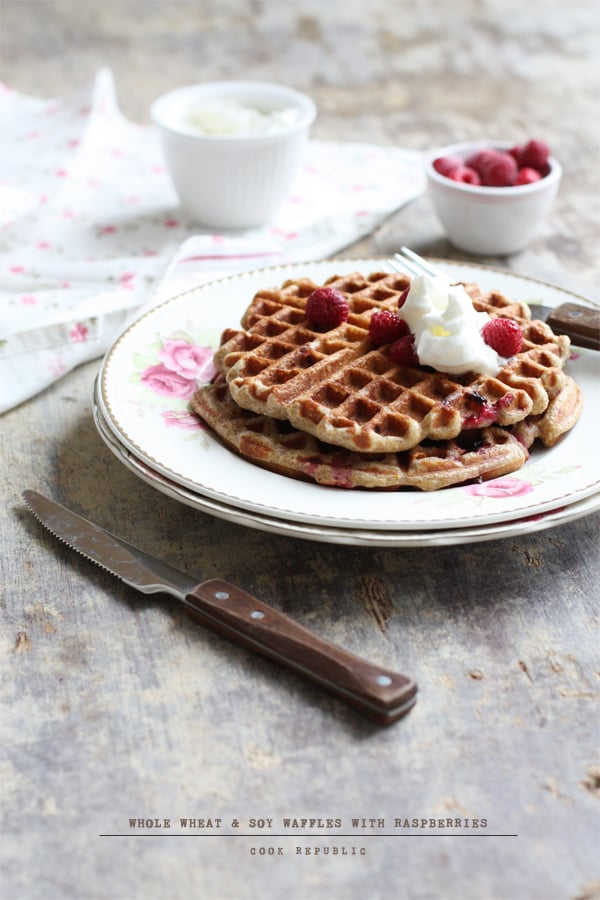 My Cuisinart Waffle Maker is two years old. It makes round waffles with four segments. The waffle pockets are not as deep as those in Belgian waffle makers. This means that the pockets don't hold an insane amount of topping thereby reducing the calories and guilt. This then means that we can have them every other weekend. Which is what we have been doing for the past two years.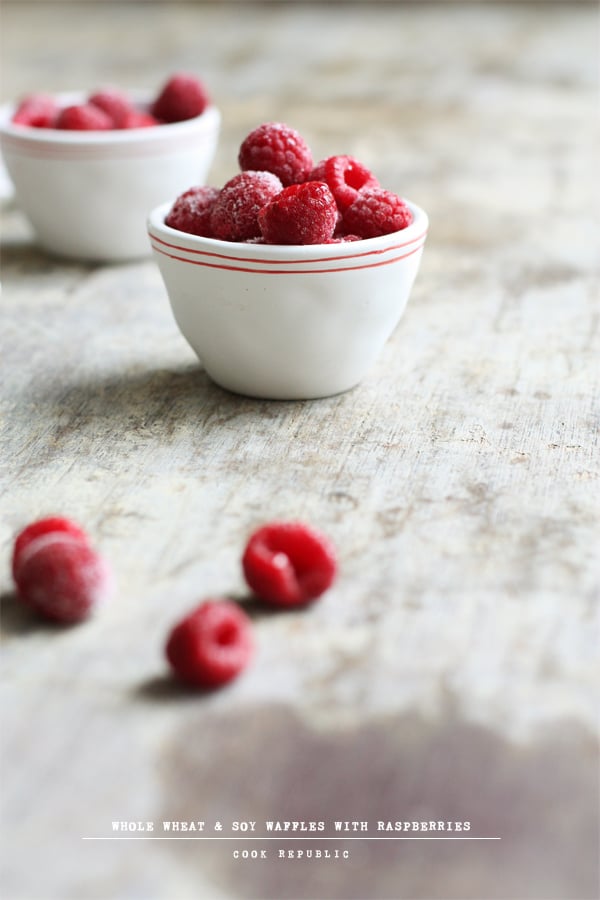 All the waffles I make are leavened by baking powder. I have yet to try a yeast recipe which is something that has been on my to-do list for a while (I would love to try out yours if you have one?). I love the ease of a waffle recipe that uses baking powder. There is absolutely no waiting time from mixing to making. Waffles can be as simple or as complex as you want them to be and unlike pancakes which tend to go soggy if you are using too many ingredients in them, the waffles stay crunchy and golden every single time.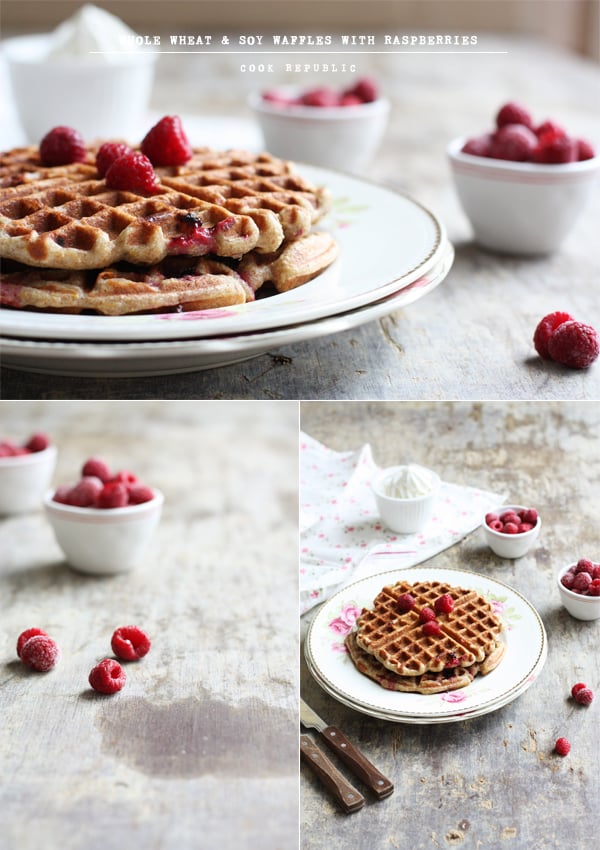 A few months ago I threw together some ingredients one Sunday morning and we had what everyone deemed were the best breakfast waffles ever. I have since tinkered with the flavours and ingredients and everyone's assessment of these waffles still stands true. These waffles are wholesome, packed with flavour and look gorgeous. They have a complex set of ingredients that somehow come together really well. If you don't have a waffle maker, try this exact same mix as a pancake. I have and it is beautiful. The waffles this recipe yields also freeze well for a healthy and indulgent mid-week breakfast.
[print_this]
WHOLE WHEAT AND SOY WAFFLES WITH RASPBERRIES
Delicious and wholesome waffles packed with whole wheat, rye, soy milk, pecans and plump juicy raspberries for a healthy and decadent weekend breakfast.
Makes -
Ingredients
1 1/4 cups whole wheat flour
1 cup rye flour
2 tablespoons raw sugar
1 tablespoon baking powder
1 teaspoon salt
2 eggs, lightly beaten
1 3/4 cups soy milk
1 tablespoon vanilla extract
4 tablespoons unsalted butter, melted
3/4 cup frozen raspberries (or blueberries)
zest of half an orange
1/2 cup pecans, chopped
Method
Place both flours, sugar, salt and baking powder in a mixing bowl. Stir to combine. Add milk, vanilla extract and egg. Mix well. Stir in melted and cooled butter. Gently stir in berries, orange zest and pecans. Rest batter for 5 minutes.
Preheat waffle iron as per the manufacturer's instructions. Spoon 1/2 cup batter in the center of the iron. Close lid and cook as per your waffle maker's instructions.
Alternatively, spoon 1/2 cup batter on a pre-heated crepe pan and proceed to make pancakes like you would usually make them.
Serve hot with choice of toppings.
My Notes
To freeze, cool completely, wrap in baking paper and seal in freezer tight containers or zip lock bags. Keeps well in the freezer for a few weeks.
A waffle batter has to be stodgy and not runny otherwise you won't get crunchy crust waffles.
[/print_this]