The good old Samosa is probably the most loved Indian snack around the world. Who doesn't love a perfectly fried golden, crispy pastry stuffed with deliciously spiced potatoes? Now, what if you could make it healthier without the deep frying? My easy Air Fryer Samosas are every bit as traditional, authentic tasting, vegan and air-fried instead of deep-fried. They are so scrumptious, you will be making them again and again!
Making Samosas At Home Is Easy In The Airfryer
Samosas may seem daunting to most but they are one of the easiest snacks to make. Made up of mostly easy everyday ingredients, there are only two components to cooking a samosa. The filling and the pastry. When I first started experimenting with samosa recipes, I would often only make the filling. Boil some potatoes, mash them and mix them with spices. Nothing could be easier. The filling by itself is quite versatile and I have used it to stuff grilled sandwiches, wrap in tortillas or make giant veggie burger patties. Once I got the hang of creating the most perfect, authentic tasting samosa filling; I set out to tackle the pastry.
With the Instant Vortex Plus Air Fryer Oven, I even managed to make them healthier by eliminating the need to deep fry them. This amazing appliance with a 10-liter capacity is surprisingly compact and has the most covetable feature of any Air Fryer. It has a door that opens like an oven door! This allows you to slide in multiple trays to air fry your favourite snacks. No more pesky baskets! The perforated metal trays allow for great air circulation which means your snack cooks to crispy perfection and is evenly browned all over. It is the perfect Air Fryer to cook my Veggie Samosas in.
Mastering The Samosa Pastry
Making the samosa pastry dough is like any other dough, except you use very little water and more shortening/fat/oil to get a pastry that is crispy and a pleasure to bite into. A few important things to remember
Always use plain white flour.
It is important to rub the oil, salt and ajwain seeds into the flour to form breadcrumbs before adding water. This creates a beautiful flaky pastry.
Once the dough has rested and it is time to roll, you must roll on a stone benchtop or marble/granite pastry board. This is because you won't be using any extra flour or oil to roll the dough. The dough will also be quite stiff and rolling it on stone helps it relax and grip the surface better without sticking to your rolling pin. If you don't have a stone surface to work on, roll the dough between two sheets of baking/parchment paper instead.
Make sure you are rolling the pastry to a 2mm thickness. Anything thinner will tear when you are stuffing it with the filling and anything thicker will give you a doughy samosa that won't cook through properly.
That Authentic Punjabi Samosa Taste
Once you follow my recipe and use the ingredients as stated, you will be amazed at how authentic your samosas will turn out. Just like the traditional Punjabi samosas at Indian takeaway places or restaurants.
Potatoes - Samosas require potatoes that can be boiled and mashed easily. Here in Australia, the Sebago potato is a great all-rounder and a perfect potato for our samosa recipe. It is also the variety of potatoes most commonly found at markets and stores. I buy the brushed Sebago potatoes, wash them to remove surface dirt and boil them whole in a pot of boiling water for 20-25 minutes on high until a skewer poked in tells me that they are done. I remove them from heat and cool them for 10-15 minutes before peeling and using them in my recipe.
Spices for the filling - I must've tried dozens of potato filling recipes over the past couple of months to get the perfect samosa filling. The filling in a traditional Indian samosa is not overly spiced. In fact, many rustic recipes hailing from street vendors don't even have turmeric in them. But what they do have is a textural mix of whole and ground spices. The combination of crushed and toasted fennel, coriander and cumin seed is a fixture in all samosas.
As is amchur or chaat masala - the spice that gives it its unique tangy "Chaat" flavour (street-food). A true samosa will almost always have ginger and green chilli but no garlic. Another unique spice used in samosas is asafoetida (also known as hing). It is a pungent, almost stinky digestive that helps make the food gentler for your stomach especially if it is fried. It smells more pungent than it tastes and adds a delicious savouriness to the dish. In the case you can't find asafoetida, you can use garlic powder instead. It is very close in its flavour profile.
The samosa stuffing mixture can be made up to 3 days in advance and stored in the fridge until ready to use. Cooked samosas can stay in the fridge for up to 3 days as well. To reheat them, simply pop them in the microwave. I hope you love this authentic samosa recipe, it is our favourite movie-watching snack. If you make it, I'd love to hear your feedback in the comments below.
Recipe
Hungry For More Recipes? Subscribe to my newsletter. Check out Facebook, Instagram and Pinterest to see everything I share! And if you love cooking and new cookbooks, join my free Cooking Club on Facebook!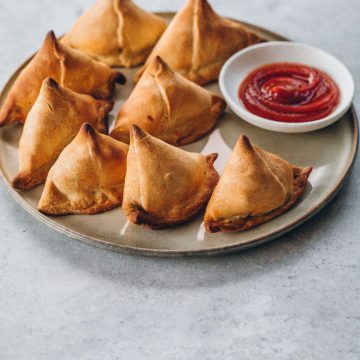 Ingredients
For The Samosa Pastry
2

cups

(

300

g

)

plain flour

3

tablespoons

olive oil

½

teaspoon

ajwain

,

carom seeds

¾

teaspoon

sea salt flakes

½

cup

(

125

ml

)

cold tap water + extra 1-2 tablespoons as needed
For The Samosa Filling
350

g

boiled and peeled potatoes

,

roughly mashed

1/3

cup

frozen green peas

,

thawed

1

tablespoon

olive oil

1

teaspoon

fennel seeds

1

teaspoon

coriander seeds

½

teaspoon

cumin seeds

1

tablespoon

grated ginger

1

tablespoon

chopped green cayenne chilli

1

teaspoon

amchur or chat masala *

½

teaspoon

garam masala

¼

teaspoon

red chilli powder

¼

teaspoon

ground turmeric

¼

teaspoon

asafoetida or garlic powder **

¼

teaspoon

crushed black pepper

½

teaspoon

sea salt flakes

,

or to taste

1

tablespoon

chopped fresh coriander leaves

Oil for brushing
Instructions
To Make Samosa Pastry Dough
Add flour, oil, carom seeds and salt to a bowl. Mix lightly with your fingertips for a few minutes until the mixture resembles breadcrumbs. Add half a cup of cold water and knead into a stiff dough. If the dough is too hard to knead, add a tablespoon or two of water to increase pliability of the dough. The dough should be firm and not soft. Cover with a tea towel and set aside for 30 minutes.
To Make Samosa Filling
Heat a tablespoon of oil in a large frying pan on medium. Crush fennel seed, coriander seed and cumin seed using a mortar and pestle. Add to the frying pan along with ginger and green chilli. Sauté for a few seconds.

Add mashed potato, peas, amchur, garam masala, chilli powder, turmeric, asafoetida, black pepper and salt. Sauté for a minute or two until spices are fragrant and everything is combined thoroughly. Remove from heat and add coriander leaves. Mix well. Allow to cool for 10 minutes.
To Make Samosas
Divide the dough into 6 equal sections. Roll each portion into a round ball. Flatten it in the palm of your hand. Place the disc on a stone benchtop/pastry marble board. Using a rolling pin, roll the dough into an oblong shape (thin oval with long straight edges). Make sure it is about 2mm in thickness. It is important to roll on stone/pastry marble board. If you do not have these, then roll the dough between two pieces of parchment/baking paper. Do not use extra flour when rolling.

Cut the oblong shape horizontally down the middle to get two semi-circle shapes. Place the semi-circle with the flat edge on top. Dip your fingers in water and wet the top straight edge of the semi-circle. Grab the two ends of the straight edge and bring them together overlapping slightly to create a hollow cone. Pinch and seal the edge from the pointy end of the cone down to the wide opening.

Bring the tip of your forefinger and thumb together to form an "O". Rest the tip of the cone in the hollow "O" and the rest of the pastry in your palm. Fill this pastry pocket with 2 tablespoons of the potato mixture. Wet your fingertips with water and run them along the lower rim of the pastry pocket. Pinch the ends together to seal the samosa. Place the samosa wide side down on a flat surface and pinch the corners of the wide bottom to seal completely. Repeat with the rest of the dough and filling to get approximately 12 samosas.

Brush the airfryer tray lightly with olive oil. Place samosas on the brushed tray with the pointy top facing up. Lightly brush the samosas with olive oil using a pastry brush.

Preheat the Instant Vortex Plus Air Fryer at 180°C. When it beeps and asks for the food to be put in, slide in the samosa tray and air fry at 180°C for 18 minutes. Remove when done.

Serve hot with tomato ketchup, a date-tamarind chutney or your favourite hot sauce.
Notes
* Amchur - Amchur is dried mango powder. It adds a distinct tang and sourness to the samosa mix and is widely used in Punjabi (North Indian cuisine). Amchur can be substituted with Chat Masala (a spice mix that contains amchur amongst others things) which has a similar sour and tangy flavour profile. Both can be sourced at speciality spice shops or Indian grocers.
** Asafoetida - Asafoetida also known as hing is a pungent digestive powder used in a lot of Indian dishes to make them easier to digest, especially the fried ones. It adds another layer of unique savouriness to the dish. When not easily available, it can be replaced by garlic powder for a similar taste.
Did you make my recipe?
I'd love to hear how you went! Tag me on Instagram @cookrepublic
disclaimer - This post and recipe were developed for Instantpot. I have been an avid user of the original Instantpot and now the Instant Vortex PLus Air Fryer Oven and use them both extensively in my weekly meal preps.