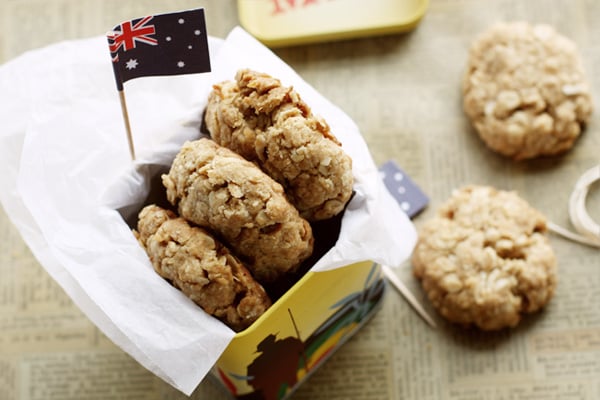 There are a million and one variations of Anzac Biscuits out there. Maybe I am exaggerating a bit here. With only seven ingredients, how many variations can there possibly be? Before I embarass myself by stating a number that would suggest my inability to do Math, let me tell you that if there was one variation that you could bake then let it be this one.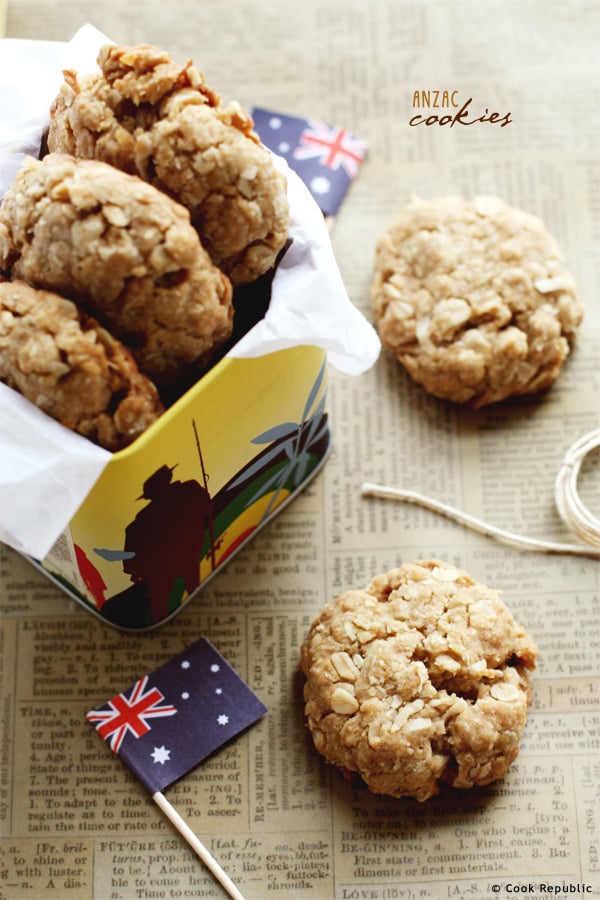 Why? Because this is the cookie version of the mighty Anzac Biscuit. Anzac biscuits were made famous during World War I when they were cleverly created by loving mothers and pining housewives for their brave men at war. Soldiers from Australia and New Zealand were in for a treat when they received these golden, chewy bikkies in care packages all the way back from home. The omission of egg and the inclusion of golden syrup not only ensured that the biscuits were chewy but made sure they stayed nice, firm and virtually fresh on their long journey to the frontline.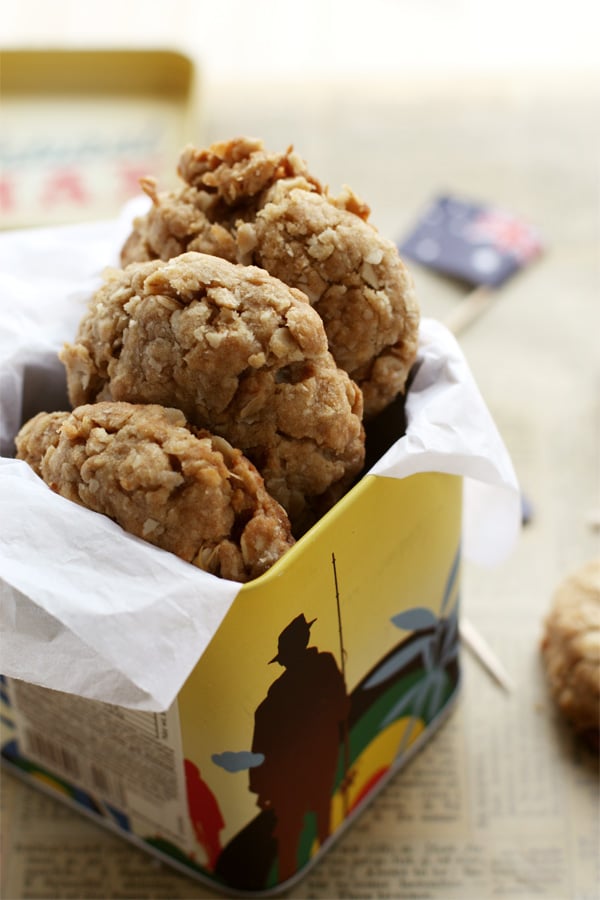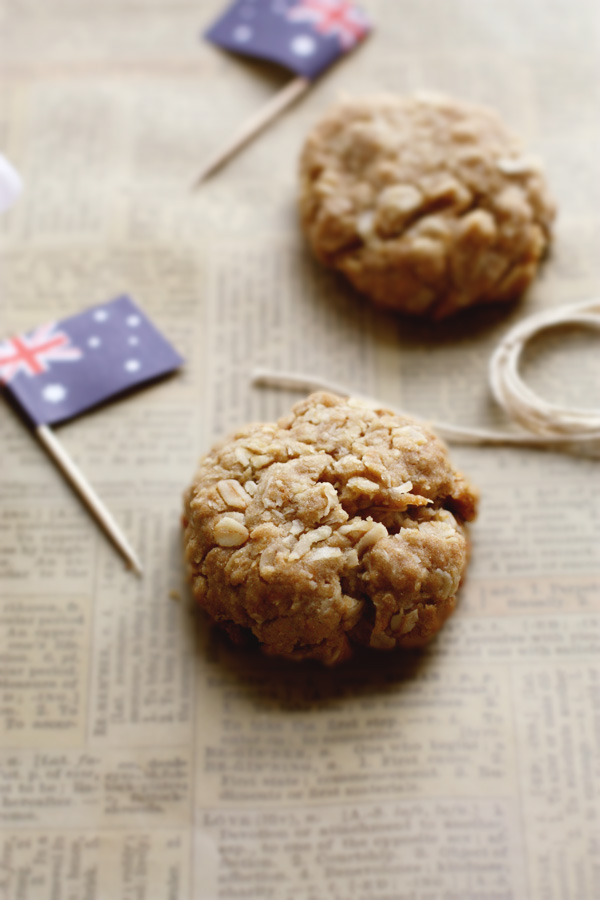 The traditional Anzac biscuit is large, golden, oat flecked and quite flat. My version adapted from Bill Granger's version is a fat, chubby cookie with a really chewy middle and a delightfully juicy coconut texture. Anzac Day is April 25th every year. Maybe this year you will give this version a go? Even if it is just a fun cultural exercise. I love my Anzac Biscuits/ Cookies chewy. Crispy or Chewy? What is your preference?
[print_this]
ANZAC COOKIES
Preparation Time - 10 minutes
Baking Time - 20 minutes
Makes 16
Ingredients
1 cup plain flour
1 cup dessicated coconut
1 cup rolled oats
2/3 cup brown sugar
125g butter
1 tablespoon golden syrup
1 tablespoon manuka honey (or any other kind)
1/2 teaspoon bicarbonate of soda
1 tablespoon boiling water
Method
Preheat oven to 170C. Grease and line a cookie sheet with baking paper.
Place flour, coconut, oats and sugar in a bowl. Mix well. Place butter, golden syrup and honey in a saucepan over low heat until butter melt. Combine bicarbonate of soda and boiling water in a small bowl and add this to the butter mixture. Stir. Pour over oat mixture and bring all ingredients together.
Roll tablespoonfuls of cookie dough into balls and place on the cookie sheet, leaving at least 4cm around each cookie to allow it to spread. Flatten each cookie gently with the tip of your fingers.
Bake for approximately 15 to 20 minutes until cookies are golden brown around the edges. Remove from oven, cool slightly on tray before transferring to a wire rack to cool completely.
My Notes
Don't overbake them as they won't be chewy in the middle if overbaked. The cookies continue to cook even after you remove them from the oven. I also like to add a handful of crushed macadamia nuts to the dough for extra crunch. I adjust the quantity of honey accordingly to balance the addition of extra dry ingredients.
[/print_this]