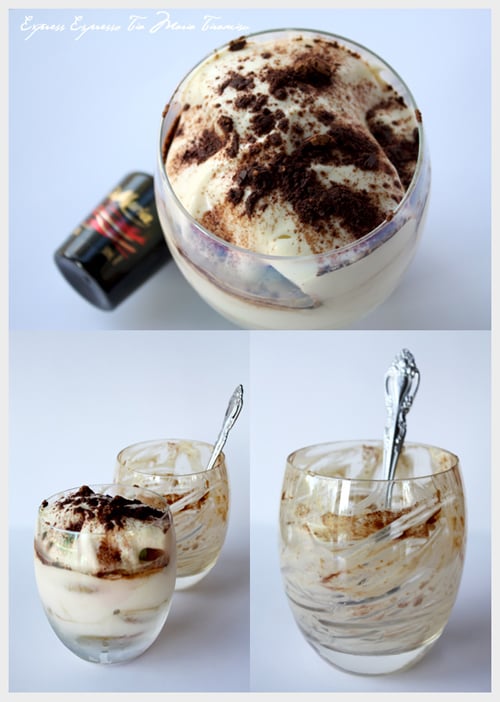 With a title so lyrical, how can you not be tempted? Last night in a moment of insanity that only extreme lovers of food and all things sweet exhibit, I decided to make tiramisu at 10.30pm. I had had a long day, had just finished working and posting on my other blog and as dinner was being heated, I craved tiramisu so bad, it made me want to cry. Unreasonable? Maybe, maybe no. I browsed through a few tiramisu recipes and didn't really like any that much. With the basic idea in my head, I gathered my 6 ingredients and set to work. When I write that this recipe is "express", I really mean it. It was not only fast to whip up (no pun intended) but the way it was made, assured that it was ready to eat after a mere chilling time of 20 minutes while we ate our dinner. Usually tiramisu recipes call for a quick soak of the sponge biscuits in the espresso liquid, but I made extra quantity of the liquid and soaked the biscuits a tad longer so they were already fluffy and ready to eat when they went into the glass for assembling into decadent layers.
EXPRESS ESPRESSO TIA MARIA TIRAMISU
Preparation Time : 10 minutes/ Chilling Time : 20 minutes/ Serves 2-4 depending on your guilt
INGREDIENTS
8 savoiardi biscuits, each broken into 3 pieces
3/4 cup strong espresso coffee, cooled
1/2 cup Tia Maria
1 cup light thickened cream
250g mascarpone cheese
3 tbsps icing sugar
METHOD
Mix espresso and Tia Maria in a medium bowl. Set aside. Combine cream, cheese and sugar in a medium bowl. Whisk for 2-3 minutes, till light and fluffy.
Use 2 or 4 wide mouth glasses or bowls to assemble the tiramisu. Dip biscuit pieces in the espresso mixture and let soak for 30-40 seconds, till the biscuits become almost sponge-cake like. Place 3-4 pieces in the bottom of the glasses/bowls. Top up with the cream mixture. Continue layering finishing with the cream layer on top. Dust with cocoa.
Chill for a minimum of 20 minutes, a maximum of 2-3 hours. You'll probably won't be able to wait any longer to lick the bowls clean.