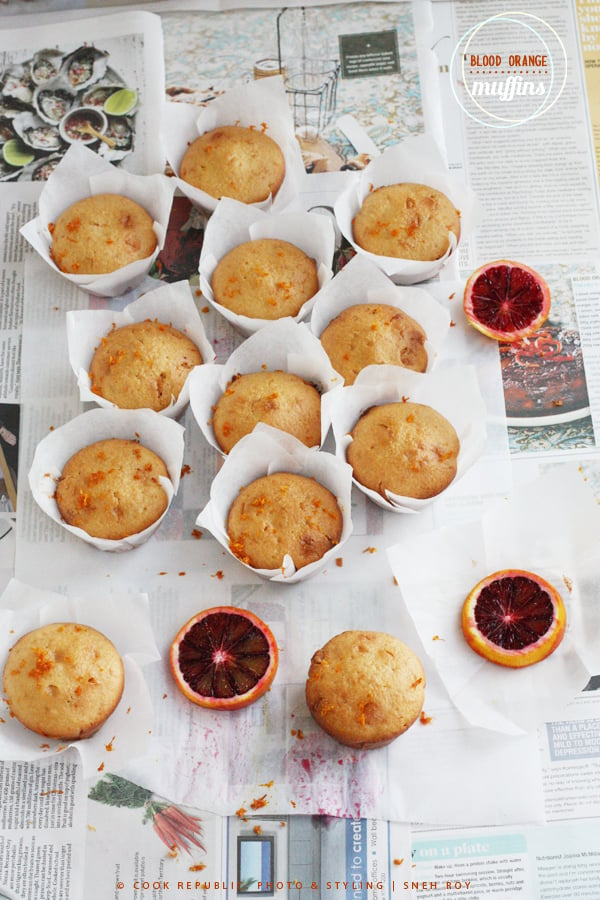 I recently bought a set of digital kitchen scales. It is like having a toy in the kitchen. I keep putting random things on it just to see what they weigh. It amuses me. It is addictive to predict what something will weigh just before you hoist it on the scales. It is childish. It is fun. It is this one by a brand called Soehnle and it does its job well. I really have no clue how I survived all these years with my red retro contraption. There was no fun weighing ingredients all these years, I can tell you that.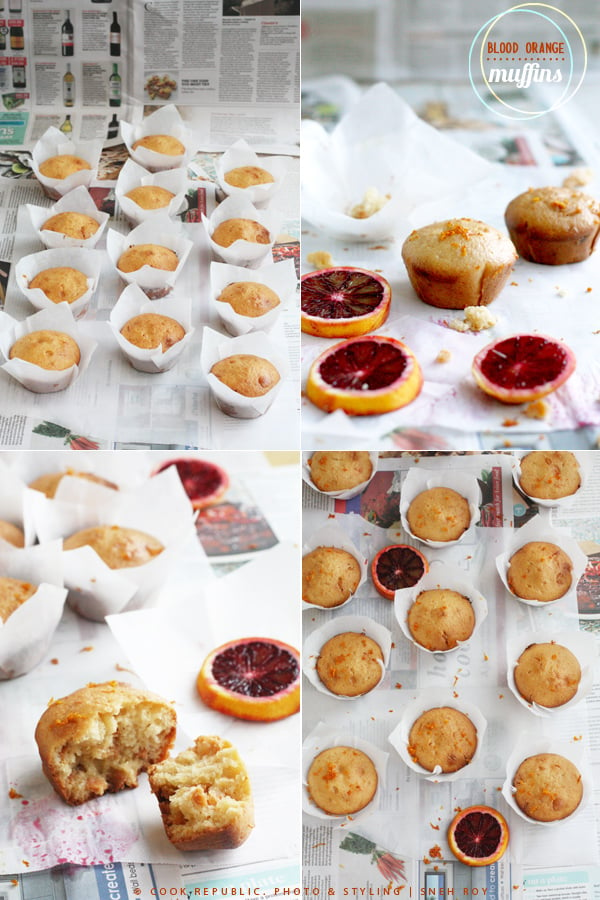 I bought a bag of juicy blood oranges from the Frenchs Forest Organic Markets last week and after whitling the bag down to one lone orange, decided to make muffins out of it. I measured ingredients for this recipe with my brand new scales. This is a simple recipe, a no brainer. Mix dry ingredients with wet and bake. The blood orange gives the muffin a lovely burnt sunset hue, the polenta adds a wonderful crunch, the white chocolate bits are little pockets of surprise and the rice bran oil adds a delightful lightness.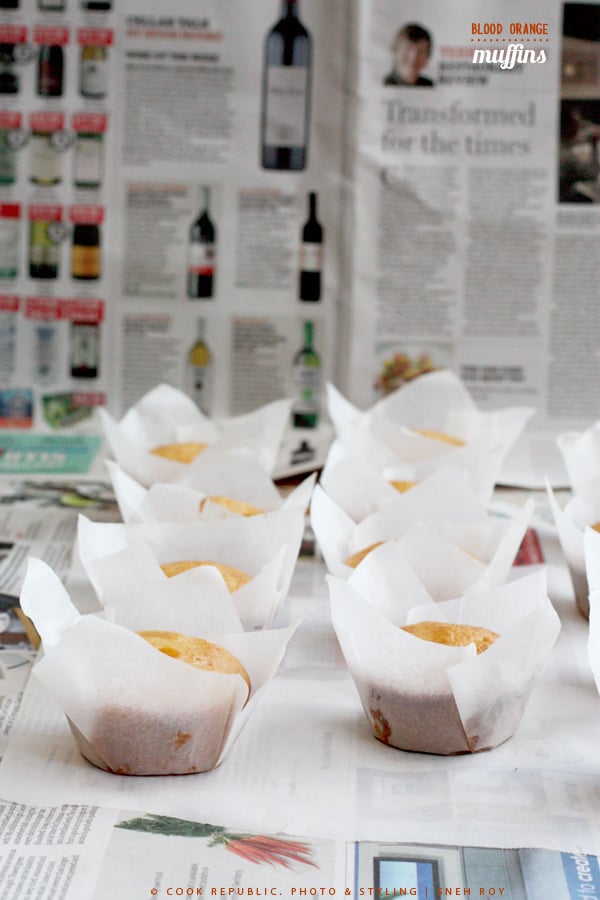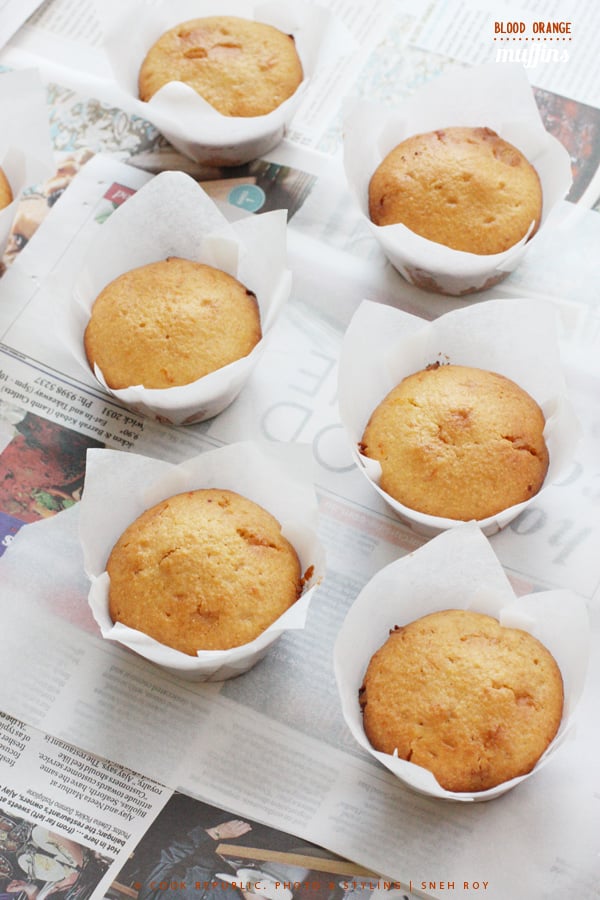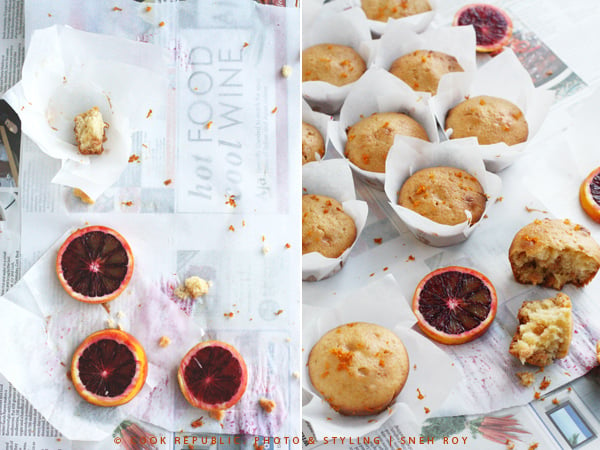 SO tell me, what kitchen gadget or equipment have you bought in recent years that made your life much easier?
[print_this]
BLOOD ORANGE MUFFINS
Gorgeous citrus muffins with the tang of blood orange, crunch of polenta and sweetness of white chocolate!
Preparation Time - 10 Minutes
Cooking Time - 20 Minutes
Makes - 12
Ingredients
250g plain flour
50g polenta
100g caster sugar
50g raw sugar
150g white chocolate bits
2 tablespoons wheatgerm
2 teaspoons baking powder
1/2 teaspoon bicarbonate of soda
pinch of salt
100ml rice bran oil
200ml milk
1 large egg
juice and zest of 1 blood orange
Method
Pre-heat oven to 180C. Line a 12-hole large muffin tin with paper cases.
Mix dry ingredients (flour, polenta, sugar, salt, baking powder, bicarbonate of soda, wheatgerm, chocolate bits) in a large bowl. Whisk wet ingredients (milk, eggs, oil, juice and zest of orange) in a separate bowl. Pour wet ingredients into dry ingredients. Mix lightly with a wooden spoon.
Bake in pre-heated oven for 20 minutes until tops are golden and cooked through.
[/print_this]
Prop & Styling Alert - Muffin Cafe Cases by Multix - $3.99 for 24. The cases can also be DIY as I have explained in this post (in the recipe method) - DIY Cafe Muffin Cases.