Roasted cauliflower is a beautiful thing. It is extremely simple to make and brings out the inherent sweetness of the mighty vegetable. A whole roasted cauliflower is especially magnificent. Not only is it glorious to look at but it manages to transform this humble peasant of a vegetable into royalty with dinner becoming instantly fancy. And with the chill of winter permeating the evenings, I decided to make a Butter Roasted Whole Cauliflower basted with copious amounts of the most creamy and delicious butter – Lurpak butter.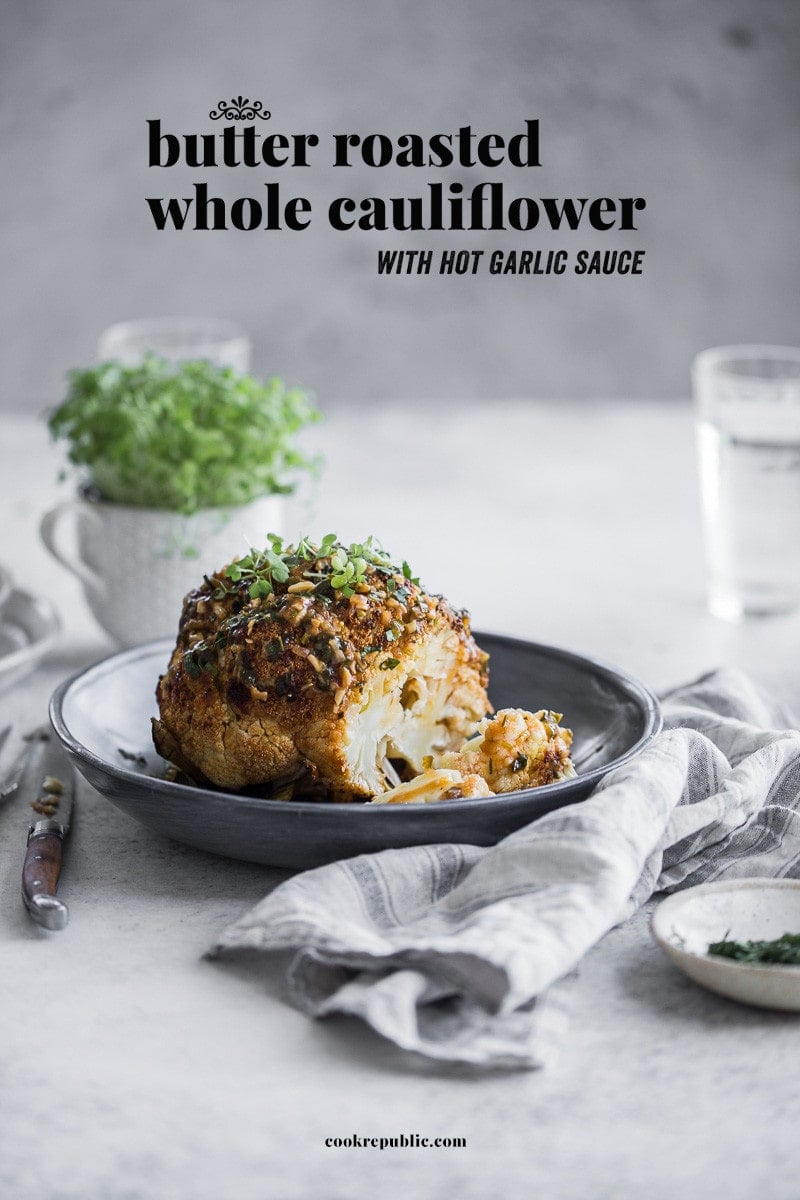 I have been using Lurpak butter for years. A Danish butter that has been around for more than 100 years, Lurpak owes its buttery goodness to 100% fresh milk and a traditional age- old method of ageing and ripening the cream to churn into delicious butter. Completely natural and wholesome. You can tell how utterly unprocessed and fresh it is when you cook with the butter and the slight tang of the melting butter hits your nostrils and when the golden liquid starts pooling in the pan with little gems of white milk solids. It reminds me of the butter my mum used to make from just aged cream when I was little. And it makes me instantly nostalgic. It is one of the reasons why I use Lurpak for a lot of my cooking. That and the coveted pure butter flavour which is just divine.
Since ramping up my efforts to only eat vegetables and fish, I am always experimenting with veggies as mains. When Lurpak contacted me to collaborate on a recipe to showcase their beautiful butter, I knew I wanted it to be a savoury vegetarian recipe. Butter is great in baking sweet treats but if you haven't tried roasting veggies with butter; you haven't truly lived. With my known love for cauliflower, the idea for a recipe with a whole roasted cauliflower had me very excited from the get go. For a few weeks, my shopping bags were full of cauliflowers in all shapes and sizes with their pretty green leaves still attached.
I tried and tested different quantities and cooking times to get that perfect roast with that perfect golden char on top. Eventually the recipe was a success with the most beautiful roast cauliflower texture you could slice into like butter (pun intended!) but with a defining bite that kept it fresh. This recipe will serve four as a main or six as a side. I have included quantities for a smaller cauliflower in my notes.
I usually use unsalted butter for my cooking and baking, adding a bit of salt to perfect the flavour. I like to have control over the amount of salt in the recipe. If using salted butter, you might not need to add additional salt. Always taste to ensure the final recipe is perfectly seasoned. For the accompanying sauce, I drew inspiration from my childhood and the Indo-Chinese cuisine we used to love. The result was a silky, buttery, fragrant hot garlic sauce that went really well with the cauliflower. The sauce can be made up to a day in advance and then reheated gently on the hob or microwave. But it literally only takes 5-7 minutes to make so I would suggest making it fresh when the cauliflower is ready.
For my hot chilli sauce, I use Sriracha. It has a good hit of heat but not extremely spicy. The green chilli I use is not bird's eye but rather a long thin cayenne pepper that is not spicy at all but has that fresh green flavour to it. This recipe I would conclude is not spicy but has a gentle warming heat to it so much so that I top it with additional Sriracha when I eat because I love my food hot. The sauce is herby, salty and buttery which compliments the roasted sweetness of cauliflower. It is a terribly clever marriage, if I might say so. You must try it and let me know how you went. Don't forget to share your creations with me on Instagram and visit Lurpak for more recipes and ideas using their butter.
note - This post was sponsored by Lurpak. My thoughts on Lurpak are my own based on years of using this product.
Recipe
Hungry For More Recipes? Subscribe to my newsletter. Check out Facebook, Instagram and Pinterest to see everything I share! And if you love cooking and new cookbooks, join my free Cooking Club on Facebook!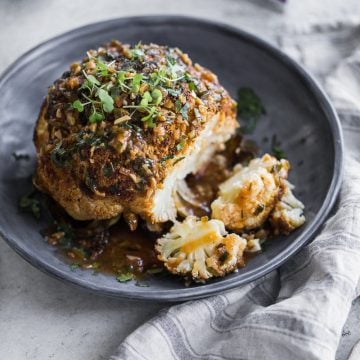 Ingredients
For the cauliflower
1

whole cauliflower

,

1kg

120

g

Lurpak unsalted butter

,

melted

1

teaspoon

sea salt flakes
For the sauce
60

g

Lurpak salted butter

3

tablespoons

garlic

,

finely chopped

½

red onion

,

finely chopped

1

green chilli

,

finely chopped

¼

cup

packed coriander leaves and stalks

,

finely chopped

2

tablespoons

hot chilli sauce

1

teaspoon

tamari

1/8

teaspoon

white pepper

1 ½

cups

(

375

ml

)

vegetable stock

1

tablespoon

cornflour blended in 2 tablespoons water

salt to taste

micro herbs and extra coriander

,

to garnish
Instructions
To make the cauliflower
Pre-heat oven to 200°C (convention)/180°C (fan forced/convection).

Remove the outer leaves of the cauliflower leaving some tender inner leaves intact. Cut a portion of the stalk so that the cauliflower stands up straight when placed on a flat surface.

Place cauliflower in a 20cm cast iron pan so it sits snugly. Brush melted butter all over the cauliflower getting into the grooves of the florets and the area near the stalk so that it is evenly coated in melted butter. Reserve some (1-2 tablespoons butter) for basting later.

Sprinkle salt over the cauliflower and gently rub it in.

Cover the cauliflower with an aluminium foil, crimping the edges over the rim of the pan to create a seal.

Bake in the pre-heated oven for approximately 35 minutes.

Remove from oven. Discard the foil. Baste the cauliflower with the remaining butter. Bake uncovered in the oven at 200°C (convection)/180°C (fan forced) for approximately 60-65 minutes until the top is golden and starting to crisp and brown.

Remove from the oven and allow to rest while you make the sauce.
To make the sauce
Heat butter in a small heavy bottomed saucepan. Add garlic, onion and chilli. Sauté for a couple of minutes on medium until golden.

Add coriander, chilli sauce, tamari, white pepper and stock. Reduce heat to medium-low and bring to a gentle boil.

Add cornflour and water mixture. Stir well. Continue stirring and cooking until sauce thickens. Remove from heat. Adjust seasoning to taste.

Spoon hot garlic sauce over the roasted cauliflower. Garnish with micro herbs and extra coriander. Serve hot with quinoa or rice.
Notes
The cauliflower should be al-dente and not mushy. The above cooking times are for a 1-1.08kg cauliflower.
For a smaller cauliflower around 700g, reduce the amount of butter for marinating to 65g. Bake at 200°C for 30 minutes (covered with foil) and then 35 mins (uncovered).
Did you make my recipe?
I'd love to hear how you went! Tag me on Instagram @cookrepublic