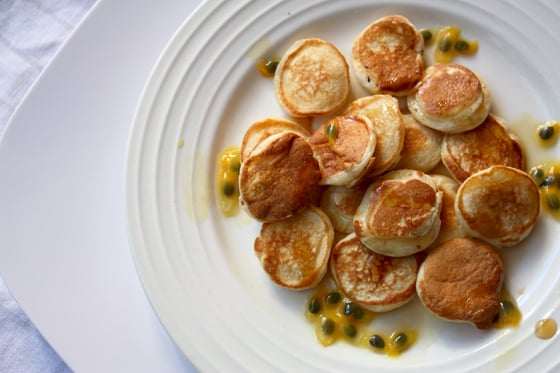 We had some amazing pancakes on our recent holiday in Gold Coast, everything from crepes to savory pancakes to chocolate ones. The day after we got back home, we were missing having pancakes so much that I decided to make a fun batch for breakfast. I whipped out my cast-iron poffertje pan, mixed all ingredients and set the batter aside to rest for a while. It was freezing cold that morning in Sydney and the thought of tiny little warm puffed pancakes topped with butter and syrup was very comforting indeed. I used a very simple recipe off the top of my head and managed to produce 60 delightfully small baby pancakes in a matter of 15 minutes. A plate of fresh cut fruits, some fresh scooped passionfruit pulp and strong coffee sealed the deal.
Buttermilk Baby Pancakes
(Preparation Time : 10 minutes/ Resting Time : 60 minutes/ Cooking Time : 15-20 minutes/ Makes : 60)
Ingredients
1 cup plain flour, sifted
1 tsp baking powder, sifted
a pinch of salt
1 tbsp caster sugar
1 cup buttermilk
1/2 cup milk
1 egg
oil/butter for greasing
Method
Combine all ingredients except oil/butter in a large bowl. Whisk by hand till you obtain a smooth batter of pouring consistency. Set aside to rest for an hour.
Heat a poffertje [dutch pancake/gem cake] pan on low heat. Spary cooking oil. Spoon half a tablespoon of pancake batter in each hole. Using a butter knife, flip the pancake gently after bubbles start forming on top which takes approximately 30-40 seconds. Cook the other side for the same amount of time and plate the pancakes up. Repeat with remaining batches. Watch the heat like a hawk, if the pan gets too hot, the pancakes will burn.
Serve with a cube of butter, dollop of whipped cream, some fresh fruits, maple syrup, ice cream, chocolate sauce .. you get the gist.
And before I leave you to whip up this easy peasy, dense and fluffy little babies, I share with you some gorgeous pictures of our pancake adventures at Pancakes in Paradise in the heart of Surfer's Paradise in Gold Coast where the seating was huge wicker baskets leading up to colorful hot air balloon canopies and the air was rich with the aroma of golden pancakes, sweet syrup and warm butter. We had breakfast twice and managed to try out a variety of pancakes on offering from their extensive menu. We liked the buttermilk pancakes with fresh strawberries and whipped cream, the lemon crepes with ice cream. But the thick, almost cake-like chocolate pancake with ice cream and chocolate bits drizzled with chocolate sauce was the show stealer. A must try!