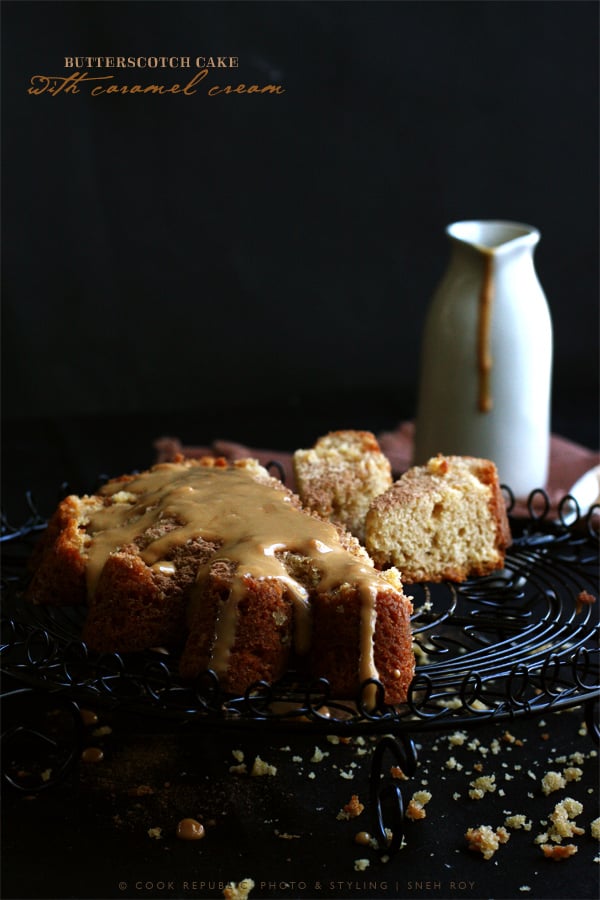 When I was little, my favourite sweet was a butterscotch toffee wrapped in a matte golden wrapper. It was smooth and the colour of rich butter kissed all over with the warmth of the sun. I used to put it in my mouth and relish it slowly, big hard sucks, rolling my tongue around the toffee trying to imagine what shape it had become in my mouth now that I was sucking away bits and parts of it. Was it an oval? Was it a rainbow? Was it a tree? From time to time, I would put my grubby hand in my mouth and pull the toffee out to see if I was right about the shape. Then back in my mouth it would go, leaving my little fingers sticky. Then I would do a pinching motion with my forefinger and thumb, real quick movements to see if my fingers would stick for good. Aaah, childhood!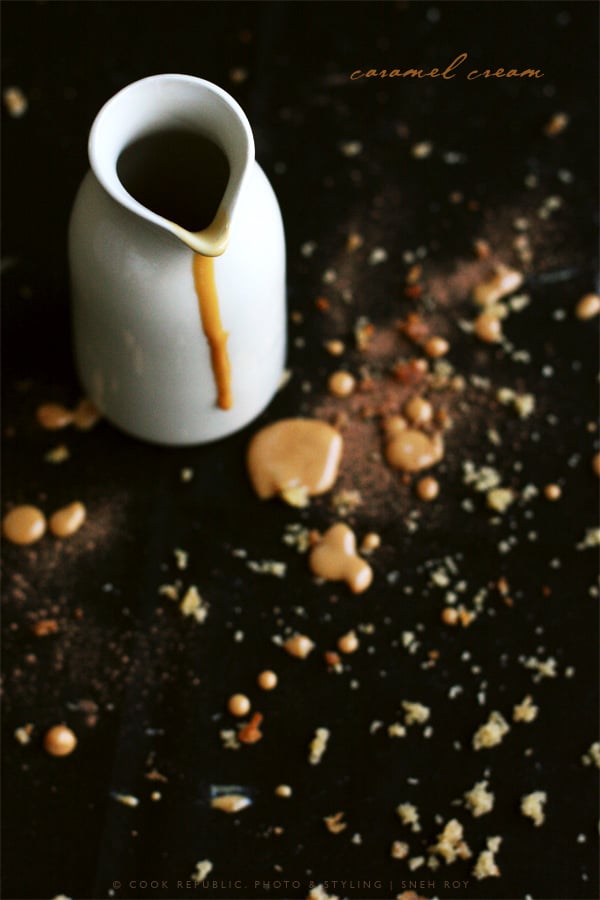 Now that I am an adult, I don't have much tolerance for sugar. At all. But I do love me some good ol' fashioned butterscotch flavour. I have found that flavour in an ice cream at Wendy's. They call it Old English Toffee. It is scary good. I would describe the butterscotch flavour as a beautiful love child of butter and caramel. Rich, smooth, buttery, ooey, gooey, sweet, but not so sweet. I love it. I love the word butterscotch. I love how it rolls on my tongue. I love the smell of it. I love the memories it evokes.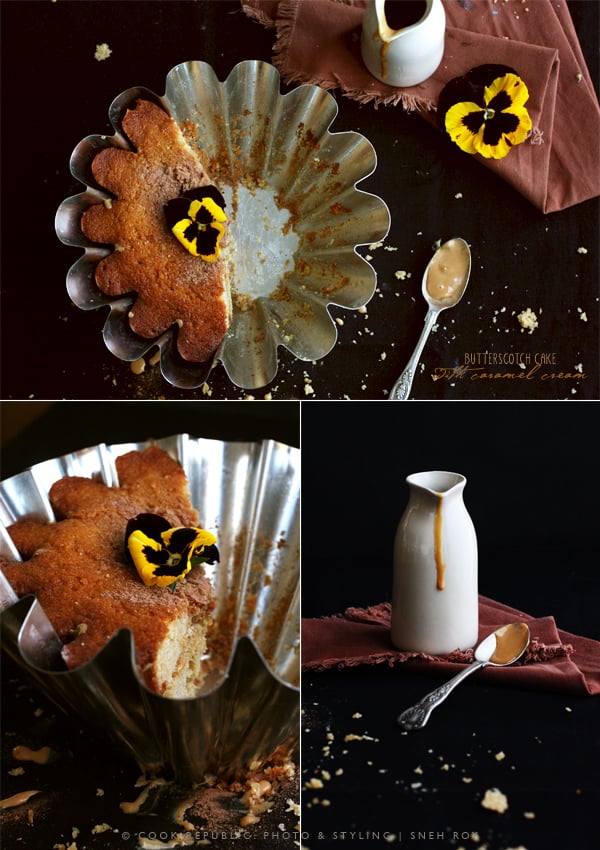 This cake is a tribute to that flavour. It is a simple buttercake that has the oomph of caramel and the saltiness of butter. It is gorgeous by itself but even better with the caramel cream I whipped up with just two ingredients. I imagine layering this with fresh double cream too, on days I am feeling especially naughty. That would make it the most perfect "simple" cake ever!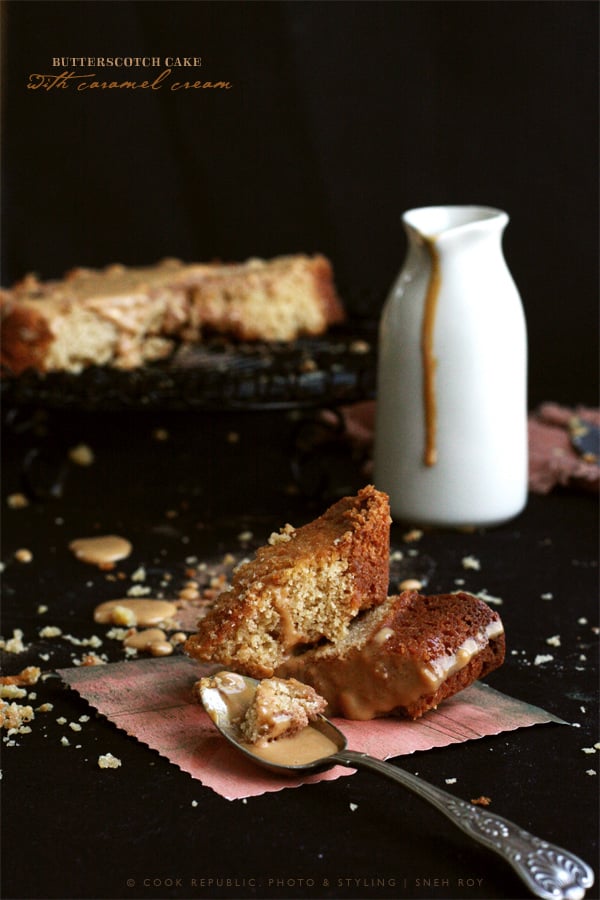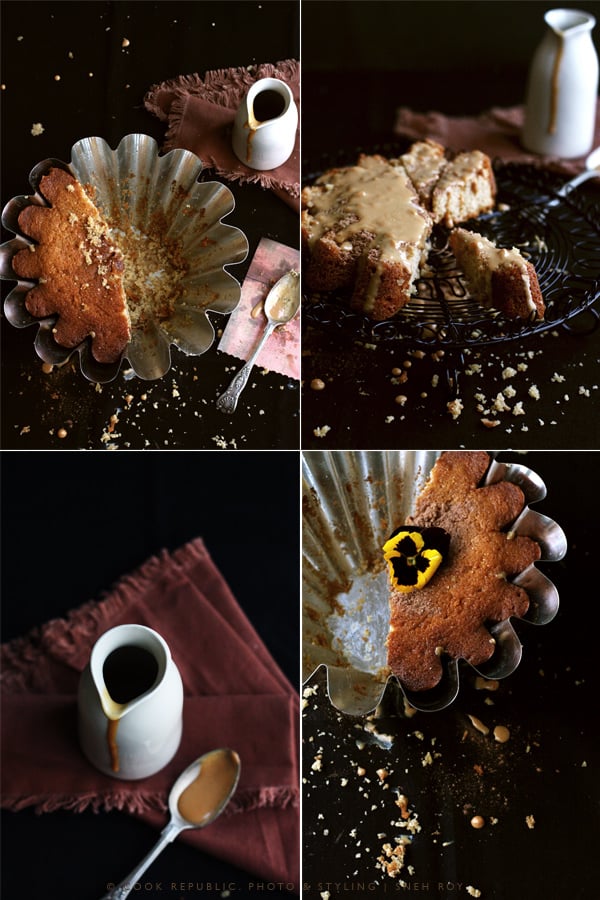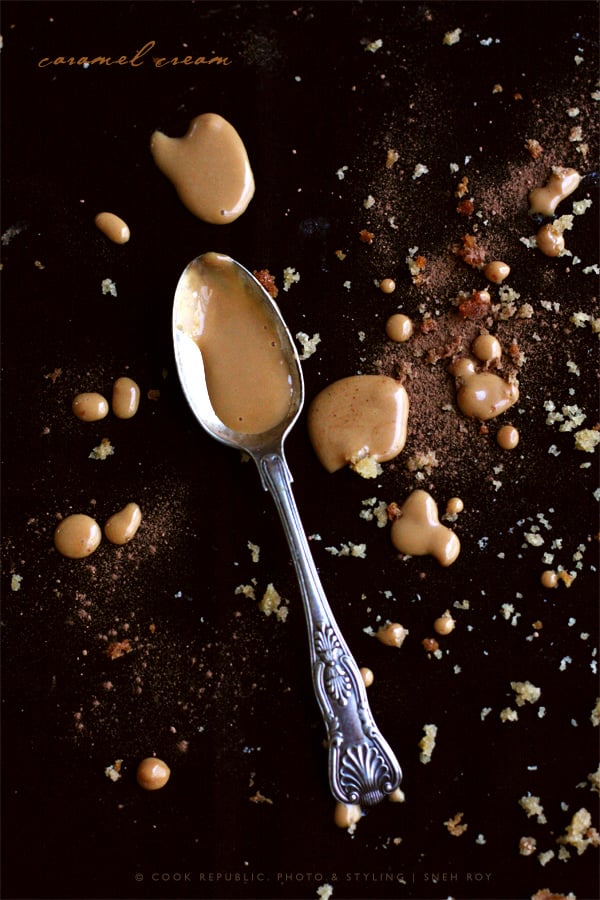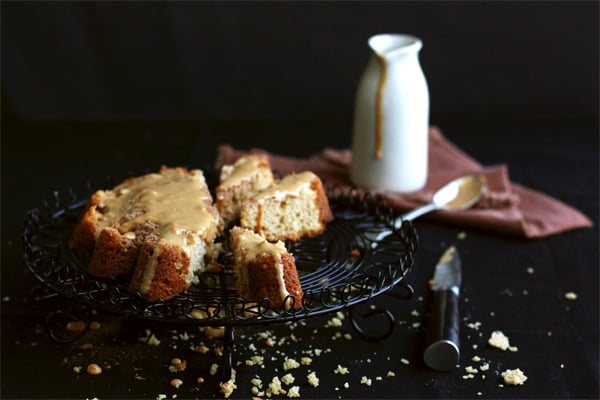 [print_this]
BUTTERSCOTCH CAKE WITH CARAMEL CREAM
A buttery, golden cake is drizzled with the most gorgeous sticky caramel cream for a delightful afternoon treat! You won't know whether to take another piece or lick the spoon or do both.
Preparation Time - 15 Minutes
Cooking Time - 60 Minutes
Makes - To Serve 8
Ingredients
250g butter, softened
1 tablespoon vanilla extract
185g (1 cup) brown sugar
150g (1 cup) self-raising flour
75g (1/2 cup) plain flour
2 eggs
1 tablespoon golden syrup
125ml (1/2 cup) milk
pinch of salt
2 tablespoons Nestle's Top & Fill Caramel
2 tablespoons thickened cream
Method
to make the caramel cream ->
Combine Nestle's caramel and thickened cream in a heavy bottom saucepan on low heat. Cook stirring constantly till mixed and starting to simmer. Remove from heat. Blend to a smooth consistency if lumps have formed. Set aside.
to make the cake ->
Pre-heat oven to 180C (350F). Grease a 20cm (8 inch) round cake tin and line with baking paper. (I used a greased brioche tin).
Cream butter with vanilla, salt, sugar, golden syrup and eggs. Beat until well combined.
Add flours and milk. Beat for a minute until fluffy and smooth. Scoop mixture into prepared tin. Bake for approximately 50-60 minutes until golden and cooked when tested with a skewer.
Allow to stand for 10 minutes, then turn out cake onto a wire rack. Cool completely before drizzling with caramel cream.
Notes
The cake is a tad sticky in nature, so try to avoid using bundt tins like I have used and make sure you use baking paper to line your tin.
A dash of coffee based liqueur woul work like magic in the cake batter.
[/print_this]