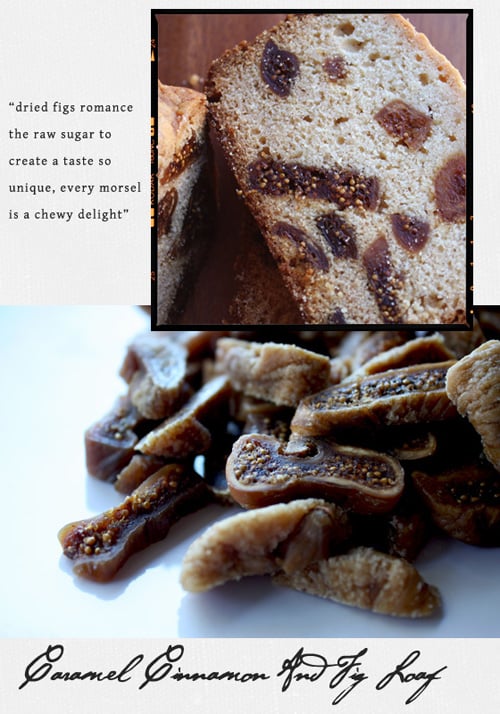 In need of a quick bread. Please, no banana! What do I have? What do I have? Lots of figs, dried ones at that. Hmmmmmm. Browse books, browse more books. Scan "fig" in the glossary. Caramel Fig Loaf. Bingo! Hmmm, make it healthier .. how? Think, think, tweak tweak. Okay, I know what I'll do. Do I have raw sugar? Check. Gotcha! Mix, mix! Hmm batter too dry. Sour cream should do it. Jot notes, make adjustments. Place loaf in the oven to bake and sit down to do this post. Check time. 20 minutes! Not bad!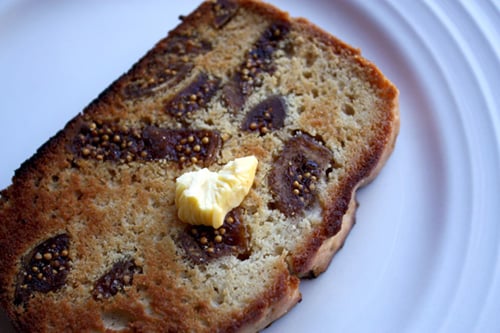 CARAMEL CINNAMON AND FIG LOAF
Preparation Time : 20 minutes/ Baking Time : 50 minutes/ Makes 1 loaf
Ingredients
125g butter, softened
1/2 cup raw sugar
2 eggs
1 1/2 cups plain flour, sifted
1 tsp baking powder
1 tsp ground cinnamon
1/4 cup golden syrup
1/4 lite sour cream
250 dried figs, sliced
Method
Preheat oven to 160°C (325°F). Grease and line an 8 inch x 4 inch loaf tin.
Place butter and sugar in a large bowl and beat using an electric beater till light and cramy. Add eggs and beat for another minute. With a wooden spoon, stir in the flour, baking powder, cinnamon, golden syrup, sour cream and figs. Mix well.
Pour into the tin and bake for approximately 50 minutes. Cool on a wire rack. Slice and serve toasted or store in an air-tight container for upto a week.