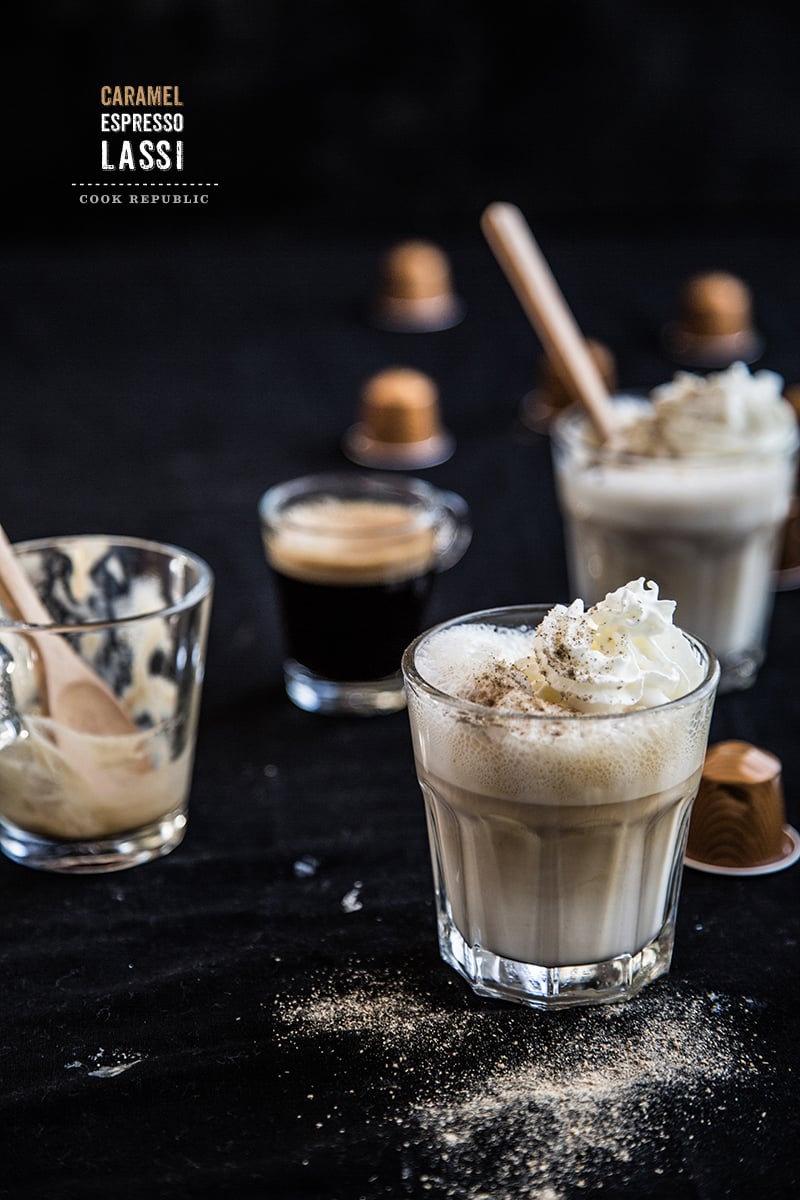 The smell of coffee is just one of those little things in life that consumes you and gets entwined in your soul. It fills you up with a slow warmth even before your first sip. The anticipation that charges through your conscious state as it registers that dark, rich, sticky aroma is enough to make your insides sing. As you wrap your cool fingers around the warm cup and breathe in the brown notes with the crisp morning air, a single thought races through your mind "God, I love coffee!". It is utterly subconscious, a silent groupie declaration for the bean that is so much more. A moment for you and you alone. This happens to me every day with my first cup of coffee which for the record is made by Nick, for nearly thirteen years now. Every single day. Do you find yourself giving a silent thanks for coffee?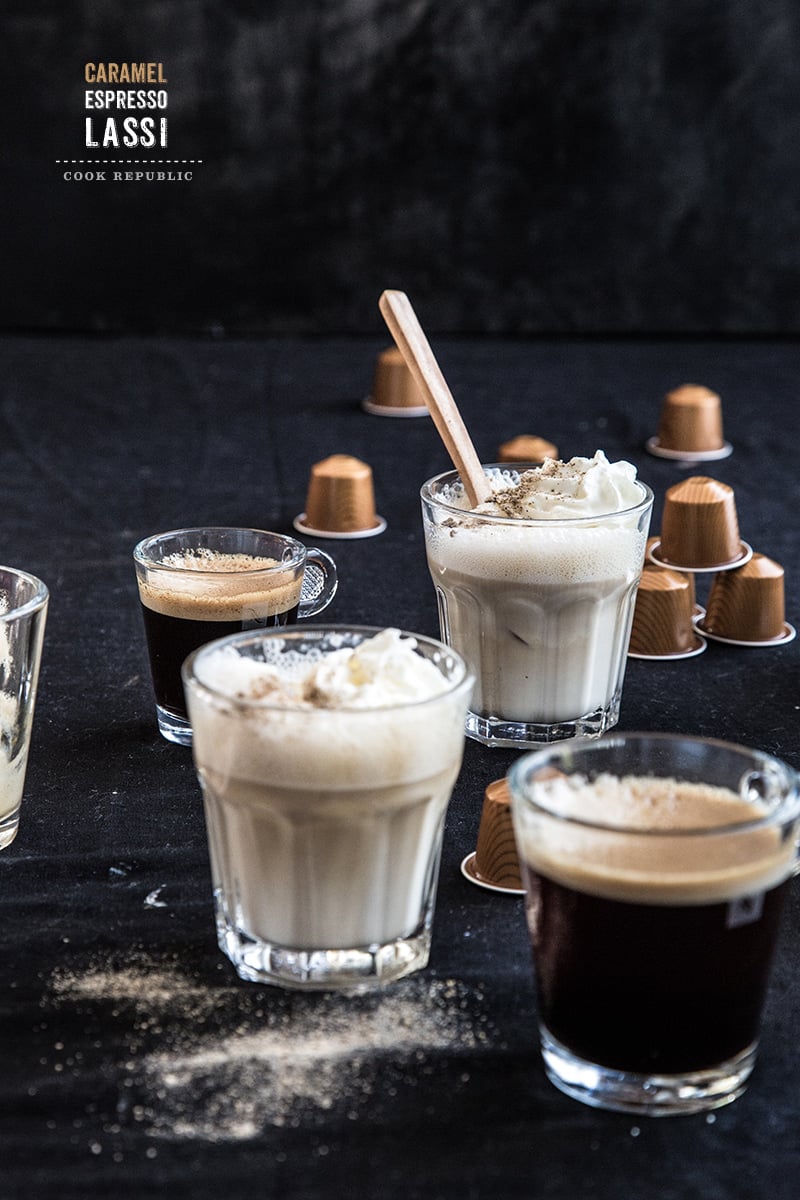 You are either a coffee fanatic or a tea enthusiast. You could be both but if you dug deeper, you would realize that your loyalties lie with one much more than the other. I love my cup (actually cups) of tea as much as the vintage floral china loving parlour hopper. But only coffee makes my world go round and round in crazed caffeine ridden circles. Plus I secretly think (well not so secret now, is it?) that coffee can do so much more and people on the coffee train go far and fast. Coffee ice cream? Yes! Coffee cakes? Yes! Milky iced coffee? Cappucino popsicles? Tiramisu? Affogato? Yes, yes, yes and yes! It is even there in your bloody skin tightening creams!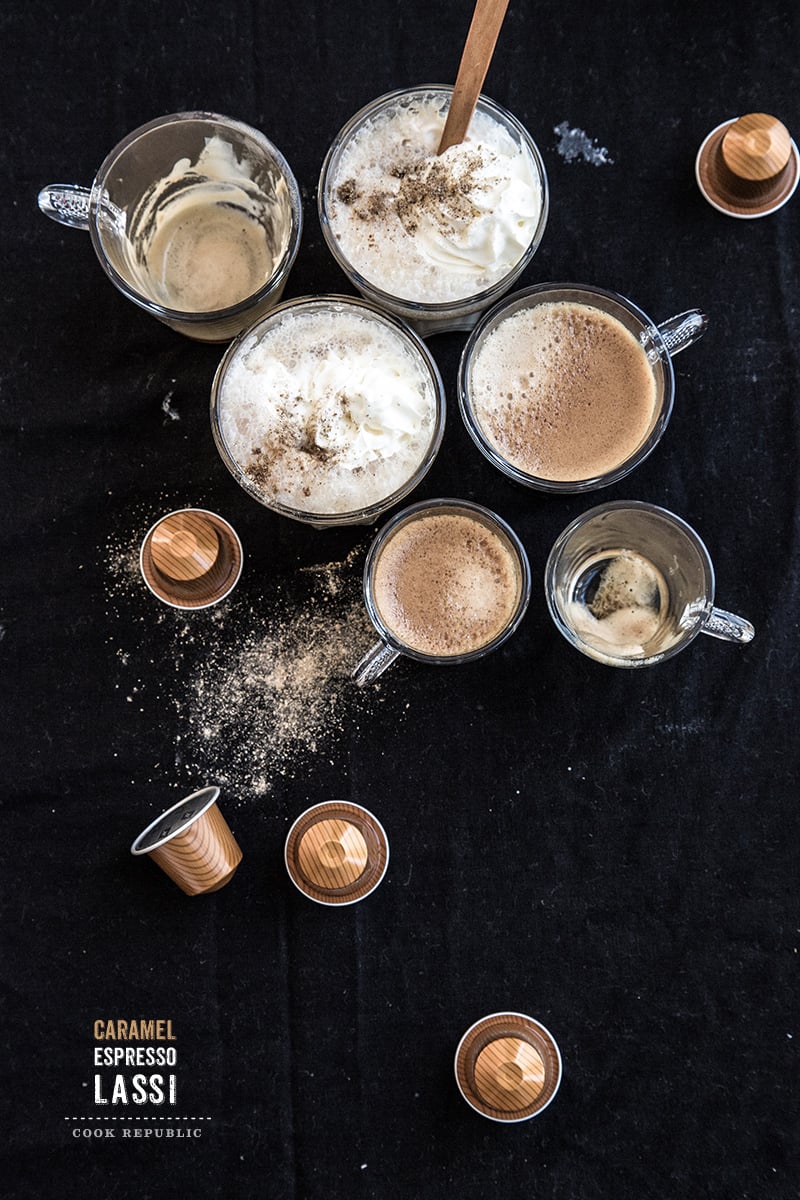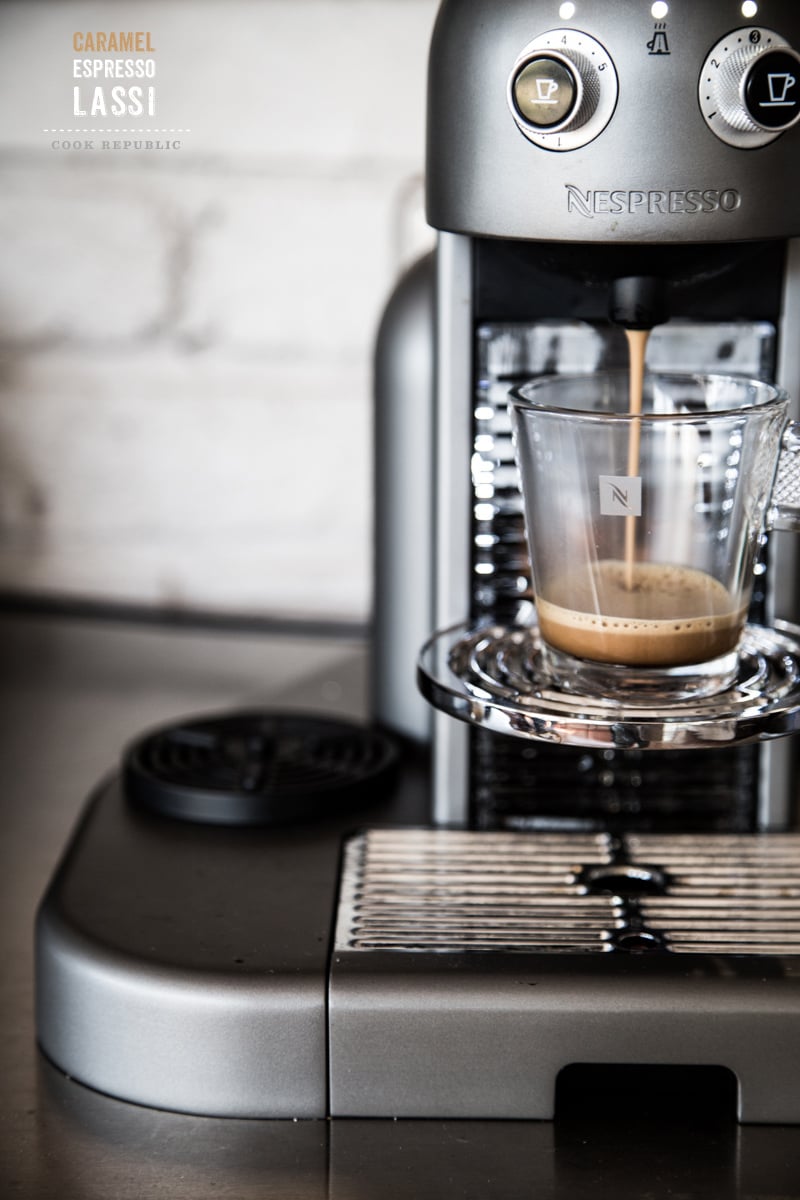 I partnered with Nespresso and Darren Purchese to promote Nespresso's Caramelito flavour. That's caramel for you. The coffee itself is sensational. I was told that it doesn't actually have the caramel flavour and is pure good old coffee. The caramel notes in the aroma of the coffee trick your brain into thinking gooey, luscious, golden thoughts before you actually drink the coffee. Very clever! I used the caramel pods to create a simple and exotic yoghurt drink. I called it Caramel Espresso Lassi and it is laced witht the sweetness of cardamom and saltiness of sea salt. It is lovely for breakfast. I have been having a bit too much coffee as you can see from all the pictures. But then again like an honest politician, there is no such thing as too much coffee!
Happy Monday from one coffee lover to another (and all you tea chuggers too!)
x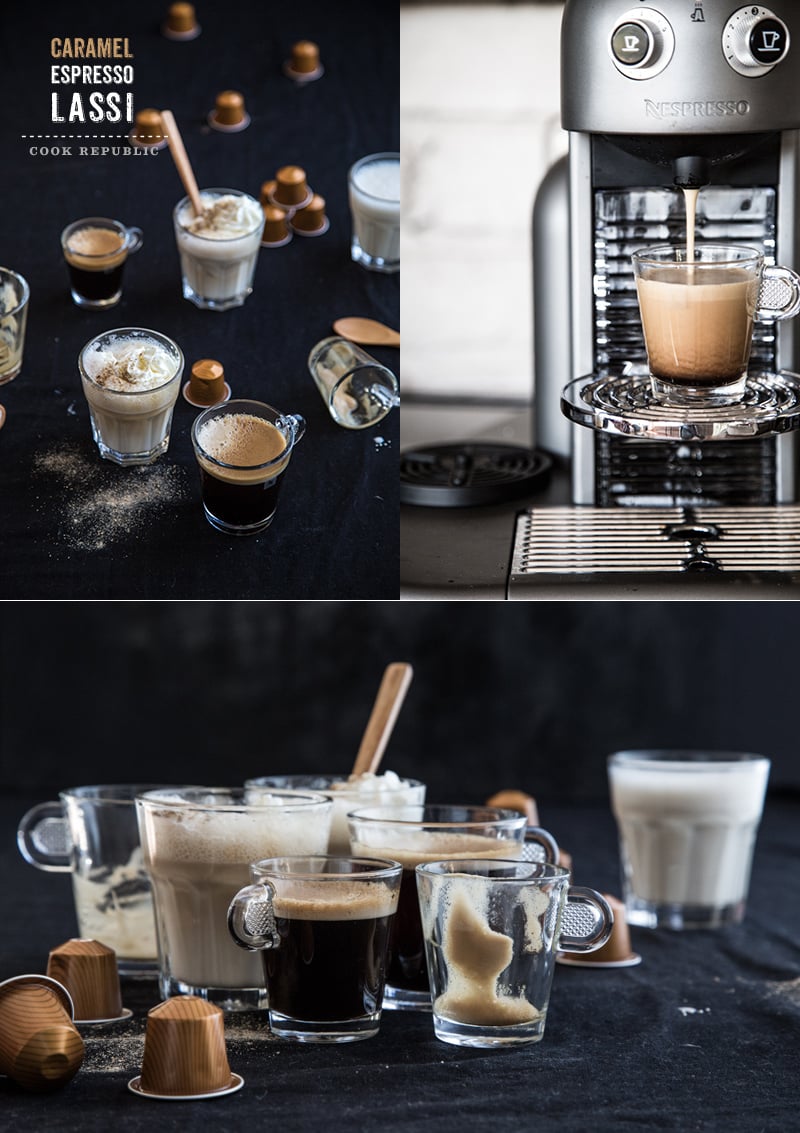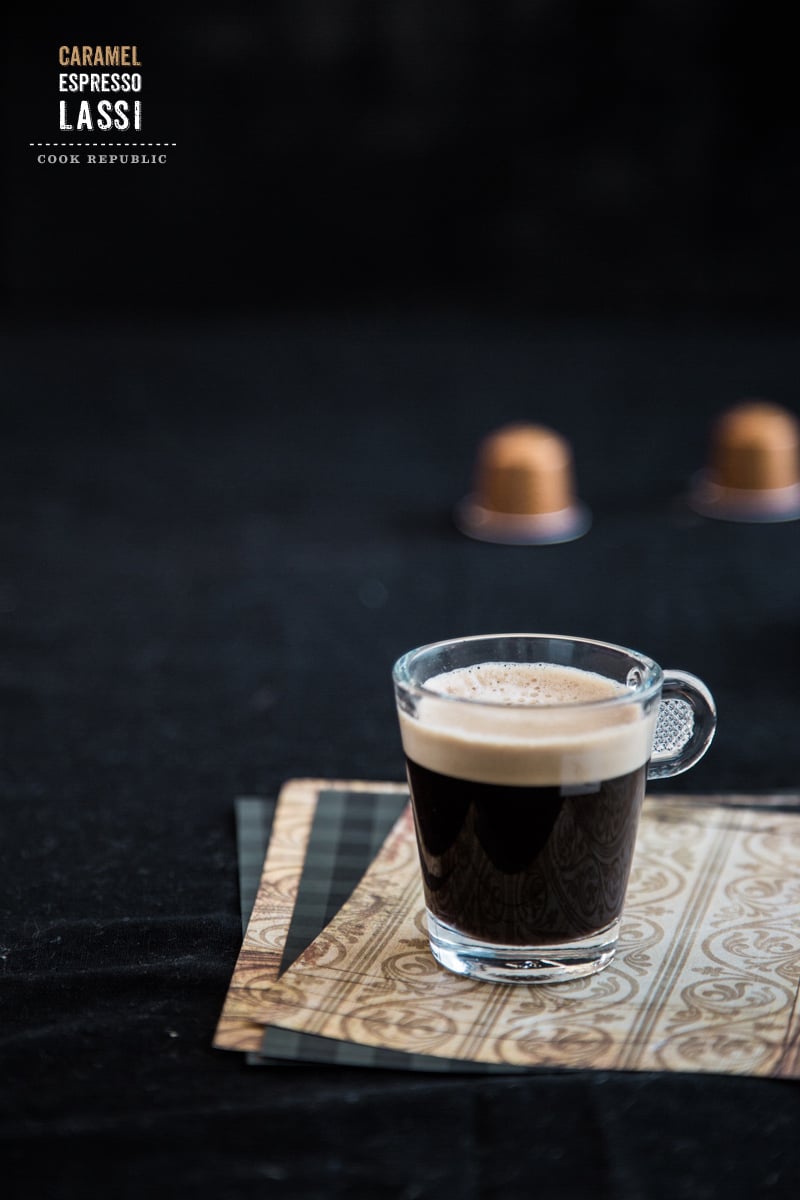 [print_this]
Caramel Espresso Lassi
A simple after dinner beverage of caramel coffee and yoghurt laced with the sweetness of cardamom and maple syrup. This espresso lassi comes to life with a sprinkling of sea salt flakes and would also make a lovely breakfast beverage.
Makes - To serve 2-4
Ingredients
2 cups (560ml) chilled milk
1/3 cup (80g) Greek yoghurt
2 tablespoon maple syrup
½ teaspoon ground cardamom
100ml espresso (caramel flavour preferred/ or any strong black coffee made from a capsule or French pressed)
whipped cream to top
sea salt flakes and ground cardamom to dust
Method
Combine chilled milk, yoghurt, maple syrup, cardamom and 50ml espresso coffee in the jug of a blender. Process until smooth.
Pour in 4 little latte glasses. Pour the remaining espresso equally over the lassi. Top with whipped cream, sea salt flakes and a dusting of cardamom.
My Notes
If you have a Nespresso machine and are using the Caramelito pod, replace the 100ml brewed espresso coffee in the recipe below with two 50ml espresso shots using two pods.
[/print_this]
Note – Don't forget to join the #FlavourDebate on #Nespresso to win a glorious $1500 prize pack!! (3 to be won).