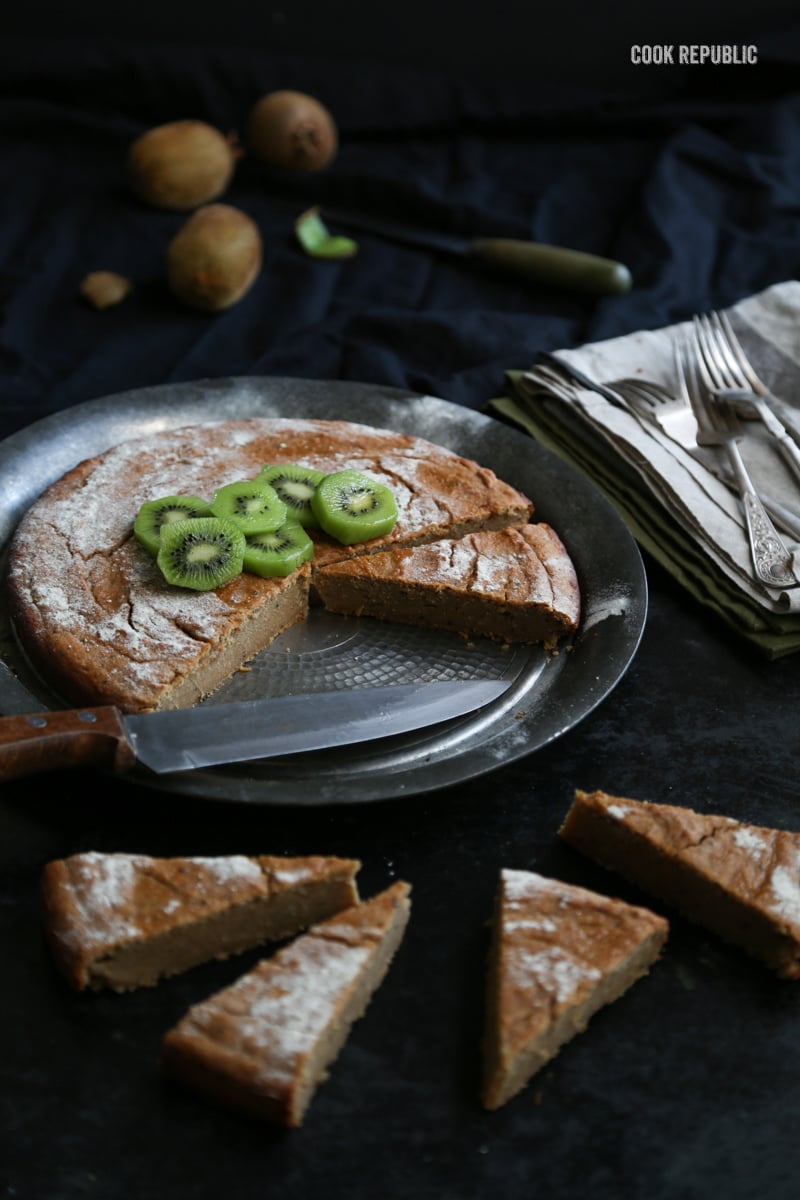 Spelt is an ancient grain, a species of wheat that prevailed long before the hybrid version that we use today. Spelt flour is very high in nutrients and has more protein than the modern wheat. The gluten in spelt is gentle and can be enjoyed by many who might have a wheat allergy but is not suitable for people on a gluten free diet. It is nuttier and sweeter and is absorbed more easily by the body. In baking because it doesn't rise as much as regular flour, it produces cakes and breads that have the consistency of a pie or a dense quiche.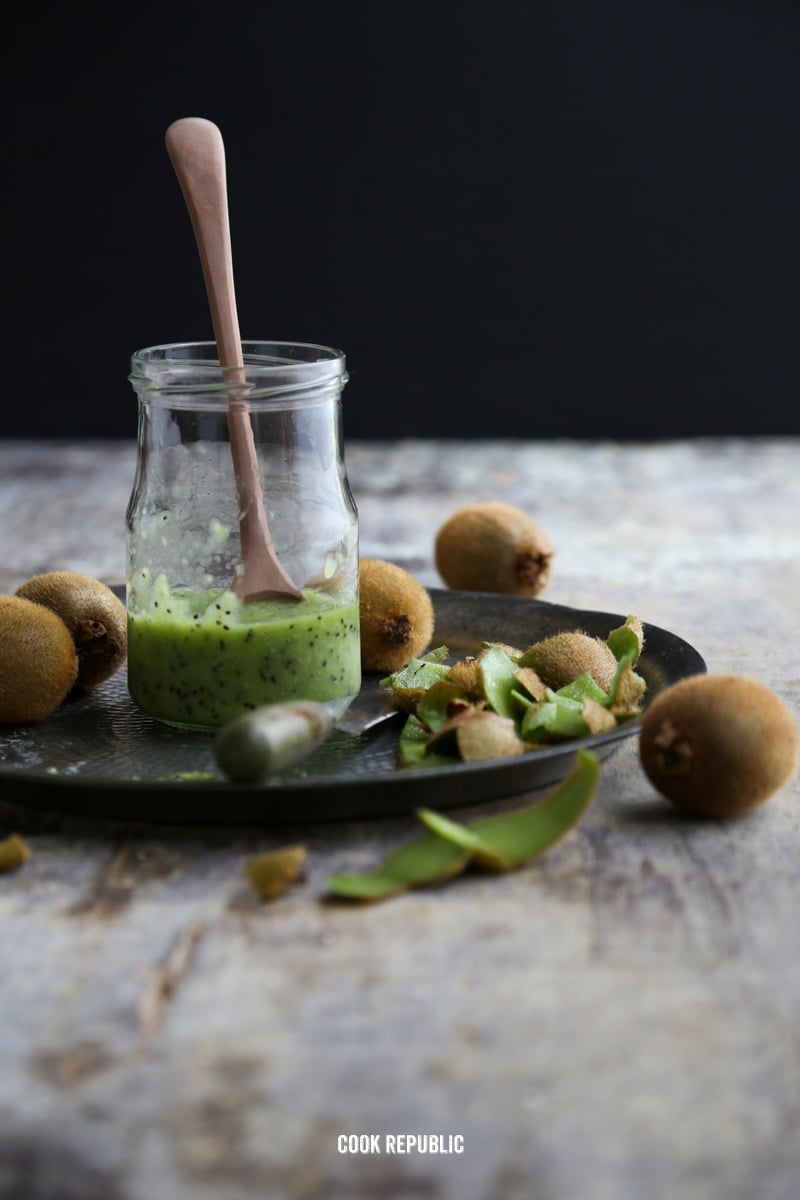 I have baked with spelt before but never by itself. I have always mixed spelt flour with a lighter regular flour to maintain an aspect of fluffiness in my baked goods. But this time around I not only went solo with spelt but used a wholemeal version too. For a nutrient rich afternoon tea, I baked a Kiwi Banana Spelt Cake. Because I knew that spelt flour would render this cake very dense, I baked it in a very wide cake pan so it was only as high as a pie. It looked beautiful sitting low on the plate topped with only a few slices of kiwifruit and a drizzle of lemon syrup. Although the cake felt almost like a fudge, it was quite light to eat.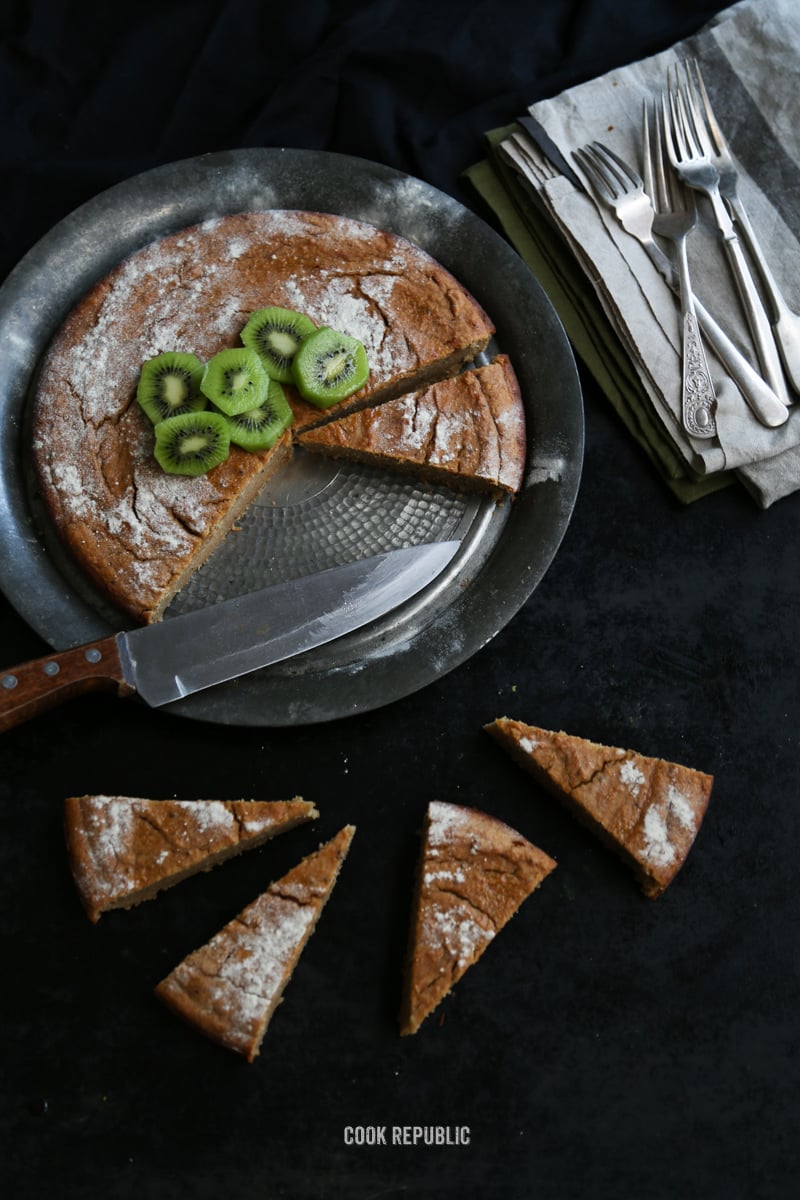 But I must be honest here. I was a bit concerned to see how little it had risen. Warm from the oven with a drizzle of the lemon syrup, it was delicious and more-ish but I still had my doubts because I really wanted to share it with you and I wasn't sure if I was going to be able to. So I took it to my friend Petra's and the girls all had a slice each and said it was very nice for a healthy treat. Jodie had two slices which made me feel more confident about sharing the recipe. When I got back home, Nick had three slices (he literally eats and enjoys anything I make, so it doesn't count!). But after holding him hostage for nearly an hour sounding off my doubts to him and hearing him enthusiastically negate them all, I decided to share the recipe.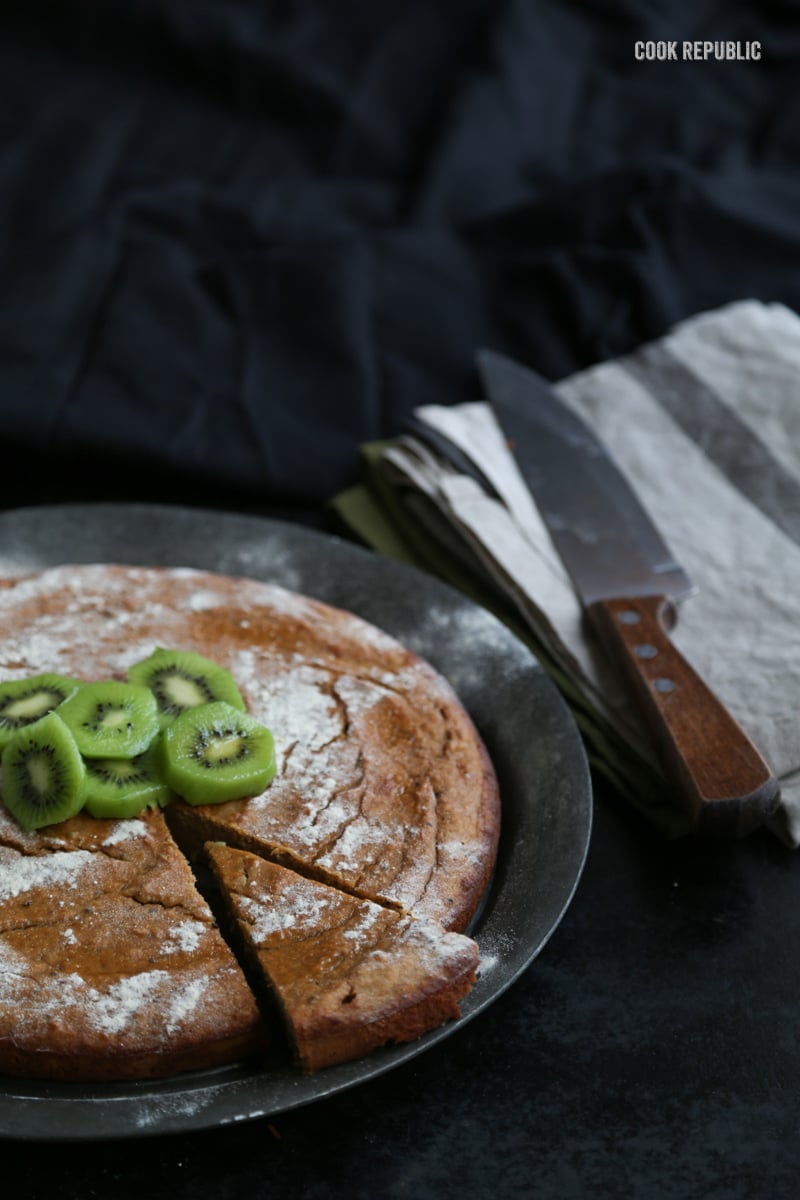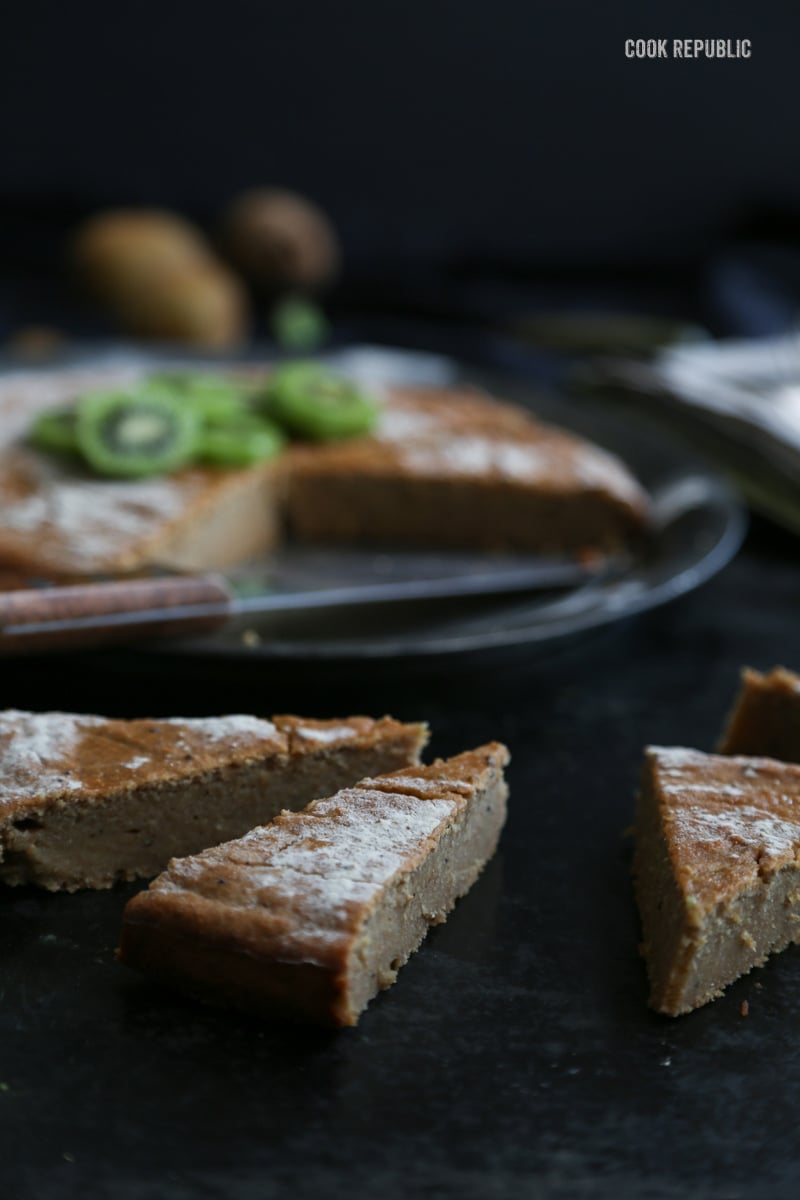 This is a beautiful more-ish cake that makes you feel good on the inside. This cake might be suited to a more adult palate or adventurous young ones but if you make it with regular flour, everyone will want a piece of it! If you bake it I would love to hear your thoughts on it so do leave a comment and share. x
[print_this]
KIWI BANANA SPELT CAKE
A simple more-ish afternoon cake baked with the ancient goodness of spelt flour and an interesting combination of kiwfruit and banana for a nutrient rich treat.
Ingredients
2 1/2 cups wholemeal spelt flour
1/2 cup coconut flour
2/3 cup brown sugar
1/2 cup milk
3 kiwifruit peeled and processed to a pulp
2 large over ripe bananas
90g butter, melted and cooled
1 tablespoon vanilla essence
1 1/2 tablespoon ground cinnamon
1 teaspoon ground cardamom
2 teaspoons mixed spice
1/4 teaspoon salt
3 eggs
extra kiwifruit slices and icing sugar to serve
for the lemon syrup
1/2 cup water
1/4 cup raw sugar
juice of half a lemon
Method
Preheat oven to 180C. Grease and line a 10 inch round springform cake pan.
Combine spelt flour, coconut flour, cardamom, cinnamon, mixed spice, salt and sugar in a large bowl.
Whisk eggs, butter, milk and vanilla in another bowl. Add the kiwi pulp and banana. Mix well.
Add the wet mixture to the dry mixture and mix gently until combined. Pour batter in the prepared tin and bake in the preheated oven for 45 minutes. Remove from the oven and cool until just warm in the tin.
Prepare the lemon syrup by heating all the ingredients in a saucepan on medium heat until it comes to a boil.
Pour lemon syrup on warm cake. Top with kiwfruit slices and a dusting of icing sugar (optional).
My Notes
If you like your cakes fluffier and lighter, you could substitute the spelt flour for plain flour and replace coconut flour with dessicated coconut.
You could also skip the lemon syrup topping and spread Nutella or a simple chocolate ganache on top. (This cake is not very sweet).
Do not overmix the batter after adding the bananas.
Cake is best had warm and within a day or two of baking.
[/print_this]
Note - This post first appeared on Kidspot Village Voices as part of the 3 Post series I did for them for VOICES OF Australai 2013 Top 5 Food & Well Being Finalists.